Good evening, ladies and gentlemen! Or morning depending on when you're reading this. Fear not, no matter what time it is, we have got an epic battle on our hands. Here we'll be looking at two 2022 rookie receivers who will stand toe-to-toe with each other to determine who will come out victorious: Jalen Tolbert and Skyy Moore.
In the Red Corner, we have Jalen Tolbert representing the Dallas Cowboys. Tolbert checks in at 6-1 and 194-pounds. He's 23 years of age and played his college ball at South Alabama. He was selected with the 24th pick in the third round.
His adversary in the Blue Corner is Skyy Moore, representing the Kansas City Chiefs. Moore checks in at 5-10 and 191 pounds. He'll turn 22 years of age during the 2022 NFL season and played his college ball at Western Michigan. He was selected with the 22nd pick of the second round.
Tale of the Tape
In recent seasons, fantasy managers have become spoiled by the overwhelming success of several rookie receivers. Justin Jefferson, Ja'Marr Chase, and Jaylen Waddle have set the world on fire and in the process have raised the bar for incoming rookies. It's gotten to the point where meeting rookie expectations is quite difficult.
Looking at Tolbert and Moore, fantasy managers will quickly point out their preferred choice. It's no mystery that Moore is the heavy favorite in this contest. However, this is fantasy football and we are no stranger to underdogs. Here, we'll be looking at not only their 2022 redraft value but their dynasty value as well. Let's get started.
Jalen Tolbert
Prior to the 2022 NFL Draft, the Cowboys traded Amari Cooper to the Cleveland Browns to free up some much-needed cap room. While they chose to extend Michael Gallup, his late-season ACL tear puts his early-season availability in question. The most likely scenario is Gallup starting on the PUP list and missing the first four games of the season. It's possible he's not 100-percent all year. The options behind de facto No. 1 receiver CeeDee Lamb were barren, and the Cowboys desperately needed some reinforcements. Enter Tolbert.
Player Overview
His adversary's statistics are more well-known, but Tolbert's accomplishments are not to be taken lightly. While many are quick to point out the lack of competition at South Alabama, that same notion holds true for Moore and the competition at Western Michigan. Fantasy managers may choose to take Tolbert's production with a grain of salt because of that fact, but there's no denying the production.
As a senior, Tolbert racked up 82 receptions on 136 targets. His 33.4-percent target share exhibited his dominance over not only his own teammates, but the man lined up across from him. He finished with 1,474 yards and eight touchdowns.

Moore had a big junior season, but Tolbert has two monster seasons to his credit. As a junior, Tolbert finished with 64 receptions on 114 targets. Just as he did as a senior, he dominated his team's passing offense, finishing with a 32.5-percent target share. He also had 1,085 yards and eight touchdowns.
Over his final two seasons, Tolbert finished with a 3.16 (2021) and 2.58 (2020) yard per route run average. His 3.16 average in 2021 ranked No. 11 among receivers who recorded at least 75 targets.
Tolbert finished his collegiate career with a 51.2-percent college dominator rating (96th-percentile), 16.1 yard per reception average (69th-percentile), and a 33.4-percent target share (96th-percentile.
Dominance at All Three Levels
In his last two seasons, Tolbert displayed the ability to win all over the field. Prior to his 2021 campaign, he had operated exclusively as an outside receiver. However, in 2021 he was put into the slot more, running a third of his routes from this alignment. No surprises, Tolbert dominated just as he had done the previous season. He showcased his excellent route-running skills by being able to win on multiple levels and on multiple routes.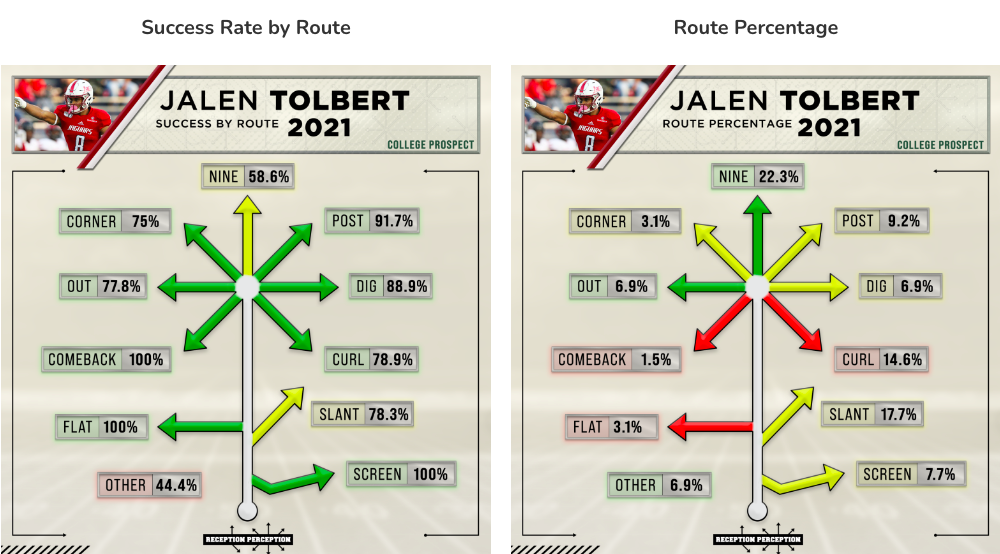 The picture above comes from Reception Perception and shows a player who was able to get open almost at will. Tolbert excelled at every single route; a skill set he'll be able to use early on in Dallas. Matt Harmon of Reception Perception had this to say about Tolbert:
"He posted solid above-average success rates against man (70.5-percent) and zone coverage (81.2-percent). He performed quite well against press coverage with a 74th-percentile success rate (70.8-percent). The most impressive part about Tolbert's profile was his route success rate chart: He finished at or above the prospect average on every route on the tree. Tolbert is able to win the short, intermediate, and deep levels of the field."
This versatility will come in handy because Lamb has been someone the Cowboys have liked to move all over the field. As a rookie, Lamb played almost exclusively from the slot, but in his second season the Cowboys moved him around more. The expectation should be more of the same with him now entrenched as the No. 1 target.
With Lamb lining up in multiple places, it'll be beneficial for Tolbert to also have that skill set – albeit not nearly at Lamb's level. However, if Lamb moves to the slot, Tolbert has the skill set to kick outside and vice versa. This ability will help keep Tolbert on the field and running routes which increases his fantasy value.
Red Flags
As good of a prospect as Tolbert appears to be, there are some red flags. Tolbert was a fifth-year player at South Alabama, red-shirting Year 1. The fact that he wasn't an early declare, especially with that added year, is a big concern. It's an even bigger concern considering the talent level he was facing off against. Not being NFL-ready after Year 3 or even Year 4 while playing at South Alabama should be a concern for fantasy managers.
This brings us to our next red flag – his breakout age. Tolbert didn't break out until 20.5 which was just in the 48th percentile. While you can certainly make the argument, that he was a late bloomer, there's nothing concrete to prove this point.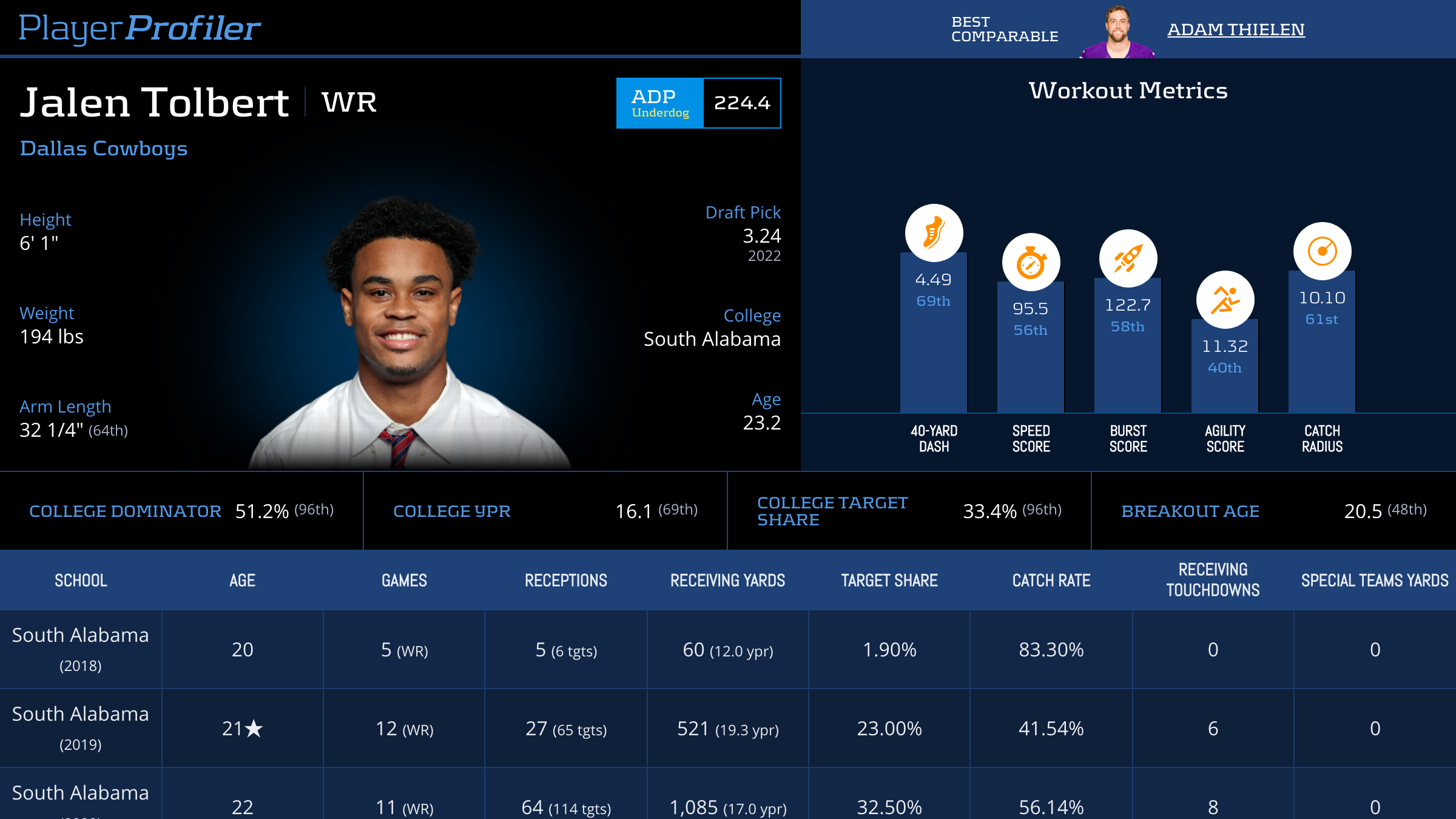 He could be a late bloomer, but he could have just been taking advantage of his age and experience on younger, less-talented players. History tells us it's probably the latter which is a negative on his fantasy portfolio.
More Concerns
The other concern for fantasy managers is his hands. We've often heard the saying, "drops don't matter." Yes, when you're Ja'Marr Chase, and you drop a handful of balls, they don't matter. No negative truly matters as long as the positives outweigh the negatives. That much is true with anything, but Tolbert is most certainly not Chase. He finished his collegiate season with a 9.2-percent drop rate. It's fairly high and that inconsistency could be something that keeps him off the field.
Takeaway
Tolbert is an interesting situation this year. With Gallup out early, he has the immediate opportunity to become a starter for the Cowboys. That role could pay dividends for fantasy managers willing to take a chance on him. He'll still have to compete with Lamb and tight end, Dallas Schultz, but veteran receiver, James Washington shouldn't give Tolbert much trouble. If he's able to secure his role as the No. 2 receiver in Dallas, he could be an interesting WR4 with WR3 upside.
The jump in the competition will be an obstacle he'll have to overcome quickly. If he's able to do that, he could return value sooner than later, even if that's by way of trade in a dynasty league.
His long-term value looks more cloudy. What happens with Schultz will be telling. If Schultz is resigned, the Cowboys are looking at having Lamb, Gallup, and Schultz all signed to long-term deals. That would create a situation where it may become difficult for Tolbert to truly separate and become their No. 2 target-getter.
Skyy Moore
Much like Tolbert's new squad, the Kansas City Chiefs also traded away their No. 1 receiver prior to the 2022 NFL Draft. Tyreek Hill was moved in a deal that sent him to the Miami Dolphins. He left behind 159 targets, 111 receptions, 1,239 yards, and nine touchdowns. The Chiefs will look to replace that production with a variety of different players.
They signed JuJu Smith-Schuster to a one-year deal and signed Marquez Valdes-Scantling to a three-year contract. Smith-Schuster has largely operated as a slot receiver the past three years and will likely take up that mantle for the Chiefs. Valdes-Scantling, on the other hand, will attempt to replicate some of the speed that Hill brought to their offense. Moore is likely viewed as the future. How much he'll be trusted on producing in Year 1 with established veterans like Smith-Schuster, Valdes-Scantling, and Travis Kelce remains to be seen.
Player Overview
There's no denying or downplaying Moore's exploits during his junior season at Western Michigan. He earned 135 targets which amounted to a ridiculous 36.7-percent target share. Defenses were simply unable to contain him. He finished the 2021 season with 94 receptions, 1,283 yards, and 10 touchdowns.
Moore was limited to just five games in his sophomore season which explains the lesser production. He was modestly successful, producing a stat line of 37 targets, 25 receptions, 388 yards, and three touchdowns. His target share of 23.6-percent was solid but nothing compared to what he did in his final season.

While not as impressive as his 2021 campaign, his first year on campus demonstrated his talent right away. He finished with a 20.8-percent target share and earned 86 targets as a true freshman. He turned those targets into 51 receptions, 802 yards, and three touchdowns.
His efficiency metrics for all three years have been outstanding. He finished with a 2.51 (2019), 2.61 (2020), and 3.40 (2021) yard per route average during his collegiate season. This past year his 3.40 mark ranked No. 7-best in the country among receivers with at least 75 targets. He also managed a catch rate of 75.2-percent which is incredible considering his 36.7-percent target share. His catch percentage was the No. 13 best amongst college wide receivers.
Moore finished his collegiate career with a 44.8-percent college dominator (91st-percentile), 39.5-percent target share (99th-percentile), and 20.0 breakout age (62nd-percentile).
Do-It-All Skill Set
His smaller stature sometimes leads to fantasy managers incorrectly labeling Moore as just a slot receiver. This is what many fantasy gamers did with Elijah Moore last season. That, however, would be incorrect.
During his final season at Western Michigan, Moore lined up in the slot at just 34.5-percent of his routes. This was way down from the 88.7-percent mark he set in 2020. His freshman year was at just 16.1-percent. You'll remember during that true freshman season he managed to rack up 802 yards. He has been able to be incredibly effective and efficient regardless of where they chose to use him.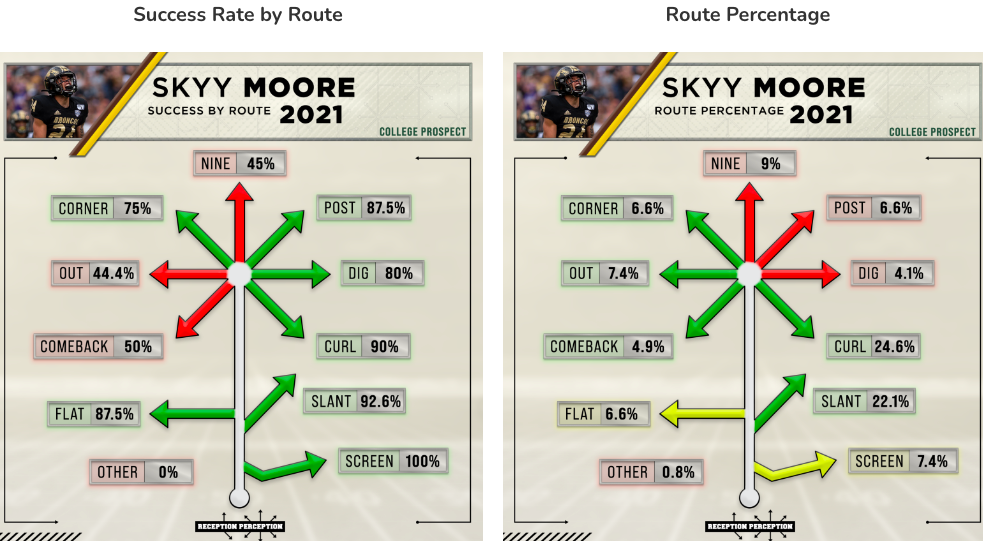 The picture above comes from his 2021 Reception Perception profile. It should be noted Moore's profile was not based on the typical eight-game sample size. Still, he displayed the ability to get open and create separation from his defender with regularity. Matt Harmon of Reception Perception had this to say about Moore:
"Moore is an outstanding separator at every level of the field and against a variety of defensive looks. His 75-percent success rate vs man coverage and 88.1-percent success rate vs zone (best in the class) are at the 88th and 97th percentile in Reception Perception history. He's a detailed and explosive route runner who is able to leave defenders in the dust with ease. His most impressive number is without question his 75.7-percent success rate vs press coverage, one of the top marks in the class and at the 91st percentile."
Tape
Based on the tape, and despite his smaller size, Moore displayed the ability to play all over the field. It's possible he may end up playing in the slot in the NFL more than he did in college, but his ability to win at all levels of the field, and against varying coverages, shows he has the skill set to bounce outside and play on the perimeter as well.
Having this ability is especially important in Year 1 since Smith-Schuster should be viewed as the starting slot receiver. Valdes-Scantling is surely one outside receiver, but with a strong showing Moore should be expected to be the No. 3 receiver for the Chiefs. He is who he is which is to say he's a strong run-blocking and a deep ball threat, but he's nothing more. Smith-Schuster has struggled the past two seasons, but a change in scenery may help him get back to where he had been. Still, the question marks surrounding these two veteran's games provide Moore with the opportunity to seize valuable targets from Mahomes early.
Red Flags
The biggest red flag for Moore is most likely to be his size, however, in recent seasons NFL general managers have been more willing to draft these smaller prospects. Look no further than Devonta Smith, Jaylen Waddle, and Elijah Moore. However, if his size limits his alignment to being exclusively a slot receiver, that could be something that impacts his fantasy value.
While teams are running more and more sets with three receivers on the field, there are teams and situations where teams use just two receivers. In these situations, the slot receiver is typically the one that comes off the field. If Moore ever finds himself in this type of scenario, it'll have a negative impact on his fantasy value because it will limit his overall snaps which in turn will limit his overall routes.
The other red flag is the same as Tolbert's – college competition. While there's no denying Moore crushed his opposition at college, the NFL game is a different beast. He will regularly face NFL competition now.
Takeaway
While most fantasy managers were incredibly high on Moore entering the draft, even having him above Treylon Burks or Chris Olave, and in some cases both, the fact he found himself drafted at the end of the second round requires a shift in perspective. This is not to say fantasy managers should write Moore off. However, going from a receiver who was largely viewed as a top-five or at worst top-six receiver down to the No. 13 receiver off the board requires fantasy managers to do a double-look at Moore's profile and determine if they might have been a bit too high on him from the start.
Moore's avenue to immediate success looks a little bit hazier than Tolbert's. While Smith-Schuster certainly comes with faults, he's proven to be about a 20-percent target share earner. With Kelce also on the squad, and Valdes-Scantling unlikely to come off the field very much because of the skill set he possesses, it may be difficult for Moore to get the opportunity he needs to be fantasy relevant.
There's certainly a case to be made for Moore being able to leap-frog MVS and Smith-Schuster early, but these are two solid veteran performers, and the Chiefs are a win-or-go-home ball club. Moore, due to his collegiate competition, may have a learning curve the Chiefs simply can't afford to deal with early on.
His future value, however, looks incredibly bright. Smith-Schuster is on a one-year deal, and Valdes-Scantling's three-year contract offers the Chiefs an out after 2022. Even if MVS sticks around, he's never been a high-target earner that would get in the way of a true breakout season for Moore. Kelce is also aging, and while there's no reason not to expect him to be dominant again this season, the end is near.
And the Winner Is…
Skyy Moore is the winner. However, this should probably be a bit closer than the perception currently is. Both players played and dominated at smaller schools. That lack of NFL competition most likely helped them. While Moore's "best" season isn't really all that much better than Tolbert's "best" season, Moore found ways to produce much earlier than Tolbert. Moore was also the early declare and found himself drafted ahead of Tolbert by a full round.
Moore should be a prospect that fantasy managers are drafting at the mid-to-backend of their rookie drafts, and Tolbert should be selected in the second round. Gallup has shown the ability to be a solid NFL producer, but in that same respect, not someone who is good enough that they can't be beaten out. With Gallup's early absence, Tolbert's value could rise to the point where fantasy managers are able to flip him fairly early on for a better return than the pick they used to draft him just a few months prior.
Both receivers are likely tied to elite-level quarterbacks and offenses for the duration of their rookie contracts. However, Moore has an easier pathway to sustained volume and a higher ceiling in his future years due to the unknowns surrounding the status of the remaining pass-catchers on his team. Tolbert could find himself battling for targets with Lamb, Gallup, and Schultz for his entire four-year rookie contract.