If you're reading this, I'm sure you've had a disappointing season from one of your fantasy players that you either drafted early or paid handsomely for in a trade. For me, after not being able to get my hands on Christian McCaffrey for three years I finally received the 1.01 in one of my redraft leagues in 2020. Of course, once I finally got him, he battled injuries all year and only played in three games. An example from last year would be Robert Tonyan who was drafted as TE8 on average. He only played in eight games, and only two of those were double-digit performances. In no particular order, here are five tight ends to avoid as they have some valid red flags that may lead to disappointment in 2022.
Zach Ertz
ADP: 146.86
After Maxx Williams was injured in Week 5, the Arizona Cardinals traded for Zach Ertz. Ertz performed well especially when DeAndre Hopkins went down with injury. He was funneled targets and consistently put-up double-digit performances on his way to finish as the TE10. Now, Williams will return, and the Cardinals drafted tight end Trey McBride in the second round. Ertz may still be TE1 on the depth chart, but it'll likely be a cycle of the three tight ends next season. McBride's second round draft capital shows that the Cardinals want to use him.
Another thing to be concerned about is his age and injury history. Check out his injury history below-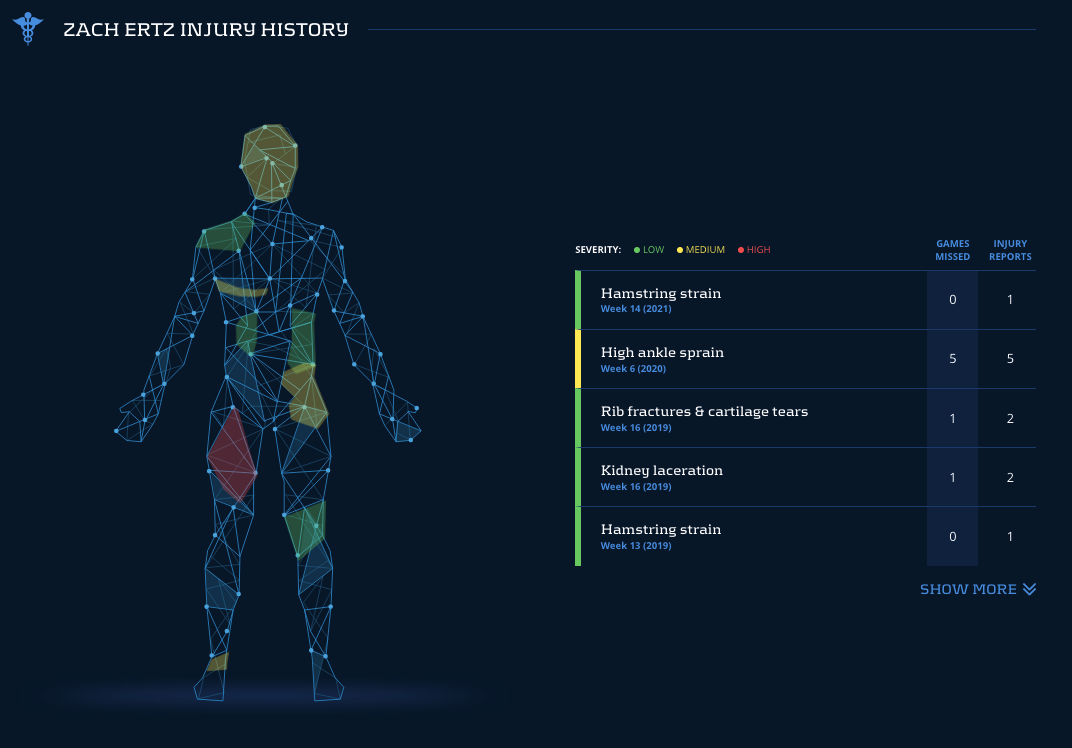 With an injury history like that at 32, two serviceable tight ends behind him, and Marquise Brown being brought in- it makes sense for Ertz's near 20-percent target share to go down in 2022.
Travis Kelce
ADP: 36.15
There are not many times you see a 33-year-old player be a top five dynasty asset. Travis Kelce provides that high of a ceiling for sure, he is the new No. 1 target on the Chiefs now. However, that may be a bad thing- being utilized as heavily as he may need to be could lead to injury. He has torn his ACL and sprained his ankle both with high severity. The chart below shows some other injuries Kelce has sustained over the course of his career.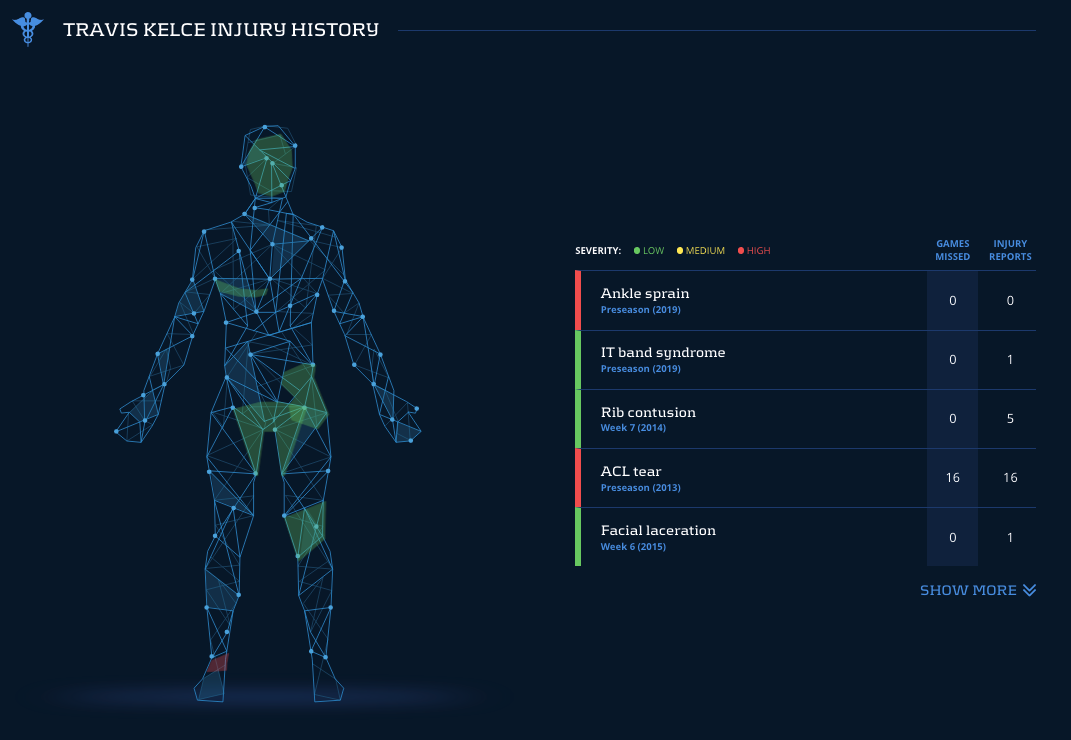 It may still be okay to draft him as high as his ADP in redraft leagues, but his dynasty value presents trade opportunity. Tight end is a top-heavy position, but there's also some solid consistency plays out there. Check out part two of the Avoiding the Tight End Wasteland series to look at some value options to try out. In dynasty, it may finally be time to start moving Kelce before it's too late. He still has plenty of value and may perform at that value, but it's not worth the risk.
Pat Freiermuth
ADP: 93.36
Pat Freiermuth is a guy who benefitted from redzone efficiency in 2021. Freiermuth wasn't a TE1 and only averaged 9.5 points per game, No. 16 among tight ends. He only had a 13-percent target share last season, but it did go up to 22.7-percent in the redzone.  Touchdowns will come his way next season no doubt, but the offense as a whole will probably remain about as productive as it was last season. A 13-percent target share is very concerning, especially when the Steelers drafted George Pickens in the second round. Mitchell Trubisky and Kenny Pickett should also be able to throw the ball deeper than Ben Roethlisberger which may open up the deep pass game to Chase Claypool that was largely missing last season.
Don't lose sight of reality when beat writers start doing stat predictions.

Just read about 100 catches being in Pat Freiermuth's reach.

He'd need 134 targets at 75% catch rate.

He got 79 targets last year on a team that ranked 4th in pass attempts.

— Matt Schauf (@SchaufDS) May 28, 2022
Here are some tight ends that have a lower dynasty ranking that will probably be more consistent- Dalton Schultz, Dawson Knox, Mike Gesicki, and David Njoku. Betting on Freiermuth to be a top 10 tight end is a tough ask when there's so many options available and offenses are getting more explosive. The Steelers offense will likely go through some growing pains next season, and Freiermuth's redzone efficiency may not be as relevant in 2022.
George Kittle
ADP: 49
In his five games with Trey Lance, George Kittle has averaged 54.6 yards, 4 receptions, and 0.2 touchdowns per game. That's not very exciting for a guy going so high in drafts and valued so highly in dynasty. Don't get me wrong, Kittle is a great tight end, but he will be 29 and hasn't played a full season since 2018. He's also already being held out of OTAs because of a calf injury.
George Kittle (lower body injury) may miss OTAs https://t.co/O175eCBgcc via @Koslow_ari #FTTB

— FantasyPros (@FantasyProsNFL) May 27, 2022
There's also a case that Deebo Samuel will be used less to run the ball in 2022 and more targets will be given back to him in the receiving game. It's always difficult to move on from studs, but with injury concerns and a changing offense- it may be time to send Kittle away before it's too late. Again, there's tight end talent out there and being able to leverage Kittle for needs at another positions would be a great strategy.
Kyle Pitts
ADP: 9.21
This one hurts to write because I love Kyle Pitts and obviously he's a great tight end. However, when you see some of the trades that people are getting for him, it's hard to believe he actually performs as well as people expect him to. Pitts' biggest knock last season was he didn't get more than one touchdown all season. And while Pitts is a TE that is basically a WR, the Falcons have gone out and gotten wide receivers that are basically tight ends. Bryan Edwards, Auden Tate, and Drake London are all towers with great catch radiuses. All of these WRs will threaten Pitts in the redzone. In 2021, Pitts' target share actually went down in the redzone from 20.3-percent to 17.6-percent.
This trade occurred 15 days before Darrel Williams signed with the Cardinals.

The PlayerProfiler Trade Analyzer tool doesn't love the cost it took to acquire Kyle Pitts😬#FantasyFootball pic.twitter.com/BRTThTFQI8

— PlayerProfiler (@rotounderworld) May 25, 2022
Pitts should still be productive next season, and with viable targets around him he should be open more. However, he may not even be the main redzone target on the offense when people are expecting positive regression in the touchdown department. That is something that is unlikely to happen, and if you can get some trades like the ones above- you should do it.