We're off to a decent start with player props in 2022. Despite some eye-popping team results such as the Colts' 0-1-1 start and the Giants' magical 2-0 start, there continues to be value in player prop betting and DFS pick 'ems. We're back on this series hunting for value on players whose lines are still not sharp two games into the season. In these articles, I review selections from the previous week. Then, I'll give out my favorite player prop pick 'ems for the upcoming weekend on the DFS pages of Underdog Fantasy and Sleeper.
In each article, I'll explain why I see value on the selected props. I will also accompany the article with at least one sample slip. Players who want to tail the picks can head over to the designated platform and join either Underdog or Sleeper using promo code UNDERWORLD for a full deposit match up to $100.
Week 2 Review
Last week's picks can be viewed in this article. After starting the season with a 4-0 sweep in Week 1, we couldn't quite repeat perfection in a semi-unlucky Week 2.
On our Sleeper slip, we took two receivers to show up on Sunday in volume. We found the ultimate cookie in Greg Dortch's receptions. Despite a slow start, Dortch stepped up in his slot role as the Cardinals came from behind in Las Vegas. As predicted, the negative games script aided Dortch to hit the over on his receptions. In the process, he also found the end zone. Unfortunately, we couldn't keep it perfect on Sleeper with DK Metcalf's over 4.5 receptions. However, this was our first bad beat of the season. Metcalf came up one catch short. The opportunities were there, but the conversions were not on our side. He caught five balls on eight throws in his direction. However, one was called back due to an unrelated penalty.
Yesterday, I was one DK Metcalf reception of a 5-0 builder sweep and a @SleeperHQ pick 'em play hit from my @rotounderworld Week 2 article.

Metcalf finished with 4 receptions on 6 targets and that doesn't even count this play which got voided via penalty.pic.twitter.com/jRmgAKdFvG

— Ahaan Rungta (@AhaanRungta) September 19, 2022
On our Underdog slip, we sold high on Najee Harris' rushing yards. This was thanks to eyeballing his injury report and a fear of Pittsburgh's offensive line in a tough matchups against New England. Taking the under on popular players continues to be a valuable play in the player prop market. Harris never challenged his 55.5 rushing yard line in the game.
Buying the Dip
We also bought the dip on Breece Hall whose role we predicted would increase. However, we managed to attack the wrong prop. Both Hall's rushing yard and receiving yard line seemed low. In a negative game script, we elected to go with the receiving yards. The Jets played comeback against the Browns. However, to our surprise, Hall only saw one target a week after drawing nine. On that opportunity, he produced a 10-yard touchdown, but we needed 15 receiving yards. His rushing effort of 50 yards on seven attempts means his lines should be on the rise for the rest of the season.
Week 2 Legs: 2-2; overall -1.00u

YTD: 6-2; +1.00u
Week 3 Picks
Pick No. 1 (Sleeper): Michael Carter (NYJ) UNDER 40.5 rushing yards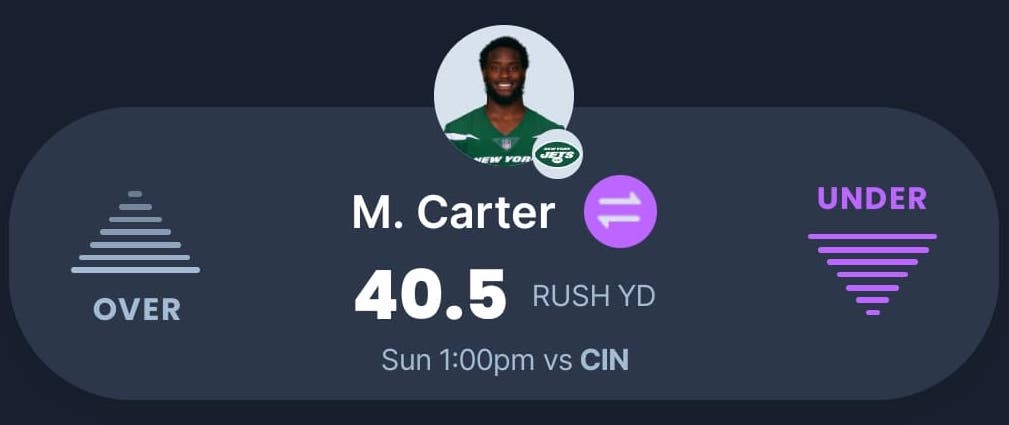 We're going right back to the Jets backfield. However, this time we're not taking chances on Breece Hall having a complete role on the ground and through the air. Instead, I believe Michael Carter is being over-projected in a negative game script.
First off, everything I mentioned last week about Breece Hall being the superior talent still holds. Despite a lowered snap share in Week 2 in a nail-biting game, Hall still received ample volume on the ground and tied the starter Carter in carries with seven.
Week 3
In Week 3, this backfield is set to face their toughest matchup yet as they meet the motivated 0-2 Bengals. The Bengals have a rush DVOA that ranks top ten in the NFL this season so far. In Week 1, they held the combo of Najee Harris and Jaylen Warren to only 30 yards on 13 combined carries. This caused the Steelers to pivot to wide receiver Chase Claypool for several carries. In Week 2, the committee of Ezekiel Elliott and Tony Pollard rushed for 53 yards on 15 carries and 43 yards on nine carries, respectively.
Michael Carter has gone under this rushing yard line in seven of his 13 starts since last year and is clogged in the backfield by elite prospect Hall. Furthermore, note the Jets will likely be playing from well behind all game. This is a bounce back spot for Cincinnati. It adds up to a smart sell-high for Carter on his expected volume.
Pick No. 2 (Sleeper): Adam Thielen (MIN) OVER 49.5 receiving yards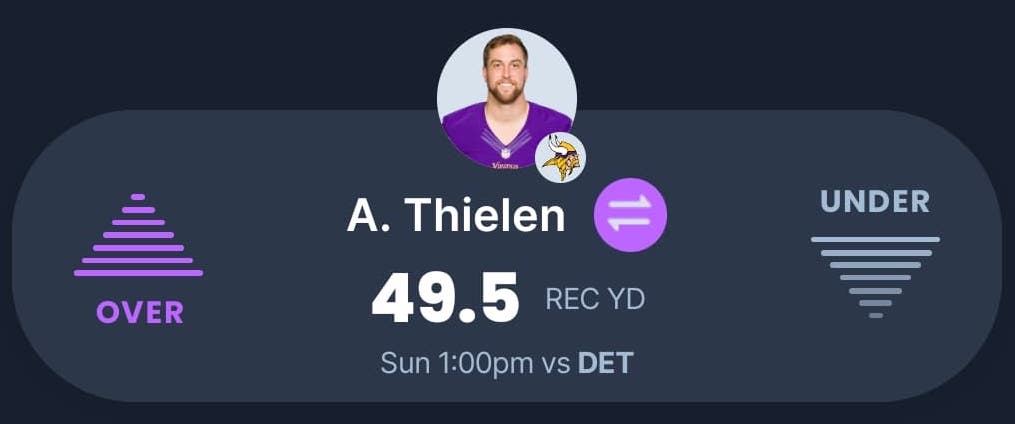 Just as we do every week, it's time for an undervalued over on an offensive player in the ballgame with the highest Vegas over/under line on total points. The Vikings enter Week 3 with the highest implied point total in the league. This makes Thielen's receiving total line an egregious buy-low.
In the Kirk Cousins era in Minnesota, Adam Thielen has cleared this line in 31 of his 50 healthy games. This includes eight of the 13 games where he's lined with Justin Jefferson. Of course, Jefferson continues to take steps forward as the alpha for head coach Kevin O'Connell and could be on the verge of a historical season. Still, the Detroit Lions are a layup matchup for Thielen.
Detroit's Defense
This season, Detroit ranks No. 19 in pass DVOA and has allowed the No. 8 most receiving yards and No. 9 most yards per reception to wide receivers. The injury recovery this offseason shouldn't worry you much about Thielen's ability to command volume. His 95.7-percent snap share and 77 routes run both rank top ten in the NFL this year. The availability hasn't been an issue. After producing 36 and 52 receiving yards in Weeks 1 and 2, respectively, this could be Thielen's first huge game of his age-32 season. On Sleeper, we're getting an extra-friendly line as sportsbooks have this number a yard or two higher at the moment.
Pick No. 3 (Underdog): Kylen Granson (IND) OVER 15.5 receiving yards


We've been ahead of the curve on Kylen Granson. In February, I told you to pick him up in dynasty. Fast-forward a few months and he now has a quarterback upgrade in Matt Ryan. He is still only "blocked" by Mo Alie-Cox. As a result, Granson has kicked off the new season with immediate relevance in the Colts' pass-catching attack.
There is a tight end that is getting pretty much zero talk in dynasty #FantasyFootball but given his situation, he deserves a long-term look.

Who is this athletically capable pass-catcher? A thread. 🧵 pic.twitter.com/oWVybcjsAL

— Ahaan Rungta (@AhaanRungta) February 17, 2022
Through two weeks, this is how Indianapolis has used their two-headed tight end committee.

While neither have produced an overly dominant amount with respect to each other, it is becoming clear that Granson, who got the start in Week 2, should be the main man going forward. Granson's slight dip in route-running should be viewed primarily as a result of the game being out of hand at the hands of the Jaguars. In what should be a competitive come-from-behind game script in Week 3 against the Chiefs, there should be plenty of air yards available to go around the Colts pass-catching unit.
Michael Pittman Jr. is back in the lineup and will be the alpha and even though rookie Alec Pierce is back. Although, he is banged up, so Granson should be the target of choice over him (alongside Ashton Dulin) as was the case in Week 1. Granson could clear this number in just a couple of targets. This is a good spot to get ahead of the market and buy-low on arguably the third-option pass-catcher in Indianapolis right now.
Pick No. 4 (Underdog): Rivals — Darrell Henderson OVER Cam Akers (LAR)
This is an Underdog-exclusive player prop that you can find in the Rivals section of the pick 'em menu on the site. For starters, Darrell Henderson's line on most sportsbooks is set a couple of yards higher than Cam Akers' (both around 35-40 yards, depending on platform). Luckily for this pick, we don't need to know whether either player is going over or under their line. Instead, I'm making an educated guess that Henderson has more rushing yards than Akers.
Lessons Learned
A week ago, this prop wasn't even available for obvious reasons. In the season opener, Akers only accounted for a 16-percent snap share and handled three carries for a grand total of 0 yards. This was much to the dismay of fantasy owners who spent heavy draft capital on the former second-rounder. The script was rejuvenated in Week 2. Akers was present for a 42-percent snap share and took 15 carries for 44 yards. He also sprinkled in some receiving work. On the other hand, Henderson was still involved but took 10 carries for 47 yards and was more fantasy-relevant since he converted a touchdown.
We learned a few lessons from Week 2:
Sean McVay's words about Akers' improvement in attention and hard work off the field might be meaningful. Akers is not quite dead yet. Though, it is an uphill climb to re-earn a possible role as the workhorse back given how inefficient he was on the ground in Week 2.

Even with five more carries, Henderson's efficiency reigned supreme, and he

still

out-rushed Akers. This means this rivals prop would be 2/2 on the season.
Week 2 Rams RBs on the ground:
🐑 Darrell Henderson: 10-47-1
🐑 Cam Akers: 15-44-0

Let's dig in on the carry splits though. 🤔
🦵 Game within a possession: Henderson 6, Akers 6
😤 2+ possession game: Akers 8, Henderson 4

Found the stat-padder. 😈pic.twitter.com/wxrr6Y9Ihx

— Ahaan Rungta (@AhaanRungta) September 23, 2022
Digging in a little more shows that Akers' carries primarily came when the Rams were up by plenty against the Falcons. When the game was close, Henderson was not out-done on volume by Akers and was far more efficient. Vegas doesn't think this week's matchup against the Cardinals should be a repeat in script. Instead, with the 3.5-point spread, the Rams could be in a close-fought game and will likely want to use their most trustworthy men on the field. This season so far all the evidence suggests that's Henderson. As long as he goes back to winning on volume in Week 3, this is the side you must take in the Rams backfield.
Example Slips
If you want to tail these picks verbatim, these are our recommendations. Play these player prop pick 'ems:
0.5u wager on a play with the 2 Sleeper picks, using

all-in

payout; profits 1u if both picks hit

0.5u wager on a play with the 2 Underdog picks; profits 1u if both picks hit
Your entries should look like this.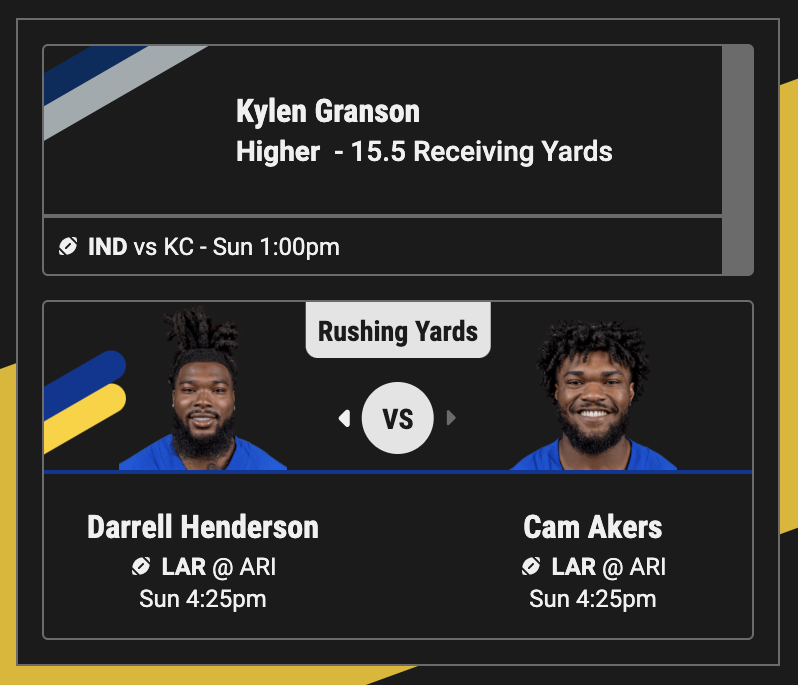 To read more about wagering player props and how to find edge, you can check out Seth Diewold's Beginner's Guide to Prop Betting. To get a deposit match up to $100 on either of these sites, use promo code UNDERWORLD upon entry.