We are through a week, plus a Thursday Night Football, of the fantasy season. Play-by-play data for this season's games are starting to pour in and get uploaded to PlayerProfiler.com. It's time to continue our series of weekly player prop pick 'em selections based on new knowledge. In these articles, I review selections from the previous week. I give out my favorite player prop pick 'ems for the upcoming weekend on the DFS pages of Underdog Fantasy and Sleeper.
In each article, I'll explain why I see value on the selected props. I will also accompany the article with at least one sample slip. Players who want to tail the picks can head over to the designated platform and join either Underdog or Sleeper using promo code UNDERWORLD for a full deposit match up to $100.
Week 1 Review
Last week's picks can be viewed in this article. It was a clean 4-0 sweep to begin the season!
Treylon Burks ✅
JuJu Smith-Schuster ✅@SleeperHQ parlay ➡️ 💸

Dameon Pierce ✅
Elijah Moore ✅@UnderdogFantasy parlay ➡️ 💸

4-0 sweep in my first #PlayerProps pick 'em article for @rotounderworld. Literally impossible to ask for better. We've set the standard. 🧹 https://t.co/3VTOycnxFJ pic.twitter.com/L5rmqJ7jlT

— Ahaan Rungta (@AhaanRungta) September 12, 2022
We bought low on the NFL debut of Treylon Burks, the sophomore breakout of Elijah Moore, and the team debut of JuJu Smith-Schuster. The overhyped rookie Dameon Pierce was a player we faded. We even went so far as to predict that Rex Burkhead could be the lead back to begin 2022 for Houston. Consequently, both slips cashed, and we got off to the ideal start to this season.
Week 1 Legs: 4-0, Underdog ticket cash, Sleeper ticket cash; overall +2.00u

YTD: 4-0; +2.00u
Week 2 Picks
Pick No. 1 (Sleeper): D.K. Metcalf (SEA) OVER 4.5 receptions

Frankly, this just cannot be the pick 'em line. In three games last year with Geno Smith as his starting quarterback, Metcalf commanded at least five targets in all three games. He also cleared this reception line comfortably in two games, notching six in each. In Week 1 this year, the beat went on as he was clearly Smith's No. 1 option. He caught seven passes on seven targets. This was despite Seattle playing from ahead in a close game. He was clearly the alpha in the Seattle offense. Metcalf finished as one of only eight wide receivers to post a route participation of 100-percent and a target share higher than 25-percent.
#NFL WR with a target share higher than 25% and a route participation of 100% in Week 1:

🐶 Davante Adams
🐶 Cooper Kupp
🐶 Brandin Cooks
🐶 Robbie Anderson
🐶 Ja'Marr Chase
🐶 Richie James
🐶 CeeDee Lamb
🐶 DK Metcalf pic.twitter.com/zF9JC1qNsh

— Ahaan Rungta (@AhaanRungta) September 16, 2022
In Week 2, Seattle should come back down to Earth in San Francisco. The 8.5-point spread in favor of the 49ers suggests San Francisco will likely win. Metcalf will match up with respected cornerback Emmanuel Moseley. However, this hasn't been an issue for him in the past. When facing Moseley as his primary cornerback, this is how he has fared:

2019 Week 10: 10 targets, six receptions, 70 yards

2020 Week 8: 15 targets, 12 receptions, 161 yards

2021 Week 4: 8 targets, four receptions, 65 yards
More Value
The lowest performance in 2021 was when Metcalf participated in only 88.5-percent of Seattle's snaps and ran a season-low 23 routes. This was thanks to the Seahawks taking control of the game in the third quarter in a blowout. This is a situation that is highly unlikely to repeat itself this Sunday.
To cap it all off, sportsbooks have this prop juiced to the over at around -135. This means the sharp look is that this prop is likely hitting the over. It's smart to take this volume prop on Underdog Fantasy as a pick 'em instead of relying on the receiving yards prop. This would require Pete Carroll to stay aggressive the entire game in order to utilize Metcalf's ability to convert downfield.
Pick No. 2 (Sleeper): Greg Dortch (ARI) OVER 3.5 receptions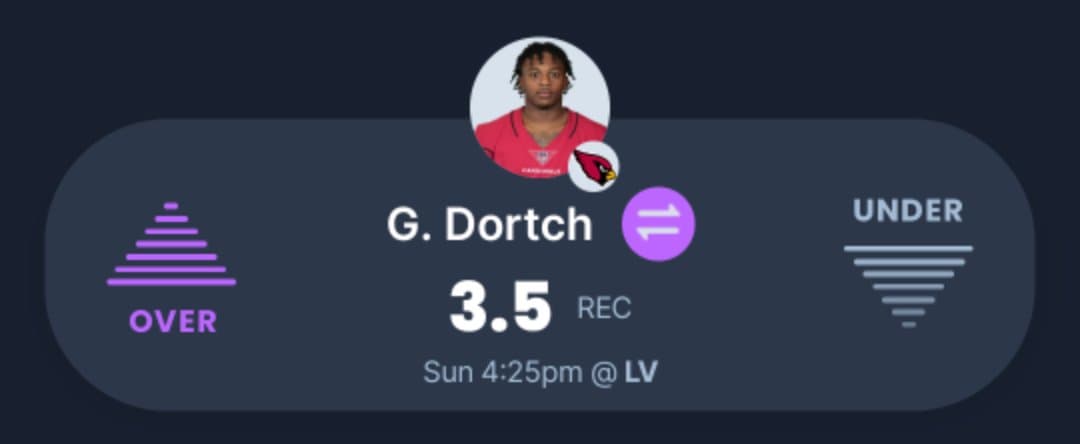 Just as we did last week with Chiefs vs. Cardinals, we're attacking the game with the highest total points line. Set at 51.5 points, Las Vegas expects a lot of points to be scored in their own city this week. They also expect Arizona to be playing catchup again. The hint lies in the 5.5-point spread in favor of the Raiders. In Week 1, Greg Dortch emerged as the slot man of choice for Kliff Kingsbury's new-look Cardinals receiving crew. Dortch put up seven receptions on nine targets for 63 yards in his season debut.
Matchups
In a similar game script with Rondale Moore and Andy Isabella both ruled out again, Marquise Brown and Greg Dortch are good starts in fantasy lineups. We're taking the outstanding value in Dortch because he matches up with cornerback Nate Hobbs. Hobbs' -19.5 coverage rating ranked No. 90 among cornerbacks last season. In Week 1, Hobbs primarily defended the slot. Brown took only eight snaps in the slot while Dortch took 48 (ranked No. 2 among all receivers in Week 1) with a perfect 100.0-percent route participation.
Dortch doesn't need to torch Hobbs and repeat his Week 1 production in order for us to win this prop bet. However, all signs point to him clearing this volume number in a projected shootout. This prop is juiced on most sportsbooks to the over at -130. It makes this a sharp look as a pick 'em piece.
Pick No. 3 (Underdog): Najee Harris (PIT) UNDER 55.5 rushing yards

We're getting a superstar price on this prop instead of a smart one. Most sportsbooks have this line set at 51.5. It's also juiced to the under, so the sharps already think we're getting a safety valve by playing this padded line as a pick 'em. Harris, the former first-rounder, is an elite talent. However, he carries with him multiple concerns entering this Week 2 matchup at home.
Last year, Harris was the centerpiece of the Pittsburgh offense. He ranked No. 1 in the NFL in opportunity share and No. 2 in carries (307). His talent was on display as well as he ranked No. 2 in evaded tackles (106) and yards created (1,035). Despite this volume and efficiency, he went under this line in seven of his 17 games. This season, he has the talented backup Jaylen Warren relieving him. In Week 2, he could need Warren to take some of the pressure off him.
Injury Concern
Harris spent the majority of this week being cautious at practice with a foot injury he suffered in Week 1. This injury limited him to a 57.4-percent snap share. In his 10 carries at Cincinnati, he rushed for only 23 yards. This was thanks in large part to a horrendous showing from a Pittsburgh offensive line that ranked No. 25 on the week in run block win rate.
This week, they will be set to face a Patriots defense that ranked above average in defending running backs on the ground in 2021 and ranked No. 5 in Week 1 in run stop win rate. In a game script that doesn't favor Pittsburgh controlling the offense through the ground, Harris should be low on volume and efficiency once again.
Pick No. 4 (Underdog): Breece Hall (NYJ) OVER 14.5 receiving yards


Last week, we sold high on the hype of fourth-round draft pick Dameon Pierce. We're once again investing in draft capital by buying low on first-round draft pick Breece Hall. Hall is the best running back prospect since Jonathan Taylor.
The Jets still list Michael Carter as their starting running back, but it should be common knowledge who the better talent is between Carter and Hall. Per this year's Breakout Finder, Hall was by far the best running back of the class. Given his collegiate profile, it would be a generational outlier if he didn't pick up lead back duties in a hurry and perform well in that role.
Even in a Week 1 that was considered underwhelming for fantasy managers, he was utilized in volume. Hall carried the ball six times for 23 yards and received six catches for 38 yards. His 10 targets were tied for the team lead with wide receiver Corey Davis and ranked No. 2 among all running backs in Week 1.
It makes sense to trust that Hall's opportunity share will only go uphill from here. This makes all his props intriguing looks for the over. We're picking the receiving yards due to game script and matchup. The Joe Flacco Jets are unsurprisingly underdogs again in Week 2. This factor implies Hall should be expected to run routes early and often as he did last week when his 25 routes run ranked No. 6 among all running backs.
He'll also face a Browns defense that ranked top five in Week 1 in both run stop win rate and pass rush win rate. That means we shouldn't bank on an efficient ground game for the Jets. Instead, Flacco should be hurried and have to find his short-route receivers such as Hall. This line is at 18.5 receiving yards on most sportsbooks. So, this is another spot where we get a valuable buffer by playing the leg as a player prop pick 'em.
Example Slips
If you want to tail these picks verbatim, these are our recommendations. Play these player prop pick ems:
0.5u wager on a play with the 2 Sleeper picks, using

all-in

payout; p

rofits 1u if both picks hit

0.5u wager on a play with the 2 Underdog picks; p

rofits 1u if both picks hit
Your entries should look like this.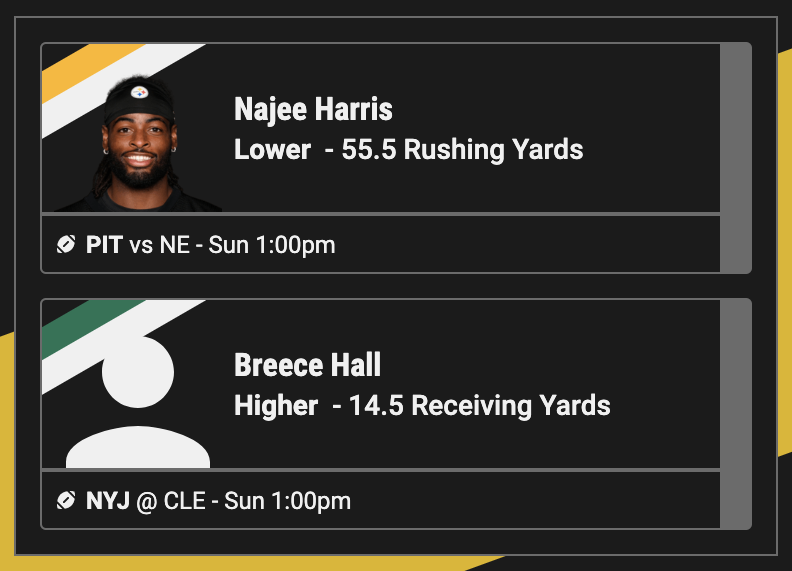 To read more about wagering player props and how to find edge, you can check out Seth Diewold's Beginner's Guide to Prop Betting. To get a deposit match up to $100 on either of these sites, use promo code UNDERWORLD upon entry.