In this weekly series, I'll outline my five favorite picks for the Sunday slate and provide a sample slip. As always, mix up the combinations and sacrifice a lamb or two.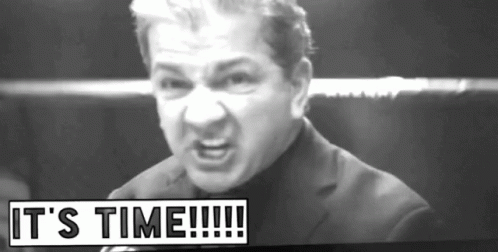 Week 14 Underdog Pick'em Plays
Laquon Treadwell OVER 33.5 Rec Yds
Confidence Level: Higher than high
Don't look now, but Laquon Treadwell is the No. 1 wide receiver in Jacksonville. Jamal Agnew was sent to the Injured Reserve two weeks ago and since then, Treadwell has seen significant opportunity: 91.5-percent and 92.7-percent Snap Shares, 40 and 27 Routes, 8 and 5 Targets. Also, he has hit the OVER in each of these games and he'll do so again when he matches up against PlayerProfiler.com's No. 107-ranked cornerback, Chris Jackson. Jackson and the Titans have been very friendly to wide receivers, but tough against the run, so my confidence is higher than high in this pick hitting the OVER.
Trevor Lawrence OVER 209.5 Pass Yds
Confidence Level: High
This correlated pick is strongly influenced by the matchup against the Titans and their weak passing defense. The Titans are one of the friendliest matchups to opposing quarterbacks. They have yielded over 250 passing yards to Zach Wilson, Trevor Siemian and my pick Trevor Lawrence. Yes, I'm lumping Lawrence, with a 7.0 (No. 34 among qualified quarterbacks) Accuracy Rating and 34 (No. 1) Interceptable Passes, into this group of reject quarterbacks, but his willingness to throw the ball will pay off against the Titans low rate secondary. His 426 (No. 8) Attempts and 3236 (No. 10) Air Yards show that he can be effective through volume alone. And the inviting Titans will welcome this volume.
Ezekiel Elliott OVER 53.5 Rush Yds
Confidence Level: High
I'm not sure why the Ezekiel Elliott line hasn't adjusted, considering that Tony Pollard tore his left plantar fascia last week.
Cowboys RB Tony Pollard (foot) says he tore his left plantar fascia during 58-yard TD run vs. Saints. Resulted in less fourth-quarter work. "It's really going to be a game-time decision" Sunday at Washington. pic.twitter.com/kkvF7gGRK5

— Michael Gehlken (@GehlkenNFL) December 9, 2021
This line is low hanging fruit based on volume alone. While Washington is effective at defending against the run, they will be hard pressed to stop Ezekiel Elliott from going OVER 53.5 rushing yards in a divisional matchup with a 48 point game total.
Ja'Marr Chase OVER 64.5 Rec Yds
Confidence Level: Pretty High
I'm going back to the well with Ja'Marr Chase this week because his usage coupled with the matchup scream OVER. Chase has a 100.0-percent (No. 1 among qualified wide receivers) Route Participation rating, so he will clearly have plenty of chances to accumulate targets against a team that allows a disproportionate number of targets to wide receivers. A high game total of 48.5 and plenty of opportunity will result in Chase crushing the OVER.
Rashod Bateman OVER 25.5 Rec Yds
Confidence Level: Pretty High
Chalk up last week's dud by Rashod Bateman as an anomaly because he has hit the OVER on this line in six out of seven games this season. His declining Snap Share and Route Participation has certainly contributed to this line being notably lower than his 43.0 receiving yards per game. However, his 6.23 (No. 1 among qualified wide receivers) Average Cushion and 75.0-percent (No. 4) Contested Catch Rate tell me that he is a reliable and safe target for Lamar Jackson.


Week 12 Recap (3 for 5)
I will recap my achievements and shortcomings for last week's slip at the end of each article.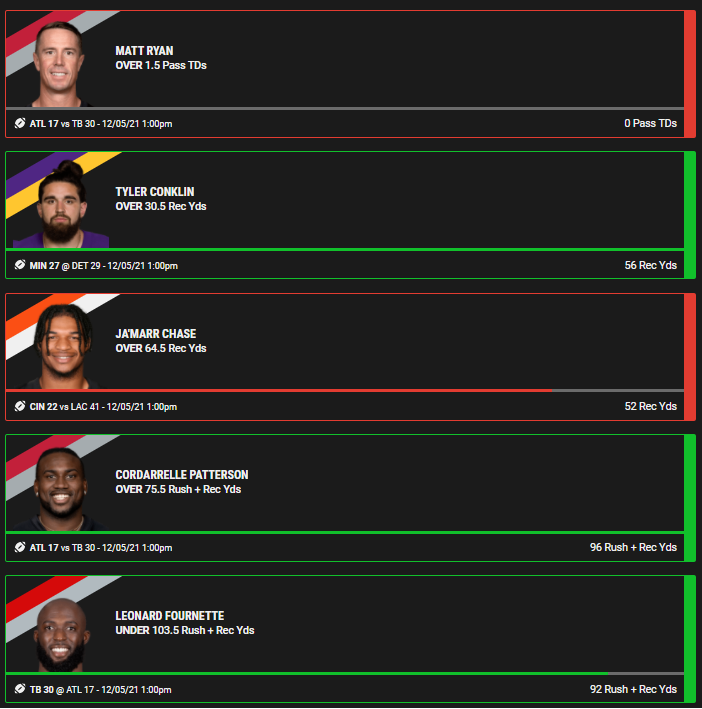 Matt Ryan OVER 1.5 Pass TDs❌
I should have seen this one coming. The pick was predicated on the high game total, but Matt Ryan has only his this line in half of his games and he had zero touchdowns against Tampa Bay earlier this season. Hindsight sucks.
Tyler Conklin OVER 30.5 Rec Yds
Tyler Conklin cruised past 30.5 receiving yards against the Lions. The departure of Adam Thielen contributed to his production without a doubt, but his 56 receiving yards on 7 receptions was impressive nonetheless.
Ja'Marr Chase OVER 64.5 Rec Yds❌
If Ja'Marr Chase caught this ball, then I would have had a much better Sunday.
Oh no Chase pic.twitter.com/ns4TCL60s7

— Theo Ash (@TheoAshNFL) December 5, 2021
Cordarrelle Patterson OVER 75.5 Rush + Rec Yds
Cordarrelle Patterson continues to prove why he is one of the most beloved players in 2021. He hit the OVER on this line not through his receiving yards, but on the ground against the elite Tampa Bay rushing defense. 👏
Leonard Fournette UNDER 103.5 Rush + Rec Yds
Uncle Lenny provided another excellent performance for his supporters and haters alike, but not enough to hit OVER 103.5 total yards. Despite being a Leonard Fournette fan, I was confident in taking the UNDER because he has only hit the OVER four times this season.