The draft is this week, so now is the perfect time to take a look back on the 2021 season. The 2021 season brought with it many surprises. Justin Tucker broke the record for the longest field goal, Antonio Brown had a meltdown, and some players outperformed their ADP. Drafting studs in the later round is the cheapest way to find fantasy football success, but it isn't always easy. Let's take a look at some tight ends who surprised us all by outperforming their ADP, and speculate on if they can repeat the same level of success next year.
No. 5) Hunter Henry
ADP: 153.2
Going into the season, Hunter Henry and Jonnu Smith were both expected to be threats. In fact, Smith even had a higher ADP than Henry with an ADP of 123. The season didn't go as expected. Smith finished as TE35 and Henry as the TE10. Henry finished the year tied with the most TDs among qualified tight ends (9) and 717 (No. 10) Air Yards. He had a 14.5-percent (No. 18) Target Share. That went up to 23.6-percent in the red zone. He was clearly one of Mac Jones' favorite targets, now going into his second year with the team.
Highest passer rating generated when targeted against zone coverage last season

1️⃣ Hunter Henry: 129.2
2️⃣ Dawson Knox: 128.9
3️⃣ Dallas Goedert: 123.1 pic.twitter.com/hd05b7XElS

— PFF NE Patriots (@PFF_Patriots) April 21, 2022
Can He Do It Again?
Hunter Henry should still finish as a top 10 TE, but did only average 9.7 (No. 15) Fantasy Points Per Game last season. This shows that he will probably be boom or bust, and also TD dependent. But it is Mac Jones second year, and they had a solid connection. So it really depends more on what the Patriots offense looks like next season.
Josh McDaniels is leaving the Patriots again. Last time he left, Bill Belichick took over OC duties and it is rumored to be the same next year. In 2009, the Patriots finished with 427 (No. 6) Points For. In 2010, the Patriots finished as the best offense in Points For, with 518. Belichick is probably the best football mind out there, so the Patriots should be fine. Last year, there was a perfect 50/50 split in TD distribution with 24 passing TDs and 24 rushing TDs. Hopefully with Jones in his second year, the passing TDs will go up. The team's 24 rushing TDs were good for second-most in the league, so there could be some regression in that department as well.
No. 4) Dawson Knox
ADP: 274
Dawson Knox had the lowest ADP in this entire series and then went on to have a breakout campaign in his third year. He averaged 10.9 (No. 9) Fantasy Points Per Game and finished the year tied for the most TDs (9). His Target Share also went up from 13.2-percent (No. 22) to 17.6-percent in the red zone. Tight ends on efficient offenses are almost always valuable, and he added to that point last season. Not only is he on one of the best offenses in the league, he also has an excellent profile.
Can He Do It Again?
I view Dawson Knox very similarly to Hunter Henry, but more consistent. Knox only had three games under seven points last season, whereas Henry had seven. That is exactly why Knox is less boom-or-bust. The Buffalo offense is just better than the New England's, plain and simple. That means their weapons will produce better. There is some cause for concern though, with Knox only having a relatively low Target Share last year. With Gabriel Davis breaking out in the playoffs, and Jamison Crowder and O.J. Howard coming to Buffalo, it's hard to imagine that number goes up. And on the same thought, it's also hard to imagine that he gets nine TDs again. But he should probably finish around the top 10 again. He is still a red zone option on a potent offense. That can never be dismissed in the fantasy football tight end wasteland.
No. 3) Mark Andrews
ADP: 50.6
Travis Kelce, George Kittle, Darren Waller, and Kyle Pitts all had lower ADPs than Mark Andrews. By the end of the year, Andrews had 50 more points than Kelce, 103 more points than Kittle, 170 more points than Waller, and 135 more points than Pitts. He totally dominated at all levels last year.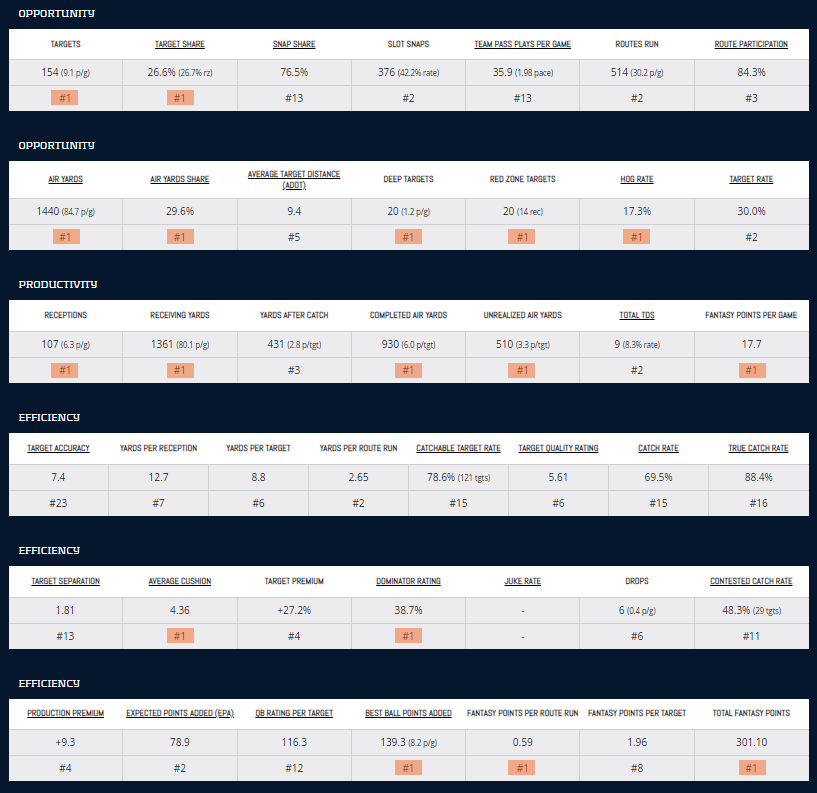 Andrews basically led the league in every metric that matters, in a season where his QB missed five games. All of this is exactly he is PlayerProfiler's TE1 in all formats.
Can He Do It Again?
As long as football happens next year, Mark Andrews will be a force. Again, Lamar Jackson only played in 12 games. That means that they will have five more games together next year. And while Andrews' best games came with Tyler Huntley under center, you have to assume the Ravens wouldn't completely go away from feeding him. They gave him 16 (!) targets in Week 18. That number perfectly exemplifies why Andrews is such a valuable fantasy asset.
No. 2) Rob Gronkowski
ADP: 125.6
Despite only playing in 12 games, Rob Gronkowski finished the year as the TE7, with just five fewer points than Kyle Pitts. Gronk averaged 14.3 (No. 3) Fantasy Points Per Game, logged 938 (No. 5) Air Yards, a 10.5 (No. 1) Average Target Distance, 14 (No. 2) Deep Targets, 14.6 (No. 3) Yards Per Reception, and 0.46 (No. 5) Fantasy Points Per Route Run. It was a fantastic run for the 32-year old tight end, but also your typical Gronk season. When he's healthy, he is truly one of the best. The problem is that he has trouble remaining healthy.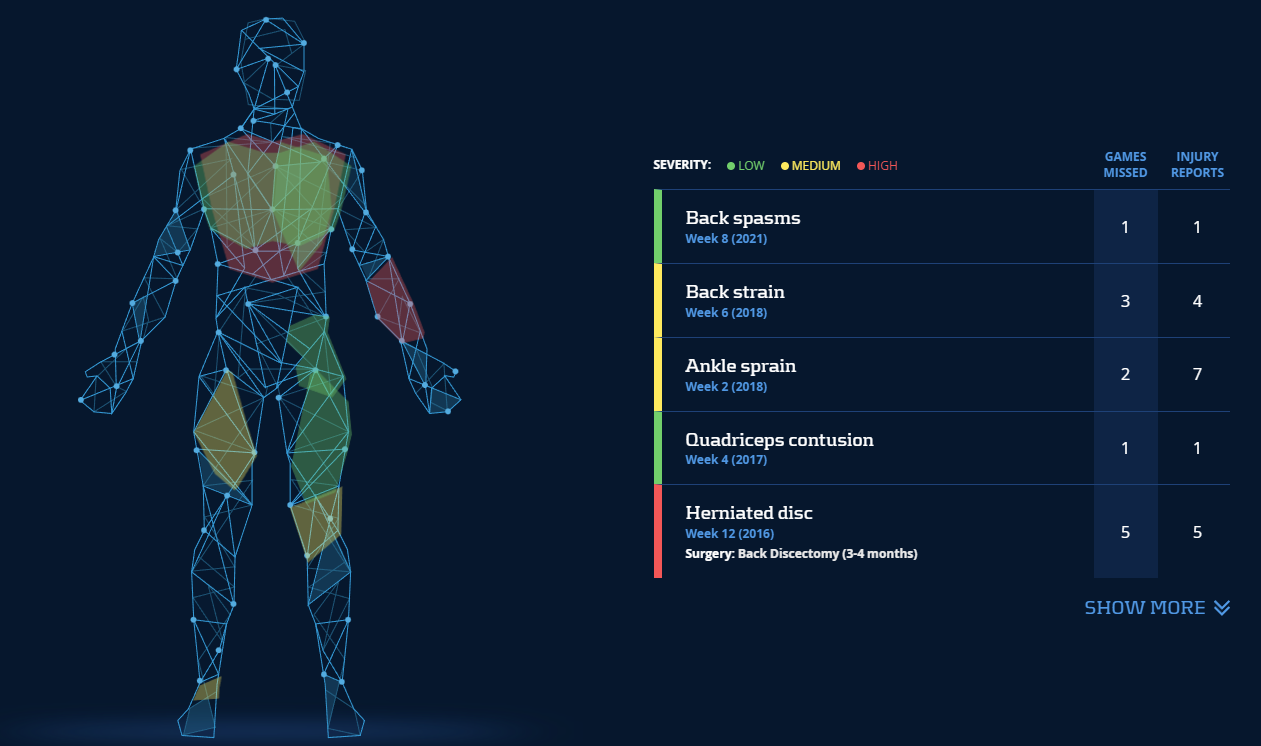 Can He Do It Again?
Like Dawson Knox and Hunter Henry, Rob Gronkowski probably won't be very consistent. Four out of his five games with a TD last season were actually multiple-score games. If you add the totals from his four highest scoring weeks, you get more than half of his season total. Gronk scored 91.4 points total in Weeks 1, 2, 13, and 18. He was top 5 in YAC though, and still performed without TDs, putting up 19.3 in Week 12 without any scores. Some good news is that O.J. Howard is gone, so that's one less vulture. However, he also hasn't officially said if he is playing next year or not. But with Tom Brady returning, you have to imagine that Gronk will give it one more go as well. If he does return and can stay healthy, he should be a very valuable asset that can be had for low draft capital.
No. 1) Dalton Schultz
ADP: 269
Last seasons was Dalton Schultz's third in the NFL. It was also his first year over 100 targets, which he turned into 78 catches, and 808 yards. And despite only having a 13.3-percent Red Zone Target Share, he still had eight (No. 5) TDs and averaged 12.3 (No. 5) Fantasy Points Per Game. He did all of this in a year with CeeDee Lamb, Amari Cooper, Cedrick Wilson, and Michael Gallup competing for targets.
Can He Do It Again?
Dalton Schultz's biggest focus is building on his 2021 season. Find out what he is working on this offseason. ⬇️

— Dallas Cowboys (@dallascowboys) April 19, 2022
Can He Do It Again?
I don't see why not. Amari Cooper and Cedrick Wilson are gone, so now Dalton Schultz is the clear No. 2 target behind CeeDee Lamb. Even Ezekiel Elliott is regressing, which should lead to more pass attempts. Schultz already had 104 targets in a year with at least five other receiving threats, so it stands to reason that he should get at least 100 targets again. The Cowboys had the second-most passing yards in the league last season, which is a good sign. As long as the passing attack stays dangerous, Schultz should have another fantastic season.