A Halloween Piñata shaped in the form of a pumpkin. Lined up in order, youngest to oldest, kids waited impatiently for a chance to swing the yellow whiffle ball bat.  The faint smell of candy, fueled the heavy handed youths, as they rained down devastation.
The paper mache target is the waiver wire of our hearts, if we but open up to what might be possible, a sweet reward awaits.  The RotoUnderworld Team, provides a tasty list of 10 players to add across all fantasy football formats.  Note: All listed players are owned in less than 50-percent of MFL redraft leagues.
Charcandrick West, RB, Kansas City Chiefs
Charknado, Charcandy, 'Rick West and Char Char are all horrendous nicknames for Charcandrick West.  On the other hand, "Moosey" West is the only acceptable nickname because I like my running backs to have looked like a "big moose" at birth.
Charcandrick West Advanced Stats & Metrics Profile
Whatever you end up calling him, it is clear that West will be getting a prime opportunity with Spencer Ware concussed and Jamaal Charles struggling with knee soreness.  After Charles was out for the year in 2015, West had a three game stretch of 20.9, 22.2 and 31.1 fantasy points. Moosey hungry, add Moosey.
C.J. Prosise, RB, Seattle Seahawks
If Ty Montgomery rolled off the pass catching back assembly line as an explosive version of Theo Riddick, then C.J. Prosise is a high end speed model.  Riddick, Montgomery and Prosise all possess wide receiver tools as they were all college receivers at one time or another.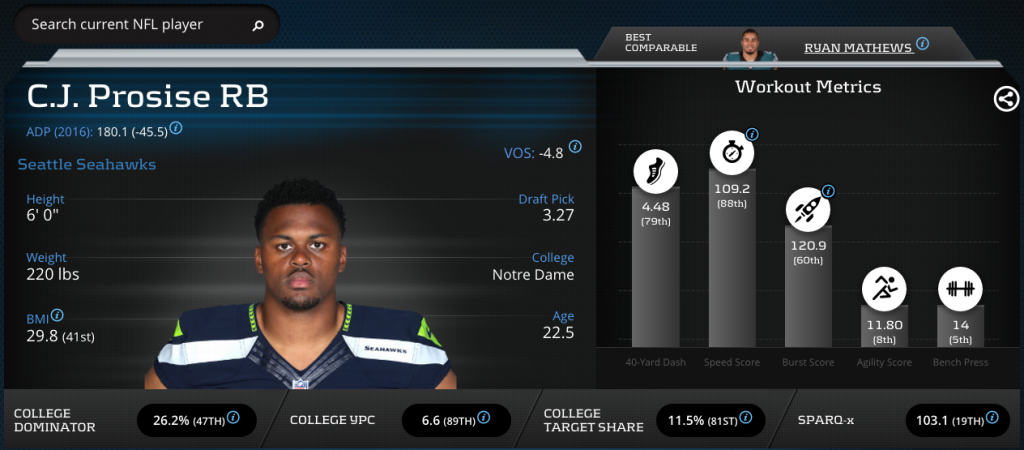 C.J. Prosise Advanced Stats & Metrics Profile
With their similar wide receiver backgrounds and similar usage as pass catching running backs at the NFL level, take a look at their contrasting athleticism and college production:

 Advanced Stats & Metrics Profile Comparison
Prosise received the most opportunity of his injury delayed career against the Saints in Week 7.  His 8 touches resulted in 103 yards while Christine Michael totaled 42 yards on 11 touches.  If Michael underwent "The Awakening" earlier in the season, his Week 8 performance was "The Hibernation".  Could Michael be relegated to the background as the Seahawks look to shake up their team after a frustrating loss to the Falcons?  I think this is likely as the Seattle coaches grapple with a less mobile, diminished version of Russell Wilson and an Offensive Line ranked 28th.  The upcoming matchups for Seattle in the Bills, Patriots and Eagles may lead the Seahawks to use the explosive Prosise dump off as a pseudo-running game to reduce the pressure on Wilson.
C.J. Fiedorowicz, TE, Houston Texans
Brock Osweiler is less the fearless egger of houses/pumpkin smasher and more the painfully shy trick or treater.  It's not that "single ply" Osweiler doesn't try to get the toiler paper to his outside receivers at the highest branches of the tree.  It's just that his toilet paper accuracy is best confined to wiping distance within his "safe zone".  While it feels dirty to recommend C.J. Fiedorowicz based on his quarterback play, his measurables and recent production provide an optimistic outlook.
As the Podfather postited back in 2015, C.J. Fiedorowicz is a Tight End Who Looks a Lot Like Gronk. The physical tools are evident, and the opportunity explosion should make "The Fedora" accessible to all, not just the hipster folk.
Waiver Priority Ranks
Now that Bruce Arians has placed J.J. Nelson on the the "starter" pedestal, show him your respect.  The ultimate burner, Nelson ran a 4.28 40 Yard Dash (100th percentile), and over the last two games, Nelson has received a healthy 19 targets.  His playmaking ability supplements the loss of Michael Floyd, who either mentally checked out of the 2016 season or is experiencing a wide receiver version of the yips evidenced by a league-worst 44.2-percent catch rate.
michael floyd officially has the yips. pic.twitter.com/YelY2dVUEK

— the podfather (@Fantasy_Mansion) November 1, 2016
As a gentleman with a rapidly deteriorating physique, I can identify with Rob Kelley.  We are all Rob Kelley.  Looking past the 86.5 (1st-percentile) SPARQ-x Score, when I watched Kelley run, his elusiveness caught me off guard.  The metrics confirm this with his 25.6-percent (No. 26) Juke Rate far outproducing his athletisicm.  Running behind an offensive line with a 127.4 (No.6) run blocking efficiency rating on PlayerProfiler, Kelley's intincts can make him a plodding factor for your fantasy team.
Antone Smith scores a long touchdown on every other play.  Worth a look in the case that he receives meaningful work in Tampa Bay with Jacquizz Rodgers injured.  Sean Payton no likey fumbles and Tim Hightower made the best of his opportunity after a key Mark Ingram fumble in Week 8.  Ingram's usage has made me feel ill all year, and Hightower may have earned the prime role going forward.
As Jacob Tamme is out for Week 9 with an injured shoulder, Austin Hooper's "flow" could see a delightful increase in target volume.  This is especially interesting as Hooper currently holds a +107.0 Production Premium (No. 1).  With the recent release of Knile Davis, James Starks becomes a speculative add with the assumption that the release was due to an expecation of Starks returning soon.
Below is the order I would claim players in a vacuum not taking into account individual team needs.