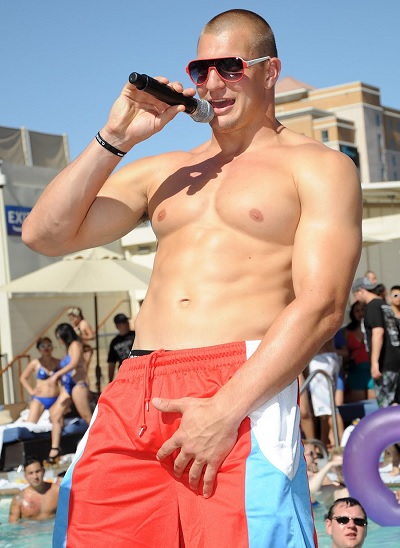 Rob Gronkowski is the quintessential American football player.  Women want to be with Gronk.  Men want to be Gronk.  Gronk's primal "Gronk Smash" touchdown celebration perfectly suits him — splattering masculinity all over your television most Sunday afternoons.
Off-the-field, Rob Gronkowski plays the role of the unknowing meathead party boy flawlessly.  Gronk is just here to do push-ups on furniture, drink all your booze, and bed all your women.  Nothing to see here.  This lifestyle is enabled by the "Gronk Rules," a different set of guidelines for covering and judging salacious celebrity behavior akin to the "Jordan Rules" that Michael Jordan lived under through the 1990's.  Moreover, Gronk's escapades are more impressive than Jordan's in an era of ubiquitous digital film and photography.  Let's watch Rob Gronkowski joyfully chug a bottle of vodka.  Let's watch Rob Gronkowski motorboat in the middle of the afternoon.  For players such Josh Gordon and Justin Blackmon, scolded across major sports media platforms and banned from the league for off-the-field drug and alcohol excesses, watching Gronk TV this offseason had to be maddening. 
Rob Gronkowski enters his sixth NFL season coming off a 82/1124/12 campaign.  This stat line was particularly impressive after Gronkowski missed the 2014 offseason recovering from reconstructive knee surgery.  In a fantasy football context, Gronk led all tight ends with 17.8 fantasy points per game, and more importantly a +5.2 Value Over Stream (VOS), which accounts for his production relative to the replacement level tight ends in most fantasy league formats.  Finishing the year healthy, at the top of his position, and hoisting a Lombardi trophy, no player deserved to party like it's 1999 this winter, spring, and summer more than Rob Gronkowski.
Football fans think of Rob Gronkowski as a physical freak of nature — the evolutionary apex of one of the world's most violent sports.  Do Gronkowski's athletic measurements justify the mythology?  Here are Gronk's workout metrics from the 2010 NFL Scouting Combine:
• 40 Yard Dash: 4.73 (62nd Percentile)
• HaSS: 108.1 (78th percentile)
• Burst: 118.1 (53rd percentile)
• Agility: 11.65 (40th Percentile)
• Catch Radius: 10.05 (65th percentile)
• SPARQX: 77.9 (55th Percentile)
While Rob Gronkowski is not necessarily the athletic specimen that NFL game broadcasters claim, Gronk is now stronger and healthier than ever before.  The New England Patriots also did not add a quality receiver who could impact his projected target share during the offseason.  Gronkowski is not only well-positioned for a career season statistically, he is poised to achieve the most productive tight end season in NFL history in 2015.  Fantasy gamers who appreciate value-based drafting (VBD), are targeting Gronk in the first round (MyFantasyLeague.com money league ADP: 9.2) to secure a competitive advantage on their league mates.
Even if you love Gronk as much or more than America loves Gronk, because of his top-10 ADP slot, you may not have an opportunity to select him in your fantasy draft.  Here are three players who look like Gronk, and at least one could conceivably out-produce him.
Travis Kelce (Kansas City Chiefs)
Like Rob Gronkowski, Travis Kelce is cloaked in mythology.  Nicknamed "Zeus," Kelce is also a speed-size freak with well-above average raw athletic measurable, and awe-inspiring size-adjusted workout speed, burst, and agility.  In fact, Travis Kelce is the closest comparable to Rob Gronkowski in the PlayerProfiler.com database.  Kelce's key workout metrics are as follows.
• 40 Yard Dash: 4.66 (77th Percentile)
• HaSS: 111.1 (83rd percentile)
• Burst: 123.3 (77th percentile)
• Agility: 11.51 (64th Percentile)
• Catch Radius: 10.12 (73rd percentile)
• SPARQX: 82.2 (68th Percentile)
Shockingly, Travis Kelce's is a more impressive athletic specimen than Rob Gronkowski by every measure.  From speed to burst to agility, Kelce is superior.  Also, Travis Kelce not just a Fendi Onobun-type workout machine.  No.  Travis Kelce was a go-to receiver at Cincinnati on his way to posting a 27.6-percent (86th-percentile) College Dominator Rating and 16.0 College YPR (85th-percentile).  Travis Kelce has always has been a truly special football player, and he is only getting better.
Seemingly having played NFL tight end from birth, Rob Gronkowski is an old 26-yo.  Meanwhile, having lost a full season with a major knee injury of his own, Travis Kelce is just five months younger than Gronkowski but significantly less wear and tear.  Kelce is a younger, fresher, less worn out version of Gronk.
The Kansas City Chiefs acknowledged Kelce's potential during the middle of last season.  In Week 11, Travis Kelce was bequeathed the full-time starting role and never relinquished it.  He went on to be the NFL's most efficient full-time tight end, besting Gronkowski in PlayerProfiler.com's Production Premium, Target Premium, and Yards Per Target in 2014.  Kelce's 56.4-percent Target Premium shows that his per-target fantasy output was more than 50-percent higher than the Chiefs' other skill position players — a staggering achievement regardless of Dwayne Bowe and Donnie Avery's inefficiency.
Given his athletic profile, a resume of college dominance, and established on-field NFL efficiency, all that is preventing Travis Kelce from meeting and perhaps exceeding Rob Gronkowski's fantasy output in 2015, is Alex Smith.  It is a big if, but Alex Smith did once propel Vernon Davis to a 965/13 line in 2009.  If Alex Smith can leverage his new toys from Jeremy Maclin to Chris Conley to Albert Wilson to keep drives alive and visit the red zone more frequently in 2015, then Travis Kelce's fantasy output will spike.  If Kelce maintains his per-target efficiency, 1200-yards and 12-touchdowns will be attainable.  
If a handful of reasonable external forces click together in 2015, Travis Kelce could pass Rob Gronkowski as the NFL's top tight end and usurp Gronk as the dominant tight end of the era.
Austin Seferian-Jenkins (Tampa Bay Buccaneers)
Austin Seferian-Jenkins looks like the frankencomp of Tyler Eifert and Rob Gronkowski.  Yet another player that fits the Gronkian fantasy TE1 prototype. Here are ASJ's workout metrics.
• 40 Yard Dash: 4.73 (62nd Percentile)
• HaSS: 106.9 (77th percentile)
• Burst: 119.6 (65th percentile)
• Agility: 11.20 (88th Percentile)
• Catch Radius: 10.25 (90th percentile)
• SPARQX: 85.8 (77th Percentile)
Like Travis Kelce, Austin Seferian-Jenkins was both hugely productive at the college level evidenced by his 29.5-percent (87th-percentile) College Dominator Rating and 18.9 (93rd-percentile) Breakout Age.  Austin Seferian-Jenkins is also one of the NFL's premiere size-adjusted athletic specimens.  As Jon Moore elaborated on Rotoviz.com, weight-adjusted agility was the most significant number in his workout metric predictiveness study.  Indeed, Austin Seferian-Jenkins posting a 11.20 Agility Score (faster than many running backs) at 262-pounds is a near-otherworldly accomplishment.  Thinking about it intuitively, lateral agility for a big man in tight spaces over the middle is a critical component of both creating separation from linebackers and safeties as well as maximizing yards after the catch.
Austin Seferian-Jenkins was relatively inefficient in 2014 with Josh McCown under center posting a -12.9 (No. 42) Production Premium and only 5.8 Yards Per Target (No. 68).  However, a relatively inefficient rookie season is partially explained away by the fact that history has not been kind to rookie tight ends.  Furthermore, no tight end in football received a more significant quarterback upgrade this offseason.  Jameis Winston's prolific 2013 college season offered a window into his stratospheric ceiling — an NFL passer capable of 4000-plus yards and 30-plus touchdowns annually.
Jameis Winston will likely leverage Austin Seferian-Jenkins often as his check down option given that Tampa Bay does not have an above-replacement level third receiver on the roster after sending both Kenny Bell and Robert Herron to season-ending injured reserve.  ASJ is a significantly a more capable receiving option than defacto No. 3 WR Louis Murphy.  Given the Tampa's well-documented running game challenges (Tampa ranked No. 29 in rushing yards in 2014), the Buccaneers will surely lean on the passing game to generate points.  As Jameis Winston's No. 3 receiver in read progressions, Seferian-Jenkins will benefit from Tampa's immanent pass volume spike as soon as Week 1.  With an MFL ADP of 140.1, Austin Seferian-Jenkins may be the best-value tight end in fantasy football.
C.J. Fiedorowicz (Houston Texans)
The last tight end on the list is the 6-6 265-pound C.J. Fiedorowicz. Yet another player that fits snugly into the Rob Gronkowski every-down tight end profile.  CJF's key workout metrics are as follows.
• 40 Yard Dash: 4.76 (52nd Percentile)
• HaSS: 105.4 (73rd percentile)
• Burst: 113.1 (27th percentile)
• Agility: 11.36 (77th Percentile)
• Catch Radius: 10.03 (57th percentile)
• SPARQX: 82.5 (69th Percentile)
C.J. Fiedorowicz and Rob Gronkowski share a strikingly similar body type — 6-6 and 265-pounds.  Gronk's arms are just over an inch longer giving him a slightly larger catch radius of 10.05, compared to CJF's 10.03.  Fiedorowicz is slightly slower with less burst than Gronkowski, but his 11.36 Agility Score and 82.5 SPARQ-x are superior to Gronk.  C.J. Fiedorowicz's athletic profile fits the dominant every-down NFL tight end archetype.
As with Austin Seferian-Jenkins, C.J. Fiedorowicz was tasked with learning the nuances of the tight end position in 2014.  Learn how to block first and then you can start catching passes.  Fiedorowicz began the season with a 98.2-percent snap share as Garrett Graham missed Week 1.  He finished the year with a 60.2-percent snap share, impressive for a rookie tight end.  Knowing that most NFL pass rushers are essentially impossible to block and most NFL cover linebackers are speed-size freaks, CJF's muted rookie year production was understandable.  C.J. Fiedorowicz should see increased snaps in his second year, which would equate to more targets and more red zone scoring opportunities.
C.J. Fiedorowicz's coach, Bill O'Brien, coached Rob Gronkowski during his time as Patriots offensive coordinator.  Soon after O'Brien arrived in Houston, the Texans naturally selected C.J. Fiedorowicz in the third round of the 2014 NFL Draft — a tight end who looks strikingly similar to Gronk.  Coaches are never the primary reason for a player's production, but the fact that Gronkowski posted 1327 yards and 18 total touchdowns in his second season with O'Brien in New England is noteworthy.
In 2015, C.J. Fiedorowicz will likely build on a rookie year where he saw the field more than his counting statistics suggest.  Fiedorowicz is poised to develop into an every down player on a team lacking playmakers in the passing game (sorry Cecil Shorts and Nate Washington enthusiasts).  If Fiedorowicz can breach the 80-percent snap share threshold, he will become a valuable fantasy asset.  His 221.6 ADP in MyFantasyLeague.com money leagues makes him the perfect end-of-draft flyer or match-up-based streamer.
Conclusion
If you can't get Gronk smashed, there are Gronk-like assets in the mid rounds, late rounds, and free agency.  Get some.