This is the Best Pick 'Em Player Props: Week 18! It is time for the penultimate full slate of NFL regular season football in 2022, and it is now or never to find a massive menu of DFS player props with value. Welcome back to my written series on the NFL's best pick 'em player props of the week. As usual, I will review selections from the previous week, then give out my favorite player prop pick 'ems for the upcoming weekend on the DFS pages of Underdog Fantasy and Sleeper.
In each article, I'll explain why I see value on the selected props. I will also accompany the article with at least one sample slip. Players who want to tail the picks can head over to the designated platform and join either Underdog or Sleeper using promo code UNDERWORLD for a full deposit match up to $100. Players who want to get a head-start building their pick 'em cards earlier in the week can also visit PlayerProfilers' DFS Dominator tool and navigate over a dozen prop leans by me and some other staff, a day or two before I reveal my final picks in this article. These picks will be located in the Underdog Pick Generator on the website.
Week 17 Review
Last week's final wagers can be viewed in this article.
Week 17 Underdog play: Travis Kelce over 0.5 receiving TDs | Michael Pittman over 57.5 receiving yards | Parris Campbell under 32.5 receiving yards
What an absolute whiff. The Chiefs played a tightly contested game against the elite pass defense of the Broncos. 11 different players caught a pass for Kansas City. While Travis Kelce led the team in receptions (7), the touchdowns came from Jerick McKinnon and backup tight end Blake Bell. Kelce has gone three straight games without a red zone target for the first time since 2015.
As for the Colts' offense, quarterback Nick Foles was hurt in the contest but before he left, he threw a deep ball to Parris Campbell to ruin the stack early. Campbell notched 52 yards on just three catches and Michael Pittman notched just 41 yards despite six receptions and a touchdown.
Week 17 Sleeper play: Teddy Bridgewater over 5.5 rushing yards | Jakobi Meyers over 51.5 receiving yards
For this two-leg same-game stack, we got off to a good start. Quarterback Teddy Bridgewater rushed for six yards on one carry early in the game before his second-half injury. However, Jakobi Meyers fell short. Despite drawing nine targets and hauling in six receptions, he was pulled a tad early from the game and got hooked at just 48 yards. Right read, bad luck.
Week 17 Legs: 1-4; overall -1.00u

YTD: 36-40-1; -4.00u
Week 18 Picks
If you are new to player prop pick 'ems, we recommend learning about them through our Beginner's Guide Article. In the Beginner's Guide Article, we preview some profitable strategies and when to use insurance. Again, we are going all-in on our three-leg play since it is strictly more profitable than taking the insurance method.
The three-legger for Week 18 involves correlation, utilizing an effective strategy: get positively-correlated legs in a game for the same price as independent outcomes. With legs within an entry positively correlated with each other, we're making fewer bets to hit two legs than if we bet on two separate independent events. We will start with a three-leg Underdog play spanning through two games during the Saturday slate.
Pick No. 1 (Underdog): Patrick Mahomes (KC) OVER 325.5 passing yards
I'm not one to auto-bet incentives/records in the final week of the regular season, but this one makes a ton of sense, especially as a same-game stack. Patrick Mahomes is 430 yards shy of Peyton Manning's record for passing yards in a single regular season.
With the Chiefs still playing for a No. 1 seed and likely continuing their pass-heavy tendencies to ensure they win, Mahomes should easily get the volume to not just clear this line but challenge the record. The Raiders own the NFL's worst pass defense by defensive DVOA, per Football Outsiders, and Mahomes has already cleared this line in five of his eight road games this season.
Pick No. 2 (Underdog): Travis Kelce (KC) OVER 75.5 receiving yards
This line has been moving up and is now at 76.5 on sportsbooks. If you were in the PlayerProfiler Discord, we got this in early when the line was a few yards lower, but I still like it. Kelce needs 117 more yards for the all-time single-season record for receiving yards by a tight end. To do so, they will likely ensure their best pass-catcher gets more involved than he has been recently, particularly in the red zone.
Travis Kelce red zone targets ⬇️
🎯 Weeks 1-14: 0 games with no red zone targets
🎯 Weeks 15-17: 3 games with no red zone targets*

* 9.3 tgts/gm but 0 in RZ. It's his first 3-game stretch w/o a RZ tgt since 2015. KC is about to force-feed.

Playoff 1.01.https://t.co/MZNX5sV400

— Ahaan Rungta (@AhaanRungta) January 4, 2023
We're getting a discount because he had "only 25 yards" in his previous game against these Raiders, but that was the game he had four touchdowns. He's still averaged 81 yards per game against the Raiders since they moved to Las Vegas in 2020, including 119 yards and 127 yards in his two games visiting Vegas.
Pick No. 3 (Underdog): Derrick Henry (TEN) OVER 0.5 rushing TDs
Prop readers of this series are very familiar with Derrick Henry. The King is once again juiced on sportsbooks to find the end zone. This time the line is up to -155. We'll take the value again. The Titans are in a win-to-be-in game against their division rival Jacksonville Jaguars, and it is obvious that they will primarily rely on their superstar running back Derrick Henry, especially in the red zone. Henry has 44 red zone touches (No. 3-most in the NFL) and 10 goal-line carries (No. 3-most) in 15 games this season.
He was rested in Week 17, which was the only game where Joshua Dobbs was at quarterback. It is clear that Dobbs is currently the better option than rookie Malik Willis to produce offense for Tennessee, so I anticipate their offense to find the red zone a few times against a Jaguars defense that ranks No. 28 in the NFL in weighted DVOA, per Football Outsiders. If so, Henry will be fed early and often.
Pick No. 4 (Sleeper): Tee Heggins (CIN) OVER 66.5 receiving yards
With our thoughts and prayers continuing to be in the direction of Damar Hamlin and his recovery, one must not forget about the man whose hit started one of the most heart-dropping events in recent sports. With Bengals wideout Tee Higgins now in good spirits seeing Hamlin awake and alert, it's time for him to go back to being a baller.
The Ravens love to eliminate other teams' top wideouts like Ja'Marr Chase, thanks to the elite ceiling of cornerback Marlon Humphrey. Unfortunately for them, Humphrey can't guard everybody on the field. That is why Higgins was able to draw at least 13 targets and seven receptions in both healthy games he has played in his career against Baltimore, playing alongside Chase. In those games, he recorded 62 and 194 receiving yards.

With the Bengals still playing for favorable seeding and a division title, they should keep their starters in to see this game through. Additionally, if they are to get the job done against a Baltimore team that is struggling to find a quarterback, the offense must show up through at least one of their star wideouts. Our choice this week is Higgins who has cleared this line in seven of his 12 games where he participates in over 30-percent of the Bengals' offensive snaps.
Pick No. 5 (Sleeper): Mac Jones (NE) OVER 0.5 interceptions
Speaking of narratives following last week's Bills-Bengals catastrophe, the defensive unit of the Bills is finally all smiles after seeing their teammate breathing and communicating on Facetime. An already great defensive unit will now be playing against Mac Jones who has thrown three interceptions in his last three games against the Bills.

Buffalo has hauled in the No. 8-most interceptions on the season. This season, Jones has thrown four interceptions in four games when facing a defense that ranks top 12 in the NFL in pass DVOA, per Football Outsiders. The Bills rank No. 9.
Example Slips
If you want to tail these picks verbatim, these are our recommendations. Play these player prop pick 'ems:
0.5u wager on a play with the 3 Underdog picks, using

all-in

payout; profits 2.5u if both picks hit

0.5u wager on a play with the 2 Sleeper picks; profits 1u if both picks hit
Your entries should look like this.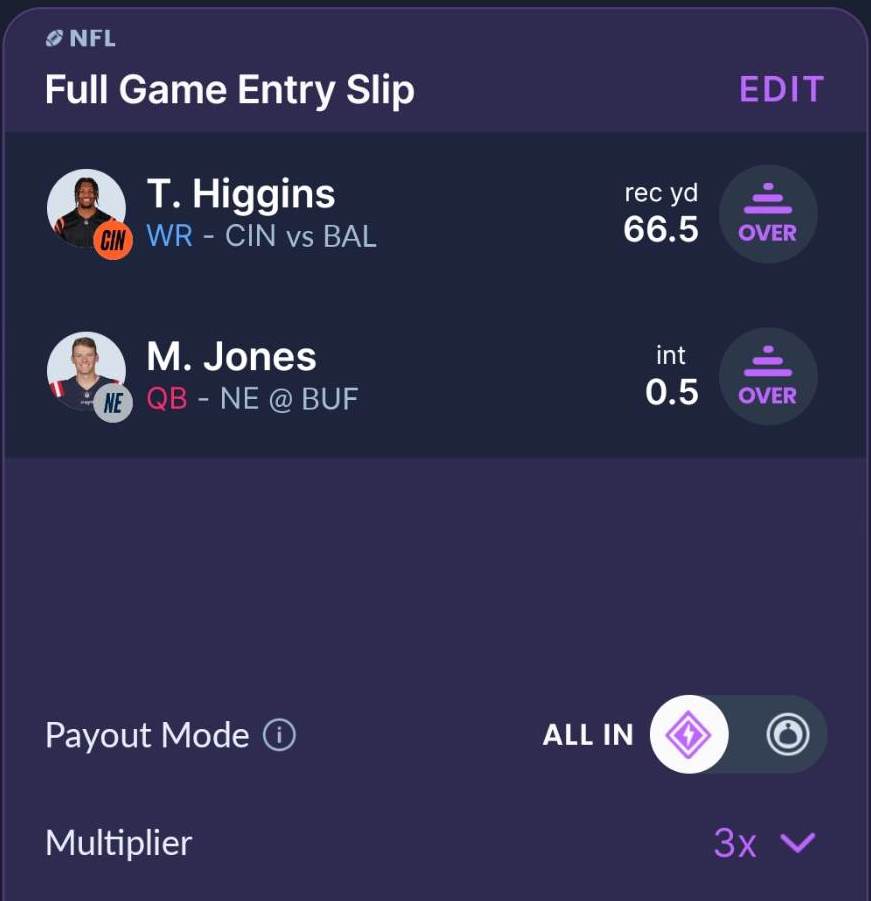 To read more about wagering player props and how to find edge, you can check out Seth Diewold's Beginner's Guide to Prop Betting. To get a deposit match up to $100 on either of these sites, use promo code UNDERWORLD upon entry.