The 2023 NFL draft is in one month. After the NFL Draft, prospects will finally have their landing spots in what is a deep class for many positions. While there may not be many generational talents expected out of this year's class, there is certainly plenty of talent that will be fantasy-relevant, and drafting for the 2023 season never stops. It is why the Breakout Finder app has been loaded with its preliminary set of ratings for the most relevant running back and wide receiver prospects.
Important note: this is set even before their exact draft position has been determined.
Breakout Finder App
Downloading the app and exploring metrics of college prospects ready for the NFL is a great way to learn about player profiles. It is also a great way to eliminate the subjective aspect of film breakdowns. The app costs just $5 to download. If you'd like a preview of how the app works, you can view a full guide in our 2023 Breakout Finder Guide.
One major edge for early-offseason drafts, such as best ball tournaments on Underdog Fantasy, comes in identifying fantasy ceilings in rookies. It is important to do this before the public recognizes their value. The Breakout Finder allows fantasy gamers to sift through the noise on over-hyped prospects.

For example, as mentioned in our guide, the 2022 Breakout Finder provided fantasy caution for Dameon Pierce. His value skyrocketed toward the start of the NFL season in 2022. However, his discouraging college profile of not being a workhorse or a target hog were concerning signs the Breakout Finder identified. Last year's ratings also gave insight into the potential of Christian Watson. Watson turned out to be a game-changer as a rookie and outperformed his preseason ADP by over 30 spots.
This Year's Values
Who are this year's fades and buys as we enter April? Below, we will highlight one running back and one wide receiver that the 2023 Breakout Finder identifies as a huge fade at their current ADP. Additionally, I'll highlight one running back and one wide receiver the app identifies as a huge steal at their current ADP (relative to their fellow rookies). Keep in mind that Breakout Ratings are agnostic of players' exact landing spots. This is even true after the NFL Draft. While draft capital (pick number) will prompt an update to Breakout Ratings after their selection, the situation/team is not baked into their ratings as they are far too many variables to effectively predict in the long run.
Running Back Fade: Chase Brown
Breakout Finder Rank: Rookie RB15 / Underdog ADP: Rookie RB10
Illinois' Chase Brown is the textbook example of pure athleticism. He's also a poster child for the fact that it often takes more than just that to succeed in the NFL. Brown's 103.0 Athleticism Score ranks No. 3 among the 12 qualified running backs of the class. However, Brown posted underwhelming efficiency metrics. Additionally, he closely compares to well-known fantasy bust Darrynton Evans on PlayerProfiler.com. He has the No. 15 Breakout Rating in the current version of the application. However, he is being drafted as the RB10 off Underdog boards. This is good for 213.2 overall.
Brown currently gets drafted ahead of new Cowboys backup Ronald Jones. New Buccaneers pass-catching back Chase Edmonds is going behind Brown as well. Additionally, multiple rookies have graded better in this year's Breakout Finder.
Running Back Steal: Roschon Johnson
Breakout Finder Rank: Rookie RB3 / Underdog ADP: Rookie RB7
Texas' Roschon Johnson did not grade extremely well as an athlete at this year's NFL Combine. However, he still provides a versatile profile.  Additionally, he posted big numbers in the same backfield as this year's unanimous RB1, Bijan Robinson. The Breakout Finder has spotted that Johnson is able to perform at a high level. He's also likely to command opportunities in a great backfield. As a result, the Breakout Finder has ranked him as this year's No. 3-likeliest running back to have a breakout fantasy season.
Yet, six other rookie running backs are currently being drafted ahead of Johnson. Bijan Robinson, Jahmyr Gibbs, Zach Charbonnet, Devon Achane, Tyjae Spears, and Sean Tucker are all running backs being selected over him currently. Johnson's ADP on Underdog Fantasy is currently the RB52. This is good for 171.4 overall. Johnson's current ADP also happens to be behind currently unemployed running back Ezekiel Elliott. He's also ranked behind the uncertain situation of Kareem Hunt. Consider waiting to draft the Longhorns product at this value. Don't reach on rookies with inferior Breakout Ratings.
Wide Receiver Fade: Marvin Mims
Breakout Finder Rank: Rookie WR11 / Underdog ADP: Rookie WR7
Oklahoma's Marvin Mims posted a 4.38-second 40-yard dash, posted a peak college 20.1 yards per reception in one season, and closely compares Darnell Mooney. That's about where the good news ends for Mims, who was just a 63rd-percentile college target share prospect. Additionally, Mims ranked No. 30 in Athleticism Score of the 39 qualified wide receivers of the class. The Breakout Finder gives him credit for carrying the ability to make the big plays. However, this is not enough to justify being drafted as the seventh rookie wideout on Underdog Fantasy. This is good for the WR83 and 189.5 overall on Underdog currently.
Mims is currently being drafted ahead of Robert Woods, Deonte Harty, and multiple rookies with better Breakout Ratings. This includes the next name on our list—the absolute steal that is Rashee Rice.
Wide Receiver Steal: Rashee Rice
Breakout Finder Rank: Rookie WR5 / Underdog ADP: Rookie WR8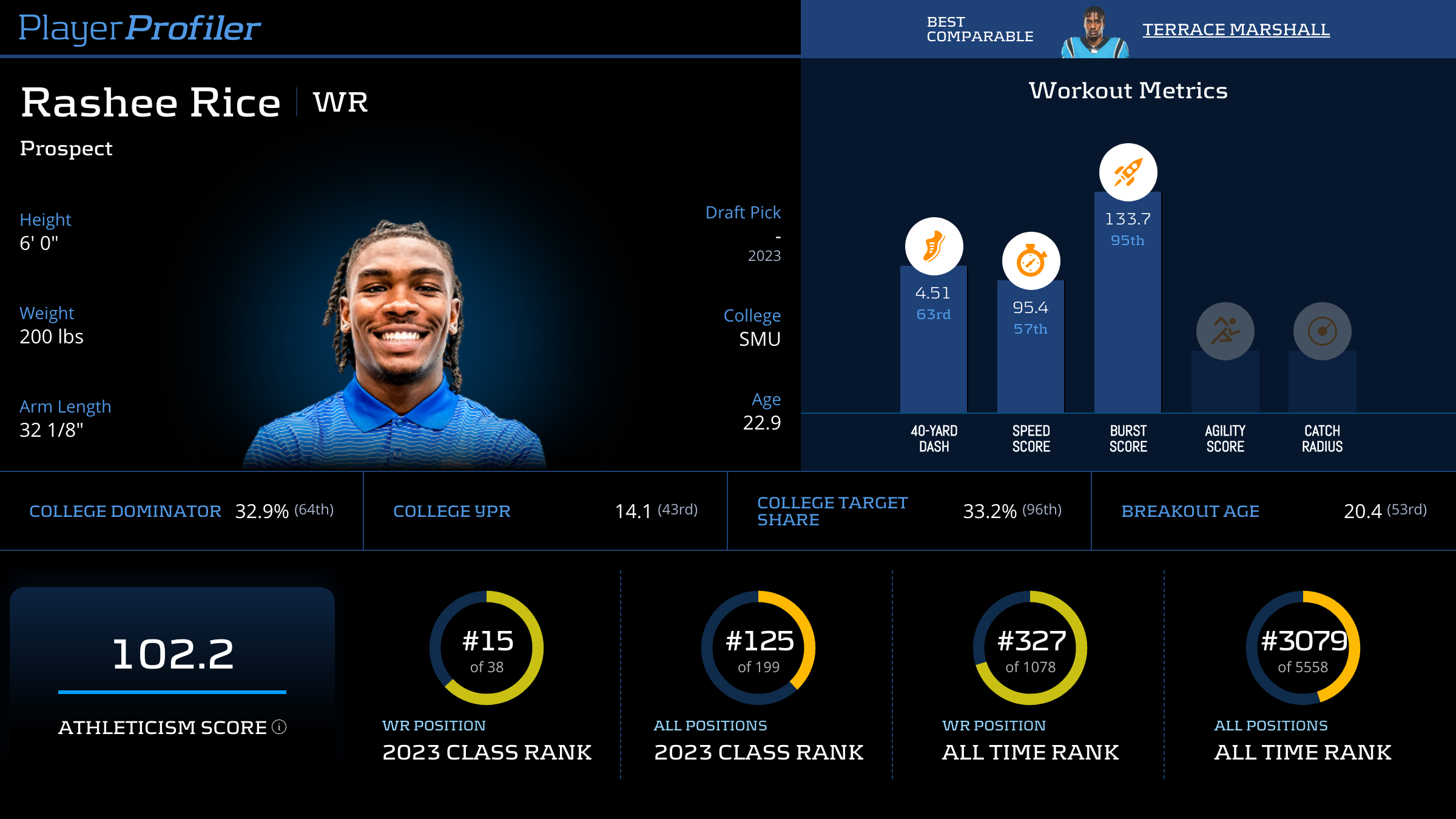 While three spots in his class may not seem like a huge difference at first sight, it is noteworthy that the current rookie fifth rookie wide receiver by Underdog ADP (Jalin Hyatt) currently holds an ADP of WR55, 117.0 overall. In comparison, Rashee Rice, as the eighth rookie wide receiver off the board, is at an ADP of WR90, 217.3 overall. That's approximately eight rounds later in standard twelve-player tournament drafts. That's significant value in the table by passing up on mediocre prospects for the potentially great one in Rice.
The Southern Methodist University product posted above-average athleticism metrics across the board. Rice posted a 96th-percentile college target share at SMU. If Rice gets a landing spot anywhere near as conducive to ceiling as last year's Breakout Finder WR5 (Christian Watson), he has the potential to be one of the best value players in Underdog best ball formats as of the end of March.
---
Users can expand upon the aforementioned metrics in the Breakout Finder. They can do this via in-application purchases to get a better grasp of what aspects of players' college profiles are contributing positively or negatively to their Breakout Rating. As mentioned in our guide, getting access to additional metrics is even more of a bargain than the already-inexpensive cost of the app.
Go get that early edge on rookies to beat the casuals who aren't caught up on rookie profiles. Also, check back after the NFL Draft for potential updates based on draft capital. Additionally, be sure to check for some added names to prospects who were previously missing metrics from a delayed Pro Day (e.g., running back Israel Abanikanda).