This is the Wild Card Showdown: Dolphins vs Bills! The No. 7 seeded Miami Dolphins, coming off a win and get in victory against the New York Jets, play the No. 2 seeded Buffalo Bills who are playing inspired football after the events associated with Damar Hamlin. The matchup is viewable at 1 pm EST on CBS. Let's break it down!
Key Injuries:
Miami Dolphins
QB Tua Tagovailoa (Concussion, OUT)
QB Teddy Bridgewater (Knee/Right Finger, Questionable)
RB Raheem Mostert (Thumb, OUT)
OT Terron Armstead (Toe/Pec/ Knee/ Hip, Questionable)
OG Liam Eichenberg (Hand, Doubtful)
OT Kendall Lamm (Ankle, Questionable)
OT Brandon Shell (Knee/Ankle, Questionable)
FB Alec Ingold (Thumb, Questionable)
OLB Bradley Chubb (Ankle/Hand, Questionable)
Buffalo Bills
WR Isaiah McKenzie (Hamstring, Questionable)
DL Jordan Phillips (Shoulder, Questionable)
Injuries and Implications
The Dolphins are a severely hobbled team missing their starting quarterback Tua Tagovailoa. With their presumed second-string quarterback Teddy Bridgewater's deep throwing ability drastically impacted by a finger injury, rookie Skylar Thompson is in line for his third career start. With injuries limiting three of their five starting offensive lineman, Raheem Mostert may have had a hard time breaking a long run even if he was slated to play.
The Bills are relatively healthy with only slot wide receiver Isaiah McKenzie in doubt. However, fellow slot aficionado Jamison Crowder may play after being activated from injured reserve earlier this week. The same goes for starting safety Micah Hyde.
Vegas Odds and Trends:
Miami Dolphins (+13.5) @ Buffalo Bills (-13.5)
Over/Under: 43.5 points
Implied Point Total: Bills: 28.5 Dolphins: 15.5
Trends:
The Bills are 8-7-1 against the spread this season. 3-4 against the spread as a home team favorite.
The Bills have hit the over only 6 of 16 games this season. However, they have hit the over in four of seven games as a home favorite.
The Dolphins are 9-8 against the spread this season. 3-2 against the spread as an away underdog.
The Dolphins have hit the over in 9 of 17 games this season. However, they have hit the over in four of five games as an away underdog.
The point spread is heavily impacted by Skylar Thompson making the start. The Dolphins have scored 16, and 11 points in Thompson's prior two starts and have scored only 21 points in games in which he has thrown more than five times. However, the Bills have failed to cover against the Dolphins twice this season with one game hitting the over and the other falling under the projected point total. I'd bet the Bills fail to cover the 13.5-point spread and lean toward the under.
Positional Breakdown:
Quarterback:
Josh Allen has roasted the Dolphins this season in two prior meetings scoring 26.7 fantasy points in Week 3 and 35.9 fantasy points in Week 15. He tossed six touchdowns and zero interceptions in these two games while amassing 704 passing yards. It is notable that in both these prior matchups the Dolphins were able to keep pace with the Bills' offense which is not expected in this contest. However, Allen has the upside to finish as the top QB on the slate. His rushing upside adds a substantial floor as he rushed for 77 Yards the last time these two teams squared off and is averaging 45.6 rushing yards per game.  Allen should be a featured play in all DFS games despite his high cost.
Skylar Thompson is perhaps the antithesis of Josh Allen. He averages only 1.6 Deep Ball Attempts per game compared to Allen's 4.7. Worse yet he averages only 76.3 passing yards per game and has failed to crest 200 yards passing in the games that he has started. With his best comparable player in the Player Profiler database being Nathan Peterman, he should be nowhere near fantasy lineups, especially against a Bills defense that limited starter Tua Tagovailoa to less than 235 yards passing in these teams' two prior contests.
Running Back:
The Bills have employed a two-man running back committee since the trade deadline. Over the past four weeks, Devin Singletary has both out-snapped James Cook and seen 41 opportunities (rush attempts + targets) compared to Cook's 34. However, last week, Cook both out-snapped Singletary and saw 11 opportunities compared to Singletary's eight. It's anyone's guess who leads the Bills in opportunities this week, but I would lean toward Cook being the Bills' 1A option, especially in the passing game. However, it is important to keep in mind that Josh Allen led the Bills in rushing in the two regular-season games against the Dolphins.
With Raheem Mostert out with a thumb injury, Jeff Wilson is the bell cow of the Dolphins. When Mostert was injured in Week 12 of this season, Wilson saw the bulk of the Dolphins' opportunities on 61.1-percent of the snaps finishing with 12.5 fantasy points. This was only two weeks after he was acquired by the Dolphins at the trade deadline. It stands to reason that Wilson's opportunities should increase this time around.  He should see similar opportunities compared to Mostert when Wilson missed Week 15 with an injury and played on 75.9-percent of the Dolphins' snaps. Wilson should see essentially all of the Dolphins' rushing opportunities which gives him a great floor despite his hobbled offensive line and low projected team point total.
Receivers:
In his two prior matchups with the Dolphins this season, Stefon Diggs was effectively contained by Dolphins CB1 Xaiven Howard. Despite averaging double-digit targets in his two prior games against the Dolphins, Diggs has only maxed out at 14.4 fantasy points. This said Diggs is still a great DFS option this week as Allen's clear go-to option, however, expectations should be tempered. While Howard split his coverage between Diggs and Gabriel Davis each of the past two games, opportunities should be there for Davis. A disappointment all regular season, Davis is no stranger to boom weeks happening in the playoffs. Against the Dolphins this season, he saw only 41 fewer Air Yards than Stefon Diggs on eight fewer targets. The downfield shots will be there. Davis just has to capitalize on them.
Gabriel Davis is AWFUL🤮#nfl #football #BillsMafia pic.twitter.com/RdjN4A5Ycs

— PlayerProfiler (@rotounderworld) January 11, 2023
Assuming Isaiah McKenzie is unable to play, a combination of Cole Beasley, Khalil Shakir, and Jamison Crowder (if activated) would likely split time in the slot as the Bills' third WR. John Brown also saw a situational play out of the slot last week against the Patriots scoring a 42-yard touchdown. Tight end Dawson Knox had his best game of the season the last time he faced the Dolphins seeing eight targets securing six receptions for 98 yards and a touchdown. He has a chance to match that success especially if McKenzie is out.
Dolphins Wide Receivers
The Dolphins' wide receivers are in a tough spot for fantasy success. Not only are they up against one of the best secondaries in the league from a DVOA perspective, but they are also handicapped by Skylar Thompson's noodle arm. Both Tyreek Hill and Jaylen Waddle have failed to clear 100 Air Yards in both of Thompson's starts. Hill maxed out at 80 Air Yards last week against the Jets. Waddle has seen only 41 Air Yards in Thompson's two starts combined. Regardless, both wide receivers should be involved in plays close to the line of scrimmage as they both flash elite yards after catch ability. Hill has 495 yards after the catch this season (No. 5 among qualified receivers), while Waddle has 462 yards after the catch (no. 10). Consider both risky DFS options.
Trent Sherfield will likely man the slot on plays Mike Gesicki is not there but is off the fantasy radar.  Tight ends Mike Gesicki and Durham Smythe finished No. 1 and No. 2, respectfully, on the team in targets against the Jets last week. While they may both see some work if the Dolphins are forced to pass, neither is a preferred DFS option.
Bets, Props, & Yolo SGP Parlays:
Bills Moneyline at -900 at DraftKings
Miami +13.5 at -110 at BetMGM 
Telling you to bet the Bills' money line does little good at -900, but I struggle to see a way the Dolphins win this game. The Bills are rallying around Damar Hamlin, who was thankfully recently released from the hospital. The Dolphins will likely struggle to score points against the Bills' defense with Skylar Thompson at quarterback.  So if you're looking for a small layup, you can bet that. If you're interested in something a little dicier, the 13.5 spread seems a bit high for playoff football. Miami's defense is respectable and has held the Bills to under their current implied point total in their last two meetings. The Dolphins have also played the Bills close covering the spread in each of their past two games as underdogs against the Bills. You can bet that at -110  at BetMGM.
Guest Prop: Mike Gesicki OVER 17.5 yards receiving -114 at FanDuel
This prop bet comes compliments of fellow RotoUnderworld writer Matt Babich. Matt flawlessly reasons that Gesicki has hit this mark in three of his last games and in four of the six games that Thompson has attempted a pass. Buffalo has also allowed a tight end to hit this mark in three of the last four games.
YOLO Single Game Parlay (an SGP with at least +2000 odds):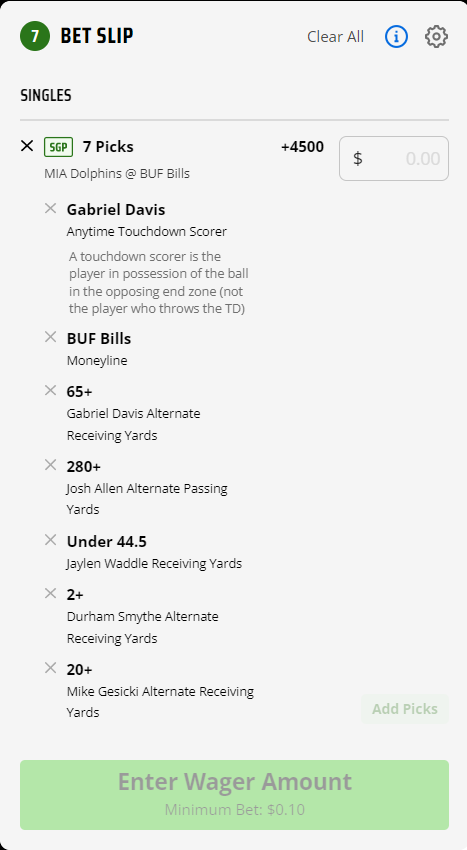 Few things in life are more YOLO than Gabriel Davis. If he can avoid Xavien Howard, he has a chance to connect for a Josh Allen Bomb and a touchdown. Allen has crested 280 yards in his past two meetings with the Dolphins, and the Dolphins will have to scheme some low ADOT passing plays with their tight ends for Skyler Thompson to try to keep pace. Waddle hasn't cleared 44 yards in Thompson's past two starts. This is an interesting moonshot with some correlation to take a whack at for those looking to live a little.
Score Prediction: Bills 28 Dolphins 16