The following contrived dichotomy (scheduled for one fall?) is to determine which of these two players we should be drafting to our fantasy football dynasty teams, all else being equal.
Introducing first, in the RED CORNER, hailing from North Dakota State University, standing 6-4, and weighing in at 226-pounds: TREY LANCE.
His opponent, in the BLUE CORNER, hailing from THE Ohio State University, standing 6-3, and weighing in at 227-pounds: JUSTIN SKYLER FIELDS.
The Tale of the Tape
Okay Trevor Lawrence first, then who? Pre-draft, this may have been a Justin Fields runaway, but now we can see the landing spots and this debate gets real interesting: Trey Lance versus Justin Fields, battle of the mobile rookie gunslingers. Who will leave the battle with his hand raised high?
Trey Lance
Trey Lance's college career is incredibly peculiar. He went to North Dakota State University, and while they are technically Division I, they are in the FCS, so they do not play significant competition. The only reason this school sounds familiar is because Carson Wentz went there. Lance's college career can be summed up in one season. Literally. In his freshman year, he played two games and attempted one pass (it was completed, 100-percent completion percentage!). In his junior year, he played one game until NDSU decided to pack it up for COVID. That leaves his sophomore year where he went absolutely ballistic.
Lance threw for 2,786 yards on a 66.9-percent completion percentage  with 28 touchdowns and zero interceptions, adding 1,100 yards and 14 touchdowns on the ground. While there's a lack of PlayerProfiler statistics on Lance due to the limited number of games and nonexistent workout metrics, he did boast a 9.7 (90th-percentile among qualified quarterbacks) College YPA average.
We all know that talent is half the battle when evaluating a player's dynasty value, the other half is landing spot and holy cow did Lance luck out.
Not only did he go to a Kyle Shanahan-led offense in San Francisco, he was who they wanted all along. The 49ers gave up three first round picks and a third to move up to No. 3 overall and select Lance. The confidence in this kid despite the issues of competition quality in college should not be the question.
In his immediate future, Lance will likely have to wait before he gets his shot at starting. Jimmy Garoppolo should have a longer leash than most quarterbacks who will inevitably be replaced based on the organization's comments. After drafting Lance, Shanahan continued to say that Garoppolo is their quarterback. On the QB replacement spectrum, we should project this situation closer to Carson Wentz–Jalen Hurts than Tyrod Taylor–Justin Herbert, where the franchise is more committed to the veteran quarterback than normal. That being said, last year the 49ers quarterbacks had a +5.35 (No. 11) Supporting Cast Efficiency rating and a 92.1-percent (No. 1) Protection Rate.
Trey Lance can't fail in San Francisco ? pic.twitter.com/FTOtTlZxJP

— RotoUnderworld (@rotounderworld) May 12, 2021
When Lance does become the starter, he will inherit a young core of Deebo Samuel, Brandon Aiyuk, stud tight end George Kittle, an effective run game, and a spectacular offensive line. A dream for any young quarterback and any dynasty owner. Additionally, there's no secret what Shanahan has been able to do for the careers of his quarterbacks. He helped Matt Ryan evolve into an MVP with a trip to the Super Bowl, dragged Garoppolo to another Super Bowl, and I even partially blame him for Kirk Cousins' horrendous Vikings contract.
His offensive creativity and Lance's raw skillset is a recipe for a potential high-end dynasty QB1.
Justin Fields
Justin Fields began his career at Georgia sitting behind Jake Fromm in 2018 until he transferred to THE Ohio State University, where he won the starting job and did not disappoint.
Fields has a 20.5 (58th-percentile) Breakout Age. He put up 3,273 passing yards on a 67.2-percent completion percentage, with an outstanding 41:3 touchdown to interception ratio. He displayed his rushing ability with 484 rushing yards and 10 more touchdowns on the ground, all in 14 games total. In the following COVID-shortened season, he  threw for 2,100 yards on 70.2-percent completion percentage with 22 touchdowns and six interceptions, adding another 383 rushing yards and five touchdowns with his legs. He made a statement in his final two seasons against BIG 10 competition, ending his OSU career with a 92.1 (97th-percentile) College QBR and 9.2 (81st-percentile) College YPA average.
Justin Fields or Zach Wilson? #NFLDraft2021

Your move @nyjets pic.twitter.com/RY1JKVRCGX

— RotoUnderworld (@rotounderworld) April 29, 2021
In typical NFL pre-draft fashion, Fields went from the universal No. 2 quarterback prospect behind Trevor Lawrence to the third, fourth, or even fifth depending on who you talked to. This despite Fields doing nothing but impressing during his resilient run in the College Football playoffs. While laboring with a rib injury, he outdueled Lawrence with a line of 385/6/1, adding 42 rushing yards to help Ohio State cruise past Clemson. He was not able to beat the unstoppable machine that was Alabama, but he proved his leadership and ability to show up in big games even with an injury.
Enter the NFL Draft when Fields dropped all the way to No. 11 and Chicago could no longer stand back and watch. They swapped the No. 20 overall pick with the Giants' No. 11 pick, while also giving up a future first and fourth in 2022. The Bears aren't exactly the 49ers in terms of landing spots for dynasty quarterbacks. Last season, they had a -9.18 (No. 27) Supporting Cast Efficiency rating and an 85.9-percent (No. 16) Protection Rate. While the very next year isn't too suggesting for dynasty value, Fields is currently slotted behind Andy Dalton on the depth chart. And while we'll always love Dalton for his awesome 2015 stretch, we saw what he failed to do with a stacked arsenal in Dallas.
Fields should be expected to start within the first few weeks of the season. His current weapons include stud receiver Allen Robinson, young burner Darnell Mooney, a supposedly broken-out David Montgomery, and a combination of Jimmy Graham and Cole Kmet at tight end. The only players we can count on moving forward with the Bears are Mooney, Kmet, and Montgomery. Robinson has expressed his frustration with the team and would be unlikely to come to an extension unless he falls in love with Fields, and that cannot be banked on. Mooney did log 739 (No. 10) Unrealized Air Yards, but that is not enough for a young quarterback and their dynasty owner to trust as their only known receiver moving forward. Fields has the talent to overcome his situation, but it's hard to trust what is going to happen around him.
The Go-Home
These are two talented quarterbacks, each having bright futures in dynasty fantasy football, but there has to be a winner. Trey Lance is the mysterious quarterback prospect with all the tools, but landed in the Versailles of offenses. Justin Fields impressed against tougher competition, but did not luck out in the draft like Lance. Both signal callers have immense rushing floors and provide potential QB1 upsides.
In a slobberknocker of a fight, I have to declare Lance our winner, but walking away with a black eye.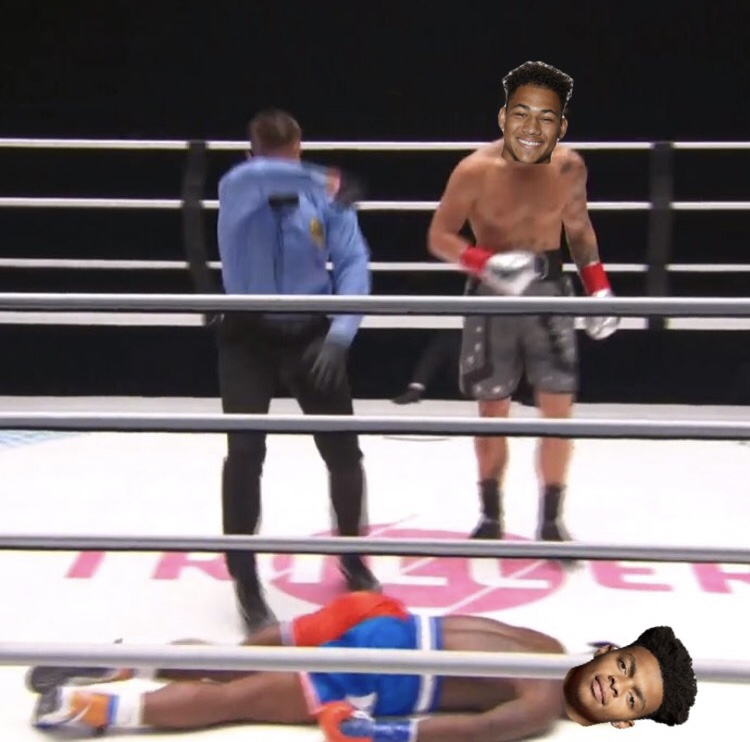 The advantage of having Kyle Shanahan hand-picking him, and backing up his words by mortgaging the future, speaks volumes to me about what the 49ers believe Lance is capable of.
Not only does he have Shanahan' offensive genius, but the weapons at his disposal that we can count on in the future is enough for me to call the fight.
Fields can become a QB1 in dynasty, but we have a future superstar QB1 in Lance on our hands.
The Winner: Trey Lance