The following contrived dichotomy (scheduled for one fall?) is to determine which of these two players we should be drafting to our fantasy football dynasty teams, all else being equal.
Introducing first, in the RED CORNER: from the University of Southern California, standing at 5-11, and weighing in at 197-pounds: "THE SUN GOD" AMON-RA JULIAN HERU J. ST. BROWN.
His opponent, in the BLUE CORNER: hailing from the University of North Carolina, standing in at 6-1, and weighing 185-pounds: DYAMI BROWN.
The Tale of the Tape
Among the several wide receivers drafted after Round 1 this season, Dyami Brown and Amon-Ra St. Brown find themselves in a couple of the more advantageous situations in terms of opportunity.
Neither had draft capital on par with expectations heading into the draft, and both could very well be top options on their teams by the end of the 2021 season. After dynasty rookie drafts begin to dry up after the first rookie crop, fantasy players have to start looking at prospects and their situations more closely to find "diamond in the rough" candidates and get an advantage over leaguemates. Both Brown and St. Brown have the potential to be "diamonds in the rough" as second or third round rookie draft picks, and may even outperform top tier rookies. Both wideouts are younger than first round picks Jaylen Waddle and Kadarius Toney, with better Breakout Ages, and higher College Dominator Ratings.
While both are great prospects headed to the NFL, it is not a guarantee that both or even one of them will pan out in terms of production. Who do the advanced stats and metrics point to as the player we want on our dynasty teams if forced to choose between them?
Amon-Ra St. Brown
Amon-Ra St. Brown was highly productive throughout his entire college career at USC. He had an 18.9 (92nd-percentile among qualified wide receivers) Breakout Age, the No. 5 mark in the 2021 WR draft class. With a 22.6-percent (63rd-percentile) College Target Share in 2020, he totaled seven receiving touchdowns in just six games played, more than his six touchdowns in 13 games in 2019. St. Brown was used in short-yardage situations frequently, drawing at least 59 targets and averaging 13.5 yard per reception or fewer in all three years at USC, with Catch Rates of 69.5-percent or better. He was a consistent top target for his quarterback(s), a trait new Detroit Lions QB Jared Goff will appreciate.
St. Brown's production is especially important given how low a few of his workout metrics ranked. Despite an 81.3 (13th-percentile)Speed Score and a 4.66 (14th-percentile) 40-yard Dash, he ranks in the 86th-percentile with a 129.0 Burst Score. So while he did not test favorably in all athletic aspects, he was among the best in explosiveness and leaping ability. His reputation for physicality and making contested catches fits in a Detroit WR corps that just lost Kenny Golladay.
Amon-Ra St.Brown had 750 Receiving Yards as a True Freshman at USC 🤤 pic.twitter.com/LGQZtHD5hu

— RotoUnderworld (@rotounderworld) February 21, 2021
A top Pac-12 WR at USC, St. Brown has the tools to become a starting receiver and brings his physicality to an appreciative Dan Campbell in Detroit. Among a WR corps with Breshad Perriman and Tyrell Williams at the helm and lacking an alpha, he can easily see a large Target Share immediately. He fits in as a contested catch receiver, especially with Jared Goff, who had 34 (No. 9) Danger Plays and 22 (No. 12) Interceptable Passes with the Rams last season. With his fit, opportunity, and experience as a productive wideout in college, St. Brown is gaining traction as a value pick in rookie drafts.
Dyami Brown
One of the more popular potential Day 2 options, Dyami Brown went to the Washington Football Team in Round 3 (Fitzmagic!) A taller receiver, Brown can become Washington's contested catch playmaker, similar to Amon-Ra St. Brown in Detroit.
While his workout metrics aren't necessarily at the top of the class, Brown's Hand Size ranks in the 70th-percentile and he has a 19.8 (68th-percentile) Breakout Age. His 10.06 (62nd-percentile) Catch Radius, 124.4 (68th-percentile) Burst Score, and 4.50 (68th-percentile) 40-yard Dash aren't top tier, but combined show his well-roundedness. He isn't big and slow; he has speed and athleticism combined with size and catching ability.
Brown broke out as a top target for UNC in 2019. While he was not much of a factor his freshman year like St. Brown was, he came along in a huge way over his last two college seasons. Never breaking a 65.0-percent Catch Rate may provide concern, but he averaged at least 20.0 yards per reception in both 2019 and 2020, ranking in the 94th-percentile. He also combined for 20 touchdowns and 106 receptions from 2019-2020. His ability to get open deep, corral contested targets, and produce vertically will be valuable to whichever QB starts for Washington.
Dyami Brown was unstoppable at North Carolina 🔥

Since 2019

106 Receptions
2,133 Rec. Yards
20 Touchdowns pic.twitter.com/ccikHu3t1t

— RotoUnderworld (@rotounderworld) May 17, 2021
At North Carolina, Brown played with Dazz Newsome and Michael Carter, two players who had shallower target depth averages with Brown operating as the deeper receiver. Now with Terry McLaurin (12.9 yards per reception in 2020, No. 47) and Curtis Samuel (11.0 yards per reception, No. 82) drawing targets and attention underneath, Brown will be able to stretch the field for Washington as well.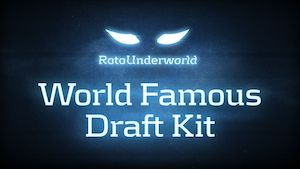 The Go-Home
Amon-Ra St. Brown and Dyami Brown both have similar builds and the ability to be physical, contested catch playmakers in the NFL. Neither was drafted to be their team's top wide receiver, yet both have prime opportunities on their teams. So, St. Brown or Brown?
Brown has the advantage in terms of draft capital, going one round earlier. He also has a bigger hand size and a larger Catch Radius than St. Brown, in addition to a better Speed Score. However, St. Brown has the advantage in Burst Score, as well as consistency in college production. St. Brown has experience being a top dog all three years of college, while Brown was not a factor his freshman year and had lower Catch Rates than St. Brown for all three seasons.
Both have great cases, but I have to declare Dyami Brown the winner.
Brown had a 1,000-yard season in 2020, and also has a place beside other established receivers (Terry McLaurin and Curtis Samuel) that will help spread the offense out more. I have more confidence in the Washington passing offense than Detroit's. Ultimately, Brown's ability to speed downfield gives me confidence that he will be a well-rounded, large vertical target with more dynasty upside than St. Brown.
The Winner: Dyami Brown