It's no secret that the viability of an NFL running back is predominantly based on the amount of opportunity they are given. There are dude-guys every year who get their chance to shine due to lack of team depth, season ending injuries to starters, or game flow. In the 2015 fantasy football season, Tim Hightower won numerous fantasy championships for his owners by running for 337 yards and 5 touchdowns in the final four games of the regular season, catching 12 passes for 129 yards over that same span. Hightower had totaled 48 yards from scrimmage in the first 13 games of the season, but thanks to an injury to the versatile Mark Ingram, New Orleans was forced to insert Hightower in the lineup. This season, Hightower returned to the matchup-dependent backup he was born to be, tallying double digit carries only five times, rushing for 40+ yards three times and scoring just 4 touchdowns.
If you had Tim Hightower rostered for the entire 2015 season, he was a waste of a spot for the majority of the year. His talent couldn't keep him on the field, despite that when he did play, he was successful. New Orleans felt that Mark Ingram was more talented (rightfully so) than Hightower. Running back success is primarily driven by game flow and offensive line play, but high level talent increases touches regardless of game flow (see: David Johnson and Le'Veon Bell).
Two years ago, Jamaal Charles was the consensus No. 1 RB in fantasy football re-draft leagues. This year, he was replaced due to injury by Spencer Ware, who finished 17th amongst running backs in PPR scoring despite missing two games. A 17th place finish is pretty good, but it's Ware's lack of elite talent that makes him less valuable than a healthy Jamaal Charles. Fantasy production from backs depends so little on talent and so much on circumstance, but talent helps backs to be more consistent, and therefore more valuable in year-long leagues. Inevitably, untalented running backs who have "breakout" seasons are over-drafted the following year. Here are three draft day reaches you should avoid making.
Jay Ajayi, RB, Miami Dolphins
2016 ADP according to MyFantastyLeague.com: 111.3
2017 ADP according to FantasyFootballCalculator.com: 19.6
After the 2nd year running back from Boise State surpassed 200 yards in back-to-back weeks, fantasy owners started drooling at his value. Ajayi went undrafted in many leagues because media speculated that Kenyan Drake would serve as the backup to the veteran Arian Foster. Drake became primarily a return specialist, Arian Foster retired, and things turned around for Jay Ajayi. His measurables are above average:
Jay Ajayi's strength as a runner is his ability to hit the hole quickly and get what he can, as evidenced by his 126.8 (86th-percentile) Burst Score. His predecessor Arian Foster has proven that runners of this style can be successful in fantasy, but only with an exceptional offensive line opening holes. Foster posted RB1 finishes three seasons in a row in 2010, 2011 and 2012, but finished as the No. 44 RB in 2013, 64th in 2015 and unexpectedly retired mid-season in 2016. This inconsistency can be attributed primarily to his lack of athleticism and breakaway speed, as well as a the constant personnel fluctuation of the Dolphins offensive line.
While Jay Ajayi is a fresher and more powerful runner than an expired Arian Foster, Ajayi is still just a dude-guy. Running behind an offensive line made up of Space Jam Monstars, Ajayi has the chance to go off in any given matchup, but could also have a dud game like those this year against the Chargers, Cardinals and Jets in which he scored single digits points in a PPR format. His pass catching ability is below average as evidenced by his 77.1-percent (No. 26) catch rate. Inefficient running backs require high volume touches, and Ajayi is certainly inefficient, posting a -6.0 (No. 46) Production Premium, indicating that he is less efficient than his peers in similar situations. But even when he gets high volume, Ajayi can still struggle. In the aforementioned games against San Diego, Arizona and New York, Ajayi totaled 60 touches, but just 194 yards.
In 2017, Ajayi will be a low RB1 or high RB2 and will have great weeks in which he finishes in the top 3, but at the position he will be drafted at, I'm going to stay away and let someone else fall prey to recency bias and step into the trap that is Jay Ajayi.
Paul Perkins, RB, New York Giants
2016 ADP according to MyFantastyLeague.com: 202.7
2017 ADP according to FantasyFootballCalculator.com: 107.7
To open his rookie season, Paul Perkins was involved very little in the Giants' offense, reaching double digit touches just twice in the first 13 weeks. In the final four games, however, Perkins accounted for 64 touches for 290 yards.
Many fantasy owners believe that late in the draft, you should take a flyer on a risky, but high upside player. When comparing the risk and upside of picks like this, it's best to have somewhat of a floor for the player. In 2016, Michael Thomas was the jackpot player of redraft leagues. Owners knew he had a reasonable floor because his quarterback was Drew Brees, but that he could have a very high upside because of Brees as well as Thomas' opportunity to jump straight into the starting lineup. Paul Perkins' floor is so low, he has a water damage specialist on speed dial.
At his current ADP, Paul Perkins will be drafted around the 11th round of 10-team leagues and the 8th round of 12-team leagues. Some of the running backs being drafted around Perkins have shown they are capable of having great games while also having a higher floor. Darren Sproles at an ADP of 100.1 and Jacquizz Rodgers at an ADP of 109.9 are two running backs who have shown consistent involvement in the run game and the pass catching game. Sproles is essentially on retainer as he waits for Ryan Mathews to have another setback injury and Jacquizz Rodgers' opportunity to play may increase given Doug Martin's suspension situation. All this to say, there are reasons you draft some of these guys late. Paul Perkins' reasons are too barren for me to draft him this high.
Paul Perkins' measurables are underwhelming. His 4.54 forty-yard dash places him in the 62nd percentile for running backs, but at 5-10 and 208 pounds, his Speed Score is a precisely average 97.9 (50th percentile). In fact, all of Perkins' measurables hover around the 50th-percentile. He epitomizes the replacement-level playmaker.
The Giants' staff seems to agree. In his rookie campaign, Paul Perkins posted a 33.4 percent snap share, due to splitting backfield time with Rashad Jennings, Orleans Darkwa and Bobby Rainey. Of the four, only Bobby Rainey is a free agent. Rashad Jennings is a more powerful running back than Perkins. Jennings hit 29 reps on the Bench Press (97nd percentile) and has a BMI of 31.0 (69th percentile). This physicality explains why the Giants tend to lean on Jennings on 1st and 2nd down. So Perkins should get most of the snaps on 3rd down right? Well, not really. Ben McAdoo often used Bobby Rainey on 3rd down, because Rainey offers elite lateral agility and pass catching skills. Despite playing nearly twice as many snaps as Rainey, Perkins had one less target in 2016. Indeed, Paul Perkins is the quintessential average NFL player.
Moving forward, I just don't trust that the opportunity will be there for Paul Perkins.  If the opportunity somehow manifests, I would be leery of Perkins' ability to translate touches into fantasy production. I'll be passing up Paul Perkins at his 107 ADP.
Jordan Howard, RB, Chicago Bears
2016 ADP according to MyFantastyLeague.com: 193.5
2017 ADP according to FantasyFootballCalculator.com: 11.6
Jordan Howard was the golden child of Zero RB enthusiasts this year. After being passed on in most drafts, Howard went on to rush for 100+ yards in ten different games, scoring 7 touchdowns on the ground. He is by far the most appealing breakout player of 2016. I like Howard. I think he is a good running back in a good situation. But if I'm going to use the 11th pick on a running back, he better be a star (Zero-RB truthers unite!).
My biggest worry with Jordan Howard is Chicago's play-calling. Howard was absolutely dominant in the final 6 games of the season, rushing for 730 yards and 4 touchdowns. So in 37.5 percent of his games, he accounted for 56-percent of his season yardage and 57-percent of his season touchdowns. What's the reason behind this? This guy was the starting quarterback: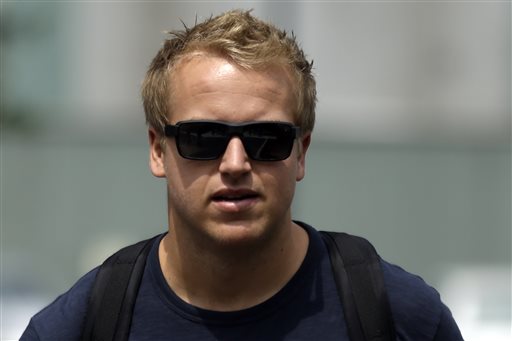 While Matt Barkley was prolific at times, he was also wildly inefficient. The Bears decided they wanted to put the ball in the hands of Jordan Howard and give him a chance to display his talent. He didn't disappoint by any means. His numbers in the final six contests were gaudy, but not efficient. Howard earned a -0.7 (No. 38) Production Premium despite finishing 3rd in the league in Breakaway Runs at 1.1 per game. This means that Howard was heavily reliant on big play runs, a trait you definitely want to have from your RB2 or Flex, but not necessarily a requirement from your RB1 if it means inconsistency.
If Jay Cutler returns to the starting lineup or the Bears elect to use a draft pick on a QB, the play-calling will shift more towards the passing game. With weapons like Alshon Jeffery, Cameron Meredith and Zach Miller, the Bears would be foolish not to attack teams through the air. Howard's catch rate of 58-percent is extremely low and the Bears can trust Jeremy Langford more on routes out of the backfield as evidenced by Howard playing nearly twice as many snaps and catching only 0.3 more passes per game than Langford.
If Jordan Howard drops to the 3rd round, he has value, but with a quarterback change on the horizon and a potential sophomore slump looming, I'm not going to take a risk on him with the 11th overall pick. As much as the zero-RB clan fondly remembers Jay Ajayi and Jordan Howard, we have to let them go. They will forever have a place in our hearts after leading us to 2016 fantasy championships. Don't overdraft them and let them lead you to 2017 last place finishes.