It is that time of the year to start making bold predictions about players. There is no rookie running back more polarizing than Miami Dolphin Kalen Ballage. If Winston Churchill were alive today, he would define the former Arizona State running back as a riddle, wrapped in a mystery, inside an enigma. He is so intriguing yet frustrating for football analysts to predict. He is a storming athletic specimen at 6-2, 228 pounds, but he was disappointing at the combine when he failed to bench his own weight more than 15 times. He is exciting because he scored eight touchdowns against Texas Tech in 2016, tying an NCAA record. However, he is baffling because he only scored six more touchdowns that entire season and his advanced production stats, metrics, and analytics such as College Dominator Rating underwhelmed in each of his four seasons at Arizona State. 
In many ways, he's the running back version of Josh Allen. Some football analysts absolutely love him, while others refuse to fall for the hype. And that's what makes Kalen Ballage so provocative yet inexplicable. He's the low floor, high ceiling, boom or bust candidate. He was selected by the Miami Dolphins late in the fourth round of the NFL Rookie Draft and joins a backfield that already has sophomore Kenyan Drake along with the league veteran Frank Gore, who refuses to call it quits. Therefore, many do not expect much from Ballage this year based on landing spot but I disagree. I think he is a dark horse candidate to be this year's Alvin Kamara.
Deceptive College Production
Ballage was drafted on potential rather than his college production. He had a total of 2,668 out of the backfield in four years at Arizona State. To put this into perspective, Saquon Barkley had 5,038 yards, Ronald Jones had 3,921 yards and Derrius Guice had 3,324 yards in only three years at their respective colleges. However, there is someone who has a similar college resume, and that player is Alvin Kamara. Below is a table showing how similar these two backs were in their final two years:

Both Ballage and Kamara have similar below average College Dominators and similar upper percentile College Target Shares. Even though both were used sparingly in the run game, each rushed consistently for 500-700 yards per season. Kamara had a much better yards per carry but because of Ballage's larger build, he was used more on goal line situations and therefore scored more short yard touchdowns. Although neither set the college world on fire, both had better production in the run game than it seems at first glance. Kamara was über efficient and underused. Ballage was also underutilized but still had the propensity of finding the end zone.
Both were highly utilized pass catchers and can be considered prolific pass-catchers by college standards. Kamara was more consistent, averaging 37 receptions a year for about nine yards per reception. However, it was Ballage who had the most explosive receiving stats out of the two in 2016. Below illustrates where Ballage ranks with other 2018 rookies who got drafted: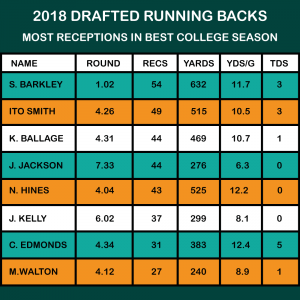 As an interesting side note, every fourth round rookie landed in the top eight for receptions. Based on their best college season, Ballage is tied for third in receptions with Justin Jackson but was far more efficient. In terms of efficiency, he ranks fourth out of all of the running backs drafted in 2018. Ballage's college production is deceptive. Generally speaking, it seems prosaic. But under closer scrutiny it is sneaky good. What is the most impressive is apart from Saquon Barkley, Kalen Ballage is the only running back on the list to be built like an every down back. He checks all the boxes – he's a goal line back with incredible speed, and has pass catching ability.
Deceptive Athleticism
Ballage and Kamara seem to be underwhelming athletes. Both equalled each other in the Bench Press, only lifting the barbell 15 times (13th-percentile). In the case of Kamara, it did not hinder his explosive rookie campaign. As for Ballage, it is something he can work on with the Dolphins. It is much easier to get stronger than it is to get faster.
Alvin Kamara did not run a fast 40-Yard Dash at the 2017 combine. His 99.0 Speed Score barely places him above average (59th-percentile). However, he makes up for that with his 132.7 Burst Score (94th-percentile). He might not be incredibly fast, but he is extremely explosive.
Ballage is at the other end of the spectrum. His 4.46 40-Yard Dash was tied for third-best among running backs this year. He was tied with Rashaad Penny, with only Nyheim Hines and Saquon Barkley timed faster. His 115.2 Speed Score (96th-percentile) is third best in the entire league among current running backs, only behind Saquon Barkley (99th-percentile) and Derrick Henry (97th-percentile). Ballage's 118.0 Burst Score is below league average (46th-percentile), but he still beats many successful running backs in the league:
Ballage's lack of burst is less concerning considering he is more explosive than Le'Veon Bell and Ezekiel Elliott, running backs with the second and third highest ADP in 2018. Ballage's 11.26 Agility Score (62nd-percentile) is much better than Kamara's 11.59 (24th-percentile). Kamara and Ballage each has one workout metric that is over the 90th percentile, one above average, and two below average. All in all, both are above average athletes with their strengths far outweighing their shortcomings.
Deceptive Landing Spot
When Kamara was selected by New Orleans in the 3rd-round last year, the majority believed that it was not a great landing spot because the Saints already had the versatile Mark Ingram and had just signed veteran Adrian Peterson. However, things looked more auspicious for Kamara when there were rumors of Ingram being traded to the Eagles that summer. Although that did not transpire, something else did. After a few games into the season, it was clear Peterson was not a good fit. He was benched and lost favor with Sean Payton and was eventually released, giving Kamara the opportunity he would never relinquish. Kamara posted numbers that were impressive for a starter and elite for a running back stuck in a time share. He rushed for 728 on only 120 carries, averaging 6.1 Yards Per Carry, easily the best in the league. As a receiver, he was equally profound. He led all running backs with 826 yards from 81 Receptions, averaging over ten yards a catch. Kamara also finished the season first in Production Premium (+71.8) and Breakaway Rate (9.2-percent). He had a the 9th best Juke Rate, a metric that isolates a running back's elusiveness and tackle-breaking power. His season was so good, it is considered one of the most efficient seasons ever. Not bad considering he had a 24th-percentile Agility Score. But most importantly, he was the fourth best back in fantasy, averaging 19.6 Fantasy Points Per Game.
---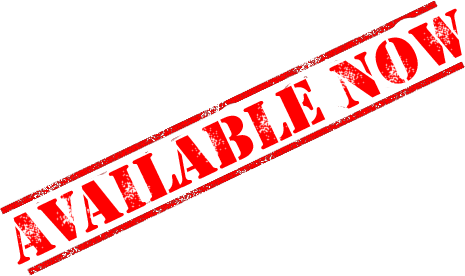 ---
Ballage finds himself in a similar situation. He is joining a team that does not seem entirely sold on Kenyan Drake and also acquired Frank Gore, who is in the twilight of the twilight of his career. This might be a great situation for Ballage to walk into. He might just start as a kickoff returner, which is another sneaky skill he has to offer. He had 48 kickoff returns in college and amassed 1059 yards, averaging 22.1 yards per return. If he can show off his speed and quickness on special teams there is no doubt he will get touches on offense. Kenyan Drake has always been an injury risk stemming from his days in Alabama and although Gore has had a perfect bill of health of late, he is just one injury away from retirement. Ballage could find his way in the starting lineup even without injury. He is the perfect size and has the necessary skills for a dominant running back. He is a hybrid of David Johnson and Todd Gurley and could end up being the Dolphin's de facto RB1. All he has to do is show Adam Gase and the rest of the offensive coordinators that he is worthy of a shot.
Conclusion
Kalen Ballage has immense size, electrifying speed and great agility. His deceptive college production, deceptive athleticism and versatility warrant him the chance to showcase his talents on the big stage. If he gets the opportunity, he could be the Alvin Kamara Corollary, proving that both an underrated college resume and athletic profile can predict success two years in a row. If he can somehow harness all of gifts together, he will not only become fantasy relevant, but will ascend to being the most talked about running back in football in 2018.