Opportunities to acquire a superstar-caliber quarterback are rare. The Denver Broncos were well aware of that reality, having been trapped in QB purgatory since Peyton Manning's 2015 retirement. Trading for Russell Wilson is the supposed final piece needed to contend in the loaded AFC West. Thanks in part to his new supporting cast of Jerry Jeudy, Courtland Sutton, Tim Patrick, Javonte Williams, and Albert Okwuegbunam. While the WRs rightfully deserve upgrades in all formats, discourse over the increased value of Albert O came into question. Comments in the Twitterverse claimed that, historically, Wilson hasn't utilized his tight ends. The intent of this first edition of Fantasy Football Mythbusters is to debunk this theory. We'll do this by deriving an outcome deemed as possible, likely, or unlikely based on historical usage. 
The Man in Question
Including Noah Fant in the package for Russell Wilson shouldn't be a strong conviction that Denver believes in Albert Okwuegbunam. Simply because the value of a high-caliber quarterback far exceeds that of a talented yet unproven tight end. One that Denver likely would have included in the trade regardless of who Fant's backup was. 
That being said, Albert O is a phenomenal 100th-percentile size-speed athlete. He flashed tremendous upside in his limited role and improved upon his rookie efficiency metrics. If he had played enough to qualify, he would've finished the 2021 season ranked among the elite tight ends. 
Briefly looking back at his short 2020 campaign, he earned the Week 6 start for his first NFL action due to a Fant injury that kept him sidelined for the game. Though Fant made a full recovery by the following week to reclaim his role. 

In his first game, Albert O commanded a 50.0-percent Target Rate, 25.0-percent Target Share, and 21.9-percent Air Yards Share while playing alongside Jerry Jeudy and Tim Patrick. He made it hard for Fant to reclaim his role in Week 7 by catching all seven targets at a 43.8-percent Target Rate. With 6.1 Yards After Catch Per Reception, it equates to 13.0 (No. 7) Fantasy Points. With Fant back at full health, Albert O took a backseat in Week 8. He then suffered an ACL tear in Week 9 that ended his rookie season. 
Year 2
Still behind Noah Fant on the depth chart in his sophomore campaign, Albert Okwuegbunam was not given much opportunity. He eclipsed a 50-percent Snap Share in only four games. Due to his lack of involvement, analyzing his 2021 efficiency metrics instead of pure production will provide a better representation of what to expect in the coming seasons with a new environment.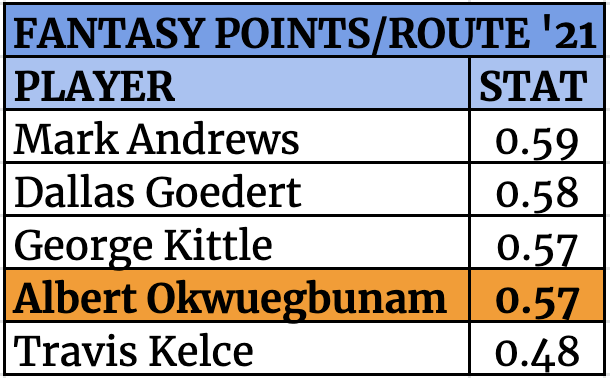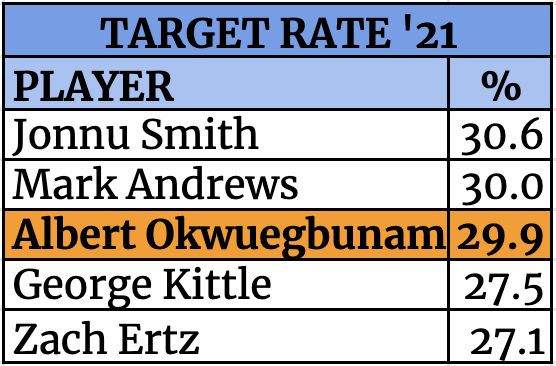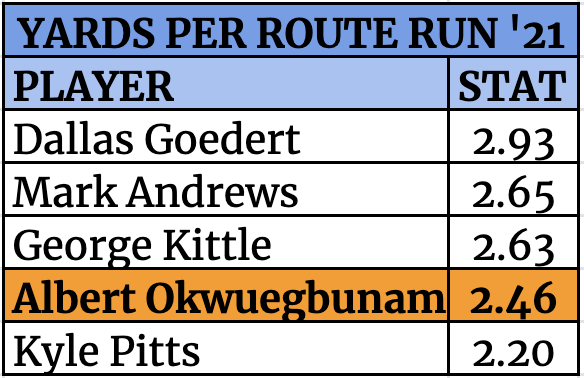 Skeptics will argue that these metrics are sure to fall as his sample size increases. I don't disagree. Albert O's efficiency metrics are unranked because he did not qualify in terms of minimum routes, This due to a former first-round pick ahead of him on the depth chart. While routes are given, targets are earned. Albert O's career 29.7-percent Target Rate is clear evidence that he commands targets when on the field and has the skills to turn on the burners and rack up yards after the catch. 
Albert Okwuegbunam goes off for 64 yards.

Wheeelspic.twitter.com/zMQv7v7ZC6

— Dov Kleiman (@NFL_DovKleiman) November 14, 2021
As his participation increases, he will regress to his average, which at this stage is unknown. But given the production when targeted, he is a better bet for multiple top-8 Fantasy Points Per Game finishes than the likes of Dawson Knox, Mike Gesicki, and Dalton Schultz. With the quarterback certainty and skillset, he is also an incredible value in the late round of startups with a current Sleeper ADP of 183.6 (TE19). Below players such as Irv Smith, Tyler Higbee, and Zach Ertz.
But Russell Wilson Doesn't Target His Tight Ends
To debunk this theory, let's take a look into the tight end position for the Seattle Seahawks throughout Russell Wilson's career. The table below shows the top tight end in terms of Target Share for each year he was in Seattle.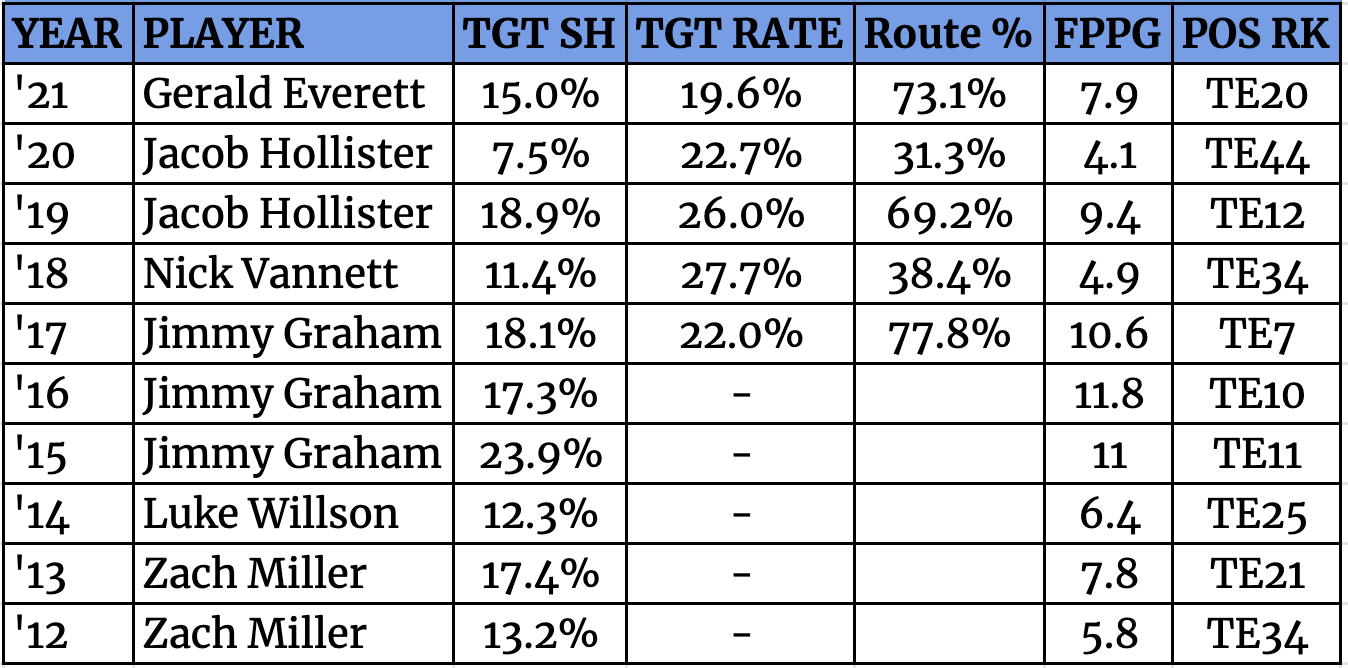 On average, Wilson's top tight end earns a 15.5-percent Target Share. Which includes a career outlier of 18.9-percent (No. 7) Target Share for Jacob Hollister in 2019. Below is a graph to visualize Wilson's target share distribution over the course of his career.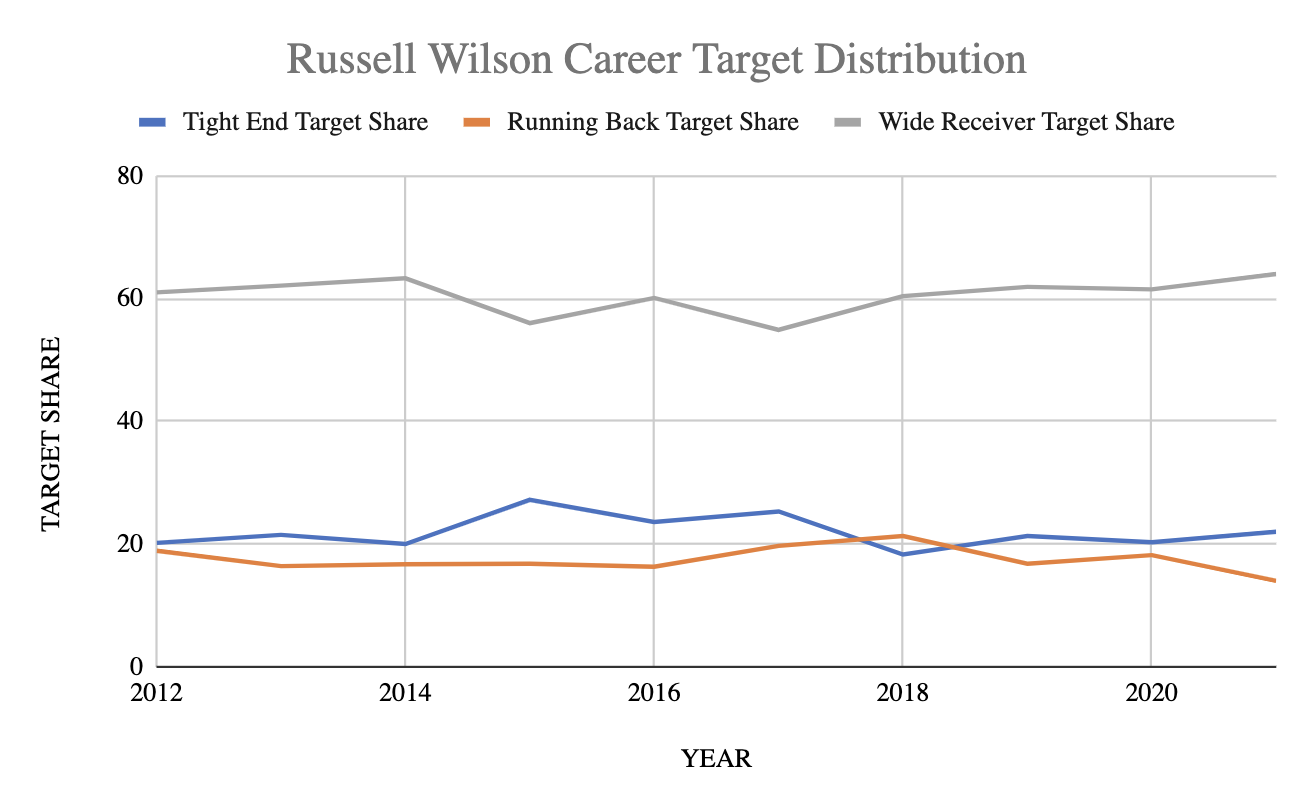 Prior to Wilson's rookie season, Pete Carroll had issues with utilizing Zach Miller outside of blocking. So analyzing their Target Rate will give a different perspective on the data. The table below incorporates each year's top two wide receivers' Target Rates to better understand if Wilson doesn't target his tight ends or if Carroll doesn't give them routes.

Since PlayerProfiler started tracking routes in 2017, the Seahawks' tight ends have been used sporadically in terms of Route Participation. But regardless of talent, they have been targeted on an average 23-percent of their routes by Wilson. Hollister and Nick Vannett are two players who imposed little receiving threat in the NFL. But when they were the top tight end for Wilson, they averaged a 25.5-percent Target Rate. 
Despite the lack of talent (minus the aging Jimmy Graham) that embodied the tight end position throughout Wilson's career, when they ran routes, he looked their way. This is evident in 2019 when Hollister missed the first five games of the season after spending his first two years in New England, where he earned a combined 16 targets across that span. 
He proceeded to finish the campaign with 5.9 (No. 12) Targets Per Game and 9.4 (No. 12) Fantasy Points Per Game. To put this into perspective within his team, then-rookie D.K. Metcalf earned 6.3 (No. 31) Targets Per Game and 11.6 (No. 41) Fantasy Points Per Game while Tyler Lockett garnered 6.9 (No. 26) and 14.7 (No. 22), respectively.  
Conclusion
Throughout his career, Russell Wilson has had an aging Jimmy Graham, a misused Zach Miller, and mediocre talent at the tight end position. Regardless of their skillset, if the tight end is running routes, then Wilson will be sure to give them an opportunity to make a play. Combine this with Albert Okwuegbunam's ability to gain yards after the catch, as well as comments from head coach Nathaniel Hackett about using him in a hybrid role to take advantage of his receiving skills, and he is a TE1 lock on a per-game basis.