If you've ever read, or seen the movie "Moneyball," you will know that pro baseball teams have been identifying undervalued players for years. In the movie, players who had the production but were overlooked due to physical limitations were pursued by the Oakland A's, and ultimately helped them win games. The same strategy can be applied to fantasy football. Which is obsessed with "alpha" receivers who look dominant and can make monster contested catches. However, this provides an opportunity to find cheaper alternatives that will outperform ADP and ultimately help win leagues. Targets score fantasy points. And these three receivers have "alpha" production, while coming at "beta" price points. 
Darnell Mooney
SF ADP: 82.1
2021 FPPG: 12.9 (No. 29 among qualified wide receivers)
Age: 24.4
Height: 5-10
Darnell Mooney is coming off a season where he earned 140 targets and a 26.7-percent (No. 11) Target Share. However, despite an impressive second year campaign, he is being drafted as WR29 in dynasty start-ups. The Bears offense was horrendous in 2021, ranking No. 23 in pass attempts, and No. 25 in pass yards, which hindered Mooney. To make matters worse, Chicago only threw 16 TD passes, which was fourth-worst in the NFL. Mooney's five receiving TDs led the team. However, the Bears quarterback situation is more stable than many franchises at the moment. And with Allen Robinson gone, another season of mass targets for the young receiver seems likely.
Alpha Comparable: Terry McLaurin
SF ADP: 49.2
2021 FPPG: 12.6 (No. 31)
Age: 26.5
Height: 6-0
The one inch difference is all it takes for people to group Terry McLaurin in the "alpha" category. He had a lower Target Share than Darnell Mooney in 2021 (24.5 percent, No. 19), fewer Fantasy Points Per Game, and has a probable bridge QB in Carson Wentz under center. Savvy Dynasty players could flip McLaurin for Mooney plus a late-first or early second, and get the same production. 
The regression line below shows the average target share by ADP. Being above the line can be seen as a "value" as you are getting more targets per ADP than average.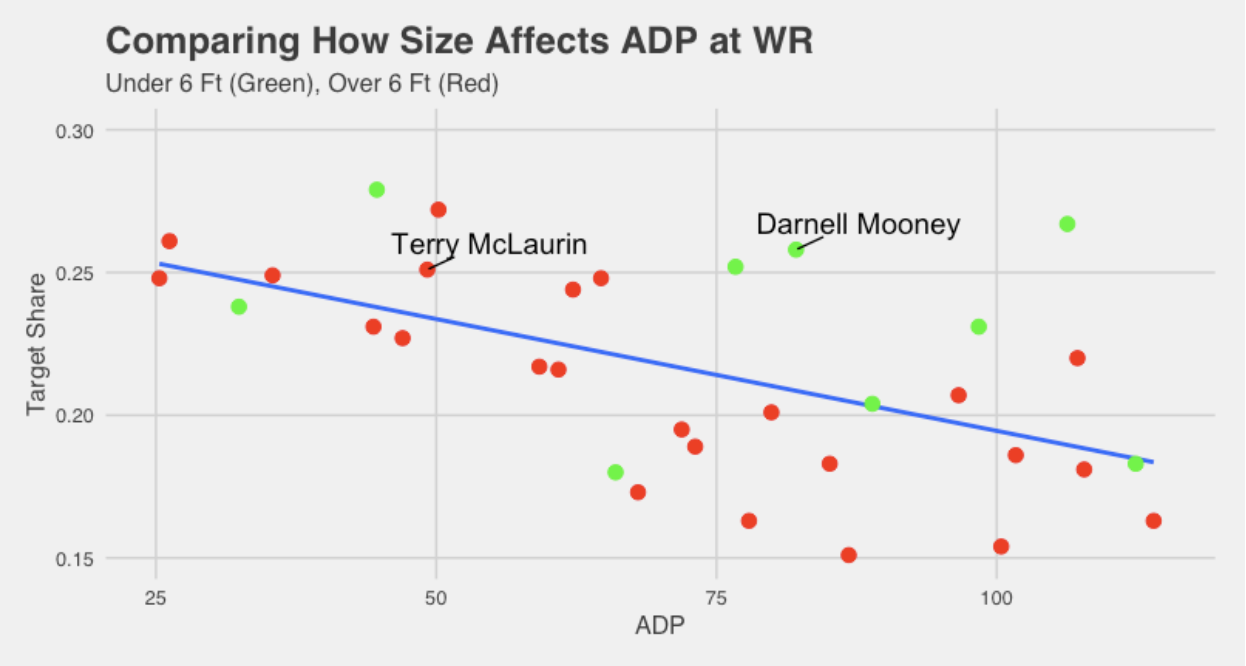 Marquise Brown
SF ADP: 76.7
2021 FPPG: 14.1 (No. 23)
Age: 24.8
Height: 5-9
Marquise Brown was a steal in 2020 drafts, and history may be repeating itself in 2021. While it is fair to assume that the Ravens will pass less in 2022 with J.K. Dobbins and Gus Edwards returning, Brown will still outproduce his ADP. His 26.7-percent (No. 12) Fantasy Points Per Game dwarfed Rashod Batemans' 15.8-percent (No. 61) when he was healthy. He is connected to an elite QB in an offense that should be high-powered in 2022. Brown also had over 1,518 (No. 11) Air Yards in 2021, and played with three different starting QB's. Expect "Hollywood" to continue to stretch defenses with 4.32 (99th-percentile) speed.
Alpha Comparable: Michael Pittman
SF ADP: 64.7
2021 FPPG: 14.0 (No. 24)
Age: 24.4
Height: 6-4
Once again, similar production profiles, with one player being a round cheaper. The Colts did just acquire Matt Ryan from the Falcons, but expect them to still be a run-heavy team in 2022. Michael Pittman was good in 2021, earning a 25.7-percent (No. 14) percent Target Share. However, this is still lower than Marquise Brown, who was also competing with Mark Andrews and Rashod Bateman for targets. Depending on the league, Pittman could fetch a first or second-rounder in addition to Brown.
Brandin Cooks
SF ADP: 106.3
2021 FPPG: 14.5 (No. 21)
Age: 28.5
Height: 5-10
Brandin Cooks is consistently overlooked in the fantasy football community, and size is a big reason. 2021 was quietly a career year for Cooks, in which he posted highs in targets and receptions. Davis Mills also flashed in his rookie season, and will pay dividends for both the Texans offense and Cooks if his development continues in 2022.
Cooks' 26.9-percent (No. 10) Target Share is the highest on the list so far. And his ADP is currently sitting in the triple-digits. It also helps that Cooks is an elite-athlete who has 4.33 (98th-percentile) speed and a 98th-percentile Agility Score. 
Alpha Comparable: DeAndre Hopkins
SF ADP: 60.9
2021 FPPG: 14.7 (No. 19)
Age: 29.8
Height: 6-1
DeAndre Hopkins will turn 30 years old before the kickoff of the 2022 season. He has been elite his entire career, but injuries were a huge concern in 2021. In addition, he posted only a 20.5-percent (No. 35) Target Share in the games he did play in. His eight TDs bailed him out for fantasy purposes, but I wouldn't bet on a TD-per-game pace in 2022. A 2024 first and Brandin Cooks will both help you win now. But they'll also set your team up for the future with a draft class that is shaping up to be pretty talented.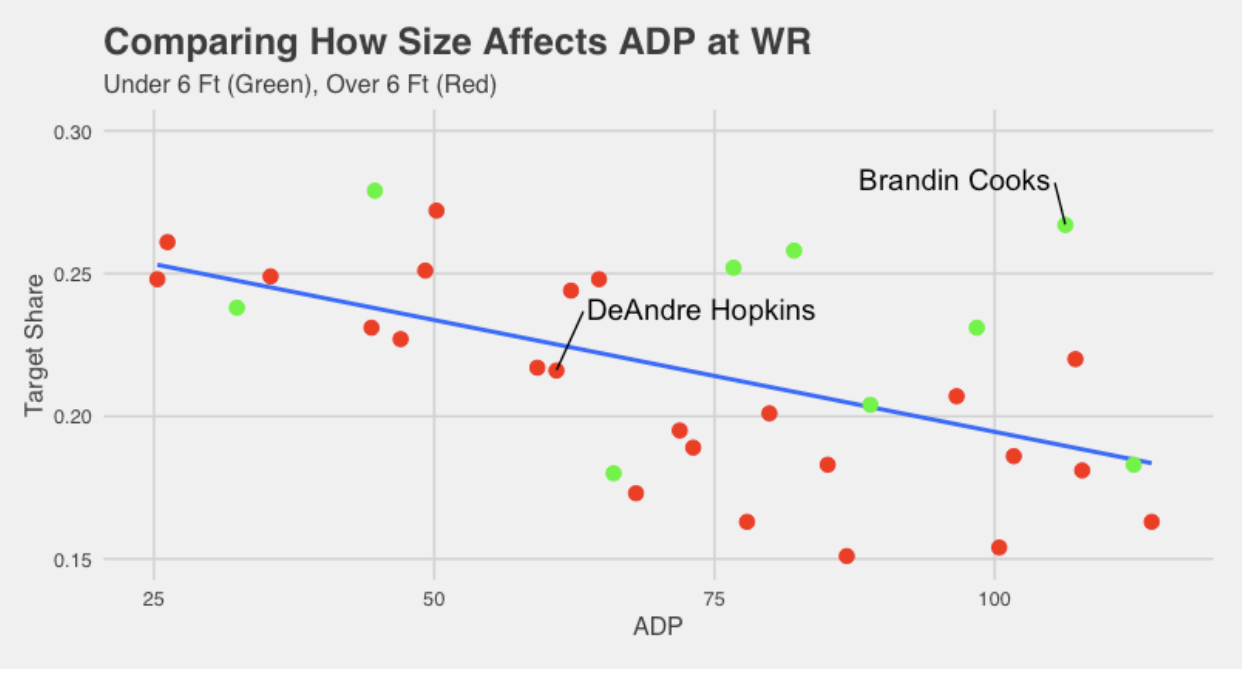 Honorable Mentions to Target