Rookie WRs can be difficult to evaluate. In this year's NFL Draft, two of the top WR prospects are Jordan Addison and Quentin Johnston. What do fantasy gamers need to know about these two prospects?
Which player should fantasy gamers be drafting in their rookie drafts?
The Measurables
This bout features two elite wide receiver prospects doing battle out of two different weight classes. The winner will go on to be the likely WR2 in the 2023 rookie draft class behind presumed front-runner Jaxon Smith-Njigba. Quentin Johnston and Jordan Addison both profile to be first round picks in the 2023 NFL Draft. However, they both go about it in entirely different ways. Neither figures to gain enough momentum to make a run at the WR1 spot. However, which one will stake their claim to the WR2 spot?
Pre-Draft
Johnston vs Addison has been a divisive topic for the majority of the pre-draft process. The early consensus favored Johnston slightly based solely on his size giving him the look of a prototypical Alpha WR1. After skipping a large portion of the 2023 NFL Combine testing, Johnston's stock took a slight dip. Both players ran the 40 yard dash at their respective pro days. In fact, both ran identical 4.49 times. This number is far more significant to Johnston as he is bigger in size. The fact that he ran as fast as his smaller counterpart is a big win for Johnston.
The poll above was a public poll taken from my Twitter. It just goes to show that with both players assumed to be first round picks, this debate is likely to be settled by which of the two gets the better landing spot. Kansas City and New England can be the difference between which one sky-rockets and which one plummets.
The Great Debate: Prototypical Size vs Elite College Production
A first round receiver can be a crucial piece to a dynasty roster. Very few assets hold their value longer than a young receiver. Hitting on a single first round receiver can be the catalyst to turning around a struggling team. It can also be the piece that turns a good team into a perennial powerhouse.  Ask anyone who drafted Ja'Marr Chase or Justin Jefferson. Conversely, a wasted first round pick can completely sink a roster. Examples of this include N'Keal Harry and Jalen Reagor.
Devonta Smith and Cooper Kupp
The age old fantasy battle between prototypical size and elite college production is constantly fought when discussing rookie WRs. The fantasy football purists will swear by Johnston. He is everything you would want a receiver to be. If we looked at size and domination alone, Johnston would be the easy WR1 in this class. He is one of the few receivers in this class with the size to be a dominant Alpha WR1.
The new-age fantasy managers on the other hand have become fearless and no longer buy into the cookie cutter mold of wide receiver. They watched Devonta Smith and have come to the conclusion that size isn't the only thing to consider. Those managers would have Addison as their rookie WR1 and would argue that he can easily mold himself into the dominant slot receiver that Cooper Kupp has shown us recently.
Quentin Johnston
If you were to venture into my mad science lab and create a Frankenstein monster to dominate the wide receiver landscape, Johnston is pretty close to what your best case scenario would be. He checked in at 6-3 (67th-percentile) and 208-pounds (81st-percentile). Factor in a 40.50″ vertical jump (95th-percentile) and a 134″ broad jump (99th-percentile), and it's easy to see he has all the tools to be a dominant force for years to come. At his pro day he ran a 4.49 40-yard dash. This was far faster than many experts projected him to run. As I stated previously, this is the single biggest win of the off-season for his claim on the WR2 spot.
It's currently unknown where either receiver will play when they begin their NFL career. However, Johnston seems to be far less landing spot dependent. He figures to get top 20 draft capital. It would be difficult to find a team in the top 20 that doesn't need an X-Type Alpha receiver in their lineup.
Alpha in the Making
Johnston has a size, speed and production profile that no other receiver in the 2023 draft class possesses. Simply put, if he hits his ceiling outcome there will be no other receiver in this class anywhere near him in fantasy value. His ceiling in a Pro-Bowl level talent. The fact that he was able to run the same 40-yard dash time as Addison at his size shows you the elite potential he has.
He had a college breakout age of 19 which scores in the 89th-percentile. Johnston possesses a college dominator of 31.0-percent (57th-percentile) and a college target share of 25.3-percent (76th-percentile). His Burst Score also checked in at 135.9 (98th-percentile) and shows his truly unlimited potential as a prospect. There isn't a player in college football that was more crucial to their offense in 2022.
Fantasy managers should draft Johnston wherever possible. He may not hit. However, as far as betting lines go he is the surest bet of this receiver class. It's wise to bet on a profile that has come through time and time again at the NFL level.
Using the Tools
Throughout college the knock on him was that despite his size and speed he was never truly able to take advantage of his size, he frequently gets outmuscled in contested catch situations and isn't as physical as he should be against defenders. If he lands on a team with a coaching staff that can help to develop the Alpha mentality in his game he will quickly take over the NFL. It sounds lofty, but Julio Jones is well within his range of outcomes if he were to put all his tools together on the field.
Another problem that has plagued him throughout his college career was drops. In his three season with TCU his catch rates were 50.0-percent, 54.1-percent and 62.5-percent. The high drop rate is a combination of two factors. A larger number of drops is not uncommon for a receiver who receives the target volume that Johnston receives, just ask Diontae Johnson. This issue can be coached out of him with focus and mental preparation. The more concerning factor is as mentioned above, he often gets outmuscled in contested catch situations causing him to miss out of receptions that should have been secured.
Route Running
Add in his route running struggles and their are certainly some kinks to work out before he plays in the NFL. He runs a very limited route tree and often doesn't execute them as well as hoped. Johnston has a tendency of getting jammed and outmuscled by defenders causing his routes to be sloppy and inefficient and is easier to cover due to a limited route tree. In order for him to succeed at the next level, he will have to step up his physical presence. Additionally, Johnston will need to start imposing his will on a more consistent basis. This will allow him to run better routes.
The Takeaways
There is no wide receiver in this draft class that I prefer over Johnston. He is easily the receiver with the widest range of outcomes. If he learns to use his size to his advantage and works on limiting the focus drops, this is an elite prospect profile that easily has WR1 overall upside. Conversely, if he continues to struggle with drops and not use his size to his advantage a N'Keal Harry wash out of the league is also within the realm of possibilities.
Jordan Addison
Addison is not a Frankenstein Prototype monster made in an NFL lab. Rather, he is the new era hybrid receiver that has become all the rage in the NFL and fantasy leagues over the past few seasons. He comes into the league relying more on his speed and shiftiness than his size.
He is by no means small. However, he pales in comparison to Johnston. Checking in at 5-11 and 174-pounds, he profiles as more of an over-seized slot receiver than as an X-type perimeter receiver. This difference in size profile and role limitation makes him far more landing spot dependent.
Measurables
His measurables were largely unimpressive and below average as a whole. He ran a 4.49 40-yard dash which is certainly within the accepted range of times. However, when matched by Johnston, who is far bigger, it's certainly a mark in the loss column for Addison. He also scored a 4.19 second 20 yard shuttle (61st-percentile), 1.56 second 10-yard split (54th-percentile), 7.05 second three-cone drill (34th-percentile), 34-inch vertical (32nd-percentile) and 122-inch broad jump (57th-percentile).
While none of these measurements were particularly alarming, they go to show the overall average level of his prospect profile. He isn't elite in any of the measurables and instead profiles to be just a guy.
Low Octane Profile
He may not come out on the winning side of the measurables debate, but where he does get the edge is the eye test. He is an excellent route runner with elite footwork. What he lacks in size he makes up for with sharpness and skill in his routes as well as the ability to run a very diverse route tree. His size may limit him to a slot role in the NFL. However, his skillset would certainly allow for him to be more than that should he be able to avoid being pigeon-holed as a slot receiver.
While head to head with Johnston he certainly lost the speed portion of this battle, it doesn't mean he is slow. He is more than fast enough to be a true threat in any offense. He has a true knack for getting open and breaking off long plays. Additionally, he is also one of the best deep threats in this class. His Speed Score of 82.8 (18th-percentile) and Burst Score of 118.8 (37th-percentile) are particularly alarming as they show that in addition to lacking size he also lacks any real explosion.
High Level Technician
Even with the limitations previously mentioned, it's not all negative for Addison. He just went about winning in a different way than Johnston. Addison relied in technique and route running savvy rather then size and speed. He operates in a similar fashion to New Orleans rookie receiver Chris Olave. Olave is slightly larger than Addison but excels largely due to his ability to get open through sharp route running.
The area where he clearly scores a win is hands. Addison's hands are elite. In his three years in college, his lowest catch rate was as a freshman where he caught 67.4-percent of his targets, which would have been a career high for Johnston. He is simply a smart, sharp, reliable target that can be trusted by his quarterback in all situations.
Landing Spot Significance
Admittedly he will be landing spot dependent and could drop far lower than WR3 in this draft class under the worst of circumstances. The Philadelphia Eagles draft at 10 and 30. Being drafted as the WR3 behind Devonta Smith and A.J. Brown would be catastrophic to his outcome in an offense that features a high rushing floor quarterback. In the end, Addison may prove to be the better of the two options, but if you are drafting prior to the NFL Draft he is certainly the scarier of the two options.
The Judges Scorecard
Jordan Addison scores the 7-6 win in a near deadlocked battle.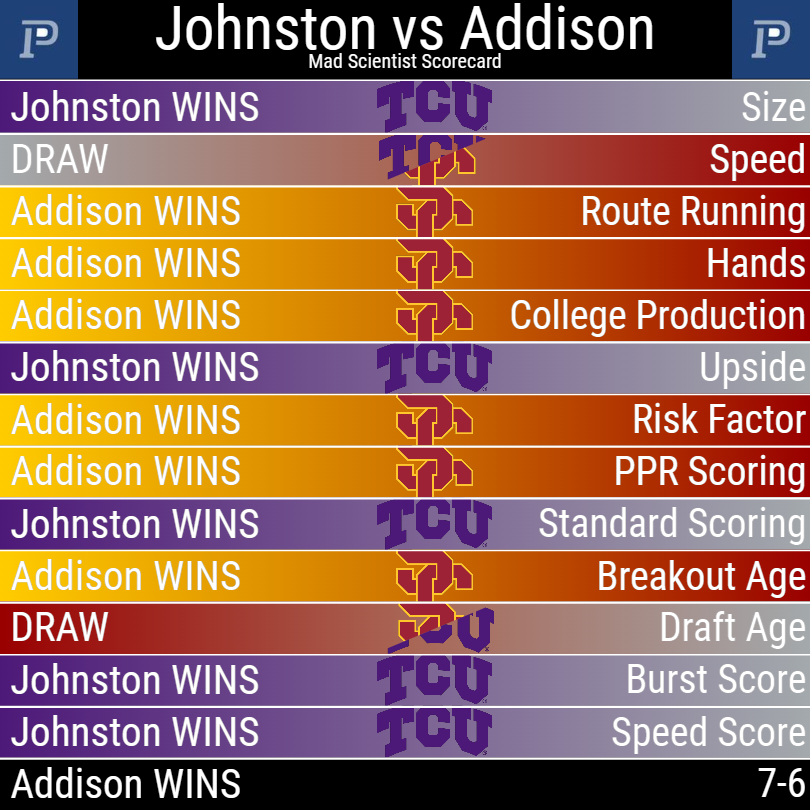 Johnston won easily is all physical based categories such as size, speed, and burst. All the technical categories that involve skill, precision, and technique all went to Addison by a landslide.
Conclusion
Much to my surprise, the winner of this fight for WR2 supremacy went to Jordan Addison. I personally lean towards a more prototypical and old-school approach to drafting, and I go with the size and speed of Johnston. However, the new age fantasy managers seem to be siding with the ultra efficient Addison. That's the question we must now ask ourselves if we are in a draft facing this decision.