Dynasty Football – Veteran Value Losers
I recently looked at the Post NFL Draft Veteran Winners. Players like Tony Pollard, Rachaad White, Treylon Burks, and Rhamondre Stevenson maintained or gained significant dynasty value. Their managers breathed a sigh of relief when their NFL teams went in another direction. But some players were not so fortunate. Instead of relief, their dynasty managers are faced with collective headaches that will last all offseason. In Dynasty fantasy football, gaining value can take a while, but value can be damaged instantly. This article will take a look at a few of these players and their values in Dynasty.
RB Ken Walker | Seattle Seahawks
Ken Walker had a meteoric rise in the Dynasty rankings across fantasy football. At PlayerProfiler, he briefly reached Dynasty RB1 overall status, although Bijan Robinson had overtaken him at the No. 1 spot for several months now. Walker had seen his redraft value in early best balls rise to the mid-second round. Heading into the NFL Draft, Walker's managers viewed him as a foundational piece of their rosters. When Seattle selected Jaxon Smith-Njigba in Round 1, Walker managers had all the more reason to have the utmost confidence level with Seattle. It looked like an offense on the rise with Walker as the featured running back.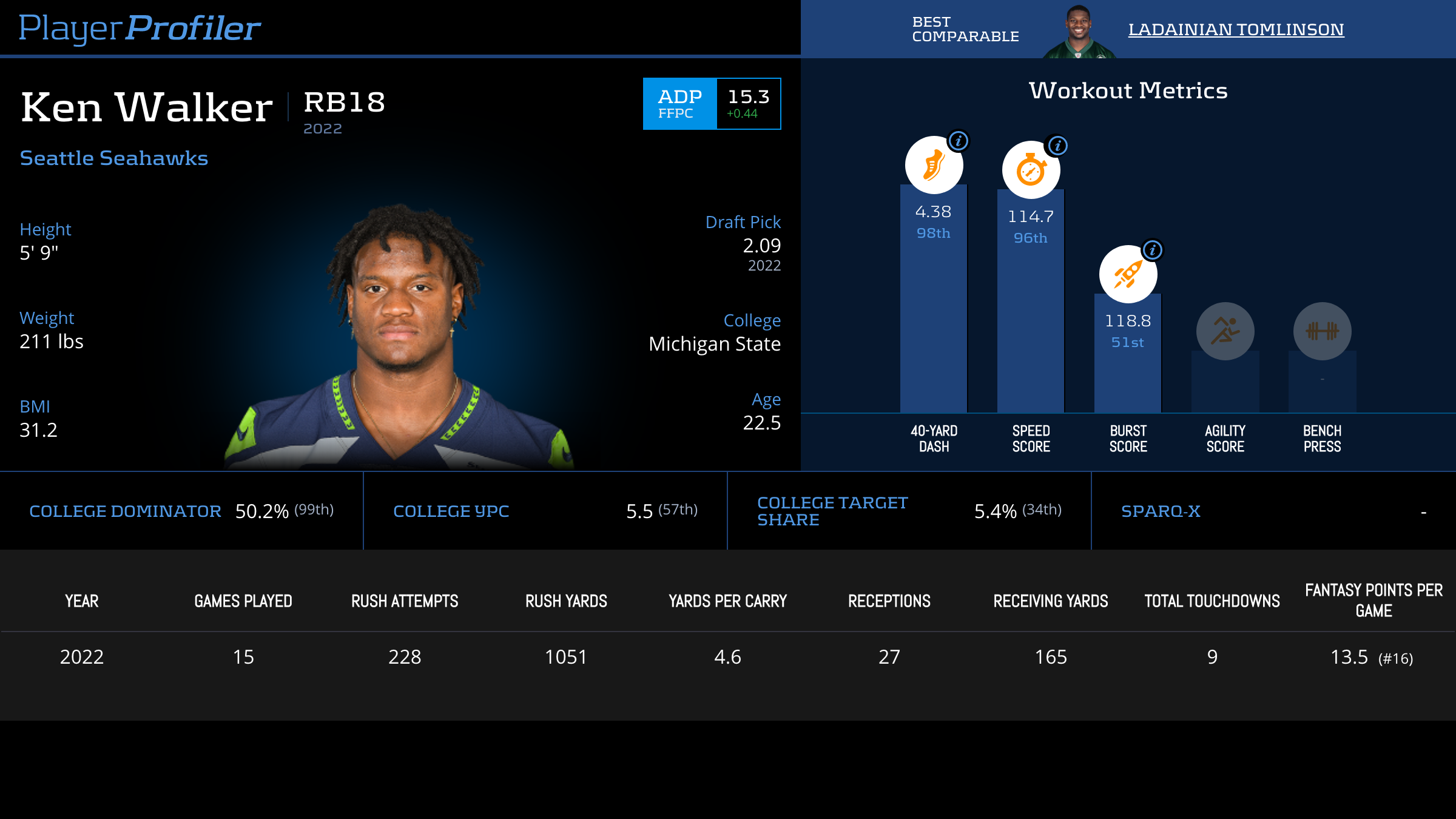 One day later, Walker managers had their world tower turned upside down with six simple words, "The Seattle Seahawks select Zach Charbonnet."
With the selection of Charbonnet in Round 2, roughly the same pick range as Walker a year earlier, Seattle sent one of the more confusing messages across Dynasty fantasy circles. Walker will drop down the rankings due to increased competition for touches. He still provided one of the most significant indicators for future fantasy success with his strong play across the second half of last season. Still, we have no idea how Seattle plans to utilize these two running backs. We think that Walker will receive the majority of the touches, the goal line work, and maintain a constant presence in our fantasy lineup. However, there is a chance, albeit at a slight one, that Charbonnet overtakes him as early as this season. Walker goes from a Teflon unflappable Dynasty asset to one with several questions surrounding it. He is still a top-12 dynasty RB.
WR Rashod Bateman Baltimore Ravens
Rashod Bateman Dynasty managers were delighted with the Todd Monken hire. Baltimore moved on from Greg Roman and the old-fashioned, slower-paced, run-heavy approach to a more balanced offense. Bateman managers dreamt of a Year 3 breakout with a player that flashed so much promise in college and in small sample sizes across his injury-plagued early NFL career. When Baltimore added Odell Beckham as a highly paid free agent signing, Bateman managers took a slight hit. However, they could still rationalize that he would be a constant presence on the field in what should be an exciting office.
But when Baltimore drafted Zay Flowers in the first round, it sent a clear message that there are questions about Bateman's future as a Baltimore Raven. Flowers is a different sort of wide receiver than Bateman, but there is also the continual target competition in the form of top-notch tight end Mark Andrews to go along with the two new pass-catching additions. Bateman took a significant hit in the PlayerProfiler Dynasty rankings. We still believe in Bateman's talent, but there will be a lot more weekly target competition and potential for an unclear weekly role this season. 
RB Tyler Allgeier | Atlanta Falcons
Allgeier losing value was easy to predict, and there is nothing surprising about having to write about him here. 2022 was an excellent ride for Allgeier dynast managers. Allgeier went from a Day 3 selection to a player in our fantasy lineups as he produced the single-season rookie rushing yards record for the Atlanta Falcons. He now has been Bijan Robinson-ed.
Allgeier now moves into valuable handcuff category. However, he's not too valuable as he should lack a weekly floor playing next to an all-world talent like Robinson. The natural pivot for dynasty managers is to offer Allgeier to the Bijan Robinson manager. This reason is because Allgeier has more value to the Robinson manager than any other manager in the league. Let this be a cautionary tale. Never get too comfortable if you have a Day 3 running back on your Dynasty roster. James Robinson, Michael Carter, Tyler Allgeier: it happens every year and will happen next year.
WR Mike Williams | Los Angeles Chargers
Mike Williams was a player that I wrote about in my pre-NFL Draft Dynasty Land Mines article, and boy, did he hit one in the form of Quentin Johnston. Williams was already a sub-20-percent target share player. He has to compete with another body at wide receiver in the athletic and explosive Johnston. Williams is 28 years old, and it could be his last year attached to Justin Herbert and the Los Angeles Chargers. Keenan Allen is a different player and should maintain a very high target total, but Williams will be competing for his weekly targets. A year from now, his dynasty stock could take a further hit, as he could have decreased quality quarterback play if he moved on from Justin Herbert and Los Angeles.
RB Travis Etienne | Jacksonville Jaguars
Etienne's hit was less jarring than Walker's in Dynasty football, but Jacksonville made a significant move in selecting Tank Bigsby in Round 3. Etienne went from having veterans like D'Ernest Johnson and JaMycal Hasty as his weekly competition for RB touches to Bigsby, a player with almost 3,000 rushing yards and over 60 receptions in the SEC. I am sure there is some eye-rolling right now with many readers holding Etienne bags in Dynasty.
Etienne is still a very valuable Dynasty asset and a talented young player. But the last time we saw a legitimate threat to Etienne in Jacksonville, James Robinson was seeing significant volume, and Etienne started the 2022 season slow out of the gate. I don't think Doug Pederson will go that route again, but there will be temptation to carve out a role for Bigsby.