Week 2 of the 2022 NFL season has come and gone. 16 more games have entered the history books. These are games from which we can pluck yet more valuable data regarding players and teams. One such data stream is the Pace of Play, which we began our weekly look at last week. Surely not much has changed over just a single week of action, I hear you say. Well, let's take a look, shall we?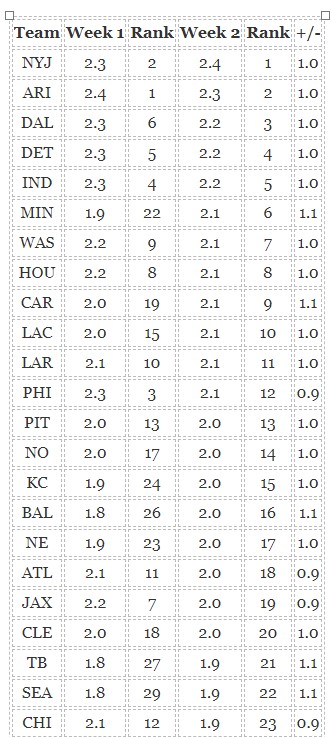 Warp Speed
In this section, I'll discuss the teams playing at warp speed. The top five teams in terms of Pace of Play after two weeks were five of the top six after the first week of the season. Firstly, The New York Jets jumped from No. 2 to No. 1 with a 2.4 mark just overtaking the Arizona Cardinals at 2.3. I mean, if there's one thing we associate with Joe Flacco, it's pace, right?
Secondly, The Philadelphia Eagles, No. 3 after Week 1, have fallen all the way down to No. 12. Moreover, their 2.1 mark is nothing to be ashamed of, but it is noticeable that they had a comfortable lead going into the second half on Monday Night Football. In conclusion, this may well have led to a slight easing on the throttle from Jalen Hurts and his merry men.
Most Accelerated
Most notably, the team that accelerated the most from Week 1 to Week 2 was the Eagles' opponents last week, the Minnesota Vikings. They were at 1.9 after their win over the Green Bay Packers but now sit No. 6 at 2.1 (tied with seven other teams, including the Eagles). Indeed out, the Vikings spent much of the game trailing, but it's good to see that they didn't look to just get out of Philadelphia unscathed. They kicked into a higher gear and got some plays off. As a result, this is good to see especially if they are going to get into shootouts.
Walk Speed
In this section, I'll discuss the teams that are, well, operating at walk speed. Arguably the best team in the NFL is also unquestionably the slowest, in terms of the pace of play. The Buffalo Bills, after demolishing the Rams and the Titans in their first two games, have a pace of play mark of a mere 1.5.
Consequently, you would think, being so dominant and so slow, this would lead to advantageous situations for their running backs. Given the extremely positive game script they are enjoying, they should be smashing. But you'd be wrong. The Bills are currently No. 18 with 24.5 run plays per game. As a result, Devin Singletary fantasy managers are not going to be happy.
On the other side of the coin, the Titans, who had their doors blown off by the Bills in Week 2, are down with a 1.6 pace of play mark while the Green Bay Packers fell from No. 16 in Week 1 (2.0) to No. 30 after Week 2 (1.8). As a result, in situations where they are chiefly in control of games, they are set to return to the formula that has seen them rank No. 32 and No. 30 over the last two seasons.
Other Noteworthy Items
Another team taking their time to run plays at present is the Miami Dolphins. Despite trailing big against the Baltimore Ravens in Week 2, they still only averaged 1.9 plays per minute. Even when facing significant opposition in terms of the scoreboard, Tua Tagovailoa is going to take his sweet time about things. I suppose having the speed of Tyreek Hill and Jaylen Waddle at wide receiver means you can afford to take things easy when calling your plays.
The Week Ahead
If speed is your thing, then the all-NFC North clash between the Vikings and the Detroit Lions is a clash to whet your appetite in Week 3. These two teams sit at No. 6 and No. 4 in the current standings Pace of Play standings. Additionally, they are going head to head in a dome in a game with a 50-point game total. As a result, make sure your fantasy rosters are stocked accordingly with players from this one.
The NFC East clash between the Washington Commanders and the Eagles is another juicy game between two sides eager to get the next play off. Both are teams with a 2.1 pace of play mark. Additionally, Washington is one the pass heaviest teams in the league this season.
The Dolphins and Bills matchup is not one that suggests warp speed in terms of pace, nor should we expect to have our socks knocked off by the Titans against the Las Vegas Raiders. The clash between the Denver Broncos and the San Francisco 49ers should also be an epic if you like seeing the play clock with 0:01 on it. Finally, Choose your weapons carefully from these three games.
Go well, one and all.