Former head coach Adam Gase has a reputation for tanking player value in fantasy football. The post-Gase success of star players Ryan Tannehill and Robby Anderson have many touting Sam Darnold as the next benefactor of "The Adam Gase Effect." This flawed premise exaggerates the effects of coaching on player performance. This deep dive into Adam Gase will aim to determine once and for all if we can rely on "The Gase Effect" as a reliable fantasy football take.
Coaching History
Adam Gase began his career in coaching as a graduate assistant at LSU and quickly made his way into the NFL in 2005. He bounced his way through various assistant roles for eight years until landing an offensive coordinator position with the Broncos from 2013-14. He built his reputation due to Peyton Manning's historic 5,477 yard, 55 touchdown season. Gase held the proper qualifications to be hired as the Miami Dolphins head coach in 2016.
Miami Dolphins 2016-2018
New Regime, Who This?
The dual hiring of Adam Gase and general nanager Chris Grier marked the start of a new era in Miami. Grier hit the ground running by trading back five spots in the 2016 NFL Draft. He traded the No. 8 overall pick for LB Kiko Alonso, CB Byron Maxwell, and the right to draft Laremy Tunsil (Pick No. 13). Grier let Olivier Vernon, Lamar Miller, Derrick Shelby, Kelvin Sheppard, Greg Jennings and Rishard Matthews all walk during free agency. None of whom made any major NFL impact in the following years. He would go on to draft RB Kenyan Drake and CB Xavien Howard that season as well. Grier handed Gase a loaded roster led by Ryan Tannehill and bolstered by an elite defensive line featuring Ndamukong Suh, Cameron Wake, and Mario Williams.
Gase managed the Dolphins to a 10-6 record in 2016, earning a wild card spot. He led that team to their first playoff appearance in eight years (Miami has not made the playoffs since). A 30-12 loss to the Pittsburgh Steelers in the Wild Card round would mark the beginning of Gase's downfall to obscurity. Tannehill went on to miss 2017 with a torn ACL and played 11 injury riddled games in 2018. Gase would end his tenure in Miami with a 23-25 record and a city full of disgruntled fans. Grier would continue to manage the Dolphins and is considered an upper level GM in 2021 following a masterful rebuild in the post-Gase era.
Is Gase to Blame?
Adam Gase shoulders the burden of a team dismemberment that led to a full tank and rebuild following the signing of head coach Brian Flores in 2019. Looking back, one can argue that Gase was set up for failure. Chris Grier is a forward thinking GM, but his long-term planning quickly took its toll on this roster. Gase was handed a much worse roster heading into 2017 even before losing his starting quarterback for the year. Grier's 2017 draft was an overall bust, and free agency saw over 10 starters walk or retire. The once dominant defensive line and loaded secondary was gone, and Jay Cutler was the starting quarterback. Looking at the final roster, it's a miracle Gase even mustered six wins.
The 2018 offseason did not prove to offer much more in terms of team building. The draft was better, with stud safety Minkah Fitzpatrick selected in the first round. However, the departures of Ndamukong Suh, C Mike Pouncey, and star receiver Jarvis Landry only hurt this team. Gase's team would finish 2018 at 7-9 despite starting Brock Osweiler for five games and Tannehill battling injury all season. I would argue Gase's dropoff from his 2016 success is more correlated to poor roster talent rather than inept coaching.
Player Performances in Miami and the "Gase Effect"
Did players improve their quality of play upon leaving Miami during the Gase era? Ryan Tannehill is the most famous case with his late career breakout in Tennessee.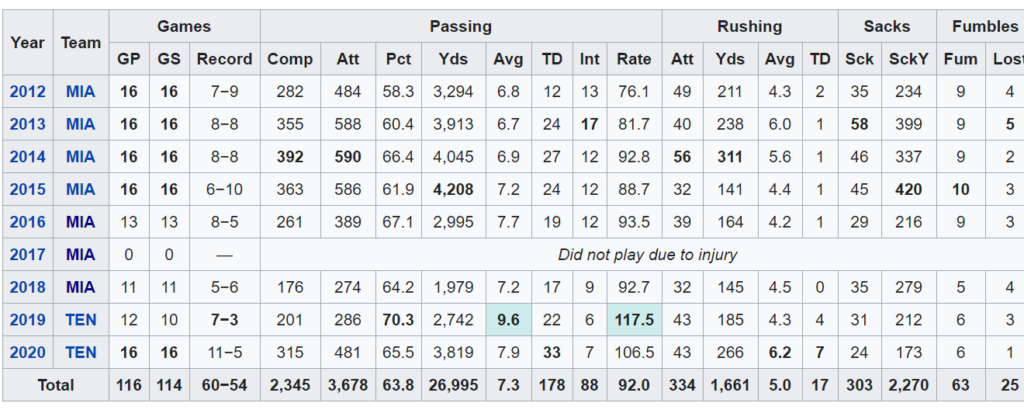 Looking at career stats Tannehill actually played better in his first year with Gase. He set career highs in Average Yards per Attempt, Completion Percentage, and Passer Rating. His efficiency also closely mirrored his 2020 efficiency with the Titans. Its clear that 2019 was an outlier year where everything clicked. Tannehill's success is due to improved supporting cast efficiency and proper injury recovery, not coaching. The 2019 Titans had an elite offensive line and high efficiency weapons: Derrick Henry, A.J. Brown, and Corey Davis. A massive improvement over the 2016 Dolphins weapons: Jarvis Landry, Kenny Stills, and Jay Ajayi.
Tannehill's Supporting Cast Efficiency rating in 2018 was +5.68 (tied for No. 9 among qualified quarterbacks) according to PlayerProfiler's advanced metrics. His 2019 efficiency leaped to +21.60 (No. 1) with a slight return to Earth in 2020 (+13.07, No. 4). With that, his 2.7 (tied for No. 29) Accuracy Rating from 2018 jumped to 7.6 (No. 4) in 2019. Tannehilll improved in nearly every metric once in Tennessee. He even did better when pressed with his Pressured Completion Percentage improving from 27.5-percent (No. 30) to 44.3-percent (No. 6).
It is possible Tannehill was "ruined" by Gase. I would argue he was ruined by Miami in general and thrived once surrounded by true NFL all-stars.
Player Regression or Talent Suppression?
It's hard to find any player who statistically improved after playing for Adam Gase or declined while playing for him. Wide receiver Danny Amendola maintained career norms in Total Yards, Catch Percentage, and Yards per Game during his one season with Gase at age 33.
Kenny Stills was highly efficient with Hall of Fame Quarterback Drew Brees over his first two seasons. His one full campaign with Ryan Tannehill (pre-Gase) resulted in a drop in Catch Percentage and productivity. His counting stats improved across the board in a full season with Tannehill and Gase (2016) highlighted by a career-high nine touchdowns. Overall, he was mostly the same guy his whole career despite quarterback or coaching situation.
Kenyan Drake, Damian Williams, and Jay Ajayi all showed similar metrics before and after Gase. At no point did their Yards per Attempt, Catch Percentage, or Yards per Touch take any massive drop due to an association with Gase. The final nail in the coffin is Jarvis Landry. In 2016 (a full year of Tannehill and Gase), Landry posted a 94-1136-4 stat line with 12.1 Yards per Reception. In his best season in Cleveland, he went 83-1174-6 with 14.1 Yards per Reception. I see no evidence of any "career changing improvement" upon liberation from Gase.
The real downside to Gase in Miami was poor use of talent. There is no doubt his backfield approach limited the fantasy outputs of Drake and Williams. He also throttled Landy by overusing him in short yardage situations. Gase proved in Miami that he fails to maximize his players' skillsets. He forces square pegs into round holes. However, all of these player's showed flashes of their true talent in Miami. Their post-Gase breakouts reflected better team situations unlocking talent that was always there.
The New York Jets 2019-2020
New Team, Same Story
The New York Jets have been historically bad for decades. Adam Gase was unfortunate enough to enter the fray at organizational rock bottom. Gase entered the Big Apple at the tail end of the Mike Maccagnan era. Maccagnan proved to be an all-time dud at general manager, resulting in college level rosters for Gase in 2019 and 2020. The Jets allowed their bust GM to run the entire 2019 offseason before firing him and bringing in Joe Douglas. Gase was left to carry the bag for a roster devoid of talent.
The biggest marker of Maccagnan's ineptitude is the lack of draft presence. Only 16 of 34 drafted players under his regime remained on the team entering 2019. Nearly none of the 34 players Maccagnan drafted are on the team today. Gase was coach to a bottom of the barrel team for two seasons in New York. His quarterback woes continued with Sam Darnold missing seven games over two years. Contract disputes with Jamal Adams, locker-room drama with Le'Veon Bell, and dud signings like Trumaine Johnson were the cherry on this pain sundae.
New York is where Gase showed his second major talent as head coach: alienating star players. Its no secret that he has a long history of rupturing locker room culture and forcing his best players out. He is a bad coach and nobody would argue he belongs at the helm.
Did the "Gase Effect" Carry Over to New York?
The "Gase Effect" includes poor use of talent and poor locker room structure, but were Jets players worse at Football with him? The main case is Robby Anderson, who saw a massive jump in fantasy value in 2020 after a down year with Gase in 2019.
Anderson caught 52 (No. 43) passes for 778 (No. 37) receiving yards and five (No. 37) touchdowns in 2019 with Gase. His first season in Carolina, his stat line improved to 95 (No. 8) receptions for 1,088 (No. 13) receiving yards and three (No. 65) touchdowns.
Anderson's advanced metrics paint an interesting picture from year to year. His Target Share and Slot Rate increased sizably, but his Average Target Distance and weekly Air Yards fell. It's clear that his boosted fantasy production resulted from more slot work and higher usage overall. He profiles as a deep threat, but showed a more well-rounded skillset when presented a slot role in 2020. His improved Catch Rate and QB Rating When Targeted reflect improved Target Accuracy from better quarterback play.
It's logical to think Anderson would be kept outside in 2019 while playing alongside slot specialist Jamison Crowder. Carolina's decision to move him to the slot went unpredicted by the fantasy community and NFL fans at large. One can't necessarily blame Gase for using Anderson in a traditional deep threat role.
Conclusion
Adam Gase was a poor head coach. He has a proven record of misusing and suppressing fantasy football production for running backs and wide receivers. His shortcomings further express themselves behind the scenes with poor player management. The "Gase Effect" certainly matters when considering actual NFL outcomes. However, there is no reason to believe a player can break out solely because Gase is no longer their coach.
Any instance of improved player performance can be rationalized by improved talent around them, or simply an increase in volume. Every player showed similar football ability with/without Gase. There just happens to be a long list of players who saw bigger roles or moved on to better teams following their Gase experience. His NFL potential (if any) was crushed by coaching some of the most talent devoid rosters of the last decade.
Any fantasy football evaluations of current Jets players or Sam Darnold should focus on their player profile and film grades. Darnold is not destined for a breakout because Gase is gone. Good players will show their talent despite suboptimal coaching. Dig deeper than the coaching narrative when projecting these players for 2021.