With a recent slew of injuries befalling players such as Chris Carson, Dalvin Cook and Ty Montgomery, fantasy owners will need to dissect the waiver wire in hopes of finding a replacement. Fortunately the current running back market is flush with quality replacements. Such opportunities to take advantage of the waiver wire seldom arise, so it is essential for fantasy owners to capitalize accordingly based on advanced stats, metrics, and analytics player profiles.
Aaron Jones, RB, Packers
The Packers invested heavily in running backs in the 2017 draft by selecting Aaron Jones, Jamaal Williams and Devante Mays. It remained a mystery how they would all find a role within Mike McCarthy's offense, but now it appears that Jones may take the lion's share of the carries in his rookie campaign.
Aaron Jones received his first career carries in the Packers Thursday night victory over the Bears. With 49 yards and a touchdown, he was able to produce more in one game than Jamaal Williams did in limited work over the first four weeks.
Thanks to Ty Montgomery's rib injury, Aaron Jones now has a great chance to contribute to the Packers offense on a weekly basis. Jones is a very quick back, posting a 127.3 (87th-percentile) Burst Score. He will act as an effective change of pace back to the slower Jamaal Williams, who ranks below the 50th-percentile in the 40-yard dash, Speed Score and Burst Score.
Jerick McKinnon, RB, Vikings
The entire landscape of the Vikings backfield was changed with Dalvin Cook tearing his ACL. Cook looked as if he was poised to be an every down back for the Vikings, but his injury will likely force the team into an RBBC approach.
Enter Jerick McKinnon, who has been a role player in the Vikings backfield since being drafted in 2014. McKinnon took a big step forward as a receiver last season, averaging 5.6 receptions per game over the final 5 games of the season. If Sam Bradford continues to provide the same level of quarterbacking that he show'd week one, McKinnon will become a hot commodity, especially in PPR league's.
Athletically, McKinnon is absolutely jaw dropping. He posts in the 90th-percentile or better in the 40-yard dash, Speed Score, Burst Score, Agility Score and topped off with a 32 rep (100th-Percentile) performance on bench press, incredibly impressive for a guy who only weighs 209 pounds. This is a player who could truly dominate if he had a quarterback who could really take advantage of him in the passing game. He is a must add in PPR leagues.
Alex Collins, RB, Ravens
Keep it simple. Terrance West is not a starting caliber fantasy running back. West was already in line for a reduction in action with the emergence of Buck Allen, along with Marshal Yanda's ankle injury, but the rise of Alex Collins might just turn West into a healthy inactive for the Ravens.
The rise of Alex Collins has been swift and thunderous. He has collected nearly half of his 331 career rushing yards in the last two weeks after back to back 82 yard outings against the Jaguars and Steelers. Collins has looked like a big play magician since joining the Ravens, producing six Breakaway Runs and a Breakaway rate of 24-percent this season, No. 2 among all backs. Collins is poised to lead the way in the Ravens backfield for the rest of the season. He has the ability to function as a between the tackles along with producing big plays, offering much greater upside to the Ravens than Terrance West.
Wayne Gallman, RB, Giants
Things are looking better in the Giants offense, which was unwatchable through the first two weeks of the season. Against the Buccaneers, rookie Wayne Gallman got an opportunity and answered with a touchdown reception in a solid first performance.
Wayne Gallman will have no issue taking snaps away from the completely uninspiring Paul Perkins. Perkins has been unable to produce at all through the first quarter of the season, earning a -42.8 Production Premium. The Perkins experiment clearly isn't working for the Giants; they'd be wise to make a change.
The Giants offensive line remains a mess, so expectations for Gallman should be tempered a bit.  However, given the offense is starting to roll, he's a good option for a flex spot start in deeper leagues.
Latavius Murray
As with the aforementioned Jerick McKinnon, Latavius Murray sees a direct increase in his value along with the sudden injury to Dalvin Cook. Murray will likely see his work come as an early down hammer between the tackles. The good news is that Murray had a lot of success in a role like this with the Raiders last season. Murray produced over 1,000 yards from scrimmage along with 12 total touchdowns in 2016, and he's now in a similar situation in 2017.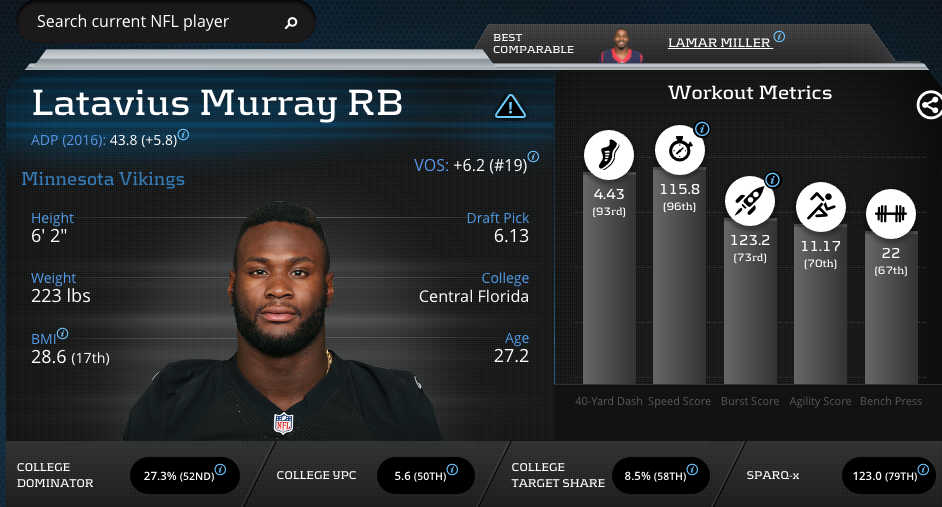 The best thing Murray has going for him is the much improved offensive line in front of him. The Vikings currently sport a 98.5 Run Blocking efficiency, good for No. 5 in the league. How things have changed, as this is a group that was rated among the bottom of the league last year. Murray needs to succeed given this opportunity as McKinnon is nipping at his heals for more snaps.
J.D. McKissic
J.D. McKissic made himself known in primetime this week, coming out of the clouds to score 2 touchdowns against the Colts on Sunday Night Football. As with most, McKissic is granted an opportunity due to injury. With promising rookie Chris Carson to miss the rest of the year with a broken leg bone, McKissic may be able to carve himself a greater role in the backfield.
The Seahawks will almost definitely remain with the veteran duo of Thomas Rawls and Eddie Lacy for the immediate future. McKissic however, has certainly earned himself more work after scoring 2 touchdowns off of 5 touches last week. Posting a 123.9 (76th-Percentile) Burst Score, he is a certainly more explosive than Rawls or Lacy.
---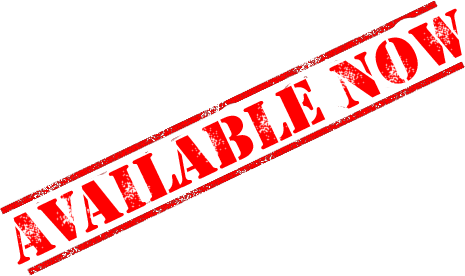 ---
J.D. McKissic is a RB converted from WR, a move the Seahawks have made previously with C.J. Prosise. With elite level 30.6-percent (99th-percentile) College Target Share, McKissic has proven he's a pass catching opportunist.  Prosise will need to step up if he wants to hold off McKissic for the role of the pass catching back. However, if he can maintain the nose for the endzone that he displayed against the Colts, it won't be long before Seattle has to seriously consider him as their starting running back.