The following contrived dichotomy (scheduled for one fall?) is to determine which of these two players we should be drafting to our fantasy football dynasty teams, all else being equal.
Introducing first, in the RED CORNER: representing the Tampa Bay Buccaneers, standing 6-5 and weighing in at 231-pounds: MICHAEL LYNN EVANS.
His opponent, in the BLUE CORNER: representing the Los Angeles Chargers, standing 6-2 and weighing in at 206-pounds: "THE SLAYER" KEENAN ALEXANDER ALLEN.
The Tale of the Tape 
Older wide receivers are often overlooked by dynasty managers who prefer to chase tomorrow's stars. This presents an opportunity to prioritize fantasy points rather than trade value when acquiring these players. Mike Evans, age 27.8, and Keenan Allen, age 29.1, are two players that fit this bill. Both are coming off 2020 seasons where they finished with Fantasy Points Per Game averages of 15.4 (Evans, No. 16 among qualified receivers) and 17.4 (Allen, No. 6), respectively.
Evans and Allen are currently neck and neck in MyFantasyLeague Dynasty Startup ADP, with Evans going around pick No. 49 and Allen going No. 46 in single QB formats. Both go at the round 4/5 turn.
Which of these aging receivers should be prioritized in startup drafts?
The answer is never simple with players of this caliber, but PlayerProfiler's advanced stats and metrics point to one clear winner in this matchup.
Mike Evans
Mike Evans was a stud the second he stepped onto the football field for the Tampa Bay Buccaneers. He's reached 1,000 yards in each of his seven NFL seasons while often been a touchdown magnet, making him an extremely valuable fantasy asset. Despite that, he has been overshadowed by Odell Beckham throughout his career, due to them being taken five picks from each other in the 2014 NFL Draft.
Evans' successful past does not guarantee his future. In 2020, his first season with Tom Brady under center, he had 109 (No. 24) targets, the lowest total of his career, despite playing in all 16 games. He also ended with a 18.0-percent (No. 51) Target Share. In addition, his 13 (No. 4) touchdowns were a career-high, and likely unrepeatable if he sees volume similar to what he saw in 2020.
It's difficult to project him for a large Target Share going into the 2021 season.
The WR with the 51st highest target share from 2020 is going as the consensus WR14 in drafts right now.

And no, this isn't a rookie that people are projecting for more volume.

It's Mike Evans.

Don't draft Mike Evans at his ADP.

— Josh Larky (@jlarkytweets) June 4, 2021
Despite being an elite producer in the face of low volume, Evans ranked outside the top 26 qualified receivers in Yards Per Route Run, Yards Per Target, Yards Per Reception, and True Catch Rate. This shows that he wasn't efficient at anything but scoring touchdowns in 2020. Touchdowns drive most elite fantasy assets, but you're setting yourself up for heartbreak if you expect Evans to match his career-high in 2021.
Evans is an elite talent, which is always valuable in fantasy football. But his ceiling is capped while Tom Brady is the signal caller for the Buccaneers and with Chris Godwin and Antonio Brown running routes alongside him. He's only getting older, and with rumors of Brady signing an extension in Tampa, his long-term dynasty situation is worrisome.
Keenan Allen
Keenan Allen had a fantastic rookie season, but followed it up with a disappointing sophomore campaign and two seasons ruined by injuries. Since then, he has been an extremely productive receiver. Despite his productivity, he hasn't been able to shake the "injury prone" label in fantasy circles, despite missing only two games since 2017. Biases like this are a perfect example of why fantasy managers should look deeper when a player looks "injury prone."
Allen's injury history should not be a concern to any drafters heading into 2021.
Keenan Allen's Career Statistics from Pro Football Reference
Allen was a target magnet in 2020. He was tied for the most games (10) with 10-plus targets. His 26.8-percent (No. 5) Target Share doesn't seem to be in danger going into 2021, either. The Chargers have added no one of consequence outside of Josh Palmer, and have parted with Hunter Henry, who earned a 16.8-percent (No. 11) Target Share.
Number of 2020 games with 10+ targets:

Davante Adams 10
Keenan Allen 10
DIONTAE JOHNSON 10

Hopkins 9
Diggs 9
Kelce 9

Ridley 8

Waller 7
Jefferson 7
Tyreek 7

Allen Robinson 6
Robby Anderson 6

Beasley 5
DJ Moore 5
JD MCKISSIC 5
Marvin Jones 5
McLaurin 5

Who surprised you?

— Josh Larky (@jlarkytweets) May 15, 2021
Allen was discounted heading into 2020 due to questionable QB play after Philip Rivers' departure. Little did we know Justin Herbert would take over as signal caller and break the rookie record for passing touchdowns despite not playing Week 1. The sky is the limit for Herbert, and Allen is tied to him for the remainder of his career in LA.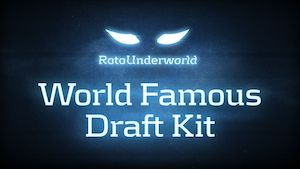 The Go-Home
At the end of the day, fantasy football is a game about fantasy points, and fantasy points are scored by getting the ball. Despite scoring similarly in 2020, Mike Evans has no reason to increase his 18.0-percent (No. 51) Target Share with Tom Brady, Chris Godwin, and Antonio Brown all returning. Conversely, Keenan Allen seems likely to match or exceed his 26.8-percent (No. 5) Target Share with Justin Herbert moving out of his rookie season and Hunter Henry leaving the Chargers.
Most Targets since 2017 🔥

1️⃣ DeAndre Hopkins: 647
2️⃣ Keenan Allen: 591 pic.twitter.com/Tl9W3gUigT

— RotoUnderworld (@rotounderworld) March 15, 2021
Evans may be the stronger talent and has a more impressive resumé, but volume is king in this game within a game that we play, and Allen will see a lot more opportunities than Evans in 2021.
The Winner: Keenan Allen