The margins in fantasy football are thinner than they've ever been. Most people know they should avoid reaching for a quarterback early in drafts if they can only start one, "sleepers" are hyped up so much they get over-drafted, and everyone follows the same analysts on Twitter. But there are still a few areas where value can be exploited. And one of those areas involves players that boom at the beginning of the season. Those players see an inflated trade value, because the wishful optimist in us believe those performances can continue all season. But "wishful optimist" is just another word for "sucker" in fantasy football. And it's immoral to let a sucker keep his money.
Just keep in mind that we're talking about quarterbacks here. In a league where you can only start one, they have a lower positional value. You're not going to trade a QB you got in the 12th round for an RB1. But, you can use them as a piece in another deal. Trade your inflated value QB + a RB for a better RB, or your inflated value QB + a WR for a better WR. Incremental roster improvements lead to fantasy championships.
PlayerProfiler's advanced stats and metrics help us uncover three mid-to-late round quarterbacks we can get for free, confidently start in our lineup early in the season, and then trade at an inflated value.
Kirk Cousins (Underdog ADP: 149.2) (QB19)
Quietly, Kirk Cousins had a pretty good fantasy season in 2020. He finished as the QB11 both overall and in Fantasy Points Per Game among qualified quarterbacks. But if you remove his atrocious Week 2 performances on the road against Indy, he averages out to be the QB3, ahead of Aaron Rodgers and behind Josh Allen. And he's currently being drafted in the 13th round as the 19th QB off the board.
Removing a player's worst game isn't exactly an advanced metric. But factor in that Cousins was a QB1 in nine games last year, and had the No. 88 Value Over Stream (VOS) rating. Meaning, not only was he good, he was also consistent. Like 2020, when their defense gave up the fourth-most points in the league, the Vikings offense will need to put points up to stay in games this season, which is great for fantasy gamers. And with star receiver Justin Jefferson entering his second year, Dalvin Cook catching passes out of the backfield, and ol' reliable Adam Thielen; Cousins should be lighting the scoreboard up like a pinball machine in the first three weeks.
Who will throw more Touchdowns in 2021? ?

? Matthew Stafford
❤️ Kirk Cousins pic.twitter.com/GkiyElqynX

— RotoUnderworld (@rotounderworld) April 19, 2021
The Vikings start the season on the road in what should be high-scoring affairs against the Bengals and Cardinals. Then they're home for the Seahawks, whose defense that gave up the fourth-most fantasy points to quarterbacks on the road last season. Cousins can easily be a top five QB after three weeks, and you can really ride with him through the team's Week 7 bye. Minnesota plays Detroit and Carolina before the bye, and Dallas directly after, but you'll want to move him after that. The second half of their season is brutal. One top 10 defense after the next, capped off with the Bears, Rams, and Packers in the fantasy playoffs. I don't like that!
Jimmy Garoppolo (ADP: 215.4) (QB 35)
At first glance, drafting Jimmy Garoppolo might appear to be the riskiest of the pick-flips due to the uncertainty of when No. 3 overall pick Trey Lance will take over. But it's actually the opposite. We'll know who the starter is before Week 1. So you can take Garoppolo with your last pick instead of drafting a kicker and hold him until Week 1 is approaching. If he is the starter, then congratulate yourself on nabbing a solid QB1 over the first four games for free! If he's not, drop him for a kicker. It's a no-risk, high-return investment.
For all of his coaching accolades and brilliance, Kyle Shanahan's offense is one that takes time to fully grasp. There's a learning curve that typically takes players until Year 2 before they are completely comfortable in his system. Weigh that against Lance being a 21 year-old rookie that only attempted 318 passes in his brief colligate career, coming in as raw of a prospect as we've seen at the position. As much as we love Lance as a dynasty prospect, it's unlikely that he's ready to start in Week 1 for a team with Super Bowl aspirations.
Receiver YAC per Target

1. Aaron Rodgers: 4.51
2. Philip Rivers: 4.17
3. Jimmy Garoppolo: 4.13#2020AdvancedStats pic.twitter.com/MpWmSyZdkP

— RotoUnderworld (@rotounderworld) January 28, 2021
Whichever QB is under center for the 49ers will receive a gift from the scheduling gods.  They open up the season on the road against the Lions and Eagles, before returning home to host the Packers and Seahawks. Detroit gave up the second-most fantasy points to opposing QBs last season, the Seahawks gave up the sixth-most (fourth-most on the road), and the Eagles defense is stronger up front than they are in the secondary. With an incredible trio of skill players in George Kittle, Deebo Samuel, Brandon Aiyuk, and their stable of dynamic running backs, the blueprint is there for Garoppolo to put up big numbers over the first four weeks.
Sam Darnold (ADP: 186.5) (QB 27)
Sam Darnold's tenure in New York went about as poorly as it could have. But he was in a terrible situation there, and could not have landed in a better situation than he did in Carolina. He now has the brilliant mind of Joe Brady coordinating the offense, and dynamic playmakers to throw to in Christian McCaffrey, D.J. Moore, Robby Anderson, and Terrace Marshall. He also has an early season schedule juicier than Carolina barbecue.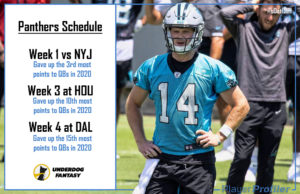 Three of the Panther's first four games are against the Jets, Texans, and Cowboys. The Jets gave up the third-most fantasy points to QBs last season, Houston is in contention for worst defense in the league this year, and Dallas is scripted for more shootouts than Raylan Givens. This Cowboys – Panthers matchup in particular looks to have the high-scoring, low-defense resemblance of an NBA All Star game.
Is Sam Darnold the next Ryan Tannehill? ? pic.twitter.com/awYDww6H75

— RotoUnderworld (@rotounderworld) June 10, 2021
The formula is there for the Panthers to have an offensive explosion, and for Darnold to put up QB1 numbers early and often (I'd be shocked if he's not a top 10 QB after four weeks). But what makes him the perfect Flip That Pick candidate is his fantasy playoff schedule. In Weeks 15-17, the Panthers play at Buffalo, home against Tampa, and then at New Orleans. That's rough. So take Darnold with the last pick in your draft, ride that early wave, flip him after Week 4, and thank me later.