I manage too many dynasty league teams. During the NFL regular season, I have neither time nor the inclination to carpet bomb my dynasty league opponents with trade offers. Effective dynasty league team stewards spend as much time curating rosters during the offseason as making in-season transactions in a perpetual quest to maximize the projected lifetime value of their rosters. Before proposing an efficient barrage of offseason surgical strike trade offers, I conduct dynasty price checks. Every February, I download PlayerProfiler's Fantasy Football Dynasty League Rankings and compare each player's rank to industry consensus.
DynastyLeagueFootball.com is a preferred source of consensus player valuations, aggregating ranks across 10-plus dynasty league analysts and frequently refreshing ranks throughout the offseason. After comparing PlayerProfiler and DLF ranks as of mid-February, I identified five player at each offensive position where RotoUnderworld's player valuation deviates significantly from consensus.
Quarterback
1. Alex Smith, Chiefs (+11 deviation)
RotoUnderworld values Alex Smith significantly higher than the DLF consensus. Playoffs appearances buy you nothing after a "dink and dunk" reputation has crystalized, and a diminished brand undoubtedly created this usually wide dynasty ranking disparity. Alex Smith's mobility propelled him to a top-12 QBR for three consecutive seasons, and at age 32, Smith will likely be an NFL starter after Eli Manning and Ben Roethlisberger have retired.
2. Blake Bortles, Jaguars (-8 deviation)
RotoUnderworld values Blake Bortles significantly lower than the DLF consensus. The PlayerProfiler Fantasy Football Dynasty Rankings peg Blake Bortles outside the top-25 dynasty league quarterbacks, because Blake Bortles can't play. After two-straight years completing less than 60-percent of his passes, and with a new head coach to start the year, Bortles could cede the starting quarterback role to Chad Henne by midseason and never be heard from in the NFL again.
3. Colin Kaepernick, 49ers (+6 deviation)
Like Blake Bortles, Colin Kaepernick is not an accurate passer, evidenced by a 59-percent completion percentage. But in what world is Bortles a better dynasty asset than Kaepernick? Opposite World. While both players may be flushed out of the league in under two years, dynasty league enthusiasts are better riding the athletic juggernaut who posted 18.7 (No. 7) fantasy points per game in 2016.
4. Sam Bradford, Vikings (+6 deviation)
Sam Bradford and Colin Kaepernick are both 29-years old. While Bradford was not a fantasy QB1 last season, he will likely be a starting NFL quarterback for a longer duration. Bradford's 3.6 (No. 23) air yards per attempt suggests that he plays the position in a state of fear. But after putting together an exceptionally efficient game manager season in 2016, there will be a starting QB job awaiting Sam Bradford for years to come.
sam bradford was easily the most efficient game manager of 2016. pic.twitter.com/BqXCx2FO9Y

— the podfather (@Fantasy_Mansion) February 25, 2017
5. Ryan Tannehill, Dolphins (-5 deviation)
Ryan Tannehill is the Medusa of NFL quarterbacks. Tannehill has been on the Sam Bradford fear-soaked game manager career path for years, and yet, dynasty league enthusiasts remain in denial.  Heading into an age-29 season after two-straight years outside the top-20 fantasy quarterbacks, now is the time to sell low on Tannehill before his dynasty league stock goes to zero.1.
Running Backs
1. C.J. Anderson, Broncos (-33 deviation)
C.J. Anderson is the most perplexing player in fantasy football dynasty leagues. Including an underwhelming college career in which he could not supplant scat back Isi Sofele, Anderson's football resume is a void outside one impressive 8-game stretch in 2014 that included two games against Oakland's demoralized run defense. Yet, industry stalwarts such as Mike Clay are experiencing C.J. Anderson take lock this offseason. Clay's 2017 dynasty rankings slot Anderson above DeMarco Murray! LeSean McCoy! C.J. Prosise! Tevin Coleman!
2. Shane Vereen, Giants (+27 deviation)
After Danny Woodhead, Giovani Bernard, and Theo Riddick, Shane Vereen has been one of the most productive PPR satellite backs in fantasy football. With the release of Rashad Jennings, Vereen tentatively sits atop the Giant running back depth chart and is a top-40 RB on the PlayerProfiler Fantasy Football Dynasty Rankings. If you think Paul Perkins will be New York's every-down back in 2017, I have bad news. Rotoworld's Rich Hribar compared Paul Perkins to missionary sex on a recent RotoUnderworld Radio podcast episode.
3. Duke Johnson, Browns (+15 deviation)
Duke Johnson dynasty talent profile checks a lot of boxes: Youth: 23-years old, Durability: 33.0-percent (69th-percentile) College Dominator Rating, Efficiency: 6.9 (No. 3) yards per touch in 2016, and Passing Game Dynamism: 514 receiving yards last season. The presence of early-down grinder Isaiah Crowell also insulates Duke Johnson from competition on the NFL Draft. An improved Browns offense would unlock Johnson's fantasy potential in 2017.
4. Latavius Murray, Free Agent (-15 deviation)
The word is out: Latavius Murray is not an NFL workhorse. In his second year as Oakland's primary running back, Murray's Opportunity Share dropped from 69.7-percent to 52.8-percent. Incredible usage in high leverage situations, including 40 (No. 7) red zone carries, propelled Murray's 2016 fantasy production. The Raiders are not expected to re-sign Murray this offseason. After two consecutive seasons with a Juke Rate below 25-percent, few NFL franchises will be in the market for one of the league's least elusive and least efficient running backs.
5. Lamar Miller, Texans (-14 deviation)
Rotoworld's Rich Hribar recently coined an apropos nickname for Lamar Miller: Edge of Tomorrow, the Tom Cruise action-adventure masterpiece. Every year, overconfident fantasy gamers fly out to the fantasy battlefield with Lamar "Edge of Tomorrow" Miller. While each Miller iteration produces slightly more points, fantasy gamers inevitable die in an fiery explosion and miss the playoffs. How many times will dynasty leaguers have to die before they stop ranking Lamar Miller among the top-10 dynasty running backs?1.
Wide Receiver
1. Kenny Britt, Free Agent (+37 deviation)
Kenny Britt is a top-40 wide receiver on the PlayerProfiler Fantasy Football Dynasty Rankings after Britt was arguably the most impressive wide receiver in 2016, evidenced by a +36.5-percent (No. 2) Target Premium. Target Premium factors out bad quarterback play by comparing Britt's efficiency to all other Rams receivers. Featuring prototypical NFL split end/X-receiver size, athleticism, route inventory, and on-field efficiency, Kenny Britt offers dynasty league enthusiasts fantasy WR1 upside depending on his landing spot in free agency.
2. Laquon Treadwell, Vikings (-33 deviation)
Draft capital is one hell of a drug. Heading into the 2016, Laquon Treadwell was one of the most overrated NFL Draft prospects in recent memory. Yet, dynasty league enthusiasts continue to shrug off Treadwell's league-bottom athleticism, evidenced by a 96.4 SPARQ-x Score, and below-average college production, exemplified by a 29.0-percent (46th-percentile) College Dominator Rating and 14.1 yards per reception. Dynasty league championships are not forged by doubling down on an expensive (consensus top-40 dynasty WR) draft day mistake trapped on low-volume offense.
3. Marqise Lee, Jaguars (+33 deviation)
Marqise Lee broke out in 2016, and nobody cares. In fact, the DLF consensus still ranks Lee's teammate, Allen Hurns, well ahead of Marqise Lee. However, Lee was the superior prospect and posted a more productive and efficient season in 2016. Like with Kenny Britt, Lee's +14.9-percent Target Premium illuminates an impressive season despite cartoonishly ineffective quarterback play.
4. Kelvin Benjamin, Panthers (-27 deviation)
Kelvin Benjamin personifies inefficiency. While volume is more predictive than efficiency for wide receivers, perpetually inefficient receivers eventually lose their starting roles. Benjamin followed up a 50-percent (No. 87) catch rate in 2014 with a 53.8-percent (No. 80) catch rate in 2016. Already sitting at the 26-year old age apex for wide receivers, Benjamin is the ideal sell candidate while dynasty league analysts continue to slot him into their top-30 receivers.
5. Kevin White, Bears (-26 deviation)
The dynasty community continues to rank Kevin White among top-40 dynasty receivers even after White posted the least efficient season in the history of the PlayerProfiler. Because Chicago's ineffective offense can only sustain one consistently fantasy-viable wide receiver, dynasty league enthusiasts must choose: Cameron Meredith or Kevin White? After Cameron Meredith emerged as an alpha dog in 2017, RotoUnderworld ranks Meredith 20-slots higher than consensus and Kevin White 26 slots lower than consensus in its Fantasy Football Dynasty League Wide Receiver Rankings.
Tight End
1. Clive Walford (-22 deviation)
After Karl Safchick wrote on the definitive Clive Walford warning flair piece a year ago, Walford underwhelmed in every way in 2016 on his way to 5.8 (No. 22) fantasy points per game. Do Not Draft Clive Walford.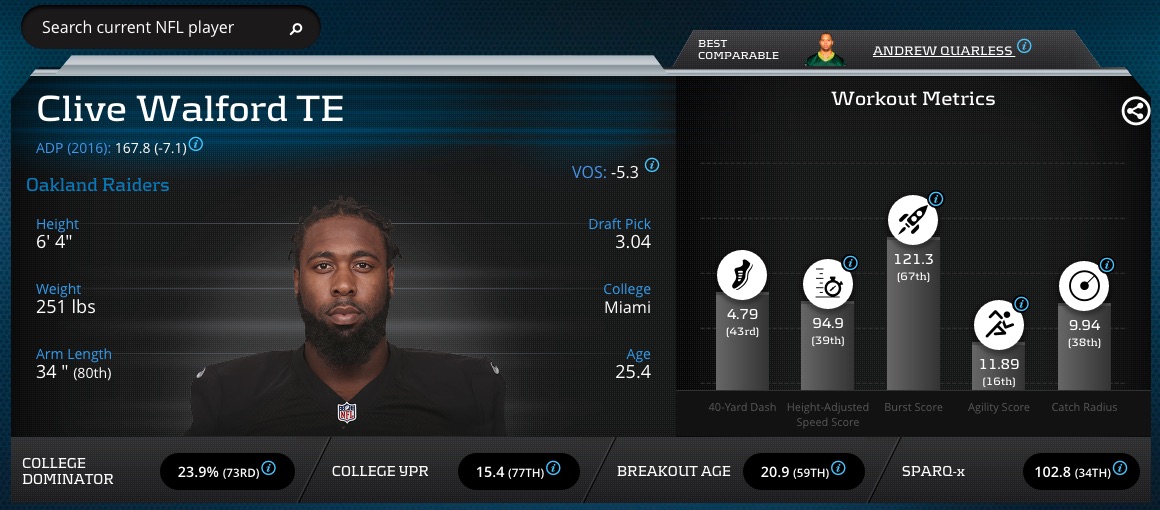 2. Eric Swoope, Colts (+20 deviation)
From Antonio Gates to Jimmy Graham, former basketball player tight ends admittedly have a good fantasy football track record. College basketball players are typically the best athletes on campus, and if a former power forward can learn NFL blocking techniques and the nuances of tight end route running, they are well-positioned for success at the next level. Erik Swoope's 33.2-percent snap share and +43.7 (No. 2) Production Premium and 13.5 (No. 3) yards per target on only 22 targets in 2016 was incredibly encouraging for his long-term fantasy football viability.
3. Dwayne Allen, Colts (-19 deviation)
A tale of two Colts tight ends. While Swoope's arrow is pointing up, Dwayne Allen's arrow is pointing down and remains the most overrated player on the Indianapolis roster, a major accomplishment considering the Colts' roster also features Phillip Dorsett. Allen is the ideal mineshaft canary for identifying misguided fantasy football analysis.
4. Niles Paul, Washington (+17 deviation)
20 months ago, Niles Paul had usurped Jordan Reed and was named Washington's starting tight end. Then, Paul's 2015 season ended before it began when he suffered a catastrophic ankle injury.  With Reed's health in doubt after sustaining significant head trauma over the past four NFL seasons and Vernon Davis set to test free agency, Paul could recapture his starting role early in 2017. Offering exceptional athleticism evidenced by a 131.2 (94th-percentile) SPARQ-x Score, Niles Paul is perfectly suited to fill a target void left by the likely departing DeSean Jackson and Pierre Garcon. Paul is the ultimate deep dynasty league lotto ticket stash.
5. Gary Barnidge, Browns (-16 deviation)
Gary Barnidge is a one-hit-wonder tight end poster child. After breaking out at age 30, Barnidge followed up a fantasy TE1 season in 2015 season with a truly underwhelming 8.0 (No. 24) fantasy points per game in 2016. When facing 4th-and-Barnidge, the PlayerProfiler Fantasy Football Dynasty Rankings recommend punting.