Welcome to another round of players to consider when employing the optimal fantasy football trade strategy. By now, it should be clear that "buy-low, sell-high" is out. "Buy-high, sell-low" is in. All those analysts who told you to "buy-low" on Todd Gurley? Oops. "Buy-low" on Alshon Jeffery? Whoops-a-daisy. How about "sell-high" on Melvin Gordon? Yikes. Here are the top buy-high and sell-low candidates for the stretch run.
Quarterback
Dak Prescott, Dallas Cowboys: Buy-High
Dak Prescott, as you may have heard, has been having an excellent rookie season for the Dallas Cowboys. With Tony Romo conceding that Prescott had earned the right to be the starting quarterback in a heartfelt press conference, the sky is the limit for the 23-year old rookie.
Dak Prescott has been about as efficient as it gets this season, posting efficiency metrics ranking inside the top-10 in the league across the board, including Production Premium (+12.2), Passer Rating (106.2), Total QBR (82.5), Yards Per Attempt (8.3), Air Yards Per Attempt (4.6), Fantasy Points Per Dropback (0.56), and Fantasy Points Per Game (20.1). Never mind he's operating behind the best offensive line in football, leads all quarterbacks in rushing touchdowns with 4 on the season, and is finally throwing the ball Dez Bryant, targeting him 27 times over the past three contests. Prescott has the setup to be a fantasy stud for the remainder of the season and beyond.
Andy Dalton, Cincinnati Bengals: Sell-Low
Andy Dalton has been allergic to throwing touchdown passes this season, ranking 20th in the league with a paltry 10 scoring throws. This may be confusing when looking at his 45 Deep Ball Attempts (No. 7) and his 48.9-percent Deep Ball Completion Percentage (No. 5), but Dalton has only attempted 38 Red Zone Attempts (No. 19) on the season and currently holds a 22.0-percent Pressured Completion Percentage (No. 37).
Dalton is also operating behind an offensive line with a 47.8 (No. 26) pass blocking efficiency rating, and his upcoming schedule, aside from Cleveland, is filled with defenses ranking inside the top-10 in fantasy points allowed for quarterbacks. The Red Rifle has looked more like the Red Rider BB Gun this season, and while I think that quote is super lame, that has been the case, and it is likely to continue.
Running Back
Jay Ajayi, Miami Dolphins: Buy-High
Jay Ajayi has been a monster since taking over the starting running back job in Week 6, totaling a ridiculous 643 rushing yards and 4 touchdowns, yet fantasy analysts still see Ajayi as a sell-high candidate. Clearly in a league filled with running back committees, you should sell players who are seeing a 74.75-percent Opportunity Share over their last 4 games, right? Or players who rush for 200 yards in back-to-back games, right? Yea, no.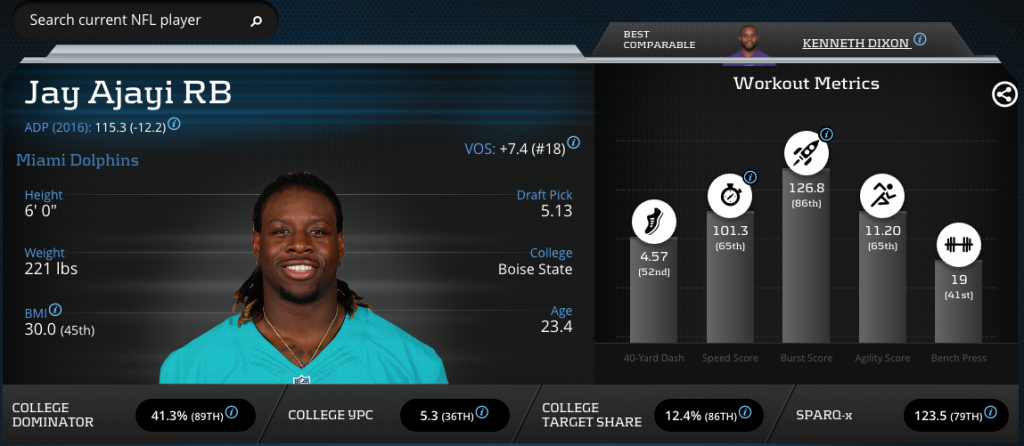 Ajayi is not a transcendent talent, but athletically he is more than capable of handling a starting job as an NFL running back, posting a 126.8 Burst Score (86th-percentile), 11.20 Agility Score (65th-percentile) and 123.5 SPARQ-x Score (79th percentile). He is also operating behind an offensive line that is starting Laremy Tunsil and Jermon Bushrod, two offensive tackles, at the offensive guard positions. If that doesn't establish a football team's identity as a power rushing team, I don't know what does. Take advantage of those who are selling high and buy-high on Ajayi.
Carlos Hyde, San Francisco 49ers: Sell-Low
Carlos Hyde is a decent NFL running back in a terrible situation. While Hyde has received a 72.5-percent Opportunity Share (No. 7), he has been less than efficient, posting a -13.6 Production Premium (No. 54) and is averaging only 3.8 Yards Per Touch (No. 63).
His upcoming schedule is also ranked 26th in the league for running backs, and, I mean come on, he plays for the San Francisco 49ers. With only 15 targets in the passing game on the season, Carlos Hyde is the definition of game-script dependent, and the game scripts aren't going to be kind to his fantasy production. Throw in the fact that he has already missed multiple games due to injury, Hyde is unlikely to provide much value for anyone looking to buy low.
Wide Receiver
Stefon Diggs, Minnesota Vikings: Buy-High
Stefon Diggs, like Mike Evans back in Week 5, is the quintessential buy-high candidate at the moment, as he is not yet a household name in the fantasy community, but is receiving elite volume and is making the absolute best of his situation. Fresh off two 13-reception games in a row, fantasy gamers and analysts still may not trust Diggs' situation, as the Minnesota Vikings have been one of the least efficient offenses in football.
However, while he lacks a capable team around him, Diggs makes up for it with a ridiculous 28.5-percent Target Share (No. 6), 20.4-percent Hog Rate (No. 4), and has averaged 5.9 Air Yards Per Target (No. 10). He also catches those targets, with a 75.3-percent Catch Rate (No. 6), and has made 6 out of 6 contested catches. Throw in the 5th ranked schedule in the league for wide receivers down the stretch, and Diggs is locked and loaded as a prime buy-high.
Marvin Jones, Detroit Lions: Sell-Low
After beginning the year with 23 catches for 482 yards over his first 4 games, many people started to believe that Marvin Jones was going to step in and be Calvin Johnson. First of all, no one is Calvin Johnson. Second, Jones isn't even the WR1 on his own team, as Golden Tate, after a slow start while nursing an ankle injury, has clearly reassumed that role. Third, Jones has seen his Target Share drop for 5 consecutive weeks, while only scoring 2 touchdowns in that span. Jones has also received only 9 Red Zone Targets on the season, and currently sports a 57.8-percent Catch Rate (No. 53). On a team that emphasizes an economical distribution of the football, Jones can't be counted on to produce even in good matchups.
Tight End
Delanie Walker, Tennessee Titans: Buy-High
Everyone is still trying to figure out who Tennessee's number one receiver is. Rishard Matthews? Tajae Sharpe? Kendall Wright? Trick question, it's actually their tight end, Delanie Walker. Walker is one of the most athletic tight ends in football, as evidenced by a 4.58 40-Yard-Dash (90th-percentile), 105.1 Height-adjusted Speed Score (HaSS) (75th-percentile) and 122.9 Burst Score (74th-percentile), and playing for an offense that is absolutely rolling with red-hot quarterback Marcus Mariota, Walker should continue to beast down the stretch.
Delanie Walker ranks 6th in the league amongst tight ends with 6.9 Targets Per Game, 3rd in the league with 349 Air Yards, and 4th in the league with 222 yards after the catch, as he has been able to get the absolute most out of his supreme athleticism. Viewed as unlikely to duplicate his gaudy numbers from last season, Walker actually has a chance to surpass them in this all-of-a-sudden explosive Tennessee offense.
Coby Fleener, New Orleans Saints: Sell-Low
Coby Fleener, while a highly athletic tight end, may not actually be good at football. Fleener's metrics, including a 4.56 40-Yard-Dash (93rd-percentile), 116.6 HaSS (93rd-percentile), 122.8 Burst Score (73rd-percentile), 11.32 Agility Score (80th-percentile), and 133.7 SPARQ-x Score (95th-percentile) suggest that he should be an absolute beast.
Unfortunately, in his 5th year in the league Fleener has not translated his athleticism into fantasy success, posting a -0.3 Production Premium (25th) and a -14.0-percent Target Premium (37th) while catching only 61.2-percent of his targets. With Brandin Cooks (18.1-percent Target Share), Michael Thomas (18.6-percent Target Share), and Willie Snead (18.3-percent Target Share) on the team, Coby Fleener (13.2-percent Target Share) clearly ranks behind them in the target pecking order. Those who believed Drew Brees preferred to throw to the tight end didn't feel the need to take into account that his tight end was Jimmy Graham for 5 seasons. Jimmy Graham is, in fact, good at football. Coby Fleener is not.