It's been a fun ride trying to win pick 'em entries all season with you. It now comes down to one game to close our season—the battle of the two No. 1-seeds. This is Best Pick 'Em Player Entries: Super Bowl LVII Edition. Welcome back to my pick 'em series! In this article, I give out my favorite player entries pick 'ems for the upcoming weekend on the DFS pages of Underdog Fantasy and Sleeper. For this week's edition, we are staying on Underdog for two entries comprising of seven picks.
In each article, I'll explain why I see value in the selected props. I will also accompany the article with sample entries. Players who want to tail the picks can head over to the designated platform and join Underdog using promo code UNDERWORLD for a full deposit match of up to $100. Players who want to get a head-start building their pick 'em cards earlier in the week can also visit PlayerProfilers' DFS Dominator tool and navigate several leans by me and some other staff members. Fantasy gamers can do this a day or two before I reveal my final picks in this article. These picks will be located in the Underdog Pick Generator on the website.
Super Bowl LVII Picks
If you are new to player prop pick 'ems, we recommend learning about them through our beginner's guide article. It is here where we preview some profitable strategies and when to use insurance.
For the big game in Phoenix, I am running two entries: a two-pick builder consisting of my two favorite props in one entry and a five-pick frenzy at a chance for some correlation glory via 9x profit just in case we are spot-on about the game script.
Two-pick Builder: Travis Kelce, Jalen Hurts
The first play will feature my favorite pick 'em leg for each team.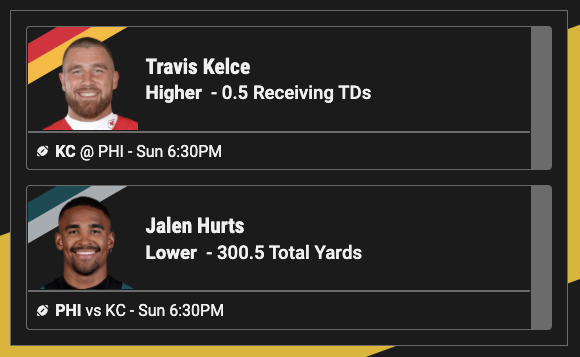 No. 1: Travis Kelce HIGHER than 0.5 receiving TDs
Don't overcomplicate this. Yes, it is the elite Eagles' secondary. However, the future Hall-of-Famer has proven he is matchup-proof when connecting with Patrick Mahomes. Travis Kelce has a touchdown in eight of his last nine playoff games. His only game without a score in that span was the 31-9 Super Bowl loss to the Tampa Bay Buccaneers when Patrick Mahomes was under pressure all night and couldn't lead a single touchdown drive. That is likely not happening again since Mahomes' offensive line ranks No. 1 in the league in pass block win rate this season.
Kelce has multiple red zone targets in 10 of his 19 games this season. Additionally, wide receivers JuJu Smith-Schuster and Kadarius Toney just happen to be hurt as well. Expect Kansas City to force the ball in the red zone to their No. 1 option with another championship on the line. That is why this prop is juiced up to -130 on sportsbooks.
No. 2: Jalen Hurts LOWER than 300.5 total yards
I don't understand this line. The sportsbooks have this down at 298.5 right now, so we'll take the sneaky value here. Hurts has stayed under this line in 11 of his 17 games this season. Granted, he hasn't had to keep his foot on the pedal in several of those games. However, of the six opponents that allowed him to total 301+ pass yards, three of the defenses ranked below average on the season in pass DVOA and rush DVOA. Additionally, only one opponent (Washington) ranked above average in both.
Kansas City ranks middle-of-the-pack in both. They have also kept both opposing quarterbacks in these playoffs (Lawrence, Burrow) under this line. We're going to take a chance on the 24-year-old Hurts struggling to connect deep throws. We will also take a chance that he won't break off long rushes against an improving Chiefs' defense.
Five-pick Frenzy: Isiah Pacheco, Jerick McKinnon, A.J. Brown, DeVonta Smith, Miles Sanders
For our bomb edition, we will utilize the advantage of pick 'em entries with correlation by predicting a couple of situations and opportunity shares for the reward of five picks. Here are the legs of my five-pick frenzy, which I am playing with insurance (so we profit even if one leg misses).
No. 1: Isiah Pacheco HIGHER than 11.5 rushing attempts
The first two pieces of my play will be a prediction related to the Chiefs' backfield. This specifically means that I believe Isiah Pacheco will be the captain of the Chiefs' rushing attack. Pacheco has cleared this line in eight of his last 11 starts. Of course, the Chiefs were playing from ahead for the majority of those carries. However, the discount we are getting in this narrative is too much. Not only are there injuries to Mahomes and his pass-catchers, possibly getting Pacheco involved on the ground early and often, but Philadelphia is a team that you can run against with success.
Although they have been better lately, their defense is still susceptible to explosive plays on the ground. The Eagles rank just No. 14 in run-stop win rate and No. 21 in rush DVOA. Pacheco is the back more likely to break off huge plays and keep himself on the field with a breakaway run rate higher than Jerick McKinnon's. That's why this prop is juiced up to -130 on sportsbooks.
No. 2: Jerick McKinnon LOWER than 5.5 rushing attempts
Every carry that Pacheco earns himself is a carry not earned by McKinnon. Playing these two correlated legs is how you squeeze value in pick 'em entries. McKinnon has been out-carried by Pacheco in both of the Chiefs' playoff games. Additionally, he has been kept under 5.5 carries in 12 of his 19 games this season and is averaging an embarrassing 1.79 yards per carry over his last five games. That's why this prop is juiced up to -140 on sportsbooks.
No. 3: A.J. Brown LOWER than 72.5 receiving yards
Our next two legs will be a prediction related to the Eagles' wide receivers. My money is on the Chiefs to lock in on the No. 1 athlete on the team and shut down the Hurts-to-Brown connection with their No. 13-ranked pressure rate. The defense is led by Chris Jones, who leads all defensive tackles in pass rush win rate this season.
Brown has stayed under this line in both playoff games, despite drawing 14 targets in those two contests. The Chiefs were also particularly bad at defending No. 1 pass-catching options earlier this season. However, in the playoffs, they immediately rectified that. They held Christian Kirk (52 yards) and Ja'Marr Chase (75 yards) under their pick 'em lines.
Brown's lower than 5.5 receptions leg is also a fascinating look, especially since it is juiced to the under heavily on sportsbooks. However, I do think the Eagles spend a lot of time playing from behind. If that happens, Brown could be the beneficiary of short move-the-chains passes, which I don't want to fall victim to.
No. 4: DeVonta Smith HIGHER than 5.0 receptions
If my guess about Brown being on lockdown mode is correct, it is highly likely that completed passes are going to the other elite Philadelphia wide receiver instead. DeVonta Smith continues to be underrated with these lines as he has recorded at least six receptions in eight of his 14 games with Dallas Goedert playing. With this line, we also get a push potential if Smith finishes at exactly 5 receptions.
No. 5: Miles Sanders LOWER than 0.5 rushing + receiving TDs
The starting Eagles running back is coming off a two-touchdown game at home in the beatdown of the 49ers. However, this is a great opportunity to sell high. Sanders' seven goal-line carries rank only No. 13 among running backs this season, and the Conference Championship was his first time finding the end zone since Week 14.
This season, only the New England Patriots have allowed fewer rushing touchdowns to running backs than the Kansas City Chiefs, and they should hold strong against the running back that simply doesn't get key targets. Sanders' 5.2-percent target share and 0 receiving touchdowns on the season make this a strong play, especially if Hurts' nerves cause the Eagles to finally struggle on offense against an experienced Chiefs defense as I am predicting.
How to Play
If you want to tail these picks verbatim, these are our recommendations:
0.5u on the 2-pick entry; profits 1u if both picks hit

0.5u on the 5-pick entry

with

insurance; profits 0.75u if 4/5 legs hit, profits 4.5u if all legs hit
To read more about wagering player props and how to find edge, you can check out Seth Diewold's Beginner's Guide to Prop Betting. To get a deposit match up to $100 on either of these sites, use promo code UNDERWORLD upon entry.