The 2023 NFL Draft is just around the corner, and Player Profiler's 2023 Rookie Guide is out now! The guide tells you all you need to know about this incoming rookie class with grades by Cody Carpentier and bios written by Aaron Stewart, Seth Diewold, Matty Kiwoom, and Jack Cavanagh. We will have a few articles detailing some of the highlights from it so make sure you read those after this one. This article is about two of the biggest surprises from the Rookie Guide so without further ado, let's take a look at some of the 2023 Dynasty Rookie Rankings!
Cody's Draft Grade Scale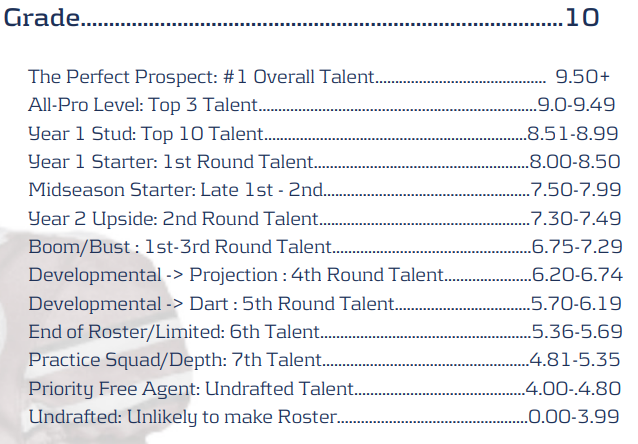 We Are REALLY High on Will Levis
Draft Grade: 8.05
Class Rank by Grade: Tied for QB1
Fantasy Rank: QB3
Project Round: 1st
A draft grade of 8.05 means Levis has the ability to be a Year 1 starter. Only he and C.J. Stroud have grades above 8- and both have an 8.05. Why are we so high on Will Levis? To quote the rookie guide itself-
"Playing for two former NFL Coordinators has helped Levis understand a pro-style offense and what is expected at the NFL level without maximum talent around him. We haven't even talked about his ability to move on the ground, his tenacious accountability and leadership of the team and praise from teammates touting his work ethic. Levis has ALL of the tools needed to be one of the next Tier-1 Quarterbacks in the NFL."
Will Levis didn't find much success in two years at Penn State so he transferred to Kentucky where he played much better. At Kentucky, he produced over 4,000 passing yards and 40 TDs over the two years. Levis has rushing upside as well as he has good size at 6-4 224 pounds with a 87th percentile Burst Score and had 179 rush attempts to highlight that. He threw 10+ interceptions both years so that is something he will definitely need to tighten up if he wants to find NFL success. However, the potential is definitely there as this rookie guide quote clearly demonstrates, "Think of Levis like a Patrick Mahomes or Josh Allen as a prospect, Big Prototypical frame, with above average rushing ability, a cannon for an arm, with tendancies to be eratic."
The NFL is Way Higher on Jalin Hyatt than Player Profiler
Draft Grade: 7.12
Class Rank by Grade: WR13
Fantasy Rank: WR12
Projected Round: 1st
A draft grade of 7.12 puts him in the boom or bust category. It makes sense given his 91st percentile 40 yard dash and 97th percentile Burst Score. On the right team, this guy will boom. And even on a bad team, he could still at least have boom weeks. The NFL is willing to take a chance on a guy like Jalin Hyatt because he can fill a certain role really well on an offense. So why the variation between his NFL evaluation and fantasy football value? To quote the rookie guide-
"One Trick Pony – Lightning Speed, with the ability to take the top off the defense. Lacks YAC-ability due to lower body slenderness and tightness.
That ONE Trick makes NFL teams giddy, but I'm staying away!"
Hyatt didn't produce much at Tennessee until his junior year. After only 500 yards and four TDs across his first two seasons, he exploded for 1,267 yards and 15 TDs last season. A big contributor was a massive 207 yard, five TD performance against Alabama. Hyatt followed up that game with a 174 yard game with two TDs, then followed that game with 134 yards and another two TDs! It's no wonder the NFL is enamored with a guy like that. It's also important to note that Cedric Tillman was injured for the 2nd half of the season as well. Hyatt is what he is- a one trick pony that only weighs 176 pounds and can only run a few simple routes. And that's why his best comparable is Dyami Brown instead of a guy like Devonta Smith.