Height

5' 8"

Weight

170 lbs

Arm Length

30"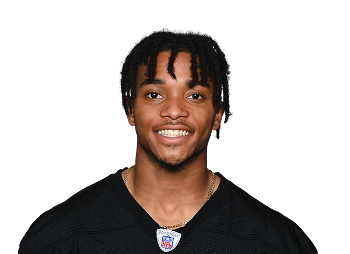 Draft Pick

4.33

2022

College

Memphis

Age

24.2
Workout Metrics
40-Yard Dash
Speed Score
Burst Score
Agility Score
Catch Radius
Calvin Austin Bio
Calvin Austin was a 3-star prospect from the Memphis area. He attended the Harding Academy of Memphis where he ran track and played football. In track and field, he was a nine-time state champion in sprints/relays and it really showed during his first year at Memphis. Austin redshirted his freshman year on the football team, but helped set school records in the 4x100 relay. Read More
College Dominator

College YPR

College Target Share

Breakout Age
Player Popularity Index (PPI) ranks PlayerProfiler page views over the last 30 days. For example, the No. 1 PPI player page is the most frequently visited page in recent weeks.
Calvin Austin Injury History
Games Missed
Injury Reports
Foot sprain
Preseason (2022)
Calvin Austin College Stats
Year

Year

Games

Games

Receptions

Recs

Receiving Yards

Rec Yds

Target Share

Tgt Share

Catch Rate

Catch Rate

Receiving Touchdowns

Rec TDs

Special Teams Yards

Special Teams

Age

Age

School

School

2018

4

(WR)

2

(4 tgts)

24

(12.0 ypr)

1.0%

50.0%

0

0

19

Memphis

2019

9

(WR)

17

(25 tgts)

315

(18.5 ypr)

5.7%

68.0%

3

0

20

Memphis

2020

11

(WR)

63

(119 tgts)

1,053

(16.7 ypr)

28.1%

52.9%

11

188

(1 tds)

21

Memphis

2021

12

(WR)

74

(127 tgts)

1,149

(15.5 ypr)

28.5%

58.3%

8

135

(1 tds)

22

Memphis
Calvin Austin Athleticism
Who is Calvin Austin
His redshirt freshman year he continued to be a two-sport athlete, but did not do much on the football field. Calvin found more success as a runner winning a silver medal at the 2019 American Athletic Conference. The two sport athlete continued both sports into the 2019-2020 season. That season he had a whopping 18.5 yards per reception on 17 receptions. Most of the play on film shows Austin making one player miss or getting past the defense and catching a deep ball. Following the football season, the track and field season was cut short due to Covid.
The 2020 football season was Calvin Austin's redshirt junior season. It also marked the first time he was solely dedicated to one sport, football. He exploded on the field in a multitude of ways. As a receiver, he led the team with receptions and broke through the 1,000 receiving yards ceiling. The Tigers also leveraged his speed as a runner on special teams. He returned 20 punts for 188 yards and a score. It was the breakout season. His production continued to increase in 2021. As a redshirt senior, Calvin Austin violated the Tulsa Golden Hurricane by catching 13 targets for 200 yards and 1 touchdown. He capped off the year with 74 receptions, 1,149 yards and 8 touchdowns. He also had 1 rush attempt for 69 yards (nice) and touchdown. Calvin Austin commanded a 28.54% target share in his final year as a Memphis Tiger.
Earning a trip to the senior bowl, Calvin Austin displayed his speed despite being a smaller guy at 5-8 170lbs. Austin blazed at the combine as expected. Despite the 4.32 40-time, size adjusted speed score was only 39th percentile per PlayerProfiler stats. He continued to put up impressive burst and agility scores, both greater than the 90th percentile. Calvin Austin is your typical stretch receiver, but he profiles to a similar type of player as Darnell Mooney.
Calvin Austin was selected in the 4th round of the 2022 NFL Draft by the Pittsburgh Steelers. Austin offers utility as a special teams player that other wide receivers on the Steelers don't. That alone should be enough for him to make the roster. As a field stretcher archetype, don't expect production if Mitch Trubisky is playing. When Pickett becomes the starter, he'll have more value, but you're still talking about the number 4 wide receiver in a run-first offense.