Advanced stats and analytics will be utilized to identify favorable matchups and players to avoid. The purpose of this article is to paint a picture of how the teams play and matchup with one another in less than 1,000 words.
As the season continues, less emphasis will be put on last season and early season's stats. Vegas trends will also be implemented to help predict the game flow. I'll conclude the article with a Cliff Notes section and give the readers my prediction for the game.
Welcome to the newest edition of Thursday Night Showdown. I'll be guiding you through the important aspects to watch in each Thursday night matchup.
I jumped the gun last week. This is the last Thursday night game of the year and thus the final edition of this season's TNF Showdown series. Without further ado, let's see what the 49ers and the Titans have in store for us as we continue the 2021 fantasy playoffs.
Vegas Trends
San Francisco are 5-1 ATS in their last 6 games.
The total has gone UNDER in 4 of San Francisco's last 6 games.
San Francisco are 1-7-1 ATS in their last 9 games against Tennessee.
Tennessee are 1-4 ATS in their last 5 games.
The total has gone UNDER in 4 of Tennessee's last 6 games.
The total has gone OVER in 5 of Tennessee's last 5 games against San Francisco.
San Francisco 49ers
Jimmy G & A New Backfield Leader
He was written off this season , but Jimmy Garoppolo has been an effective streamer. He's hit with the perfect storm of being an accurate intermediate range passer in a run-heavy scheme behind an incredible offensive line. He's also boosted by the playmaking ability of his teammates, coming into the day with 4.48 (No. 1 of qualified quarterbacks) Receiver YAC per Target. He's erratic, but has provided his pass catchers with a 82.1-percent (No. 2) Catchable Target Rate and a 7.8 (No. 6) Accuracy Rating en route to 16.1 (No. 19) Fantasy Points per Game. Jimmy G is an auto-start in 2 QB leagues, especially versus a middling Tennessee secondary.
Rookie darling Elijah Mitchell is out again with a knee injury, leaving Jeff Wilson to man the backfield for the second straight week. Wilson exceeded expectations last week, posting 119 total yards, 1 touchdown, and 19.9 (No . 3) Fantasy Points. A touch leader in a Kyle Shanahan backfield is a viable fantasy asset. Wilson has proven beyond last week that he's capable of filling the void, posting 4 games of over 20 fantasy points. The Titans have a stout run defense, but Wilson is still an automatic RB2.
Three Dangerous Playmakers
Deebo Samuel is getting it done in 2021. At the start of the season, he was racking up targets and making plays through the air, earning a season-long 27.8-percent (No. 6) Target Share and 595 (No. 2) Yards After Catch. However, since the resurgence of Brandon Aiyuk and George Kittle, Samuel has been producing heavily through the run. He's completed 6 straight games with at least 5 carries and 1 rushing touchdown. Needless to say, he does it all for this offense. Against a secondary giving up the second most points to receivers, Deebo is in for another monster week.
Despite clearly taking a positive turn in visible performance, but his statistical production has still been inconsistent. He's seeing a dismal 9.2 (No. 73) Average Target Distance and 79.1-percent (No. 32) Catchable Target Rate. Pair that with little red zone usage and you have an unsteady WR3. We know what he can do with the ball, but he's the fourth wheel on an offense deprived of passing opportunity. There is opportunity for spike weeks, however, like this one. He has still seen a healthy amount of targets since the pivot point, and should be regarded as a high ceiling WR3 this week.
George Kittle has been feasting since his return, to no one's surprise. A pivotal role in the offense, he collects a 27.8-percent (No. 1) Target Share and produces a 31.9-percent (No. 2) Dominator Rating. He earns a surplus of fantasy-friendly targets and is one of the position's most elite playmakers after the catch, racking up 424 (No. 2) Yards After Catch. Kittle has an elite outlook against any defense.

Tennessee Titans
D'Onta Foreman & Ryan Tannethrill-less
The age of Ryan Tannehill being the comeback story in the history of football is seemingly at an end. Even with Derrick Henry in the backfield, his performance was still lackluster. He flipped a switch overnight and now can't buy a high output game. He's been far more erratic this season, with 41 (No. 2) Danger Plays and 14 interceptions. Now a low upside QB2, Tannehill should be started with caution.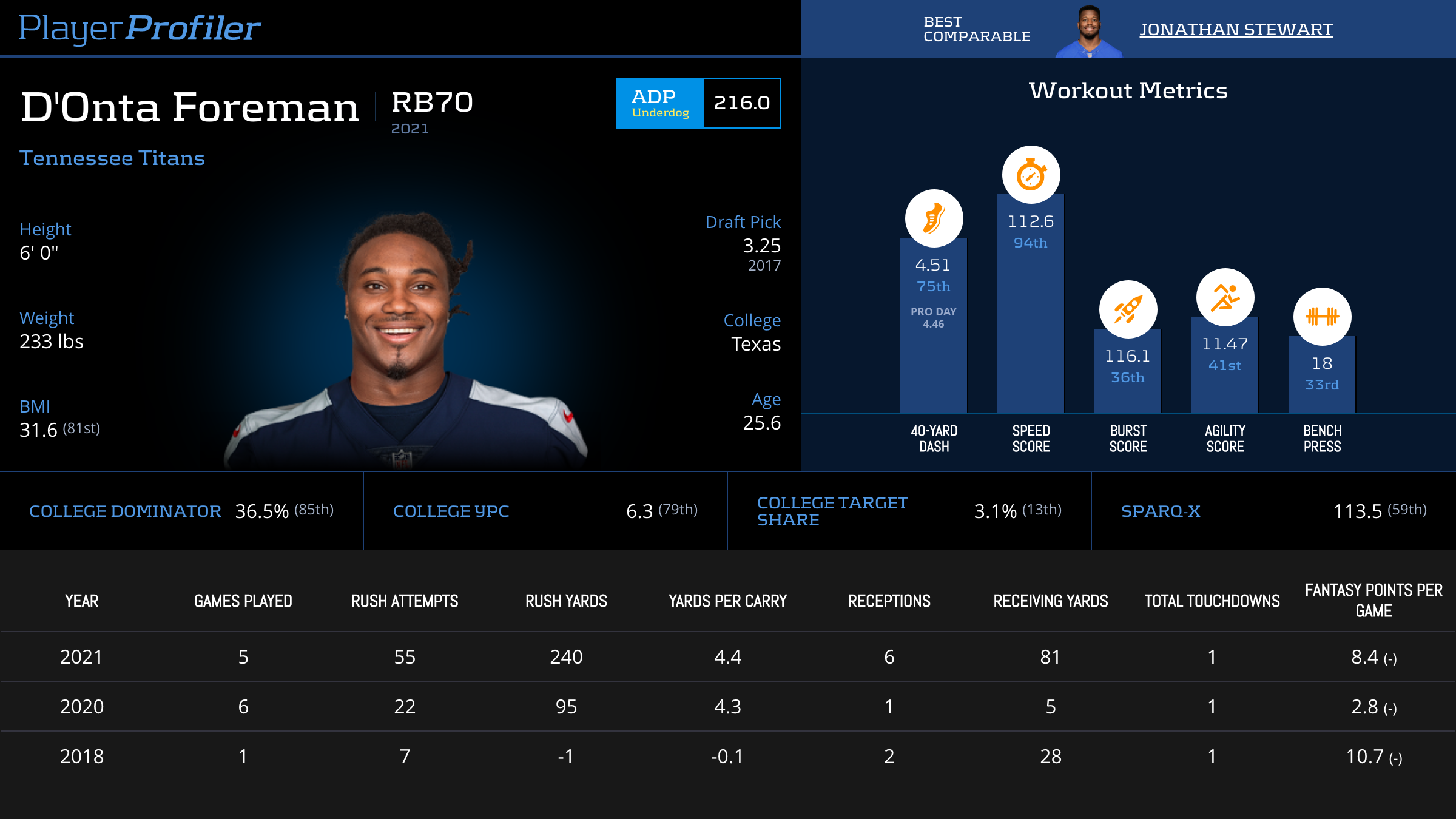 D'Onta Foreman Advanced Stats & Metrics Profile
He's no NFL rushing leader, but D'Onta Foreman has put his name back on the map while filling in as the team's lead running back. He is the team's carry leader since week 12, and has racked up 2 games of over 100 rushing yards. He's also impressively shown samples of efficiency with his 5.4 (No. 17) Yards per Touch. The Titans are the most run heavy team in the league, and the 49ers can't stop giving up touchdowns to running backs. This makes Foreman a flex play with top 12 upside.
A Broken Passing Game
After a brief resurgence, A.J. Brown quickly fell back into his production rut. The slump isn't due to a lack of talent or opportunity. He has an incredible profile, and collects a healthy 32.0-percent (No. 4) Target Rate and 38.3-percent (No. 11) Air Yards Share. It's tough to produce consistently when your quarterback is supplying you with a -4.1-percent (No. 65) Target Premium and a 69.2-percent (No. 86) Catchable Target Rate. Brown returned to practice this week and, if he plays, you're slotting him in as a high-risk flex play purely off of volume and talent.
Also attempting to return to action is Julio Jones, who has had quite the forgettable season. He has suited up for 7 games, has scored over 10 fantasy points once, and has failed to find the end zone. He's a decoy in the passing game, with a 17.8-percent (No. 51) Target Share. Likely still not 100-percent healthy if active, Julio is well past his point of being in fantasy lineups.
Finally, Nick Westbrook-Ikhine has been one of the few pleasant surprises for Tennessee. He stepped onto the scene in week 3, leading the team in receiving. Since then, despite few usable weeks, he's been the team's number two option in the passing game. His surge in usage has come from his reliability, encapsulating Tannehill's trust with a 133.3-percent (No. 1) True Catch Rate and 80.0-percent (No. 2) Contested Catch Rate. The Titans pass game is broken, but Westbrook-Ikhine will see enough action to generate a usable WR3 week. 
Cliff Notes
Conclusion
The 49ers are playing solid football, winning 6 of their last 8 games. Conversely, the Titans are depleted and falling apart. Tennessee looks to add two vital playmakers back into the lineup, but I don't see it being enough to stop the 49ers. The spread is set at 3.5 points in favor of the 49ers, and I expect them to cover. They have more talent, and need to keep winning to secure a playoff spot.
The total is set at 44 points. I've been senselessly calling overs lately, and now it's time to come to my senses. This total is too high. The Titans are bad, and both teams are in the bottom 10 in total pass attempts. This game has "stinker" written all over it, as the 49ers churn out another low scoring win.
Prediction: 49ers 24-16