I'm dreaming about it already. It's easy to let your head hit the pillow and dream about your roster when you're counting receiving touchdowns like Count Dracula. One, two, three, week after week. Odell Beckham, Amari Cooper, Brandin Cooks and Alshon Jeffery have filled up the first four picks for my 2017 fantasy team, which I've decided to name "More Than a Thielen."
Drafting big time wide receivers early is the easy part. It's the late-round misses on running backs that can really suck the life out of you. Picking up breakout running backs on the waiver wire can help your Zero RB team to flourish, but the best thing you can do is ensure those surprise studs are already on your roster when they shock everyone with a huge game. Here are five backs you should be targeting in every redraft league in 2017:
1) Bilal Powell, New York Jets
In August, Bilal Powell could be found on the waiver wire in the majority of re-draft leagues. By December, he was carrying teams to the fantasy championship with No. 2 and No. 4 finishes in weeks 14 and 15 respectively. After Matt Forte went down with knee and shoulder injuries late in another disappointing season for the Jets, they elected to limit his action in weeks 14 and 15, eventually ending his season for future health concerns after week 15. This opened the door for Powell to display his elite pass catching ability full-time.

2017 ADP According to FantasyFootballCalculator.com: 57.3
Serving as Matt Forte's backup for almost three quarters of the season, Bilal Powell still managed to haul in 58 catches on 75 targets, both No. 4 among running backs. He also took advantage of his monster target total, posting a +3.7 (No. 30) Production Premium. Powell's pass catching expertise can be placed in the same tier as Le'Veon Bell and David Johnson and that will be evident in 2017 when he's given the bulk of the Opportunity Share in the New York backfield.
Often, when implementing Zero RB strategy in fantasy drafts, you are banking on running backs who are below average runners to catch lots of passes out of the backfield in order to accumulate substantial fantasy points, but this is not the case with Bilal Powell. As a runner, he can be very effective, posting a 6.9-percent (No. 10) Breakaway Run Rate and a 29.6-percent (No. 15) Juke Rate. Powell is very simply difficult to tackle, and has proven that with volume he can bust out big runs.
Bilal Powell's current ADP is most certainly not a direct reflection of his skills, and New York's coaching staff would be foolish to move Powell back to his 3rd Down Back duties, but Matt Forte's $4M a year contract will unfairly hurt Powell's opportunities. With a cap hit that big, the Jets will still have to give Forte opportunities in the run game. Even with that in mind, I'm still ecstatic to draft Bilal Powell in the 5th or 6th round.
2) Derrick Henry, Tennessee Titans
Had the Dallas Cowboys drafted wisely in 2016 and selected Jalen Ramsey in the first round and Derrick Henry in the 2nd round, he wouldn't even be featured in this article and his ADP would likely be one digit long. But Jerry Jones is still Jerry Jones and here we are. Ezekiel Elliott went on to have a monster year in 2016, leading the league in rushing as a rookie. While Elliott is certainly talented, he didn't buy his offensive line their own personal four wheelers for no reason. Even Zeke knows his offensive line is to thank for his FedEx Ground Player of the Year award at the NFL Honors. While the Cowboys' offensive line appears to be rigged every Sunday, Tennessee's front five isn't far behind. In 2016, the Titans' run game graded out at a 121.4 (No. 8) Offensive Line score. The Titans also finished the year with 475 run plays, 4th amongst NFL teams. Even with pro-bowler DeMarco Murray in the backfield, Henry still gets plenty of carries, and his Opportunity Share increased in the 2nd half of the season.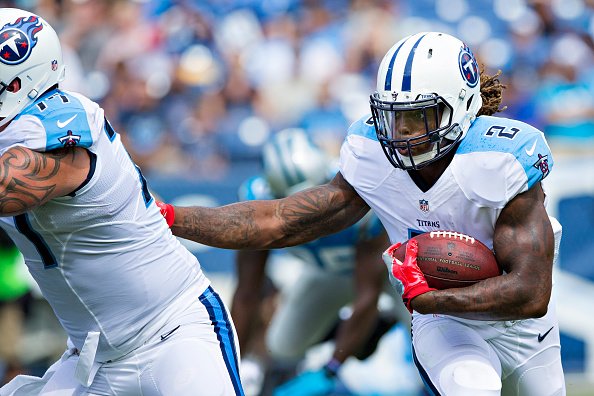 2017 ADP According to FantasyFootballCalculator.com: 78.3
Derrick Henry had three top 20 fantasy finishes in the last 5 weeks of the season serving as DeMarco Murray's backup because his workload is greater than that of most substitute running backs. Over that same span, Henry had 14 red zone carries to Murray's 13. While DeMarco Murray is still a very formidable running back, he'll be 30 years old next season and Henry's Opportunity Share will only be elevated.
When Derrick Henry gets opportunities, he has the physical prowess to take advantage of them. His Best Comparable Player is the testosterone-inflated, rage-induced Zangief from Street Fighter. While winning the Heisman at Alabama, Henry looked like the star of your local middle school team who hit puberty four years too early, making the offensive coordinator look like a genius as he alternates between "toss left" and "toss right" on his play-calling sheet. At 6-3 and 247 pounds, Henry is one of the biggest backs in the league. Pair that with his 4.54 (62nd percentile) 40-yard dash and you have a freight train that's quite tough to stop. For the Crimson Tide, Henry owned a 43.5-percent (92nd percentile) College Dominator Rating. This means he accounted for a good portion of the yards and touchdowns on a team who consistently played in the national championship.
As DeMarco Murray's prime window closes, Derrick Henry's opportunities will arise. When he runs for 200 yards on the Colts in Murray's absence, you'll want to have him in your lineup. Until then, he's a sufficient option to play in good matchups, even with Murray active.
3) C.J. Prosise, Seattle Seahawks
As you're reading this article, Thomas Rawls is finding random things in his city and testing whether or not he can run them over, collecting concussions like Roger Goodell collects fines for illegal gameday accessories. Meanwhile, C.J. Prosise is calmly waiting in the wings, anxious for Rawls to be ruled out or placed on injured reserve. We saw this story play out in 2016 and in some variation, it will play out again in 2017. Thomas Rawls is a meat-head runner with no regard for his body. Throw his game tape on and you'll see carry after carry turn into violent collision. NFL running backs have a short shelf life and Rawls' will be abbreviated even further.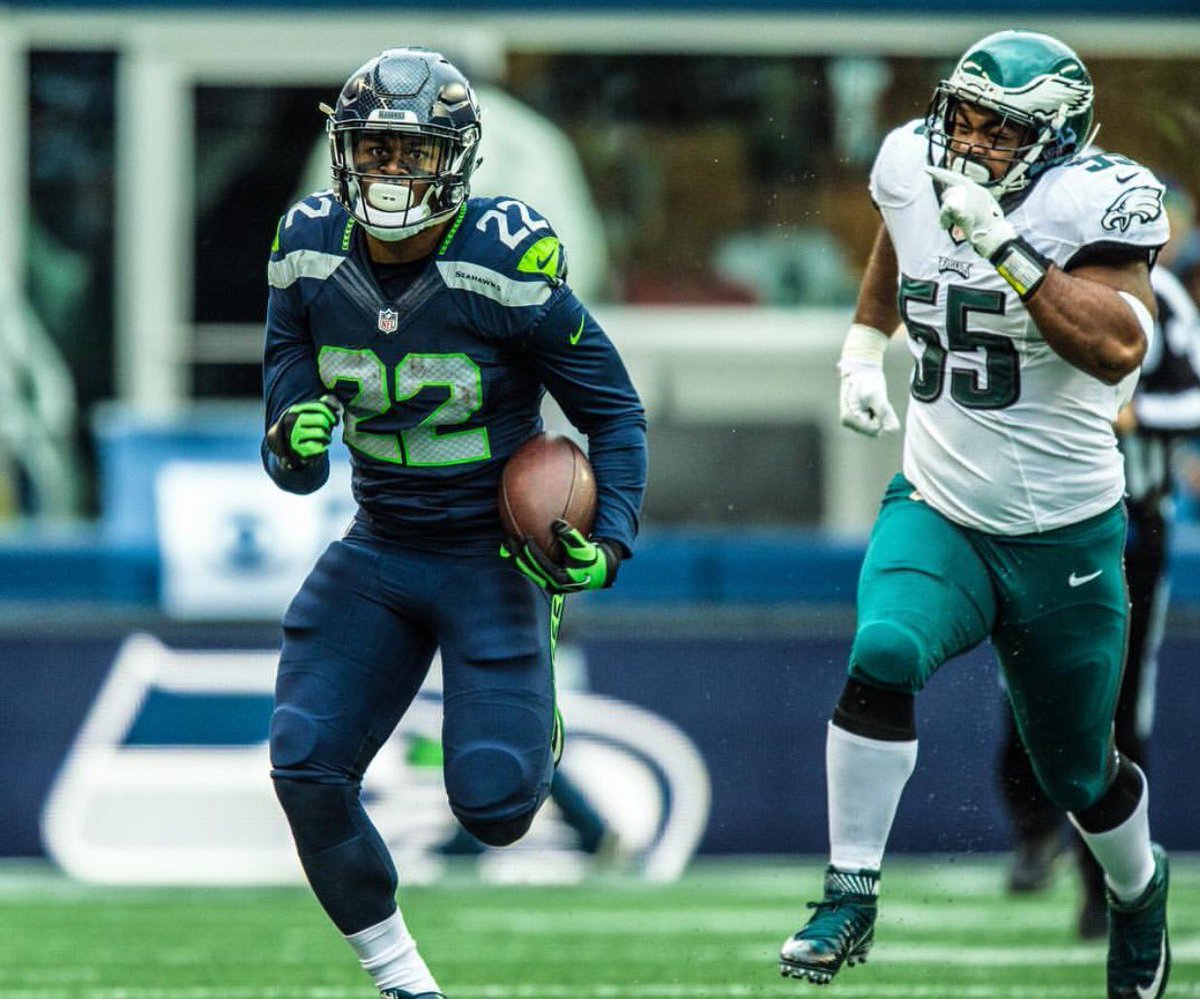 2017 ADP According to FantasyFootballCalculator.com: 78.9
Seattle's run game fluctuated in large part due to one of the worst run blocking groups in the league at a 72.7 (No. 29) offensive line efficiency score. Many pundits predict that John Schneider and Pete Carroll will upgrade the offensive line in the draft or in free agency, so I'm not scared away by the offensive line play, especially with the late round pick you're likely to use to get C.J. Prosise.
One of the most efficient running backs per snap in 2016, C.J. Prosise averaged 8.1 (No. 1) Yards Per Touch and 1.24 (No. 6) Fantasy Points Per Opportunity. Complimentary to Thomas Rawls' bruiser style, Prosise runs a 4.48 (80th percentile) 40-yd Dash, which at 6-0 and 220 pounds gives him a Speed Score of 109.2 (88th percentile), so he can bust open a huge run on any given down. When Rawls is healthy, Prosise will still have value as a 3rd Down Back in the passing game, as evidenced by his 89.5-percent (No. 1) Catch Rate. Inevitably, though, Rawls will contract some sort of injury and Prosise with get the lion's share of the work and he'll take advantage in the run game and on routes out of the backfield.
4) Devontae Booker, Denver Broncos
Denver's run blocking was arguably as inept as Seattle's, grading out at a 77.9 (No. 26) offensive line efficiency score. The front five's inability to create running lanes in 2016 will do wonders for Devontae Booker's draft stock as his ADP plummets in mock drafts. After C.J. Anderson was ruled out for the season, Booker took over and was rather underwhelming statistically, but his film told a different story. He rushed for just 612 yards on 174 carries, but did, however, bring in 31 passes for 265 yards.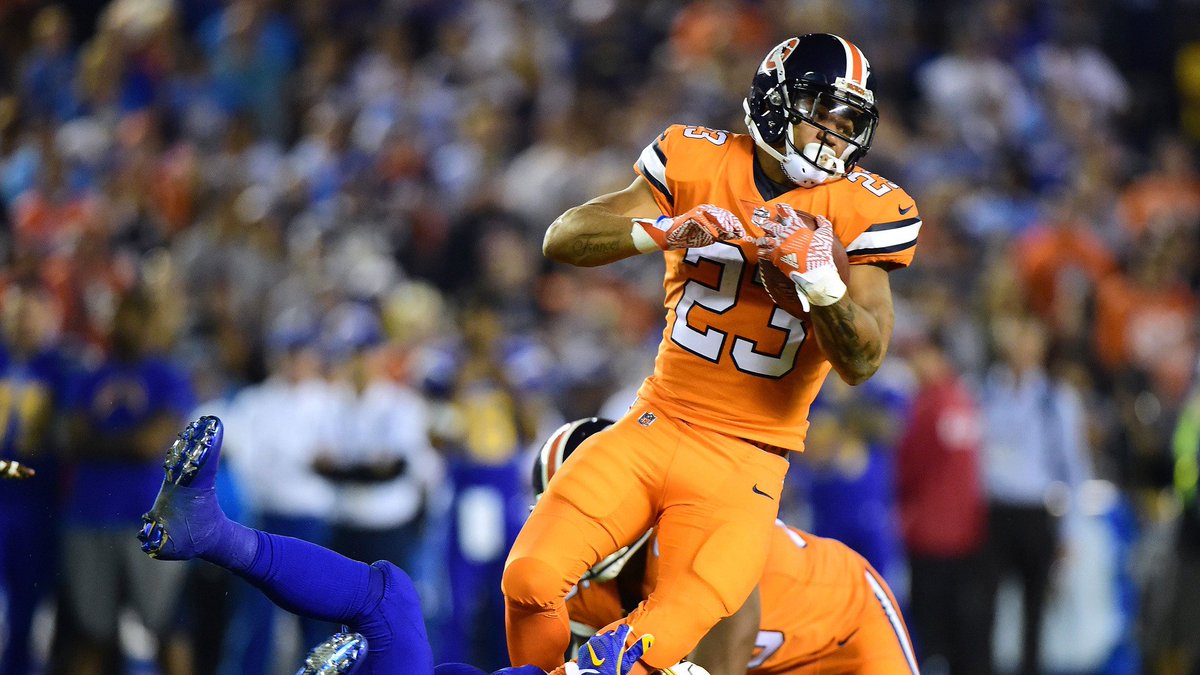 2017 ADP According to FantasyFootballCalculator.com: 114.7
Devontae Booker did not perform all the tests at his rookie NFL combine, so his Player Profile does not have a Burst Score, Agility Score, or SPARQ-x Score, but watching some of Booker's game tape, you can see that the physical tools are there. These tools are what helped Devontae Booker compile some ridiculous numbers at Utah, earning a 40.1-percent (87th percentile) College Dominator Rating and a 14.3-percent (91st percentile) College Target Share. In his senior season with the Utes, Booker rushed for 1,261 yards in just 10 games, scoring 11 touchdowns along the way.
It is no coincidence that Devontae Booker's Best Comparable player is LeSean McCoy, and with an upgraded offensive line on the horizon in Denver, I think Booker will get a chance to properly introduce himself to the fantasy world. Until then, people will shove him down their draft boards based on last year's small sample size in a tough situation. Go ahead and snag him in the 12th round.
5) Jerick McKinnon, Minnesota Vikings
The 3rd year running back out of Georgia Southern may wind up being the best option on this list, and most certainly will return value on his draft position. Jerick McKinnon was an option quarterback for the majority of his time in college, so his PlayerProfiler can't compile some metrics, but the ones we do have a score for are popping off the page. McKinnon is the most freakish athlete in the NFL. His 4.41 (95th percentile) 40-yard dash speed at 5-9 and 209 pounds earns him a 110.5 (89th percentile) Speed Score. On the edge and in the passing game, McKinnon is a threat to score every time he gets the ball. Yet even between the tackles McKinnon is dangerous, posting a 134.9 (96th percentile) Burst Score and completing 32 reps (100th percentile) of the Bench Press. Alex Boone is the only Viking offensive lineman blocking for McKinnon who pressed more than 32 reps at the NFL Combine. McKinnon is simply a physical unicorn. Top end speed, unheard of strength, and maneuverability at the line of scrimmage give him a Best Comparable Player you might recognize: recently inducted Hall of Famer LaDainian Tomlinson. Drafting a player who compares to the greatest running back in fantasy football history seems like a wise idea to me.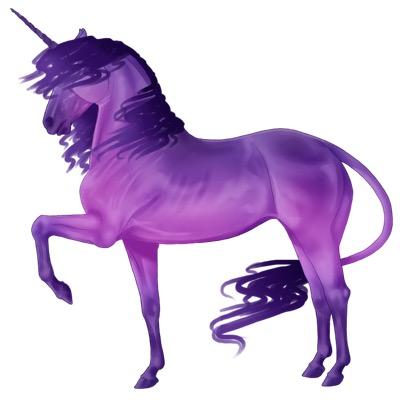 2017 ADP According to FantasyFootballCalculator.com: 153.1
Naysayers will stay away from Jerick McKinnon for one of two reasons. First, Adrian Peterson will be returning from injury. Peterson, however, is very unlikely to play the 2017 season in purple, due mostly to the financial situation the Vikings find themselves in. The team is loaded with young talent, but young talent inevitably becomes expensive when rookie contracts expire. Offensive line is a huge need for Minnesota and they will need cap space to improve the position through free agency or the draft. If they choose to keep Adrian Peterson, they will owe him a total of $18M. Chances are, Adrian Peterson will be toting the rock for a new team next year.
The second reason people will stay away from McKinnon is Minnesota's indefensible insistence on using Matt Asiata in the red-zone. Asiata is horribly inefficient with his opportunities, scoring a -14.4 (No. 63) Production Premium. He also scored just 6 touchdowns on 36 red zone carries. New offensive coordinator Pat Shurmur seems to have figured out that Asiata is unworthy of robbing carries from Jerick "The Unicorn" McKinnon. Shurmur was named the interim coordinator prior to Week 9. After that point Asiata's carries dipped significantly, ultimately bottoming out in the final 3 games of the year when Asiata received only 14 total carries and 4 in the red-zone. Over that same span, McKinnon received 30 carries and 6 rushes inside the 20.
There is very little risk in selecting Jerick McKinnon in the 16th round, but he is an extremely high-ceiling player who can be a difference maker for your team. I would even suggest drafting him up a little bit to guarantee he ends up on your roster.
If you're hesitant to implement Zero-RB in 2017, these five guys should set your mind at ease and give you options at different points in your draft. Set a draft plan so you can get any and all of them and leave your league in the dust.