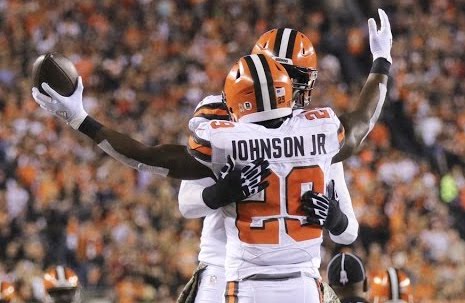 Ren•ais•sance – n –  a movement or period of vigorous artistic and intellectual activity;  rebirth ;  revival
Running Back Ren•ais•sance – n –  the great revival of running backs in 2016 sparking the over drafting of running backs in 2017
Ren•ais•sance Man – n –  a present-day man who has acquired profound efficiency in more than one field
Ren•ais•sance Running Back – n –   a running back who not only has mastered the art of acquiring yards on the ground, but also through the air; a transformation from running back to 'running and receiving back'
The Running Back position put its stamp on the 2016 fantasy season as guys like David Johnson and Le'Veon Bell put up video game like numbers week in and week out.  The first glaring theme with these two fantasy monsters are their receiving yards. David Johnson eclipsed over 800 receiving yards and Le'Veon Bell tallied over 600 receiving yards.  Having running backs on your roster that are excellent receivers can not only provide a high floor but can also propel them to RB Ones in fantasy. I decided to run some numbers and take a look at what running backs in the league are putting up good receiving numbers (400 yards or more) while eliminating running backs checking in at less than 4.0 yards per carry (min. of 50 carries).
The name that pops out on this list is Duke Johnson.  Not only has Duke put up back to back seasons with over 500 receiving yards, but he also posted a very healthy 4.9 YPC in 2016.  Duke finished 14th among running backs in fantasy points per opportunity with .99 fantasy points per opportunity.  In addition, he finished third among running backs in Yards Per Target with 6.9 yards per touch.  Duke also flashed dynamic ability on the ground with a Breakaway Run Rate of 8.1 Percent clocking in 4th among running backs and a Juke Rate of 35.4-percent which is 2nd among running backs.  Despite a pretty efficient 2016 season, Duke only finished with 9.1 fantasy points per game putting him barely inside the top 40 running backs.  A disappointing 2016 season where many dynasty owners may have over drafted or over paid for Duke Johnson prior to the start of the season creates the perfect opportunity to buy low in all dynasty formats.
Clearly the biggest obstacle keeping Duke Johnson from emerging into the next Renaissance Back is the lack of opportunity and by lack of opportunity what I really mean is Isaiah Crowell. Isaiah Crowell also had a very efficient 2016 season. In fact, I also recommend a buy on Isaiah Crowell at his current price (8th round startup). However, Isaiah Crowell is soon to be a free agent and what do most Cleveland Brown Free Agents do? They sign with other teams. Per Ian Rapoport, talks between the Browns and Crowell have grown cold in recent weeks.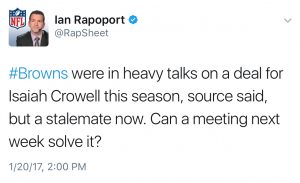 Hue Jackson has said many times that he believes Duke Johnson can be an every down back in the NFL. In fact, the previous coaching regime in Cleveland drafted Duke to be a bell cow running back. A body mass index (BMI) of 30.6 (58th-percentile), College Dominator Rating of 33.0-percent (71st-percentile) at a major conference program, and a College Target Share in the 93rd-percentile demonstrate that Duke possesses both the stature and historical production indicators to become workhorse running back in the NFL.
Let's take a look at the potential of Duke Johnson if he becomes the de facto starting running back for the Cleveland Browns.  In 2016, Isaiah Crowell and Duke Johnson split 271 carries.  Crowell accounting for 73-percent and Duke accounting for 27 -percent of the carries.  The running back duo also split 127 receiving targets.  Duke gained the majority of the receiving targets with 58-percent, as Crowell accounted for 41 -percent. Forsaking the extrapolation trap, for fun, as a pure thought experiment, if Duke Johnson were to get 70-percent of the handoffs and continue to a 4.9 YPC, he would amass 929 rushing yards.  Adding in the amount of receiving yards that he has attained the past two years would put Duke over 1400 total yards firmly in the top-10 among running backs. As mentioned earlier, Duke posted .99 fantasy points per opportunity in 2016, if volume increased to 70 -percent of total rushing attempts Duke would put up 260 fantasy points.  This again would firmly put Duke in top 10 among running backs.
It is certainly possible that Isaiah Crowell tests the open market and decides to return to Cleveland.  If this happens, the 2017 season could be very similar to the 2016 season for Duke Johnson.  However, if Crowell walks, Duke instantly returns any value you spent acquiring the young talent with the potential of paying huge dividends on your dynasty team.  I recommend buying low now in all dynasty formats before Crowell signs with another team.  Duke Johnson's current value is the equivalent of an 8th round pick in dynasty start ups, but many owners may be growing tired of the the third year running back.  Throw out some lowball offers, but be ready to target aggressively.