Does the NFL Scouting Combine matter? Yes, of course a means of measuring athleticism matters. Knowing how fast Player X can cover 40 meters matters. Knowing how high Player Y can leap matters. Reviewing the workout metric results, Parris Campbell and Justice Hill melted faces at under 210-pounds. As we build out composite prospect profiles, who were the most impressive size-adjusted athletes?
1. D.K Metcalf, WR, Mississippi
The champion of the 2019 NFL combine is D.K Metcalf. Setting social media ablaze with a 4.33 40-yard dash time, 133.3 Speed Score, and 135.9 Burst Score to round out one of the best athletic profiles the combine has ever seen (we won't mention his Agility Score). Metcalf entered the 2019 combine as one of the most enigmatic prospects in the entire class. Posting freakish athleticism and an elite 21.9 College YPR while also bringing a concerning lack of college production and a 32.1 percent (58th percentile) College Dominator Rating. Scouts and analysts have been questioning Metcalf's lack of college production since the wide out declared.
Then Metcalf dropped jaws with truly astonishing performances in the speed and explosion events. Metcalf's combine has been earning him comps to Julio Jones and Calvin Johnson and has caused him to surge past his peers certainly earning himself a 1st round selection in the NFL draft. With lesser athletes in drafts past such as John Ross, Mike Williams, and Corey Davis earning top 10 picks, it wouldn't be surprising seeing this combine showing earn Metcalf a pick in the first ten selections. Metcalf has vaulted himself into the 1.01 conversation in dynasty rookie drafts for 2019 as well. Undoubtedly he'll be a top 3 pick and with the hype around this combine he'll surely be the first pick off dynasty draft boards in lots of leagues. If Metcalf gets the draft capital to go along with his outrageous athletic profile there may not even be a debate who the consensus 1.01 is in dynasty rookie drafts.
2. Alex Barnes, RB, Kansas State
Desperately searching around this 2019 running back class for any hope lands you on Barnes, who is seemingly one of the only running backs who athletically can boast an every down back profile. Barnes is a 6-0 ft 228 pound back out of Kansas State, who impressed at the combine with an imposing 145.4 (99th-percentile) Sparq-x Score. Barnes was one of the saving graces of the 2019 class at the combine, while also having a solid 38.1 percent (86th-percentile) College Dominator. In his best season at Kansas State, Barnes rushed for 1355 yards and 12 touchdowns, and has the frame of an every down back at the NFL level, certainly jumping up NFL draft boards for 2019 Drafts.
Damien Harris, Justice Hill, and Bryce Love all figure to be in the conversation for top RB's in the 2019 class as well, but Barnes did an excellent job cementing himself as a solid running back prospect for NFL scouts during his combine and more importantly didn't disappoint like so many did.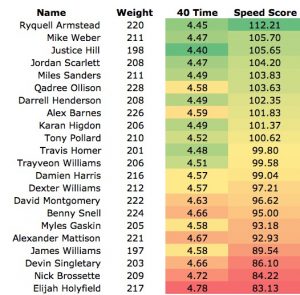 2019 RB Prospect Speed ScoresBarnes may potentially be a steal in upcoming dynasty rookie drafts. For savvy fantasy gamer's who traded or are looking to trade away their first round picks, Barnes may be a useful asset with his every down build and the top Sparq-x score of the entire class that'll likely be a steal in later rounds. 
3. N'Keal Harry, WR, Arizona State
The 6-2, 228-pound pass catcher out of Arizona State solidified himself as a top prospect going into the 2019 draft following the combine. Harry came in as a close to consensus top 3 wide receiver in 2019, albeit with a few questions regarding his athleticism at the next level. Along with his size, Harry's exceptional 95th-percentile Breakout Age of 18.7 headlined an extremely productive stint at Arizona State. Harry touts an impressive 43.9 percent (88th-percentile) College Dominator Rating. Harry was productive, a young breakout, and a special-teamer making him an intriguing prospect. 
The only question surrounding Harry's prospective outlook was his athleticism, with some fearing he would be a below average athlete. Scouts surely breathed a sigh of relief as Harry's combine showed a exemplary athlete with a 109.8 (89th-percentile) Speed Score and a 126.5 (77th-percentile) Burst Score solidifying himself as a top 3 receiver in this class, and a lock to be a first rounder in 2019. Dynasty drafters will surely be snatching Harry in the top-5 of rookie drafts, and there's a case to be made Harry is the 1.01 in dynasty. Metcalf vs. Harry will surely be a tantalizing story line going into 2019. 
4. Jazz Ferguson, WR, Northwestern State
Along with having one of the best names in this extremely deep 2019 wide receiver class Ferguson's outrageously athletic showing at the combine has certainly won over NFL scouts and dynasty drafters alike. Coming into the draft at 6-5 and 227 pounds, Ferguson is a freak athlete that may be the most intriguing small school receiver along with Ashton Dulin in the 2019 class.
At the combine, Jazz impressed with a 4.45 (79th percentile) Forty Time and a 122.1 (98th-percentile) Speed Score. Ferguson has all the requisite tools to be molded into a quality x receiver at the NFL level. At Northwestern State Ferguson boasted a 16.9 (78th-percentile) College YPR and a 36.1 percent (72nd percentile) College Dominator. Ferguson has the Size, Athleticism, and College production scouts are looking for, and has improved his stock immensely after his combine. Ferguson (much like Barnes) looks to be a solid grab in the later few rounds of dynasty rookie drafts, and given the situation he's drafted to may garner rookie production given his tool-set. 
Although the running backs have been a massive disappointment, the wide receivers and even the tight ends are providing massive upside and depth to the 2019 draft. Headlining this exciting tight end group is Noah Fant. With his Best Comparable being George Kittle Fant clearly dazzled at the combine in a ridiculous show of athleticism. Fant at 6-4 249 pounds didn't post a single workout metric under 95th percentile, and with a Sparq-x Score of 128.8 (94th-percentile) is one of the premier size-adjusted athletes in the entire draft. Fant doesn't just bring next level athleticism to the table, but also premier production from a young age at Iowa. Fant's College Dominator of 27.0% (82nd percentile) and Breakout Age of 19.8 (85th-percentile) paired with his athletic profile give him blue-chip status as the premier offensive talent at the tight end position coming out of the draft.
Almost as enigmatic a prospect as Metcalf, Butler's college career at Iowa State is puzzling. Butler's last season at Iowa saw him catching 60 passes for 1,318 yards and 8 touchdowns, yet in his two seasons prior, failed to notch 700 yards or 50 receptions. Butler's freakish 22.0 Yards per Reception (97th-percentile) and 43.5% College Dominator (88th-percentile) are extremely impressive, but is drawn down heavily by his 21.3 (30th-percentile) Breakout Age. However, although questions remain around Butler's college production, the combine certainly boosted his stock regarding the NFL draft. Butler's athleticism shined at the combine, showing off a 4.48 (71st percentile) Forty Time as well as a 118.9 (97th percentile Speed Score. Butler brings alpha receiver size and speed as well as a dominant season at the college level, and surely with his combine heroics has put himself on the radar as one of the highest upside receivers in his class.
7. Josh Jacobs, RB, Alabama
The 2018 running back class spoiled scouts and fantasy gamers alike with mind-boggling athleticism from the likes of Saquon Barkley, Derrius Guice, and Nich Chubb. The 2019 running back class however, has tarnished the illustrious stretch of running back athleticism at the combine. Between Elijah Holyfield, Devin Singletary, and Benny Snell all flaming out in an epic and nonathletic fashion, the Alabama back sits in prime position to be the consensus #1 running back after not testing at the combine. While Holyfield's abysmal 4.78 (8th-percentile) forty time has likely landed him a spot as a third or fourth day selection come draft day, Jacobs has helped himself tremendously by not testing along with these other running backs. 
With a weak 5.3 yards per carry in college and a 4.2 percent (19th-percentile) College Target Share, Jacobs has little going for him besides the maroon 'A' on the side of his helmet and a question mark on his athleticism. However, for NFL teams looking for an RB to select in 2019 Jacobs looks to be their only option. Not testing at the combine has likely made Jacobs a lot of money, and has separated him from the rest of this disappointing RB class. For teams hungry for a rookie running back in dynasty rookie drafts in 2019, Jacobs (given he has the NFL draft capital) will likely be the first running back off the board and may even slot in between the first 3 picks of drafts.