There are less than 50 days until the NFL Draft. Now that the Combine has come to a close, it's time to get serious about how we view the incoming prospects, taking a look at game film as well as fresh Combine metrics. Obviously, there are a slew of new players ready to make the jump to the next level, so this first part will focus on 12 of the very best prospects as of now.
Quarterbacks
Deshaun Watson, Clemson
Deshaun Watson generally reads defenses accurately and shows solid poise in the pocket, but his decision making- especially in the red zone- needs some work. Watson has flashed great touch on deep balls but can also throw rockets to his receivers when pressure is in his face.  The Combine served as a fine platform for Watson, who posted a 4.66 40 and an 11.64 (77th-percentile) Burst Score. He's not an Andrew Luck-level prospect- as no QB in this class is- but the right staff will be able to take Watson's 85.8 (89th-percentile) College QBR and combine it with his inherent mobility skills to turn him into a versatile weapon at the NFL level.
Mitch Trubisky, North Carolina
While Mitch Trubisky doesn't have a ton of starter experience, having only been the guy for UNC for one season, he proved that he's a capable quarterback. While Trubisky looks like a 1960's All-Pro, his accuracy wavers at times, but he makes up for it with good downfield vision and the ability to slide around in the pocket and scramble for yards on a broken play. At the Combine, Trubisky flashed some real speed, running the 40 in 4.67 seconds, good for 86th-percentile. He followed that up with an 80th-percentile, 11.12 Agility Score. His 89.2 (94th-percentile) College QBR coupled with those respectable Combine numbers only helped Trubisky's case to be the first QB off the board. He may not scorch the earth in year one, but there's a solid foundation to build upon.
Running Backs
Dalvin Cook, FSU
Many see Dalvin Cook as having a tier to himself atop the RB prospect mountain. I'm not inclined to disagree. He's as complete a running back as the class has to offer, with three-down workhorse firmly in his range of outcomes. People seem to be a little down on Cook after his Combine performance, where he posted a respectable 4.49 40-yard dash, but was only able to muster a 11.80 (9th-percentile) Agility Score. While his Combine numbers did disappoint, it's not a death sentence. He won't be the first player to post below-average Combine numbers and still become a versatile, explosive weapon at the NFL level. Cook is a locked-in day-one prospect.
Leonard Fournette, LSU
Leonard Fournette exhibits a surprising amount of agility on film for a back of his size and traditionally bruising style. It's hard not to be impressed by the highlight runs where he's seen exploding through the hole and laying the wood on defenders in the open field. He also possesses the necessary pass protection prowess that will put him on the fast track to NFL playing time. Fournette didn't shock the world at the Combine- he confirmed what we already knew. He's a freight train that is focused on plowing through defenders, bolstered by his electric 4.51 40 at 240 pounds. Those focusing on Fournette's lackluster vertical leap should instead be paying attention to his 38.8-percent (82nd-percentile) College Dominator Rating that he earned while playing against the nation's best defensive talent. Fournette is Derrick Henry-esque in that he's also a size-speed freak. Next question.
Christian McCaffrey, Stanford
Whether it's on a punt return or a run out of the backfield, Christian McCaffrey can choose to juke defenders out of their cleats in the open field or simply outrun them. He's an exceptional receiver with solid route-running skills and he has the strength to break through the pile and cross the plane in short yardage and goal line situations. McCaffrey's a lethal weapon from anywhere on the football field and at the Combine, he only helped his case. He ran the 40 faster than fellow consensus top prospects Cook and Fournette at 4.48, and his astounding 6.57 second 3-cone drill propelled his Agility Score at 10.79 (96th percentile). There's nothing McCaffrey can't do for an NFL offense and he's one of the most exciting prospects to enter the league in years.
286 running backs have participated in the 3-cone drill at the combine since 2003

Only 1 completed it faster than Christian McCaffrey pic.twitter.com/6oz8yqfuwQ

— NFL Research (@NFLResearch) March 3, 2017
Joe Mixon, Oklahoma
It's a shame that Joe Mixon has such glaring character issues in his past because his skill set is off the charts. Not only is he a talented power back capable of running between the tackles or jumping outside, he is a smooth, natural pass-catcher with 'Le'Veon Bell slot-receiver-esque' capabilities. Mixon didn't receive an invite to the Combine and instead had to showcase his workout skills at Oklahoma's Pro Day. It was no surprise to see him post a 4.48 40 and score an overall 113.2, (93rd percentile) Speed Score. Again, this confirmed what we already knew. It's not a hot take anymore that Mixon likely has the highest ceiling of any running back in the class and a team will draft him- the only question is who and when.
Wide Receivers
Corey Davis, Western Michigan
Corey Davis' ability to track the ball in the air coupled with his breakaway speed in the open field makes for a deadly combination. He's also a pristine route-runner and can jump out of the building when it comes to plucking passes out of the air. While Davis didn't have the chance to show NFL teams his workout metrics at the Combine due to an ankle surgery, his 51.6-percent (96th-percentile) College Dominator Rating speaks for itself. Nothing Davis could have done at the Combine would've uprooted him from being a first round NFL draft selection and he remains the undisputed top receiving prospect in the class.
John Ross, Washington
What John Ross lacks in bulk, he makes up for in explosiveness and acceleration in his routes as well as after the catch. While he might not be as dominant at contesting catches with aggressive defenders, he's lightning quick and he made good on that speed at the Combine, breaking Chris Johnson's 40 time record with a blazing 4.22. PlayerProfiler's Best Comparable for Ross is Mike Wallace, and it's easy to see why. While Ross doesn't fit the makeup of a typical "Stretch-X" wide receiver, he is a dangerous deep threat with the requisite speed to outrun any defender on the field. Ross also put up a 115.3 (95th-percentile) Height-adjusted Speed Score (HaSS) and a 129.4, 86th-percentile Burst Score. His ceiling is high but it will take a quarterback with the ability to throw the deep ball accurately for it to be unlocked.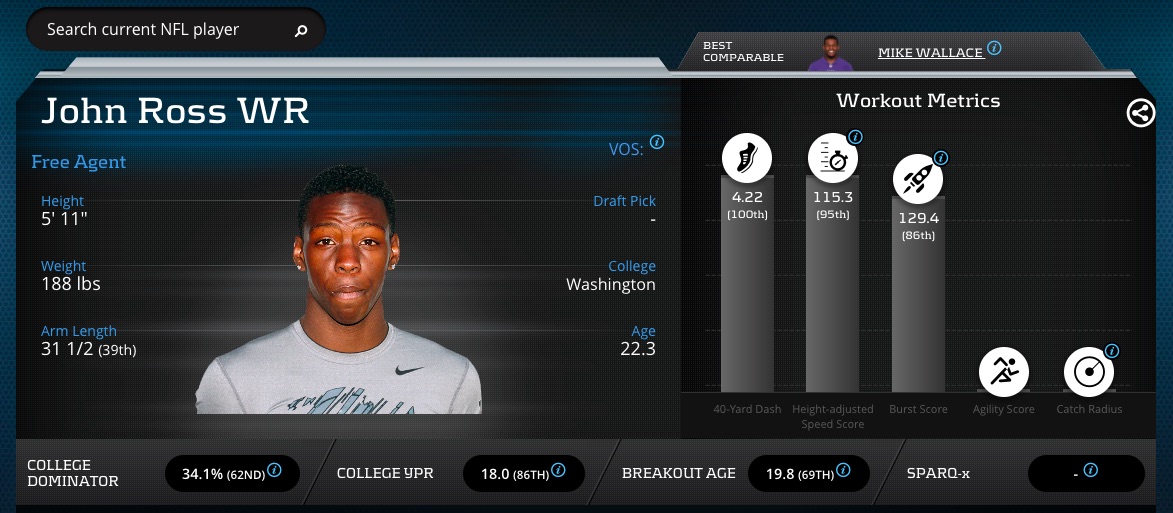 Mike Williams, Clemson
Mike Williams overcomes his mediocre route tree with his rampant Moss-ing of whoever tries to guard him. As well as being a dominant high-point artist, Williams is tough for a single defender to bring down in the open field once he has the ball. At the Combine, Williams did not run the full array of tests and only performed decently well in the broad jump and vertical leap, posting a 115.8 (23rd-percentile) Burst Score. At Clemson's Pro Day, however, he did silence some of the doubters by running a 4.56 40, faster than what most were expecting. Some would say Williams is a bit of a faller after his lack-luster Combine performance, but he's still one of the more dominant prospects in this class and he'll be a day one selection next month and a red zone monster for years to come.
Chris Godwin, Penn State
If you didn't know who Chris Godwin was before his 9 receptions/187 yards/2 touchdowns performance in the Rose Bowl, you probably did afterwards. If you still didn't know who Godwin was before the Combine, you definitely know now. Godwin followed his up electrifying Rose Bowl performance with an equally impressive showing at the Combine. He crushed every test available, finishing above the 68th percentile in every drill, including a scorching 4.42 40 and a 109.5 (88th-percentile) HaSS. Add this to the fact that he just turned 21 and we've got a 128.3 (95th-percentile) SPARQ-x Score freak of a prospect that is inevitably going to out-perform his draft capital next month.
Tight Ends
O.J. Howard, Alabama
O.J. Howard has the size to bully those that draw the short straw and have to guard him, as well as the speed to run away from defenders after the catch. The fact that he's an accomplished blocker will only increase his stock with NFL teams. Howard proved why he's the premier tight end prospect in this class at the Combine, running a 4.51 40 to go along with his 123.9 HaSS and 11.01 Agility Score, all metrics reaching the 96th percentile or higher. Tight ends are never a safe bet to put up significant fantasy numbers in year one, but Howard is the type of elite prospect that could flip the script if drafted to the right situation.
David Njoku, Miami
Bigger, faster, stronger. Those were the impressions I  got while watching a bit of David Njoku's 2016 tape. He's a match-up nightmare in the passing game with stellar RAC skills, and while he needs to improve his blocking, he's got the athleticism and receiving instincts to be a monster at the NFL level.  The 'bigger, faster, stronger" theme spilled over into Njoku's Combine, who performed at a high level in every drill, highlighted by a 132.1 (96th-percentile) Burst Score and a massive 10.30 (92nd-percentile) Catch Radius. Whatever team acquires Njoku is getting a freak that can contribute in all capacities of the offensive scheme.