Out of nowhere there emerges that certain someone who develops into a great NFL player and fantasy darling.  He was not drafted in the first four rounds of the NFL draft. He was never expected to make it in the NFL. But all of a sudden he becomes a main contributor.  And sometimes this prospect even becomes a superstar.  Since this happens almost every year and sometimes occurs more than once, it is important to take note of these happenings because advanced stats, metrics, and analytics-based trends show that it will happen again this year.
Most football analysts spend ad nauseam talking about the top five quarterbacks, top five tight ends, top ten running backs and top ten wide receivers.  However, the draft has a lot more players who are trying to chase their dreams.  The goal is to find that hidden diamond of talent and opportunity in the rough and tough depth chart of warm, eager bodies.  It's not easy but someone inevitably shines through.  At the wide receiver position, there are three off the radar candidates that might be the ones that could return their low draft value in spades.  They are Pittsburgh's Jester Weah, Missouri's J'Mon Moore, and Penn's Justin Watson.
Late Round Wide Receivers
Before the dissemination of these three takes place, please answer the following question:  Out of the two lists of wide receivers below, which is a more desirable group to have on a Dynasty fantasy team right now?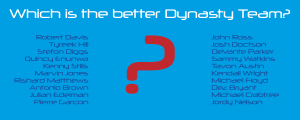 There's a mix bag of older veterans all the way up to players with only one year under their belt.  Both have some household names and at a quick glance seem pretty close.  However, based on nfl.com's fantasy scoring the results heavily favor of the left side.  In 2017, the group on the left combined for 941.7 points, whereas the right group got only 684.6 points.  The results are even more disparaging when one discovers that three players from the left side (Robert Davis, Quincy Enunwa, Julian Edelman) did not even play one snap.  Therefore, seven players on the left outscored the ten players on the right by about 28-percent.  Not pretty close at all. To also prove it wasn't an outlier, what happened in 2016?  The group on the left outscored the group on the right by over 327 points, which was about 37-percent more. And now here's the most alarming detail:
Every player on the left was drafted in rounds five to seven, whereas everyone on the right excluding Jordy Nelson, was drafted in the first round.  In 2008, there were no wide receivers drafted in the first round. The reason why 2011 is missing from the table is there weren't any standout wide receivers taken in rounds five to seven, whereas in 2012 there were two.  On average, one guy from the later rounds defies the impossible and becomes that special player who not only out performs his draft stock, but out performs the first round player drafted in the same year.
What the table also illustrates is that drafting wide receivers in the first or second round might not be the best move for a team, whether it be an NFL franchise or someone who is trying to win his or her redraft or dynasty league. Some may argue that the list of players on the right might not include Mike Evans, Odell Beckham or Julio Jones. However, the players in the right list are not the worst to come out of the first round either.  Notice that Justin Blackmon, Laquon Treadwell, Kevin White, and Darrius Heyward-Bey are also omitted. For every first round pick, there's at least two more that busts.
The table also cautions dynasty owners to not fall for that shiny, bright first round wide out that can't miss. Instead, it might be better to wait on receivers and draft them in later rounds.  It is a strategy that misses more than it hits, but when it hits it drafts the likes of Tyreek Hill, Antonio Brown and Stefon Diggs.  So what does this have to do with Jester Weah, J'Mon Moore and Justin Watson?  There's a good chance none of them will hit. However, there is an even greater chance that some wide receiver drafted in the last three rounds will make a huge splash in the NFL. It all depends on which direction that dart is thrown – and if it is the right dart then the fantasy impact is nothing less than spectacular.  Based on athletic profiles and college production, there can be a good case made for any of these three. And perhaps one or two could be the dart throws that hit the target and help people win their league this year and years later.
Jester Weah, WR, University of Pittsburgh
Standing 6-2 and weighing in at 210-pounds, Jester Weah is one of the few 2018 wide receiver prospects to look the part of an NFL split end/X-receiver. Weah comes with some red flags and isn't the perfect athlete. However, his strengths far outweigh his weaknesses.  The two negative things about him are his 21.6 Breakout Age (23rd-percentile) and his 11.65 Agility Score (9th-percentile). Weah did not break out early, but it has less to do with him and more to do with his situation.  To be fair, he never even got a pass in his first two years as a college player. He never played football in high school at all and was only recruited based on his athleticism. He played significantly as a junior and senior and both of those years he was very productive.  In in his two final years he commanded a 31.5-percent College Dominator (55th-percentile), not bad considering he never caught a football before. He also played a specialized role and did not play with just one quarterback.  He was not Y or Z receiver, who tend to be the heavily-targeted receivers. His senior year wasn't as good but that can be blamed on Pittsburgh having a much more incompetent quarterback. And although the 9th-percentile Agility Score seems a bit concerning at first, as a true X receiver, Weah is more intent on stretching the field and burning slower cornerbacks, rather than being a slot guy who earns his keep by evading linebackers and trying to break tackles after short or intermediate passes up the middle.
Weah's strengths are many.  Most importantly, he's fast.  He ran a 4.43 40-Yard Dash (86th-percentile) at the combine and when his size is factored in, his Speed Score is in the 91st-percentile. Along with his great speed is the other important metric, his 129.1 Burst Score (86th-percentile). This means he can explode off the line of scrimmage and create the important separation before accelerating down the open field to catch those deep passes for significant gains. It is not surprising that Weah was a track superstar in high school when he was growing up in Wisconsin. Sure, Weah was slow out of the gate.  But once coaches trusted in him, he learned fast and produced quickly.
---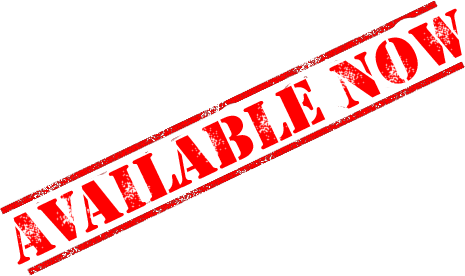 ---
Weah's athleticism is reminiscent of Martavis Bryant.  Both are tall, fast, with great burst and below average agility.  Both have that typical huge College YPR.  Bryant's 19.7 YPR is in the 93rd percentile, while Weah's 20.6 (95th-percentile) is even better. Weah was also more dominant in college having a College Dominator in the 55th-percentile compared to Bryant's 19th-percentile. The only thing that has stopped Bryant from becoming an elite X receiver in the NFL has been himself. Weah seems to be level-headed and focused and unlike Bryant, won't get drafted in the 4th-round.  Therefore, he could be a steal and be that field burner that could produce right away. Teams who have not done proper research will just look at his few disparaging numbers and assume.  Weah in some ways is hitting his stride at the right time and most likely will go between rounds 5-7. He could be the guy that finds success early in the NFL, seemingly coming out of nowhere.
Justin Watson, WR, University of Pennsylvania
The final receiver worth talking about is probably now the most popular candidate out of the three based on his excellent Pro Day.  Justin Watson was über productive at University of Pennsylvania.  In a many ways he is similar to Cooper Kupp.  Both were extremely productive at smaller schools. In four years at Penn, Watson caught 286 passes for 3777 yards, while only playing 10 games a year.  He also caught 33 touchdowns.  Watson was actually more productive than Kupp commanding a 60.3-percent College Dominator Rating (98th-percentile) compared to Kupp's 40.4-percent (81st-percentile). However, what makes Watson even more intriguing is that he is so much more athletic than Kupp.
Watson seems to have everything going for him and it is difficult not to want him to be this year's underdog breakout candidate.  He's 6-2 and weighs 215-pounds.  He has at 33 ¾ Arm Length (93rd-percentile) to go along with a 10.28 Catch Radius (91st-percentile).  He's fast, running under 4.50, having a Speed Score that is in the 86th-percentile.  He also has a 130.0 Burst Score (87th-percentile).  His only athletic blemish is his 11.34 Agility Score, which puts him below average in the 33rd-percentile.
Watson is fast enough to play the X receiver role and has enough burst to play as the Y receiver as well.  That's why he fits the role of Z receiver.  The Z receiver is a combination of X and Y and tends to be target hogs themselves.  He can go in motion, he can catch down the field and he can also catch intermediate passes up the middle.  As an Z receiver, Watson can be the utility guy whose versatility can allow him to cover any area of the field.
Justin Watson's best comparable on PlayerProfiler.com is Jordan Matthews. Both Matthews and Watson were dominant in college, both are fast and both have long arms and good hands. Matthews is more agile but Watson has more burst.  Unfortunately due to injury and lackluster usage in Buffalo, Matthews has not been the same player he was when he came on the scene about four years ago.  Matthews has always been used as a slot receiver, however, he is fast enough to be a Z receiver.  He has a 110.1 Speed Score (90th-percentile) but has never been utilized to showcase his speed.  If Watson can land on a team that plays him more like JuJu Smith-Schuster rather than Jordan Matthews, Watson can ascend quickly showing both his speed and ability to get open. Last year, the Steelers used Smith-Schuster as a Z receiver, which turned out to be the best move they could have made.  He was the best rookie receiver who dominated the field, having the highest Hog Rate out of anyone in the league. Watson has the potential to be that guy. And although he seems to be coming off his Pro Day on a high, most teams might still be apprehensive about him.  He is the least predictive out of the three – he could go as high as round 3 or 4, or he come down to earth in the next month and be drafted in the 5-7 round.  If he does indeed go later, he could be another late round dark horse that helps dynasty teams gallop to victory.
J'Mon Moore, WR, University of Missouri
J'Mon Moore is even further off the radar than Weah.  And when it comes to player comparison, these two receivers could not be more different.  Both are tall, Moore at 6-3 is an inch taller.  And both are around the same weight.  And although both have better than average burst, that is where the similarities end. If Weah is a dart throw, then Moore is like throwing the dart with the wrong hand. However, if he does get drafted and lands on a good team that can utilize his talent, his pay off might be even greater than Weah's.
Weah caught 77 passes for 1568 yards total during his final two years. He averaged over 20 yards per reception and scored 14 touchdowns. Moore, on the other hand was more productive yet less dominant on a better offense.  In his final two years in Missouri, Moore caught 127 passes and eclipsed 1,000 yards both times, averaged over 16 yards per reception and scored 18 touchdowns. It is clear that Weah and Moore are two totally different kinds of receivers but both can play.
Moore's biggest red flag without a doubt is his speed.  At the combine, he ran a slow 4.60 (27th-percentile).  His 95.0 Speed Score (51st-percentile) is more flattering, once his stature is calculated in but it is far from attractive.  Many equate wide receiver success with speed and tend to dismiss those who aren't as fast.  Therefore, Moore should not be considered as an X or Z receiver, based on his speed.  However, his 124.6 Burst Score (71st-percentile) and his 10.60 Agility Score (98th-percentile) prove that Moore is not an athletic dud.  In fact, it clearly shows Moore is suited for the Y receiver, or slot receiver position.  He can get off the line quickly, catch short passes and use his agility to escape defenders.  He really is the polar opposite of Jester Weah, but like Weah, can be useful if played correctly on a good team.  What is also exciting is most receivers who play the slot tend to be around 6-0 tall.  Moore brings in extra height that can only give him an advantage.  He has shown he can be a target hog and although many teams will dismiss him because of his speed, teams should also notice that Moore has a 124.7 Sparq-x Score (98th-percentile) which makes him a very sneaky athletic receiver.
If Moore had run a tenth of a second faster at the combine, he most likely would be drafted a few rounds earlier. Similar to Weah, his greatest weakness is not the most important metric for his role on the field.  Moore could be the next Cooper Kupp.  Both are taller slot receivers and are considered slower than average. Moore is much more athletic all around, whereas Kupp was much more productive in college.  Both have outstanding Agility Scores and but Moore's arms are much longer (79th-percentile) with a better Catch Radius (97th-percentile).  And the best thing is Kupp was a 3rd-round deal, and since Moore will not get drafted until later, he could be a late-round steal. There has been some concern over Moore's maturity, which might even cause him to not get drafted at all. So if Moore can somehow land on a team that believes in his talent and gives him the opportunity, he could be dynasty gold.
Conclusion
This year in particular, the wide receiver class is not very strong.  Apart from D.J. Moore, Calvin Ridley and Courtland Sutton, who seem like sure things, the rest of the wide receiving group all have boxes unchecked and red flags for some reason or another.  Conversely, the running back class seems deep with talent and based on the last few years seem more likely to contribute in their rookie seasons. Therefore, as tempting as it may seem, it is not a good strategy to draft wide receivers early based on what has happened in the last ten years.  Last year alone, first round receivers Corey Davis, John Ross and Mike Williams scored less fantasy points than many drafted in subsequent rounds. Tight ends also have a history of not substantially producing for many years after they have been drafted.  Therefore, it is only logical to draft running backs early and wait on wide receivers.  If their landing spots are encouraging, then late rounders Jester Weah, J'Mon Moore and Justin Watson could be the three Js who should play X, Y, and Z, giving their dynasty owners more Ws.