Looking for a running back that may be on sale? How about a wide receiver that is being discounted due to bad reviews? Maybe a quarterback or tight end whose price is about to skyrocket? This is the right place. Welcome to the Fantasy Supermarket, and is it time to Buy or Sell D.J. Moore in Dynasty?
The players that are in the Fantasy Supermarket have indicators suggesting that now is the right time to buy in dynasty formats. I'll be using advanced analytics and metrics from PlayerProfiler.com's Data Analysis tool to highlight which players are worth buying into. But you have to act now because these current prices will not last long.
Wide Receivers Make a Difference
Everyone who follows me at all (first of all, thank you!) knows that I am a mega fan of D.J. Moore. He has been linked to below-average to bad quarterbacks his entire career. Well, he was dealt to the Chicago Bears. The markets around fantasy football do not have a clear sense of Moore's current value. Some say it is time to sell on the hype spike, and others believe that this is great for the wide receiver. So, is Moore a buy or sell in Dynasty? I say he's a buy. It is wheels up for Moore in real life and especially in fantasy.
There are two examples that suggest Moore teaming up with Justin Fields will be fantastic for fantasy. Exhibit A is the Buffalo Bills trading for Stefon Diggs, and exhibit B is the Philadelphia Eagles trading for A.J. Brown.
In 2019, Josh Allen was neither efficient nor accurate. He had a 6.5 Accuracy Rating (No. 35 among qualified QB), 64.7-percent True Completion Percentage (No. 33), 25-percent Deep Ball Comp Percentage, and 87.7 True Passer Rating. All of those metrics improved after the Bills acquired Diggs. 
Jalen Hurts saw a similar boost to his accuracy and efficiency metrics when Philadelphia grabbed Brown. This past year Justin Fields posted a 7.4 Accuracy Rating (No. 25), 64.9-percent True Completion Percentage (No. 32), and 71.6 True Passer Rating (No. 30). All three quarterbacks were well below average in Pass Attempts and Team Pass Plays per Game before they brought in an elite talent at wide receiver. 
Buy D.J. Moore
The argument can be made that D.J. Moore has a superior talent profile to both Diggs and Brown. Looking at three key criteria, draft capital, college performance metrics, and workout metrics, Moore scored the highest amongst these three wideouts. The new Chicago Bear was selected with the No. 24 pick in the 2018 NFL Draft where the other two players were taken in the second and fifth rounds.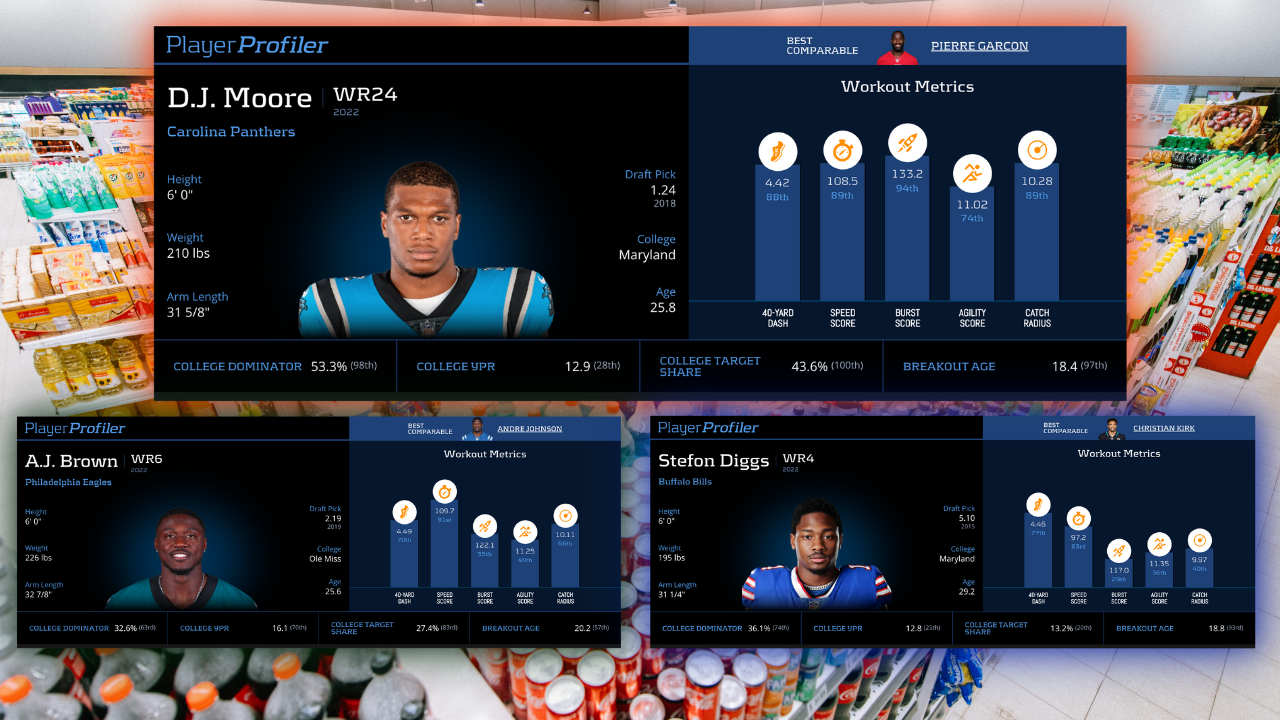 Moore posted a 53.3-percent College Dominator (98th-percentile), 43.6-percent College Target Share (100th-percentile), and 18.4 Breakout Age (97th-percentile). Not only was Moore a more productive collegiate athlete with higher draft capital than Diggs or Brown, but he also put up better workout metrics coming out of Maryland. He was in the 74th-percentile or better in 40-Yard Dash, Speed Score, Burst Score, Agility Score, and Catch Radius. If Brown and Diggs elevated their quarterbacks, then so can Moore. That is exactly why now is the right time to Buy D.J. Moore.
Dynasty Supermarket Wrap-Up
Acquiring assets at the right time is a major key to success in fantasy football. Dynasty managers can capitalize during particular parts of the season. We are now in the thick of the NFL offseason, and there is a ton going on. This includes a massive trade that has caused a split opinion and those differing ideas caused a buy window to open in many leagues. The time is now to buy DJ Moore.
Happy shopping and please come on back to the Fantasy Supermarket when you're ready to buy again.