Deep within the waiver wire laboratory, a mix of combustible fantasy options percolate.  The usual recipe contains one part small sample size anticipation and one part opportunity misadventure.  Often, the most important fantasy player waiver additions are presented in the overlooked and equally opportunistic compilers.
These steady producers help to soothe the tilt for fantasy owners experiencing injuries or bye week dilemmas. The RotoUnderworld Team provides a season changing, tilt soothing, hyperbole packed list of 10 players to add across all fantasy football formats.  Come hither my brethren, welcome to waiver time!
Note: The following waiver targets were selected from a group of players owned in less than (or perhaps slightly more than) 50-percent of MFL redraft leagues.  Math is hard, gimme a break.
Robert Woods WR, Buffalo Bills
If a Sammy Watkins tree falls, does a Robert O' the Woods make a sound?  I am not really sure what that means, but yes it sounded profound in my head. Come for the waiver advice stay for the unintelligible analogies…let's get back on the rails here:
By way of Sammy Watkins' season ending injury, a new target hog has arrived to the fantasy football scene in Robert Woods. Like that overly competitive kid, hammering the Hungry Hippo and gobbling up all the marbles, Woods has devoured his newfound opportunity.  Tyrod Taylor latched onto the known commodity he has in Woods, sending a team high 10 targets his way against New England.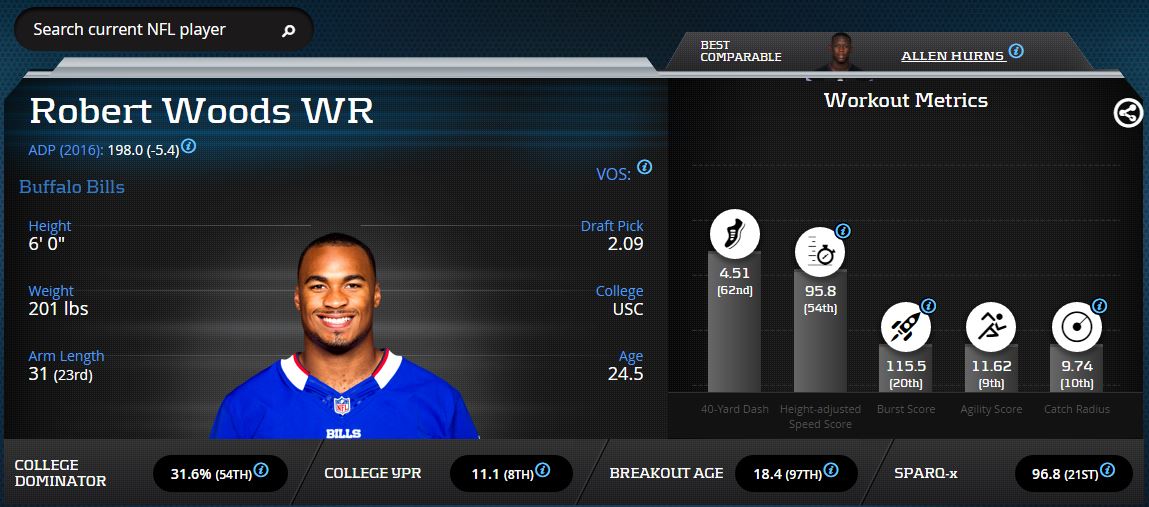 Robert Woods Advanced Stats & Metrics Profile
Now Woods did produce at a mediocre level in college, displayed by his 31.6-percent College Dominator (54th-percentile).  However, this production was actually a case of overachieving beyond low base athleticism; Woods recorded a 96.8 SPARQ-X Score (21st-percentile).  Not only does Woods' historical production surpass his athleticism, Woods' 18.4 Breakout Age (97th-percentile) paints him as a naturally gifted wide receiver who understands the intricate nuances of the game.  Over the past two years, Woods has averaged 12.7 fantasy points per game in games where he posts at least a 25-percent Target Share.  Grab this Hungry Hippo before the overly competitive kid in your league does.
Wendell Smallwood RB, Philadelphia Eagles
Investing in Wendell Smallwood is akin to betting against Ryan Mathews' ability to stay healthy.  Incidentally, "Smallwood" was my nickname in high school…I kid, I kid.  Lowest common denominator phallic jokes aside, Smallwood has begun to earn touches in the Philadelphia backfield, receiving 17 carries in week 3, prior to the week 4 bye.  It is difficult to determine if these chances are due to the coaching staff developing frustration with Mathews or due to Mathews not being able to stay healthy.

Wendell Smallwood Weeks 1-3 Opportunity Share 
In either case, it may not matter.  Uncertainty in a backfield is the mother of opportunity, and in addition Smallwood possesses some interesting traits on his profile.  At West Virginia, Smallwood did not deliver a large portion of the production with a 22.3-percent College Dominator (33rd-percentile).  When Smallwood was asked to tote the rock for West Virginia, he exploded for a 6.4 Yards Per Carry (82nd-percentile).  An electric producer on an efficiency basis, Smallwood should be on the waiver wire radar.
Adam Humphries WR, Tampa Bay Buccaneers
How is Adam Humphries getting targets in Tampa Bay?  Humphries has received enough opportunity to place in the top-30 wide receivers in targets.  An initial glance at his college production causes a visceral reaction, usually accompanied by a dismissal of his viability as an NFL receiver.  For instance, Humphries produced worm burning 9.4-percent College Dominator (2nd-percentile) and we are technically still waiting for him to breakout at the college level (i.e. Humphries never registered a season with a greater than 20% College Dominator).  Topping it off, Humphries went undrafted in 2015 and also possesses a 96.2 SPARQ-x (2nd-percentile).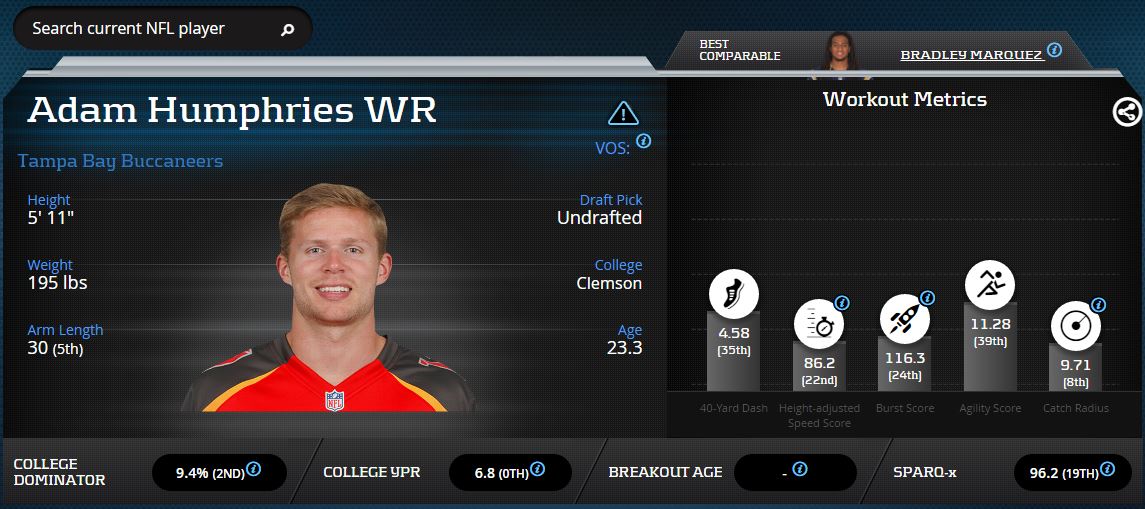 Adam Humphries Advanced Stats & Metrics Profile
So Humphries wasn't particularly productive in college, provides very little athleticism and NFL scouts did not think enough of him for him to be drafted. How can this guy be taken seriously in fantasy circles?  The Humphries emergence offers an opportunity for the statistic and advanced metric crowd to remember a key factor.  Context!  Humphries was competing against Sammy Watkins, DeAndre Hopkins, Martavis Bryant, Jaron Brown, Dwayne Allen and Charone Peake for targets at Clemson.  It is truly remarkable that Humphries was able to record the catch totals he did with that crowd around given his athleticism.  In the years Martavis Bryant was at Clemson, Humphries recorded a higher reception per game rate.  Humphries outperformed his athleticism and this belies a high football skill level.  This skill level has been noticed by the Buccaneers and Jameis Winston, fantasy owners need to notice too.  Remember, quarterback trust is the essence of target share, and target share is the essence of beauty.
Waiver Priority Ranks
Dion Lewis has become available in many leagues, but all it takes is one positive report about his recovery from surgery and Lewis will not be cheap to obtain.  Lewis can play again in week 7 if healthy, the risk is worth it if he can return to close to the illusive form he showed in 2015.
Fantasy twitter is soooo sure Kenneth Dixon is the back to own in Baltimore, but Terrance West may just be able to hold onto that job.  If only for his matchup this week against the porous Washington run defense, West is worth an add in shallower leagues with robust waiver wires.  In other news, DeAndre Washington continues to outplay Latavius Murray.  Washington would be higher on this list except for a painful late game fumble in Week 4.
Dontrelle Inman is a steady if unsexy pickup, but did show well by garnering 11 targets from Phillip Rivers.  As a deep tight end option, Hunter Henry showed well in Week 4, with 4 receptions on 7 targets and a touchdown for San Diego.  I am hesitant to recommend rookie tight ends but Henry has been heavily involved which is a positive sign.  Running back, Josh Ferguson, has been racking up targets (10 targets in Week 4) from Andrew Luck.  Ferguson provides some Ahmad Bradshaw type upside appeal going forward.
Below is the order I would claim players in a vacuum not taking into account individual team needs.