Equanimeous Tristan Imhotep J. St. Brown. A unique yet distinctive name for one most unique yet distinctive rookie prospects in this year's rookie draft.  Equanimeous means full of calm emotions when under pressure or dealing with problems.  And that is how St. Brown appeared at the combine in March.  Although he only participated in two events, he calmly ran a 4.48 40-yard dash and found felt no pressure lifting the 225-lb barbell at the bench press station twenty times. In a wide receiver class that was unimpressive heading into the combine, and looking far less athletic after, Equanimeous St. Brown (ESB) is now heading into the April draft as one of the better prospects. He still has his pro day on March 22 to justify his skyrocketing stock value.  At the moment, he is a top-10 rookie wide receiver on PlayerProfiler. However, if he can test out athletically, then ESB will be in the serious conversation as one of the top three rookie wide receivers to be selected next month.
Next Gen Dimensions
Equanimeous St. Brown is an anomaly. He is unusually tall for a receiver, standing at 6-5. To put this into perspective, there are only nine wide receivers currently in the NFL that are 6-5 or above.  And out of those nine, only Mike Evans is athletic.  And if you take Evans and Kelvin Benjamin out of the equation, none of the seven remaining receivers are starters or have prolific stats. Together they combined for a total of 45 receptions last season; that's an average of 0.4 receptions per game.  The reason that tall receivers in the NFL are not dominant is because the ones that are currently playing are by and large not very athletic or very good.  But this is about to change.  And even though it comes four years after Evans, who was drafted in 2014, and over a decade since Calvin Johnson came on the scene, the NFL is finally ready to get another tall, athletic receiver.  This does come with a caveat, however; ESB only weighs in at 214, over 20-pounds lighter than both Evans and Johnson.  Right now there isn't a current successful player that ESB resembles. Therefore, it will be interesting to see if St. Brown will be first successful 6-5 tall wide receiver who is athletic but isn't big to take the NFL by storm.
Unconventional Upbringing
Nothing about Equanimeous St. Brown is conventional. Take his family and upbringing for instance. ESB has two younger brothers who are also wide receivers with hopes of making it in the NFL one day. Osiris Adrian Amen-Ra J. St. Brown is about to enter his second year as a wide out at Stanford. And there is also his youngest brother, Amon-Ra Julian Heru J. St. Brown, is a five-star receiver who has just pledged to join USC in the fall.  Osiris is 6-2 and Amon-Ra is only 6 feet tall and built more like Antonio Brown. ESB's father, John Brown, a former 2-time Mr. Universe and 3-time Mr. World weightlifter who grew up in Compton.  His mother, Miriam St. Brown, is tall and caucasian, and was born and raised in Germany. John Brown met her during his time spent in Europe while competing. Both have strong, dominant personalities. John has his hand in all of his son's training regiments, while Miriam has made sure her boys excelled academically. ESB, like his two brothers, speaks three languages fluently – English, German, and French, on account that they lived there briefly growing up.  They all had 4.0 GPA's and sat for their SAT's in their three spoken languages.
Earlier this year, the St. Browns were interviewed on HBO's Real Sports with Bryant Gumbel.  John St. Brown's philosophy is direct and simple: "When you go out onto the field, you go out there to destroy them and if you don't, we go back to the drawing board and we work again."  His justification for working his boys so hard? That "the lions can't live with the lambs." John St. Brown is adamant and opinionated, and is obsessed with his sons succeeding. He drawls parallels to LaVar Ball, Lorenzo Ball's controversial father.  It just so happens that both families grew up in Anaheim, California.  ESB has been pushed by his father all of his life.  He has been pushed to the limits to excel, being influenced his dad "to shoot for the stars because the bottom is overcrowded." For better or worse, John Brown has applied a lot of pressure. Now it is up to ESB to personify his name, and remain equamineous as he is about to make the final turn before he heads towards the finish line.
Unfinished Profile
Since there is not enough athletic information on Equanimeous St. Brown yet, it is difficult to accurately assess him.  He's fast for his size, evidenced by a 100.7 Speed Score (71st-percentile).  Compared to the two other tall players who ran at the combine, he's fast. New Mexico State's Jaleel Scott is 6-5 218-pounds and ran a 4.56, which is a Speed Score of 95.6 (50th-percentile). Florida State's Auden Tate is 6-5 228-pounds and ran an embarrassing 4.68, which equates to a 90.1 Speed Score (29th-percentile).  Scott participated in all events and showed he is a below average athlete – typical for the 6-5 NFL receiver. Tate also participated in the Vertical Jump and Broad Jump which together produced an anemic 108.7 Burst Score (3rd-percentile).  Tate's athletic profile makes Jaleel Scott's profile look robust.  At the Bench Press event, ESB out-lifted Scott by four reps with Tate not lifting at all.  And even though the Bench Press does not garner primary concern regarding wide receivers, it is a telling sign of how ESB will do in the remaining events on his college day.  And knowing he has been vigorously training with his father for many years, it is a safe bet he will test very well athletically.
Best College Season vs. Last College Season
Equanimeous St. Brown's college production does give us pause.  As a freshman, he did not get on the field much, however, he did play twelve games as both a sophomore and junior before deciding to enter the draft.  His sophomore season illustrates the type of wide receiver he is a deep threat who uses his size and speed to beat secondaries.  He is not a volume-based receiver, even though he led his team in targets, receptions, and yards, both as a sophomore and junior.  With that said, ESB was more dominant during his sophomore year than his disappointing junior season.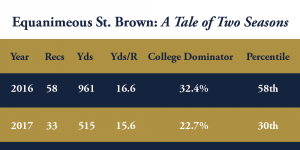 St. Brown's 25.2-percent College Dominator Rating merely reached the 36th-percentile among NFL-caliber wide receivers. When analyzing wide receivers who underwhelmed in their final college season, isolating the production achieved in their most productive college season, the JuJu Smith-Schuster Corollary, best illuminates their NFL upside.  St. Brown's Dominator Rating during his peak sophomore season with DeShone Kizer reached the 58th-percentile, which puts him ahead of Mike Evans and Kelvin Benjamin, two most productive 6-5 receivers in recent NFL history.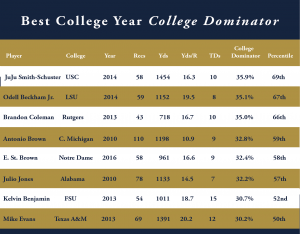 The above list includes many of the most productive wide receivers in the past few years (Beckham Jr., Brown, Jones), a few players who are St. Brown's height range (Evans, Benjamin, Coleman) and one of last year's best rookies Juju Smith-Schuster. Based on their best year in college all the wide receivers were more dominant than average, with Mike Evans representing the average benchmark, in the 50th-percentile. ESB finds himself comfortably in the middle of this group.  He might be behind Odell Beckham Jr., but is very close to Antonio Brown and even ahead of Julio Jones.  And when compared to the bigger pass catchers, he is only behind Brandon Coleman, the least productive and least athletic tall wide receiver.  Therefore, by looking at his best year, there is no need to panic about St. Brown's overall College Dominator, knowing that he has shown he can run with the other NFL big boys.
But a few questions do remain.  What happened in his Junior year?  How was he dominant as a sophomore catching so many more passes for so many more yards for so many more touchdowns?  It is concerning especially because one would expect better numbers since he is more used to the game and is growing as a receiver. The same conundrum happened with the man at the top of the chart, JuJu Smith-Schuster.  He too had a prolific sophomore year at USC, but his production and dominance regressed in his final year as a Junior.  To understand this more clearly, one has to dig deeper.  Were they playing hurt? The answer to both is a surprising no.  So what happened that caused their last season to be a shadow of their previous season and more than likely cause their draft stock to plummet a round or two in the rookie draft?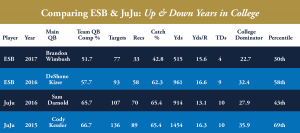 When analyzing the chart above the answer is much more obvious for Equanimeous St. Brown than it is for JuJu Smith-Schuster.  Although both had a second-year drop in production, they are not similar wide receivers.  St. Brown's defined role is more specific.  He is a tall, fast target who can go down the field and catch and contest.  JuJu is shorter, more compact, slower but more versatile. He is more of a possession guy who can get more yards after the catch.  He catches shorter to medium thrown balls, rather than being a deep threat. ESB's decline in production and dominance is because he had a much better quarterback to work with in 2016 (DeShone Kizer) than he did last year (Brandon Wimbush).  Wimbrush was less accurate than Kizer and even less accurate when passing to St. Brown specifically. Since college stats are not as abundantly available as NFL stats are, it is difficult to surmise if ESB's drop rate increased in 2017 or not. There is no doubt, however, that ESB's production and dominance would have been higher in 2017 if he had a better quarterback throwing him the ball.
In the case of JuJu Smith-Schuster, his second-year drop in production is more perplexing, since his catch percentage and number of touchdowns was identical for 2015 and 2016.  He also had two similarly competent quarterbacks who had good completion percentage.  He received 62 more passes than the next receiver, Adoree Jackson in 2015. Jackson now plays cornerback in the NFL.  However, in 2016 but had more competition, only receiving 14 more receptions than Darreus Rogers and Deontay Burnett, who both caught 56. Smith-Schuster was no longer the obvious favorite target in his final year with Sam Darnold as he was with Cody Kessler.
Soft Landing Spot
Juju Smith-Schuster actually benefitted by having an off-year during his final year at college.  It decreased his value as a prospect and therefore, was taken later in the NFL Draft by one of the leagues's most efficient offenses, led by an a relatively fearless quarterback.  As a late second-round pick, his rookie season was better than those drafted before him like Corey Davis. This will most likely be the case for Equanimeous St. Brown.  His landing spot is crucial because he needs a quarterback who is accurate with the deep ball and isn't afraid to chuck it down the field. There are some encouraging teams like the Green Bay Packers and New Orleans Saints contemplating taking him in the second round as well.  If ESB can land on either of those teams and catch balls thrown by  Aaron Rogers or Drew Brees, then there is no reason why he can't be the JuJu Smith-Schuster of 2018.  This would make him the wide receiver steal of this year's NFL rookie draft.  This could very well be the dawning of the Age of Equanimeous. It is now up to dynasty owners to be equanimeous when drafting him, waiting calmly until the late 2nd to 3rd round to nab him. After that, they can just sit back and let the sunshine in, knowing they have just picked up a ray of talent.