Since adopting a more analytics-based approach, the optimism for the Browns as a franchise is at a high point not seen in years, and that optimism spills over into their fantasy football outlook as well.
Quarterback
Even though Cleveland acquired Brock Osweiler in the Moneyballin' maneuver known as "The Second Bamboozling of Houston," the Browns management already knows how bad he is. In fact, in a press conference following the deal, GM Sashi Brown expressed how excited he was for the 2018 second round pick the Browns would receive before even mentioning their new red-headed step-child. It's conceivable that Osweiler won't even be on the team by week one, so we can instead focus on second year USC product Cody Kessler and new addition DeShone Kizer from Notre Dame.
Cody Kessler
Cleveland was operating a true QB carousel in 2016 with Cody Kessler, Josh McCown, Kevin Hogan, and even Terelle Pryor taking snaps under center. This made it tough to gauge Kessler's ability to run the offense all on his own, but even the limited sample size shows us a perfectly serviceable quarterback who will be entering the season with a year of experience in the system already under his belt.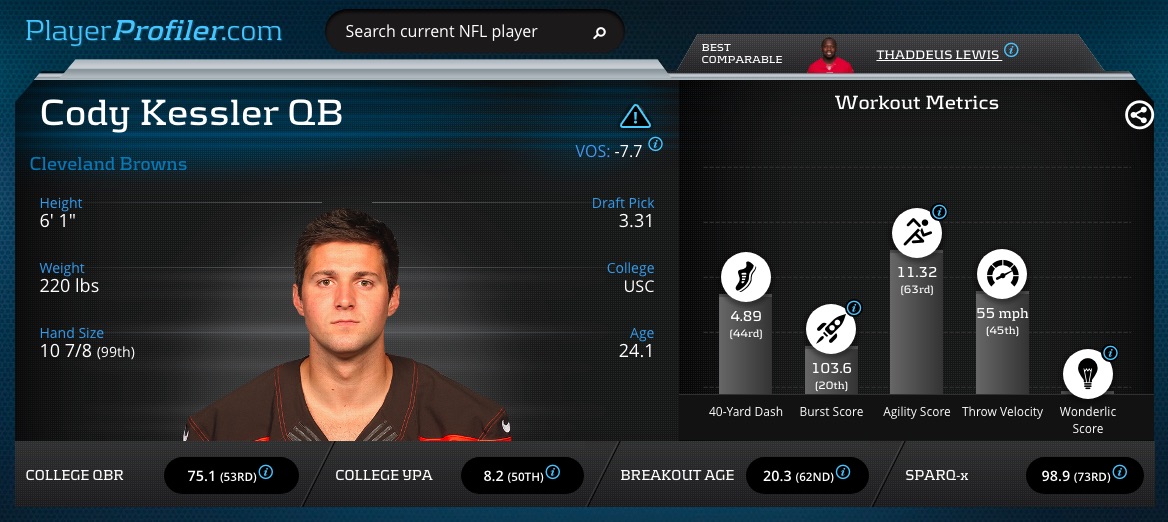 Cody Kessler Advanced Stats & Metrics Profile
There were only six games where Kessler attempted 14 or more passes, and those games brought varying levels of success and efficiency. The bright spot for Kessler was far and away the week 6 game at Tennessee, where he threw for 336 yards and 2 touchdowns. When Kessler was handed the reins, he proved that he had the athleticism and ability to run the offense capably, even with a mix-and-match receiving group made up of Terrelle Pryor, Gary Barnidge, and a hobbled Corey Coleman.
Even in the small sample size, Kessler proved himself to be an efficient passer, and he even logged the highest adjusted completion percentage while under pressure of any rookie since at least 2006, per Pro Football Focus. His overall completion percentage was 65.6-percent, which ranked No. 11 in the NFL last season.
When handed the keys, Kessler knows how to drive. Digging deeper, we see that Kessler's yards per attempt and air yards per attempt were below average, coming in at No. 19 and No. 26 in the league respectively, but that's understandable given the fact that Isaiah Crowell and Duke Johnson combined to make up roughly 30-percent  of Kessler's completions, which were throws primarily made behind or right around the line of scrimmage. The addition of dynamic playmakers like Kenny Britt and David Njoku will help to soften the blow of losing Terrelle Pryor to free agency, and if Kessler is indeed the week 1 starter, which seems like the most likely scenario, he will be set up for success with a strong running game, an underrated group of receivers, and a beefed up offensive line.
DeShone Kizer
Cleveland watched and waited as three teams traded up for their quarterback of choice in the NFL draft, and they were rewarded with DeShone Kizer, a prospect just as capable as the trio taken before him. I wrote Kizer up in my pre-draft prospect preview, and here we have a player that checks a lot of the traditional boxes. He shows good touch but can also zip the ball into tight windows. He also has the agility to escape pressure and grab first downs on the ground. While he isn't a slam dunk prospect, he's got the tools to succeed at the NFL level. Kizer performed on the underwhelming side at the NFL Scouting Combine, only finishing above the 50th-percentile in one specific workout metric, his 4.83 40-time.
Unless Kizer absolutely goes off in OTAs and the preseason, he'll likely be Kessler's backup to start his NFL career- and that's completely fine. Throwing a rookie QB that's not ready into the starting lineup rarely ends up well, and Kizer certainly has the Tyrod Taylor career path in his range of outcomes, who first sat and developed his skills before coming on and becoming one of the league's more underrated quarterbacks. The supporting cast will be there as the Browns front office continues to acquire talent at every position, and the Cleveland landing spot for Kizer is not nearly as grim as one might have expected just a few years ago.
Running Back
Isaiah Crowell
Isaiah Crowell enjoyed an underrated 2016 season, and early MFL10 players definitely noticed. Crowell finished his third season with 952 yards and 7 touchdowns on 198 attempts along with 40 catches for 319 yards. The receiving work is particularly impressive since Crowell was supposedly sharing the backfield with "passing down specialist" Duke Johnson. Crowell's ability in the passing game keeps him on the field in more situations, which will undoubtedly lead to more fantasy points. When Crowell was running the rock, however, he was consistently crushing the opposition. He had high marks in many of the money categories, such as 399 yards after contact (10th in the league) and 13 breakaway runs (7th in the league).
The Browns front office has spent big money in the off-season bolstering their offensive line, bringing in guard Kevin Zeitler and center JC Tretter to join up with recently extended guard Joel Bitonio and perennial stud left tackle Joe Thomas. Cleveland finished No. 31 in the league in rushing attempts last season with only 350, and the chances of that happening again are exactly zero. Cleveland will lean on the run game and this re-stocked offensive line to aid the development of their young quarterbacks and Isaiah Crowell looks to be the main beneficiary.
Duke Johnson
When most were expecting a solid RB2 season out of Duke Johnson in PPR leagues, he underwhelmed. Johnson only logged five games with over 10 PPR fantasy points, even though he finished 6th in the league in receptions for his position (53). This is a bit perplexing, since Cleveland was almost always playing from behind in 2016 (to  the point where they were trailing in the 4th quarter during all 16 games) and the game script was ripe for Johnson to harvest all that come-from-behind reception goodness. Johnson logged a 49.9-percent snap share, as opposed to Crowell's 62.1-percent snap share. In order for Johnson to get more backfield opportunity, he needs to prove that he's just as capable in the run game as his backfield mate, which just may not be true.
The additions of Kenny Britt and David Njoku don't do any favors for Johnson, who is definitely going to have some targets siphoned away. The game script will also presumably be a bit more in Crowell's favor, since it's almost impossible for Cleveland to be trailing as often as they were in 2016. While Johnson can still go off in any game when the targets are there, those targets look to be a bit harder to come by in 2016.
Wide Receiver
Kenny Britt
Kenny Britt is a survivor. In fact, here's a live look at Britt after escaping the hellhole known as the Rams offense: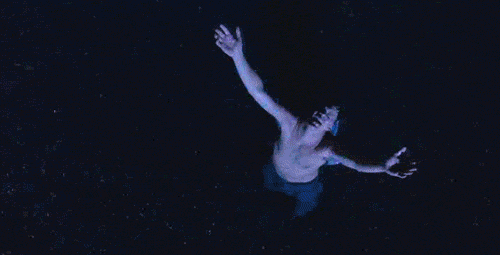 Kenny Britt signed with Cleveland in the offseason after spending the last three years toiling on the St. Louis-turned -Los Angeles-Rams. However, even in the tepid-at-best 2016 Rams passing offense, Britt reached the 1,000 threshold for the first time in his career, coming in at 1,002 yards and 5 touchdowns on 68 receptions. Even with utter ineptitude at quarterback, Britt finished as the No. 14 WR in the league in yards per target at 9.0, and the second best player in the league in terms of target premium at +36.5-percent, which is another testament to Britt's indomitable efficiency.
The 28-year old Kenny Britt joins a team without an established WR1 in the wake of Terrelle Pryor's departure, and the two match up pretty similarly in terms of overall size and athleticism. Britt should have no problem reaching that 1,000 yard mark again in 2017, and he can establish himself early on as the go to receiver for whomever is under center. Cleveland finished 7th in the league in pass plays in 2016 with 634, as opposed to St. Louis/Los Angeles' 586, 24th in the league. The targets for Britt will increase, and Cleveland will have no problem throwing the ball as they want to see what they have in Cody Kessler and DeShone Kizer. Britt is looking like a supreme value pick and the time to trade for him is right now.
---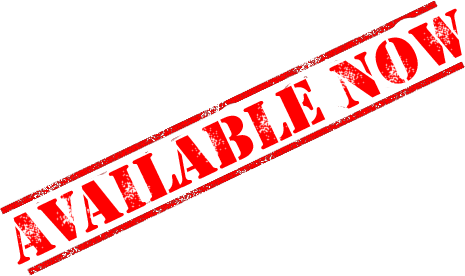 ---
Corey Coleman
Corey Coleman's rookie season was somewhat of a mixed bag. After a monster performance in week 2 to the tune of five catches for 102 yards and two touchdowns, Coleman suffered a broken hand and remained sidelined until week 9. When he returned, Terrelle Pryor had developed a stranglehold on the team's No. 1 WR role, and the most competent QB to play for the Browns in 2016, Josh McCown, had already gone down due to injury. It was a situation gone from bad to worse, and Coleman wasn't able to rise above the anemic quarterback play and have a successful second half of the season.
However, enter the assets we've covered already (second year Cody Kessler, improved offensive line, dynamic run game, other serviceable receiving weapons) and Corey Coleman's outlook is much brighter than in 2016. The hope is that he can establish rapport with Kessler and enjoy less coverage due to the entrance of Kenny Britt, which would presumably give Coleman a better chance to succeed. Coleman has stellar measurables and was a top three prospect just one year ago– undervaluing him after a rookie year marked by injury and a deplorable offensive situation is a dangerous mistake.
Tight End
David Njoku
Perhaps the most valuable move of all Cleveland's dealing over the past few months was being able to land David Njoku with the No. 29 pick in the first round of the NFL Draft. Even in a historically great tight end class, Njoku's college resume and insane measurables proved him to be among the very best, and his situation is actually more conducive to early fantasy production than O.J. Howard and Evan Engram, who will be asked to block and who can't block, respectively.
David Njoku's advanced metrics and college dominance paint a picture of a fantastic prospect who is in a position to succeed, with a team that will likely be passing a good bit, due to both game script and in order to gauge quarterback quality. While tight ends rarely ever have prolific fantasy seasons in year one, the poster child for blue-collar, hard-hat wearin' fantasy assets, Gary Barnidge, reached the 1,000 yard mark just one year ago on the same Cleveland team.
In my pre-draft prospect preview, I wrote that David Njoku is the definition of bigger, faster, stronger. Njoku is a match-up nightmare in the passing game with stellar yard after the catch skills, after he led college football with 11.2 yards after the catch per reception in 2016. While Njoku needs to improve his blocking, he's got the athleticism and receiving instincts to be a monster at the NFL level. The "bigger, faster, stronger" theme spilled over into David Njoku's performance at the NFL Scouting Combine, who performed at a high level in every drill, highlighted by a 132.1 (96th-percentile) Burst Score and a massive 10.30 (92nd-percentile) Catch Radius. Njoku is going to be a valuable asset for a Cleveland team that's on the rise on both sides of the ball. Beg, cheat, and steal to get him on your fantasy team.
Most ridiculous college stat this year is David Njoku avging 11.2 yards after catch per reception. Man among boys, yet not yet 21 years old.

— Evan Silva (@evansilva) April 13, 2017
Seth DeValve
The Browns took a tight end in last year's draft as well, selecting Seth DeValve out of Princeton in the fourth round. He provides context to the aforementioned statement of tight ends rarely making a huge impact in year one, because even with above-average measurables, DeValve couldn't rise above Cleveland's ineffective quarterback play and scorch the earth in his rookie season.
While the retooled offensive line could have spelled less time spent blocking for Seth DeValve and more time catching the ball, David Njoku is in town now, and the former Hurricane will undoubtedly be the primary receiving tight end option for Cleveland. Even so, there are 82 targets freed up by the now free agent Gary Barnidge, and with the Browns passing the ball as often as they do, there is still room for DeValve to produce. He is the clear tight end handcuff if something were to happen to Njoku.