Dynasty talent-miners need not look any further for unearthed fantasy gems than the 2016 draft class. It's impossible for every rookie to produce big numbers in year one. Injury, underdeveloped skills, and being buried alive on the depth chart all come to mind as reasons for a prolonged breakout at the NFL level. It simply takes some players longer than others (Cheers to you, Davante Adams and Marqise Lee). However, the 2016 class provided us with a slew of fantasy prospects that are primed for sophomore success.
Derrick Henry, RB, Titans
Derrick Henry is a coveted prize for players still adhering to the ZeroRB strategy in 2017.  Running a 4.54 40-yard dash at 247-pounds, Henry posted a mind-bending 116.3 (96th-percentile) Speed Score at NFL Scouting Combine. Henry is a one-of-a-kind athlete — no running back in the NFL can match his size-adjusted burst and explosion.  And most importantly, Henry translated his sublime athleticism into utter college dominance posting a 43.5-percent (92nd-percentile) College Dominator Rating at Alabama, one of the highest marks for a major conference running back in recent history. PlayerProfiler.com's Data Analysis Tool illustrates Henry's unique combination of size, athleticism, and past production:
Derrick Henry has the highest combined Speed Score + College Dominator among NFL RBs from BCS college programs.https://t.co/xoIeNrItrC pic.twitter.com/C6rrvgsS7J

— RotoUnderworld (@rotounderworld) January 11, 2017
Derrick Henry doesn't look quite like any running back yet seen in the NFL, and while some misguided scouts and film grinders inexplicably see Henry's size as a negative, it's really an opportunity to get ahead of the game and invest in a player that looks unstoppable. The former Heisman trophy winner found his way onto the Tennessee Titans, whose head coach came out and told the world that they wanted to run, run, and run some more, leading to the famed #ExoticSmashmouth moniker. This philosophy was backed up by GM Jon Robinson, who selected OT Jack Conklin with the Titans' first round pick in the 2016 NFL Draft, a stud that fell in line with Tennessee's first round choice in the 2014 draft, OT Taylor Lewan. All the evidence screams that Tennessee wants to run the rock, and they did just that in 2016, amassing 476 rushing attempts- good for fourth most in the league.
All those rushing attempts are going exclusively to three players: DeMarco Murray, Marcus Mariota, and Derrick Henry. However, one of those players (Mariota) is a franchise QB who sustained two serious lower body injuries during his two years in the NFL (knee sprain in 2015 and a broken fibula in 2016). DeMarco Murray suffered a foot injury (not the first of his career) mid-season and could not eclipse 20.0 fantasy points after week 10.  Given the history of lower body ailments sustained by both Mariota and Murray, it would be logical to ramp up Derrick Henry's usage in 2017.
Less than a year ago, Matthew Freedman from RotoViz believed Derrick Henry deserved to be the first rookie drafted in dynasty leagues — the coveted 1.01.  After being drafted by a team with an in-house workhorse, DeMarco Murray, Henry slipped to the end of the first round in many dynasty rookie drafts in 2016.  Then, as the 2016 season rolled on, Derrick Henry received more and more work in the Tennessee backfield, logging 73 carries for 329 yards and 5 touchdowns from week 8 onward. For those keeping score at home, that's 4.5 yards per carry for a guy most people thought of as being used only as a red zone hammer to spell Murray.
The only real downside of Derrick Henry's 2016 campaign was that he wasn't used much as a receiver out of the backfield, an aspect of his game (or lack thereof) that scouts and analysts noticed from his time at Alabama. We shouldn't hold this against him. The fact that Mariota is who he is- a mobile, quick-thinking QB with the ability to run for first downs or away from pressure when need be- inherently leads to fewer dump-offs. Additionally, Murray, who clocked in as the RB5 on the season, was outside the top-10 in receiving yards for running backs, proving that you can still put up massive fantasy numbers in PPR without getting peppered with balls like a David Johnson or a Le'Veon Bell might, especially on a team that runs so often regardless of game script.
Derrick Henry has a clear path to touches, there is absolutely no one behind him on the depth chart capable of eating into his carries, and the coaching staff had no problem giving him work all over the field during his rookie year. Get this monster on your team before he completely takes over the Titans' running back job.
C.J. Prosise, RB, Seahawks
The player with the most exciting ceiling for the 2017 season has to be C.J. Prosise. He was able to put in some work this season in between injuries, amassing a total of 30 rushing attempts for 172 yards and a touchdown, as well as 17 receptions (on 19 targets) for 208 yards through the air. In the limited time Prosise and Russell Wilson (who was hobbled in 2016 as much as he's ever been in his NFL career) shared the field, Wilson's performance was visibly bolstered.  Prosise's profile looks like a combination of David Johnson and Duke Johnson.
Russell Wilson's stats were better across the board, providing evidence to the claim that C.J. Prosise had carved out a distinct role on the Seattle offense: a backfield receiving role that simply wasn't there when Thomas Rawls and Christine Michael were gobbling up the backfield touches. In fact, Prosise eclipsed 80 receiving yards in a game twice in his limited 2016 campaign- a feat that neither Rawls or Michael ever matched- and Prosise accumulated more receiving yards in the six games he played in than Rawls and Michael did in all their games combined.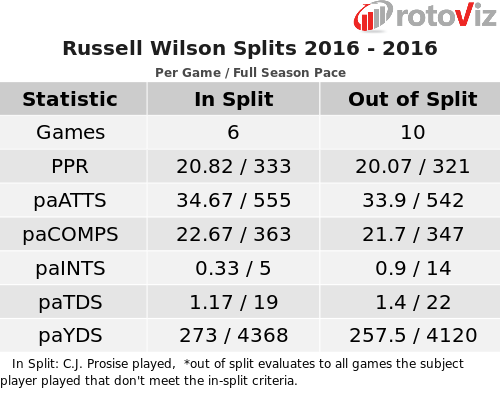 Seattle has logged more pass attempts each year of Russell Wilson's career, culminating in 546 attempts in 2016- more attempts than "pass-happy" teams like Atlanta, Indianapolis, and Pittsburgh accrued. If the Seahawks are going to be passing that much, having a stud receiver in the backfield that Wilson trusts will only lead to more efficient play for the NFC West stalwarts.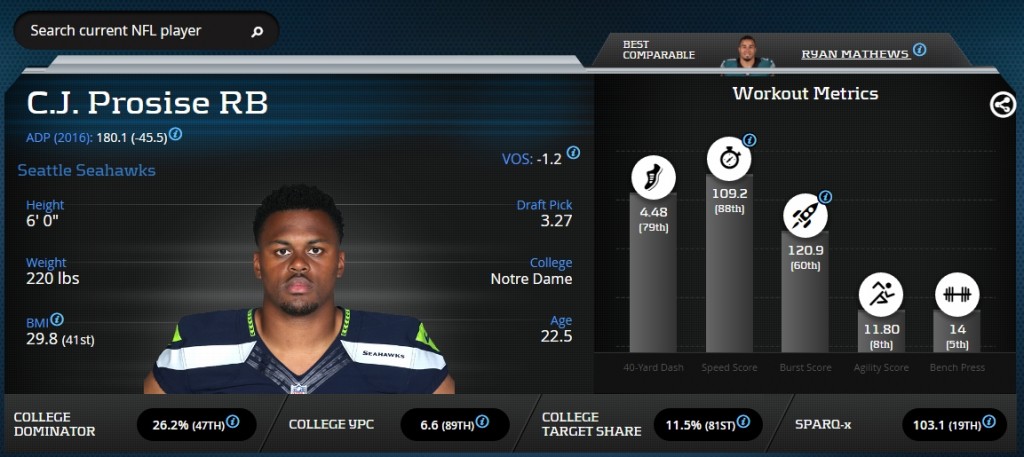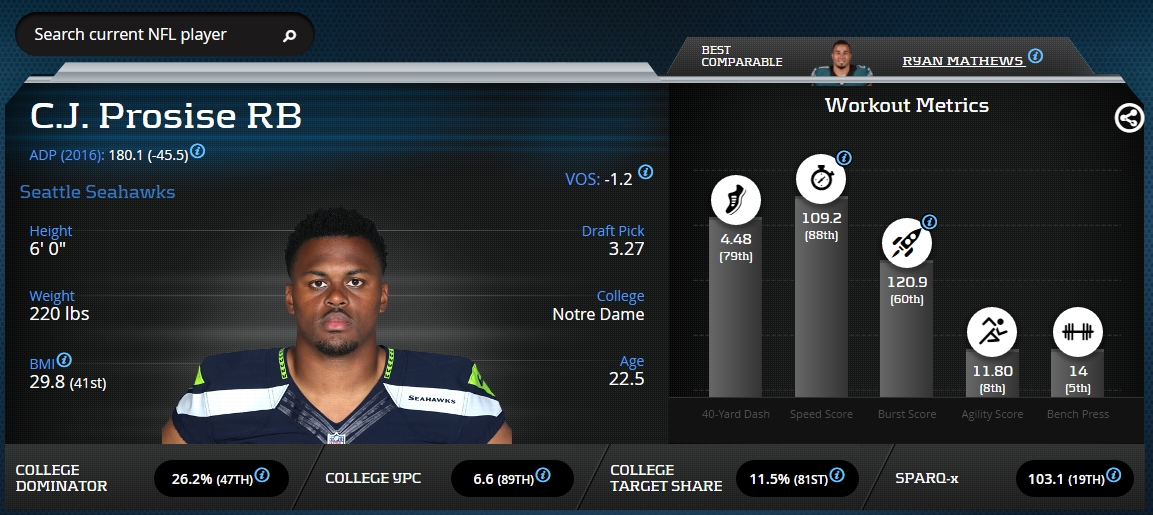 C.J. Prosise Advanced Stats & Metrics Profile
It's clear to see that C.J. Prosise has a role in this offense and he's gearing up to help Seattle on their playoff run. Send your trade offers now.
Malcolm Mitchell, WR, Patriots
One 2016 rookie that enjoyed some success in his first year but has yet to fully break out is Malcolm Mitchell. Catching passes from a top-caliber QB in Tom Brady is a boon to any player's fantasy output, and even after limited work in year one, head coach Bill Belichick, somewhat uncharacteristically, praised the Georgia product's work ethic and attitude. "He runs hard, he gets upfield," Belichick said. "That's what good receivers should do, catch the ball and get upfield."
After rehabbing a dislocated elbow that he suffered in the preseason, Malcolm Mitchellcame alive late, kicking off a mini breakout campaign in week 11. He scored at least 14.1 PPR points in every game from week 11 to week 14, slotting him in as the WR6 overall during that period. That sort of performance didn't go unnoticed by his quarterback. "I've just been impressed with him since the day he came in," Brady said of Mitchell after the week 11 game at San Francisco. "He made a great play today, made a lot of great plays." (via NESN.com)  
Arguably the most important aspect of Malcolm Mitchell's game in year one was the number of red zone targets he received and the receptions he pulled in as a result. His nine red zone receptions (on 12 targets) were good for No. 17 in the NFL, and those numbers were posted in only 12 games, while Mitchell was buried beneath four or five more established players on the New England depth chart. His red zone targets on the team were behind only Julian Edelman's 15. Unfortunately, the sheer number of passing game weapons, the return of Dion Lewis, and the need for New England to simply grind out clock during the latter part of the season contributed to Mitchell's cooling off as the regular season came to a close.  Regardless of how the season ended, Mitchell's proved he is the heir to Edelman's flanker target hog role in New England.
With Rob Gronkowski seriously hurt once again, 30-And-Over Club members Julian Edelman and Danny Amendola consistently finding their respective ways onto the injury report, and Tom Brady looking as sharp as ever heading into the 2016 postseason, it's only a matter of time before Malcolm Mitchell establishes a consistent target share on the perennially potent New England offense. I'm betting it's sooner rather than later.