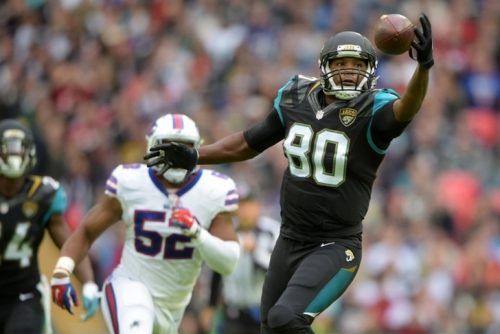 The news that Julius Thomas will likely be traded to the Miami Dolphins and reuniting with his Denver offensive coordinator Adam Gase will shake up the fantasy football outlook for both the Miami and Jacksonville Jaguars rosters.
While Julius Thomas underwhelmed in an injury-riddled 2016 campaign, amassing only 30 receptions for 281 yards and 4 touchdowns, his athletic profile commands the attention of the fantasy football community. Thomas goes to a Miami depth chart that didn't produce many fantasy relevant weeks at tight end in 2016, with the lone exception being a four-week hot streak by Michigan State-product Dion Sims, which culminated in a two touchdown performance in week 15. While Sims is a decent prospect in terms of measurables, Thomas should have no problem cruising past him and the decaying corpse of Jordan Cameron to the top of the Miami tight end depth chart.
The impending free agency period will also leave behind a hefty number targets in the Miami offense should Kenny Stills choose to walk, which seems likely. While Julius Thomas will not be running the Stills route tree for Ryan Tannehill, those 81 targets Stills commanded in 2016 are going to be soaked up by a receiving group featuring work-in-progress DeVante Parker, the world-record-holder-for-lowest-target-depth Jarvis Landry, and an entirely unproven Leonte Carroo.
This all leads up to the most important aspect of Julius Thomas' move: Adam Gase. Thomas goes back to the coordinator that he's enjoyed the most success under by a wide margin. Over the course of the 2013 and 2014 seasons, Thomas reeled in 89 passes for 1277 yards and an astronomical 24 touchdowns. It's plain to see that Ryan Tannehill is not Peyton Manning (well, maybe 2015 Peyton Manning), and Miami's 124 red zone plays in 2016 were only good for 27th in the league, but that's still an upgrade over Jacksonville's abysmal 108 red zone plays in 2016 (last in the NFL). The slight uptick in red zone opportunities and lack of pass-catching weapons outside of DeVante Parker and Jarvis Landry are cause for optimism for Julius Thomas in Miami. Adam Gase may not be an offensive genius, but Gase is absolutely an upgrade over Gus Bradley.
Bill Belichick could go 0-16 for 41 consecutive seasons and still have a better winning percentage than Gus Bradley.

— JJ Zachariason (@LateRoundQB) December 14, 2016
In Jacksonville, there is more reason for excitement than one might think. While Julius Thomas leaves a depth chart without an established usurper, brutish Ben Koyack and intriguing Neal Sterling have been biding their time, waiting to break out. Don't @ me about Marcedes Lewis.
While the Sterling-Lewis-Koyack trio only combined for 51 catches for 440 yards and 2 touchdowns in 2016, the departure of Julius Thomas presents a golden opportunity for one of these tight ends to establish a role on the historically pass-oriented Jacksonville offense, especially in the red zone as Allen Robinson commands the attention of opposing defenses.
Marcedes Lewis is the definition of an expendable player past his prime, and while Ben Koyack is certainly big at 6-5, 255, that's about all he is. Neal Sterling possesses the most upside with above-average measurables across the board and a physical makeup bearing resemblance to that of a taller Delanie Walker. Sterling is probably on waivers in just about every dynasty league out there, and if he's not, I guarantee you can get him on your roster in exchange for the latest draft pick in your arsenal. What do you have to lose?
While there is reason for cautious optimism regarding Neal Sterling, the Jaguars could also shake things up by taking one of the several high-caliber tight ends in the upcoming draft class. However, even if O.J. Howard was to find his way onto the Jacksonville depth chart, it's been well-documented that tight ends transitioning from college to the NFL are met with a steep learning curve that has slowed the development of even the most elite tight end prospects.
Whether Jacksonville injects new talent into its relatively weak offensive roster or not, this is a situation to pay close attention to leading up to the 2017 season, as is Julius Thomas' reunion with Adam Gase.