Height

6' 2"

Weight

201 lbs

Arm Length

31 1/2"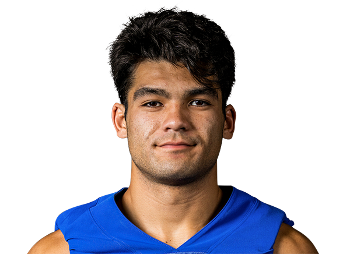 Draft Pick

-

2023

College

BYU

Age

0.0
Workout Metrics
40-Yard Dash
Speed Score
Burst Score
Agility Score
Catch Radius
College Dominator

College YPR

College Target Share

Breakout Age
Puka Nacua Bio
Puka Nacua started his college football career at Washington as a member of their 2019 recruiting class. He'd play in six total games for Washington over the 2019 and 2020 seasons, but would opt to transfer after averaging 19.9 yards per reception on 16 catches. Read More
Player Popularity Index (PPI) ranks PlayerProfiler page views over the last 30 days. For example, the No. 1 PPI player page is the most frequently visited page in recent weeks.
Who is Puka Nacua
Nacua's knack for big plays continued at BYU in 2021. He finished three receptions behind the leader, but almost 300 yards more of receiving (805) and scored six touchdowns. He also showed versatility by adding 148 yards on the ground and averaging 10.6 yards per carry. In his final season in 2022, Nacua led the team in receptions (48) and receiving yards (625), while scoring five touchdowns. He added an additional 209 yards and five touchdowns on 25 carries.
News & Advice
Get Puka Nacua news, rankings updates and draft pick advice, straight to your inbox!