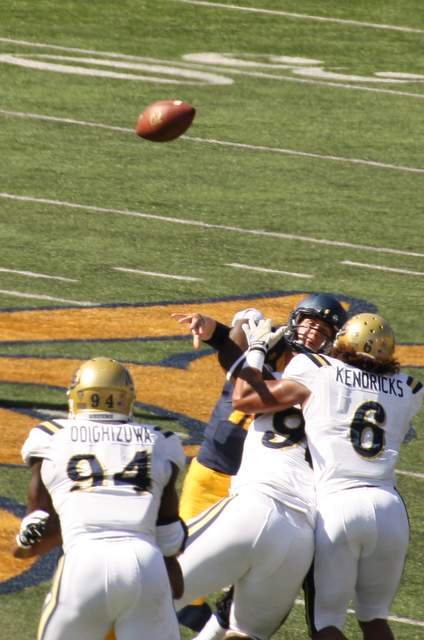 Jared Goff is the starting quarterback for the Detroit Lions. Goff was born in San Rafael, California, son to former Major League Baseball player Jerry Goff. He played high school football at Marin Catholic High School in Kentfield, California. Goff received scholarship offers from Boise State, Fresno State, and Washington State, but elected to stay close to home at the University of California, Berkeley. Goff lit it up at Cal as soon as he arrived on campus. In his three seasons there, he threw for 12,195 yards and 96 touchdowns to 30 interceptions, while completing 62.3-percent of his passes and 7.8 yards per attempt.
Jared Goff's college production enticed the Los Angeles Rams to trade with the Tennessee Titans for the number one overall pick in the 2016 NFL Draft. They selected Goff first overall, but Goff sat a significant portion of his rookie season. He started seven games, but did not throw for more than 235 yards in any contest. After Goff's first season, the Rams made a coaching change and hired a young Sean McVay, who helped elevate Goff's game. In the four seasons Goff started under McVay, he averaged 4,270.5 yards passing, 7.7 yards per attempt, and 25.5 touchdowns to 12 interceptions. The Rams made a Super Bowl appearance with Goff, but failed to score a touchdown. Soon thereafter, success began to be attributed to McVay's offensive design rather than an ascending quarterback. After losing in the divisional round of the 2020 playoffs, the Rams agreed to trade Goff to the Detroit Lions for quarterback Matthew Stafford, 2022 and 2023 first-round picks and a 2021 third-rounder.
Unfortunately Goff appeared to regress to his pre-Sean McVay production in 2021. Goff's 39.0 QBR was No. 24 among quarterbacks, and his 3,158 air yards ranked No. 25 at the position. His 6.6 Yards Per Attempt and 40 Deep Ball Attempts were No. 27. Goff finished the 2021 season completing 67.2-percent of his passes for 3,245 yards and 19 touchdowns to 8 interceptions over 14 games.
The Lions replaced fired offensive coordinator Anthony Lin after the 2021 season with tight ends coach Ben Johnson. It was an immediate improvement. The offense went from No. 29 in offensive DVOA in 2021 to No. 5 in 2022. Goff also had one of his best seasons as a pro. He was No. 9 in True Passer Rating with a 93.5 mark (his highest rank in that metric since 2017) and No. 2 with +175.3 EPA. The Lions continue to ascend and tool up on offense. Goff is the unquestioned starter for the time being.