Height

6' 1"

Weight

210 lbs

BMI

27.7

(9th)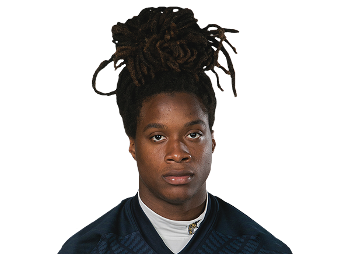 Draft Pick

Undrafted

2022

College

Florida International

Age

23.1
Workout Metrics
40-Yard Dash
Speed Score
Burst Score
Agility Score
Bench Press
High School Workouts
40-Time
Speed Score
Vertical Jump
20 Yard Shuttle
Scouting Grade
College Dominator

College YPC

College Target Share

SPARQ-x
D'Vonte Price Bio
D'Vonte Price was a 3-star prospect out of Charlotte high school in Punta Gorda, FL. He chose to stay home in Florida and committed to Florida International University. D'Vonte Price joined Florida International in 2017, but was relegated to being a backup until the 2018 season where he became the team's pass catching back (15 receptions for 116 yards). In 2019, his share of carries and receptions was reduced by a 5th year running back and a receiver turned running back. We're 3 seasons into Price's career and he's still never been the lead back. 2020 was the turn of the tide. D'Vonte Price seized the starting role and rushed for 518 yards in a shortened 5 game season. He missed a number of games in his final season, but still led the Golden Panthers with 682 rushing yards and another 83 yards through the air. Read More
D'Vonte Price College Stats
Year

Year

Games

Games

Rush Attempts

Rush Atts

Rushing Yards

Rush Yrds

Total Touchdowns

TDs

Receptions

Rec

Receiving Yards

Rec Yrds

Target Share

Tgt Share

Age

Age

School

School

2017

7

(RB)

15

131

0

5

(11 tgts)

45

2.8%

18

Florida International

2018

13

(RB)

90

560

(5 tds)

5

15

(18 tgts)

116

4.7%

19

Florida International

2019

12

(RB)

50

249

0

10

(14 tgts)

49

3.6%

20

Florida International

2020

5

(RB)

85

581

(4 tds)

5

5

(8 tgts)

14

6.2%

21

Florida International

2021

9

(RB)

129

682

(6 tds)

6

10

(19 tgts)

83

5.0%

22

Florida International
Player Popularity Index (PPI) ranks PlayerProfiler page views over the last 30 days. For example, the No. 1 PPI player page is the most frequently visited page in recent weeks.
Who is D'Vonte Price
At the Senior Bowl, his running style was a lot different than those on his team looking clunkier at times. His performance there earned him an invite to the Combine where he blazed. Coming in at 6-1 210 lbs, he ran a 4.38 which equated to a 95th percentile Speed Score. However, his 6th round draft projection should tell you what NFL teams think.
D'Vonte Price was a UDFA signed by the Indianapolis Colts following the 2022 NFL Draft. He's not going to start or see any playing time with Taylor and Hines on the roster.
News & Advice
Get D'Vonte Price news, rankings updates and draft pick advice, straight to your inbox!