Florida International's D'Vonte Price is the next subject in a series in which I evaluate 2022 rookie running backs solely on their ability to run the ball. The Breakout Finder installments can be found here. The PlayerProfiler installments can be found here. If you happened to already catch those and don't need a refresher on my methodology, feel free to skip to the player-focused analysis.
The Player
It's not a good look that it took D'Vonte Price four years to break out at Florida International. When it did happen though, it was emphatic. His senior season 40.2-percent Dominator Rating is a 90th-percentile mark for fourth-year college runners. Albeit in a five game season on a team that went winless in Conference USA. Let's see how his efficiency numbers stack up to that late-blooming production.
The Metrics
D'Vonte Price totaled only 369 carries as an amateur, a 33rd-percentile workload. On that low volume, he was relatively efficient, averaging 1.07 yards per carry greater than his teammates did. That YPC+ number is in the 72nd-percentile. Similarly impressive is his career Chunk Rate+ mark of blank, a 76th-percentile number. However, key context to those performances are the talent-level of his teammates and the ease of travel he had on the ground relative to those teammates.
The other runners at FIU averaged a collective 2.59-star rating as high school recruits, 25th-percentile pedigree. Further, those other guys saw box counts that were 0.05 defenders heavier, on average, than those Price ran against, just a 37th-percentile discrepancy. Compared to those teammates and relative to those box counts, Price posted a 112.9-percent Box-Adjusted Efficiency Rating and a -2.0-percent Relative Success Rate. Those numbers land in the 43rd and 31st-percentiles, respectively. A far cry from the positive light cast on his efficiency when you don't consider the box counts he faced.
As an open-field runner, Price was very average. The 31.6-percent of his 10-yard runs that he turned into splash plays of 20 yards or more makes for a 53rd-percentile Breakaway Conversion Rate.
Rushing Efficiency Score and Comps
Given all of the non-BAE metrics touched on above (in addition to overall team quality, offensive line play, and strength of opponent), D'Vonte Price earns a 60.8 out of 100 in my process' Rushing Efficiency Score composite rating. In a composite that accounts for the box count data, he earns a 31.9. He's likely not as good as he looks on the surface.
Using the same metrics that go into the main Rushing Efficiency composite (as well as physical measurables), I am able to generate similarity scores between current and historical prospects to find comps for players as pure runners. Assuming he runs a 4.50 40-yard dash at the 6-1 and 212-pounds he was at the Senior Bowl, his most comparable players are the following: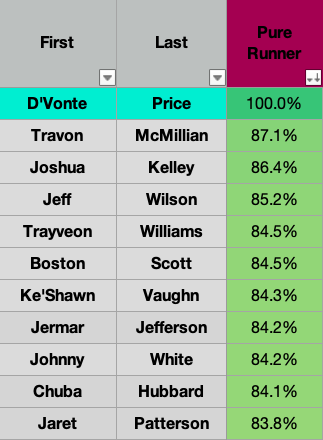 As reflected in the comps, Price is a very blah runner of the football. And these comps don't even knock him for the poor box count-centric stats. I wouldn't anticipate him making much noise there in the NFL.

Last Word
D'Vonte Price is neither a good receiver nor runner, and he also wasn't an impressive college producer. There just isn't much indication that he'll be a quality NFL player. I'm not interested in dynasty rookie drafts.