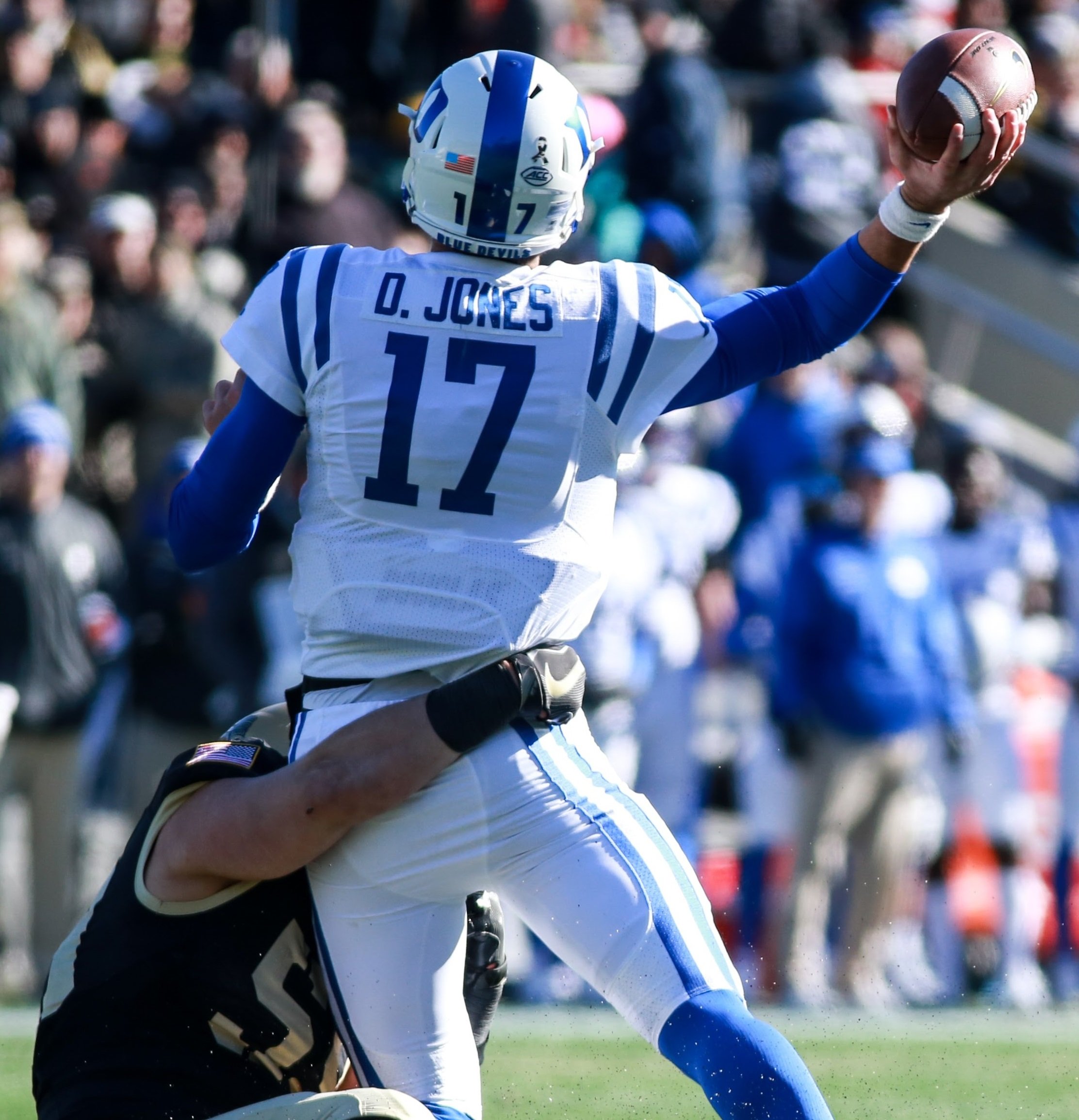 Daniel Jones is the starting quarterback for the New York Giants. Jones is from Charlotte, North Carolina, where he played high school football at Charlotte Latin High School. From there, he went on to Duke University, where he threw for 8,201 yards and 52 touchdowns to 29 interceptions in three seasons. Jones put enough on film which, along with his 4.81 40-yard dash at 6-5 and 221-pounds, impressed the New York Giants enough to draft him sixth overall in the 2019 NFL Draft. He began the 2019 season as the backup to franchise icon Eli Manning but got his chance in Week 3 of Jones' rookie season. Jones burst onto the scene with 336 yards passing and two touchdowns while also rushing for 28 yards and two rushing touchdowns in his debut. He finished his rookie season as the QB24 in fantasy with 3,027 yards, 24 touchdowns, and 12 interceptions while completing 61.9-percent of his passes in 12 starts.
Coaching changes in New York have hindered Daniel Jones from making the leap to stardom. The Giants hired Joe Judge as head coach and Jason Garrett as offensive coordinator in 2020, and Jones' development as a signal-caller has been stunted. Jones has also been the victim of an underperforming offensive line. Jones had a protection rate of 78.6-percent in 2021, ranking 26th among quarterbacks. As a result, and also due to his 9.75-inch hands, Jones has become a fumbling machine.
He's also thrown for fewer touchdowns total the last two seasons (21) than he did in his rookie season (25), even though he started more than twice the number of games during that span. He's never thrown for more than 3,027 yards in a season and he's averaged just 6.6 yards per attempt on his career to date. In 2021, his 6.7 yards per attempt ranked No. 26 among quarterbacks. With a 71.8 true passer rating (28th among quarterbacks), 41.5 QBR (22nd), 2,657 Air Yards (31st) and 26 deep ball attempts (31st) in 2021, his play was not the caliber of a starting quarterback.
Jones does possess some redeeming qualities, however. He completed 68.9-percent of his play-action pass attempts in 2021, ranking No. 5 at the position. He also was in the top 10 in rushing attempts, as well as rushing attempts inside the red zone. The Giants made changes in the franchise following the 2021 season. They hired both a new GM, Joe Schoen, and head coach, Brian Daboll, snagging both away from the Buffalo Bills. Those two helped oversee the development of Josh Allen; now they have set their sights on developing Jones. He showed the ability to clean up his game and achieve some stability for the offense in 2022. He was No. 5 in Accuracy Rating (8.0), No. 8 in True Passer Rating (94.0) and No. 1 in True Completion Percentage (75.7-percent). He also committed only eight turnovers in 2022 (three lost fumbles and five interceptions). That was a vast improvement after committing 49 turnovers in 38 games in the first three seasons of his career. He also ran for more than 700 yards. Now the Giants will see if he can hit his ceiling as a passer. The addition of a True No. 1 pass-catcher in Darren Waller will help.