The soul-sucking randomness of football strikes again. This time it struck the city of New Orleans, with the news of Michael Thomas receiving surgery on his ankle that kept him out for almost half of the 2020 season. With the Saints already having 174 Vacated Targets and Thomas likely starting the season on the PUP (Physically Unable to Perform) list, two questions need to be answered: What should you do with Thomas going forward? And what will the target situation look like this season?
Much Ado About Michael Thomas
Michael Thomas will likely never max out the receiver market again. The period of him being sold for the King's Ransom is over. That being said, the masses tend to overreact to major injury news, especially in the short term. Let's not be too hasty with this. It was reported that Thomas was likely to get surgery back in January, and while we don't know for sure, it seems that he opted to at least not receive a full reconstructive surgery at that point. His ligaments clearly were not repaired and healed fully or, odds are, I wouldn't be writing this piece.
Dynasty
Following a full reconstructive surgery, Thomas should be good as new following a full rehabilitation. In dynasty, he is a clear hold and a possible buy on the other end. If you're a shareholder, keep calm and keep those diamond hands steady. His stock will rebound when he's back in the lineup mid-season gathering targets like a squirrel preparing for winter. Then, you can decide whether it's in your best interest to sell. If a Thomas owner is panicking, go see what the price is. The Dynasty Dominator app is the perfect source to gauge the value exchange of assets. If you're in win-now mode or have a "productive struggle" squad, monitor his value closely. Remember, Thomas is only 28 years old. So sign up for therapy, work past those trust issues, and keep the faith in the "slant boy."
Redraft
This is a wait-and-see situation. Thomas's current ADP, per Underdog, sits at pick 30.1. This will likely continue to drop over the next week as his ADP free-falls. In theory, if you believe in your management talent, then you should be confident in your ability to roster him and make it work. However, the opportunity cost of both drafting him over someone else and missing out on waiver wire pickups due to holding him can be detrimental to the success of your team. Playing for the playoffs means nothing if you can't make the playoffs. The less risky play is to let a lesser manager take a shot on Thomas and vulture him for less when that owner begins to panic. He can still be a league winner this year. 
With news that Michael Thomas will miss the start of this year, his ADP has been freefalling.

But on today's @RosterWatch, @fantasy_mansion said he's had enough.

Are you going to take the #Saints WR late in your #FantasyFootball drafts or are you steering clear? pic.twitter.com/U7GuvDhcGP

— Fantasy Sports Radio (@SiriusXMFantasy) July 24, 2021
Best Ball
If you're like me, you're overflowing with shares of Thomas in Best Ball formats. I see that paper bag you're hyperventilating into. Stay calm! Your money hasn't been torched yet. Your teams should be able to handle missing him due to the built-in assumption of Best Ball that all of your picks are going to hit. Rosters that are over-shallow at wide receiver may be in trouble, but anyone who has Thomas is praying that he comes back 100-percent healthy at some point this season. Any production is better than none. Monitor his value closely, but right now teams that prioritize other pass catchers in this offense are better set up for success. Passing on Thomas means you won't have to worry about setbacks or the potential of the Saints being bad enough that they decide to continue to hold him out.
Other Pass Catchers: Oh Where, Oh Where, Have My Targets Gone?
The vacated targets club (in which I'm a lifelong member) is foaming at the mouth with the opportunity this situation presents. On top of the 174 targets left behind, there is now half a season worth of alpha-level targets up for grabs. Now, not every single one of these targets will find a new home. New Orleans will likely play at a slower pace, especially if Taysom Hill is at the helm, and see a lower volume of pass attempts than last season. In these situations, most if not all pass catchers can and will benefit from the vacancy, but the challenge is identifying who is set to benefit the most.
Tre'Quan Smith
Tre'Quan Smith is starting to appear extremely similar to a slot machine. You sat down once three years ago and hit big a couple times, and you've been draining your money into the machine ever since. "It hit before…it has to hit again eventually, right?" Smith posted two games of monster production in his rookie campaign, totaling 16 targets, 13 receptions, 268 yards, and three touchdowns. In the two years since, he's cracked a top-30 weekly finish in only three games (one being a No. 11 finish last season). Marquez Callaway, on the other hand, saw one in his eight-game rookie season while playing four games with a 25-percent Snap Share or lower.
History does matter, and there is important context to be realized. It's tough for anyone to break through significantly on any sort of consistent basis when Michael Thomas and Alvin Kamara are gobbling up 250-plus targets every season and the rest of the depth chart is muddled. Smith's disappearance should be a concern, but there's solace in knowing he's shown the capability of breaking through in a major way. This alone is why fantasy gamers need to be prioritizing him this season. He was also the receiver on the Saints with the highest blocking grade, indicating his Snap Share has a higher floor regardless of whether or not Thomas is on the field.  
Marquez Callaway
Marquez Callaway and Tre'Quan Smith are similar black box prospects, which is why they both have Kenny Britt as their Best Comparable Player. Despite this, we saw distinct usage between the two of them last season. Smith was the bonafide slot-man, while Callaway took on more of an Emmanuel Sanders-esque role as a flanker, without the Deep Target rate.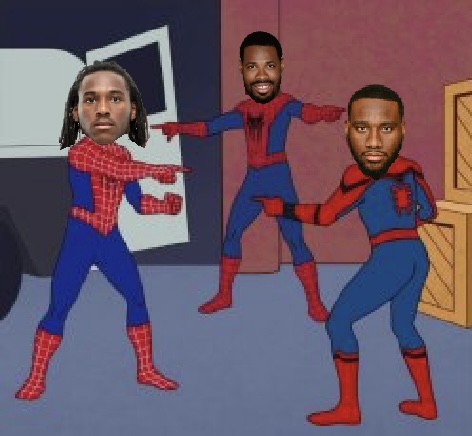 There's enough room in this town for the both of them to succeed. In fact, Michael Thomas' disappearance correlates to Smith's success, and that of Sanders correlates to Callaway's success. Callaway had his best game last season with Sanders missing due to COVID protocols, and Smith's success last season came when Thomas was missing. The biggest question for Callaway is where he falls in the pecking order. While Sanders was prioritized last season, we need to be slow to assume Callaway will see similar treatment. The upside, however, is clear. Callaway is assuredly a late-round target and a player who could vastly out-produce his ADP this season.
Adam Trautman
The Underworld has been toutin' Trautman (editors note: I'll allow it, but barely) for quite some time. Best Comparable to Dallas Goedert and Captain America, he's not just any tight end; he's America's tight end. With an 11.05 (95th-percentile among qualified tight ends) Agility Score and a 38.1-percent (97th-percentile) College Dominator Rating, Adam Trautman has proved he has the frame and the talent to corral targets at a mind-melting pace in college, and his rookie season efficiency screams "breakout candidate." He displayed reliability with his 93.8-percent True Catch Rate, 132.0 QB Rating When Targeted, and +24.6-percent Production Premium. To go with that, his +6.1-percent Target Premium and 2.38 Fantasy Points Per Target (No. 2 out of all tight ends if he would've qualified) indicates that when he did receive targets, they were fantasy-friendly targets that turned to fantasy-relevant production. 
BRoto's Santiago Casanova produced interesting research that indicated tight ends are generally in control of their own destiny, target wise. This is more good news for Trautman, because now we know that he has the talent and is unlikely to be "schemed out" of the offense. His ADP has been correcting recently, but there still hasn't been a point in this offseason where I thought he was correctly valued, especially in best ball. If you haven't been buying before, jump in now. The water's fine! The price is still relatively low, and there's time to beat the overcorrection if there is one. As The Podfather coined: "this one is too easy…you're never getting me off Adam Trautman."
Alvin Kamara
The most important beneficiary of this loss is not listed at wide receiver. It's Alvin Kamara. The same research by Santiago Casanova mentioned above found that running back targets are more scripted (based on QB and coach) than earned. The splits for Kamara with and without Michael Thomas support this claim. He already earns a solid Target Share to begin with, but without Thomas, he was virtually force-fed.
Not only does Kamara's Target Share increase during Thomas's absences, but he earns significantly more carries as well. We know what he is. There's no question of Snap Share, Opportunity Share, or production history. He is one of the league's most versatile backs, and is about to see a massive uptick in volume. Kamara is now the solidified RB3 this season. Fantasy gamers need to be sprinting to the podium to select him in all drafts.