I am sorry.
I am sorry, Michael Thomas.  Jon Moore from RotoViz Radio and I coined the term Bad Michael Thomas during the predraft process, and I would like to sincerely apologize for the role I played in perpetuating the nickname.  You got the last laugh by getting drafted by the New Orleans Saints.  I have to eat that.
We post pre-draft rooking rankings on PlayerProfiler to satiate rank-me-ravenous sports fans, wannabe Mel Kipers, and sicko diehard dynasty gamers.  The pre-draft ranking illustrate player quality in a vacuum, but much of a player's NFL fate is determined on draft day.  Landing spot is crucial, and the PlayerProfiler Dynasty Rankings are more heavily-weighted by projected year-1 fantasy output than most dynasty ranking services.  Therefore, a handful of players made significants leaps based on their draft position and the team selecting them.
Here are five big post-draft high risers on the PlayerProfiler.com Rookie Rankings who landed in a best-case scenario offensive talent configuration as well as a soft depth chart.
Michael Thomas
Michael Thomas landed in New Orleans, a team that threw the football ~700 times in 2015 and has lost perennial target hogs Jimmy Graham and Marques Colston in consecutive years.  With only two wide receivers of consequence currently on the roster, any WR that the Saints selected in the first few rounds of the NFL Draft would project to receive the highest possible rookie target share outside of Cleveland, OH this season.  Beyond a treasure trove of close to 200 vacated targets, Michael Thomas also fills a glaring need on the roster: a competent, big outside red zone weapon.  Thomas profiles as more than a red zone threat.
Michael Thomas is anything but a generic big reciever.  Thomas' workout metrics on PlayerProfiler.com suggest that he will fit seamlessly into Marques Colston's former "big slot receiver" role.  With close to 200 vacated targets up for grabs, the opportunity is enticing.  Even if Willie Snead retains his role as starting flanker, Michael Thomas could conceivably eclipse Snead's 102 targets in 2015 as a high-volume slot receiver.  The Saints' famously pass-heavy offensive philosophy and propensity for high-scoring shootouts ensures Thomas will finish top-5 in rookie WR targets, barring injury.
The moment Michael Thomas landed in the bayou, all signs pointed up.  After Thomas landed on a skill set-maximizing offense, to intractably cling to the "Bad" prefix would be irrational.  In a Saints jersey, Bad Michael Thomas instantly become "Just Michael Thomas" and the No. 1 riser in the post-draft PlayerProfiler.com Rookie Rankings.
Paul Perkins
Situation. Situation. Situation.
You wish Paul Perkins was bigger.  You wish Paul Perkins was faster.  You wish Paul Perkins was more explosive.  You wish Paul Perkins participated in agility testing during the pre-draft process.  If all those wishes came true Paul Perkins would be Daniel Lasco.  Yet, Perkins is ranked above Lasco on the PlayerProfiler.com Rookie Player Rankings, because he will be competed for early-down touches with Rashad Jennings, not Mark Ingram.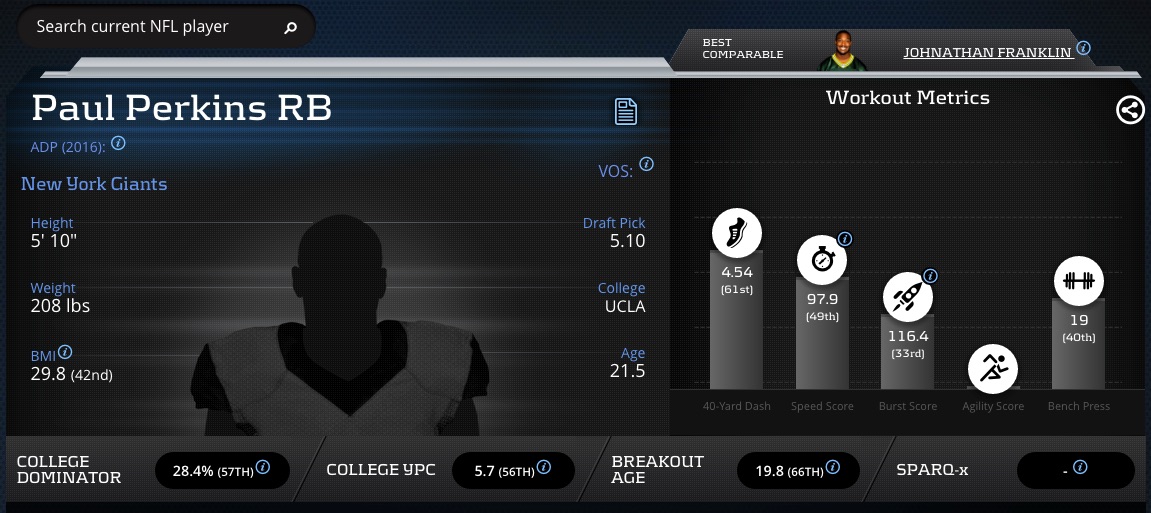 Paul Perkins Advanced Metrics Profile
On the Football Diehards Podcast, Justin Higdon from DraftBreakdown.com referred to Paul Perkins as just-a-guy, but his UCLA production was impressive.  1500-plus rushing yards and 80-receptions in three years demonstrated an all-field skill set that will be useful for a Giants team in desperate need of an RB talent infusion.  Perkins is particularly adept in the passing game, but Shane Vereen has New York's passing down situations locked down for now.  Looking forward to 2017, according to OverTheCap.com, the Giants could save more than $3.0 million by cutting Vereen after the 2016 season if Perkins proves to be an efficient receiver out of the backfield during his rookie season.
While Paul Perkins does not run with Ameer Abdullah or Tevin Coleman-level electricity, Perkins' situation is superior to those 2015 dynasty darlings.  After the NFL Draft, Perkins' dynasty value was adjusted accordingly on PlayerProfiler's Rookie Player Rankings.
Keith Marshall
Matt Jones is not just a guy.  He's just gross.  Rarely is a running back as inefficient at both the college and professional level as Jones rated so highly by dynasty drones with a clear dreadlock bias.
In steps the 5-11, 219-pound Keith Marshall and his 100th-percentile Speed Score.  As Kevin Cole explains on RotoViz.com, raw running back athleticism is a significant indicator of future success, even more than the fantasy football community generally perceives.  With requisite NFL workhorse size, a SPARQ-x Score over 130.0 (91st-percentile), and a grossly overrated Matt Jones standing between him and a primary runner role, slotting Keith Marshall in the top-10 rookie running backs is logical based on upside alone.
Ricardo Louis
Of the wide receivers that the Browns drafted last weekend, only Ricardo Louis looks the part of a traditional NFL split end/X receiver.  Featuring a 113.2 (93rd-percentile) Height-adjusted Speed Score (HaSS), Louis possesses the best size-adjusted speed + burst in the 2016 wide receiver class (Moritz Boehringer notwithstanding).  Fortunately for Louis, he landed on a wide receiver talent-deficient roster devoid of an entrenched stud split end such as Dez Bryant or Julio Jones.
The Browns wide receiver depth chart is beyond soft, it's completely wide open.  If Ricardo Louis can overcome an unfortunate Cody Latimer comp, it is conceivable that Louis seizes the starting WR job opposite Corey Coleman as early as week 1.
Daniel Lasco
Daniel Lasco exemplifies the Jameis Winston corollary for running back prospects.  A player's best season, not his worst, is the clearest window into his professional upside.  In Lasco's junior year at Cal, he compiled nearly 1500-yards, 14-touchdowns, and most importantly, 33-receptions for 356-receiving yards.  However, after suffering through an injury-plagued senior campaign, his draft stock tumbled so much that New Orleans was able to acquire him in seventh round.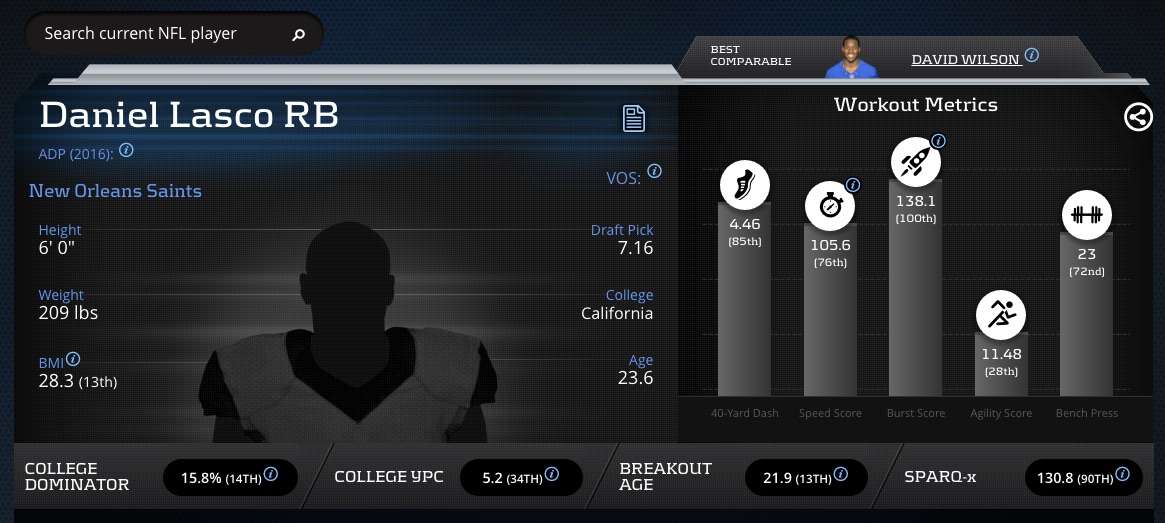 Daniel Lasco Advanced Metrics Profile
Like Keith Marshall, Lasco features the rare athleticism.  Lasco's 138.1 (100th-percentile) Burst Score is the best in the PlayerProfiler.com database.  He possesses the necessary speed and explosiveness to overcome a low draft capital investment and supplant C.J. Spiller as the New Orleans Saints' satellite back.  Perhaps as a result of knee problems, Spiller lost much of his elusiveness in 2015 evidenced by a 7.1-percent (No. 86) Juke Rate (evaded tackles per touch).  Since Reggie Bush departed, the Saints have been unsuccessful in their repeated attempts to recapture that Reggie Bush satellite back magic from 2006-2008 when Bush was exceeding 800-all-purpose yards each season.  Daniel Lasco has the college production and athletic profile to recast a PPR spell on New Orleans' high-volume pass attack.
Conclusion
Being drafted in the first round is always great, but it is not the only path to early-career fantasy relevance.  A handful of lesser touted players landed on efficient offenses and/or soft depth charts that should maximize their abilities in 2016 even without draft day prestige.