You don't need to outrun the bear.  You only need to outrun the other guys.
He Almost Had it All
Before the 2016 draft, our own Christopher Bean called Leonte Carroo the Uncrowned King of the Wide Receiver Class.  In pitching the Rutgers product, Bean focuses heavily on Leonte Carroo's unparalleled per-game productivity, making the case for him as the 2016 class' most valuable receiver.  As Bean points out in his own piece, RotoViz Editor Kevin Cole (successfully) argues that collegiate productivity is the most reliable predictor of NFL success.  Yes, before the end of April, the internet was abuzz with excitement for Carroo, the rare prospect beloved by film and metric-heads alike.
Whether it was an under-reported history of concussions, or the aftermath of baseless character concerns (cell phone video and witness testimony reveal that Carroo never laid hands on any party irrespective of gender), Carroo slipped past several likelier landing spots before getting stuck behind DeVante Parker, Jarvis Landry, and Kenny Stills, seemingly relegated to WR4 insignificance on the Miami Dolphins depth chart.  His Rookie ADP has suffered as a result, falling with some frequency to the early second round of dynasty rookie drafts.  There have been many articles written about Carroo's pre-draft potential, but as of late, the Dynasty Community At Large seems to have cooled on the Uncrowned King.
He's the Same Damn Guy
Nothing has changed about the prospect that almost beat Corey Coleman in the RotoViz Rookie WR Elimination Bracket.  He's still the big-bodied, sure-handed, dynamic playmaker with an unparalleled 99th percentile injury-adjusted dominator rating.
Drafters have long-since known that Carroo is an unbelievable prospect.  What surprises me is how much credit that the other Dolphins receivers are getting.  Since collegiate production is the only thing that matters, let's see how these prospects would have compared if they were all rookies today: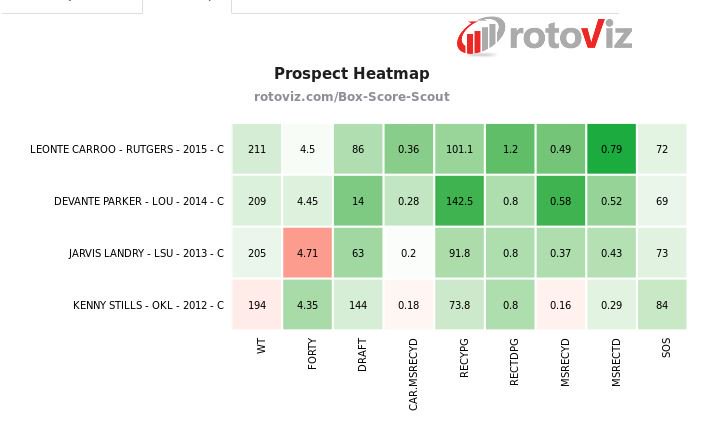 In terms of pure production, Carroo stands out as the best prospect in the Dolphins receiving corps.  He is not the size/speed marvel that DeVante Parker is, but he is an otherworldly athlete compared to 2015's PPR WR11, Jarvis Landry, a volume-driven and inefficient receiver by anyone's estimation.  In 2015, both Parker and Kenny Stills finished outside of the top-75 PPR wide receivers.  All this to say, the Miami depth chart is not written in stone by any stretch.
Running the Gauntlet:  The Path to Playtime
Drafters should not need to suspend their disbelief in order to envision Carroo as a starter.  In fact, one really needs only to believe the following:
Teams play receivers that they are invested in.
Talented players will earn and keep starting roles.
That's all.  If you can get on board with these two concepts, you should have no difficulty imagining that Carroo will start at some point in the very near future.  In the parable of the bear, Carroo is the bear.  His starting status is inevitable; the only question is, which of the three receivers ahead of him will be eaten?
Miami invested a third-round pick into selecting Carroo, but they also had to move up in order to get him.  The Dolphins' front office has stated that Carroo was the second-ranked receiver on their big board, which explains their excitement at seeing him fall.  The Dolphins completely cleaned house after a tumultuous six-win season; of the receivers I am discussing today, only Carroo was hand-selected by the current regime.  Thus, Carroo is no late-round flier for Miami, and it stands to reason that they will be eager to see what their new receiver has to offer.
Remember, this is not a typical third-round receiver.  Like Keenan Allen, Carroo fell to the third because of factors outside of his ability to play the wide receiver position.  Once Carroo is given an opportunity to compete with the other Miami receivers, I believe he will emerge as their WR3, at a minimum.
But, but DeVante Parker?
DeVante Parker is the presumptive WR1 in Miami despite finishing 2015 as PPR's WR78.  He's also always injured.
I think Parker has one of the greatest college resumes of all time, so this is not a knock on him directly.  I believe that the Dolphins are invested in him, and once he is healthy enough to prove it, he is talented enough to keep his spot.  But, he would not be the first extremely gifted receiver to be sidelined by recurring foot injuries.  Carroo is not likely to take a healthy Parker's job, but I do think that if Parker finds himself unable to play, Carroo is the natural choice to assume his role (and earn valuable snaps) in the interim.
But, but Jarvis Landry?
Meanwhile, Jarvis Landry finished as a WR1 in the way that only Jarvis Landry could:  With league-worst inefficiency and unsustainable volume.  This is a receiver who the team has invested in, but he is not talented enough to defend his starting spot.
This inefficiency is not surprising when you remember that Landry is the worst athlete in the NFL:
Coaches don't always make the right decisions, it's true.  It took until the postseason for the Packers' Mike McCarthy to recognize that he should have been starting Jeff Janis.  If Miami is paying attention, they can see that every target Ryan Tannehill lobs towards Landry is a wasted target.  Carroo, like all NFL receivers, is more athletic than Landry.  But Carroo is also the rare receiver who was more productive than Landry in college, as well.
It might sound crazy to suggest that 2015's PPR WR11 would be usurped by a third-round rookie.  But, once you consider that 100% of Landry's productivity came on force-fed volume, and that almost any other receiver would have done more with Landry's targets than Landry himself did, the truly crazy idea is that Carroo wouldn't surpass Landry once given the chance.  He is simply more athletic than Landry, more efficient than Landry, and from a collegiate perspective, more productive than Landry.  Even though it's a popular sentiment to say that Landry transcends his measurables, even the film guys will tell you:  Carroo, he of the three-drops-in-four-years, catches absolutely everything.  The sooner the Dolphins redirect targets away from Landry and towards literally anyone else, they will find themselves scoring more points.  That "anyone else" can and should be Leonte Carroo.
Is Kenny Stills still a thing?
Finally, Kenny Stills, who is easily the fastest of the cohort in real life, is probably the most likely to fall behind and be savagely eaten by Carroo.  Last season's PPR WR82, Stills has yet to find his niche in a deep-pass averse Dolphins offense.  It will be interesting to see what the new-look Miami front office decides to do with Stills, but suffice it to say that Miami is not invested in Stills, and whether he is talented enough to hold onto his starting role remains to be seen.
In 2015, Kenny Stills was more efficient than Landry was, but that isn't saying much.  Like Jarvis Landry, most Stills targets were wasted targets.  Stills' impressive 2014 season in New Orleans seems like it was hundreds of years ago, no doubt highlighting the differences in the Saints' passing attack vs. the Dolphins' (and the obvious disparity between Tannehill and Drew Brees).
As the receiver with the lowest front office investment, and also the least productive 2015 season, Stills seems like the most likely candidate to lose his job to Carroo.  If/when he does, he may not be the last.
Conclusion
We can stop acting like Leonte Carroo was drafted by the 2013 Denver Broncos.  Miami had one startable receiver last season, and that receiver occupies the bottom-tiers of both efficiency and athleticism.  The other hurdles to Carroo's success are an as-yet unproven and often-injured first rounder, and a speedy journeyman with no identity on this offense.
Leonte Carroo is going to ascend.  He basically has to.  When a historically dominant prospect falls to a team that absolutely loves him, we need to pay attention no matter who is standing in the way.  In this case, Carroo's closest competition may prove to be little more than bear food.  "Reach" for him at the end of the first round, try not to get bitten in the process, and laugh all the way to the bank in seasons to come.