The final rounds of fantasy football drafts are a land of damaged brands and misfit toys.  After five years floundering in NFL, Blaine Gabbert became a punchline and headlines a group of the most damaged brands in fantasy football that includes fellow first-round busts Trent Richardson and Sam Bradford.  Despite enduring, echoing failure, Gabbert, a made-for-television quarterback, looks out of place next to these doomed figurines.  Blaine Gabbert still has a chance at a late-career ascension, fantasy football relevance, and professional redemption.
Every year the "Late Round Quarterback" strategy seems to become more and more accepted in the fantasy community.  This year, we are seeing an even greater move to drafting quarterbacks later and later as more and more learn about replacement cost and relative cost.  In leagues where there is a one start QB minimum, the philosophy of 'just give me the last in the tier' is prominent, where you like a range of player and in process of drafting you think to yourself, meh, just give me the last one available of that range, and I'm good.  The problem lately has become that our typical 12-team leagues have seen QBs have tiers that are bigger than 8-12 deep.  However, in Superflex or 2-QB start leagues, the competitiveness for that quality QB2 on your roster is often intense.  Maybe just part of my personality, but I refuse to overpay for a QB.  This is probably stubbornness, but also my tier is just bigger.  There are approximately 25 quarterbacks with a presumed lock on the starting role.  This leaves me with mining the other seven teams, plus a few possible backups that may provide a solid streaming option.
Looking at the chart below, there were seven quarterbacks with a QB24+ ADP in 2015 who finished in the top-24 at the position in fantasy points per game.  Most of the seven played for teams with starting QB uncertainty at the beginning of preseason.  One of my frequent targets this offseason that fits this mold is Blaine Gabbert.
According to PlayerProfiler.com, Blaine Gabbert has well above average metrics. His Wonderlic score, which is used as an intelligence test by the NFL, was 42.  This puts him in the 98th-percentile.  His Breakout Age, is in the 75th-percentile. His Burst Score, Agility Score, and SPARQ-x Scores are all above the 80th-percentile.  How about Gabbert's size?  Glad you asked.  At 6-4, 234-pounds, and 10-inch hands (74th-percentile) is excellent prototypical size for an NFL quarterback, so no issues there.
One of my favorite sites covering 2-QB leagues is TwoQBs.com.  They have player cards focused on the production of quarterbacks from the 2-QB and Superflex mentality.  Below is Blaine Gabbert's QB card.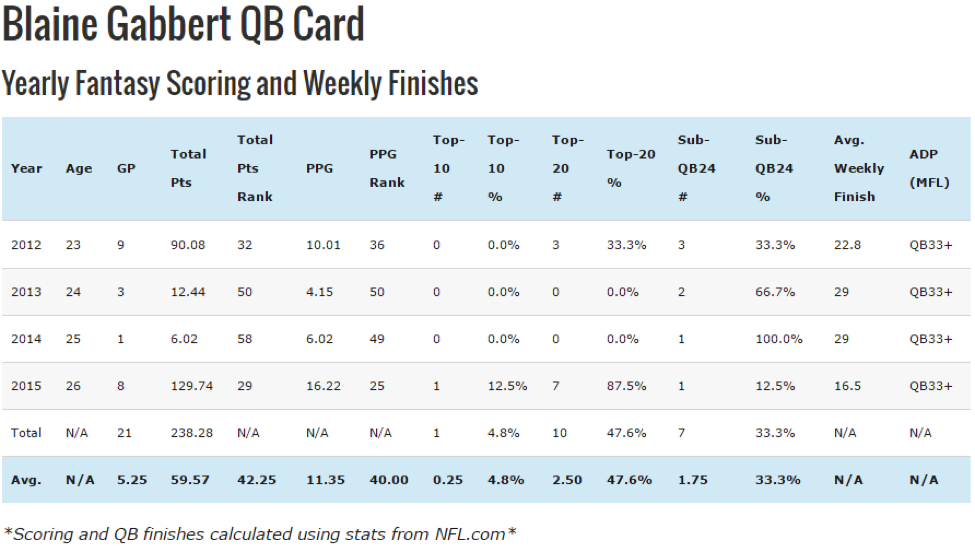 Using TwoQBs.com handy QB card table, we can see that Blaine Gabbert produced a top-20 QB week in 87.5-percent of his starts in 2015.  He had just 1 of his 8 starts place him as outside the top 24, and one of the top-20 finishes was a top-10 finish last season. As someone who mines for value in superflex and looks to stream even in this format, Gabbert is gold.  There isn't much for ADP data for 2-QB leagues, and what I could find had Gabbert in the 200+ range.  Some sites that do 2-QB dynasty rankings don't have him ranked in the top 40 of QBs.  How can this be?
Is Colin Kaepernick really the threat?  Does it matter?  Once you commit to streaming, the focus becomes the range of outcomes, not the path to snaps.  Well within Blaine Gabbert's range of outcomes is Kaepernick is remains bad and has little to no in-roads on the starting job in San Francisco.  Meanwhile we've already seen in 8 starts that a top-20 fantasy quarterback season is in Gabbert's range of outcomes after he posted 17-plus fantasy points per game in 2015 while languishing in San Franciso's low-tempo offense.  The 49ers mustered a mere 35.2 pass attempts per game (No. 31) last season.
Before buying Blaine Gabbert, what is his cost?  Well, he is free.  A free QB3 with QB2 upside on your superflex/2-QB rosters who carries no cost if he never starts a game.  However, my range of outcomes wouldn't even have that as a possibility.  Why?  It's because this is the nature of the NFL.  Bad QB play eventually loses out to mounting pressure to make a change.  Barring severe preseason injury, I would expect Gabbert make at least a few starts in 2016.
Brock Osweiler in eight games last season, played well enough to get a massive, $72 million with $37 million guaranteed.  What did he actually produce in those 8 games?  In April, I tweeted out the lines for both Blaine Gabbert and Osweiler:
GP-Att-Comp-%-yards-TD-INT-fpts
Osweiler
8-275-170-66.4-1967-10-6-125
Gabbert
8-282-178-65.2-2031-10-7-139
ruYDs:
Gabbert 186
Osweiler 61

— Kevin (@the_FF_engineer) April 5, 2016
Remarkably, these two quarterbacks have almost identical production over the same number of games in 2015.  Osweiler for the most part is being valued around the QB29 which seems fair, however as we can see there's really not much difference between Brock Osweiler and Blaine Gabbert, why have to pay when this production is free?  The counter many have is that the 49ers offense is in disarray.  Makes sense, except that Gabbert performed last year in his eight games was surrounded by disarray.  Meanwhile, Osweiler only had a Super Bowl winning team surrounding him.
Is Blaine Gabbert a worthy target in 1-QB leagues.  No.  Is he a streaming option to eye off waivers in that format?  Yes.  Is Gabbert a solid add/buy for superflex or two QB leagues?  Emphatically, yes.